Engineers Earn NASA Grant to Enable Flying Taxis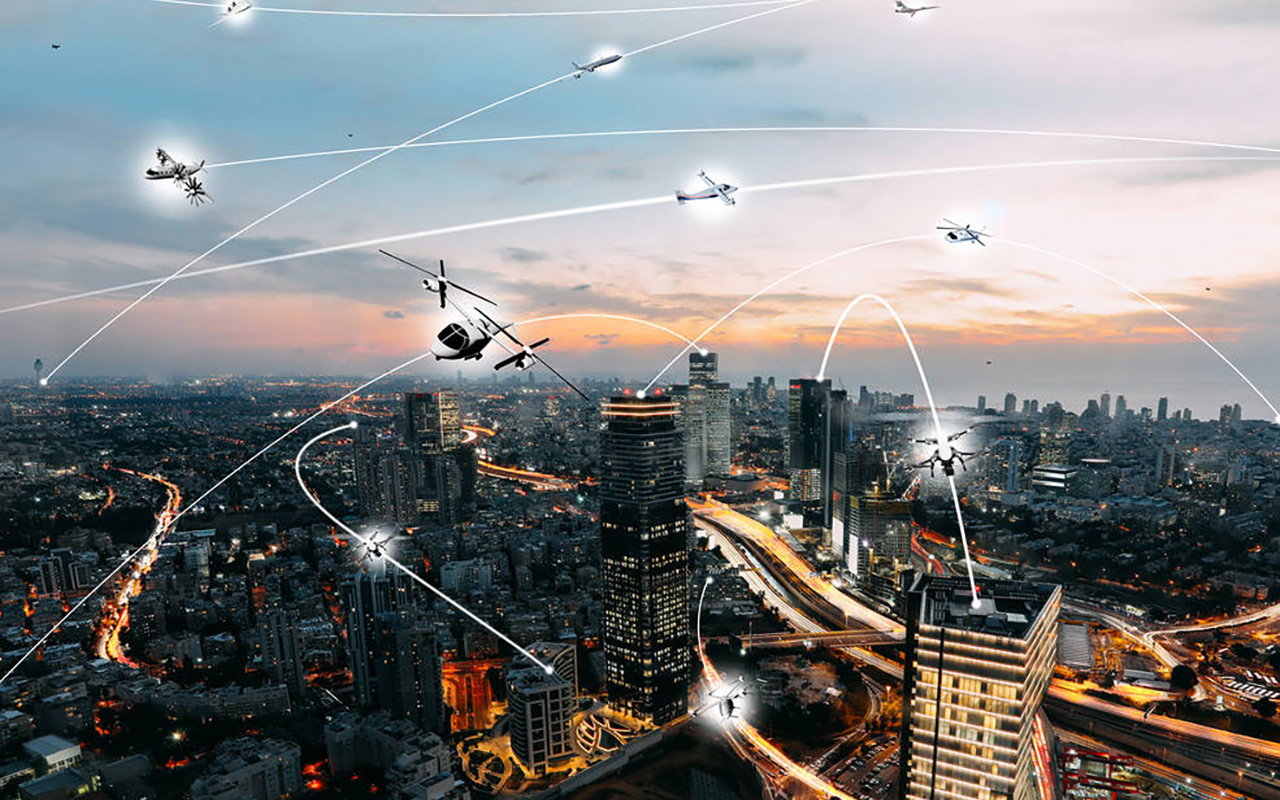 Published Date
Article Content
Imagine fleets of small aircraft able to vertically take off and land from helipads in urban areas, transporting people to and from work; or shuttles with preset routes flying people to the airport or other major hubs.
This futuristic system of flying taxis and shuttles is one step closer to reality thanks to a team of engineers led by the University of California San Diego. They received a $5.8 million University Leadership Initiative grant from NASA to create computational design tools that will help US companies develop more efficient air taxi designs, faster.
"This project is part of a growing field called urban air mobility, an exciting vision enabling point-to-point, on-demand air travel within densely populated areas," said John Hwang, professor of mechanical and aerospace engineering at the Jacobs School of Engineering at UC San Diego and principal investigator for the project. "We will combine multidisciplinary computational models of urban air mobility vehicles and advanced design optimization algorithms to develop methods and tools for rapidly designing safe, quiet, and affordable vehicle concepts."
This three-year project will result in a set of open-source simulation and optimization tools that companies can use to design the optimal electric vertical take off and landing (eVTOL) aircraft for their needs. Given several input parameters such as number of passengers, desired cruise speed, and range requirement, these tools will allow engineers to determine the optimal number and shape of rotors, wing shape, structural design, propulsion system sizing, and other design aspects that yield the most cost-efficient vehicle while ensuring it is safe and operates quietly. In addition, the researchers will use these tools to perform vehicle configuration trade studies on safety, noise, and cost, to help companies make their design decisions.
"Given a computational model, state-of-the-art design optimization algorithms can efficiently search for the optimal values of up to tens of thousands of design parameters that minimize or maximize some specified objective, such as vehicle operating cost," said Hwang. "We will develop models for all aspects of the aircraft – such as aerodynamics, structures, acoustics, battery, and motor performance – and leverage these optimization algorithms to navigate the most complex and unintuitive aspects of the eVTOL aircraft design problem."
Early roll out of this new class of vehicles is expected within five years, with a market study commissioned by NASA estimating these services will be profitable by the 2030s. In fact, United Airlines and startup Archer Aviation just inked a deal to purchase 200 of these eVTOL aircraft, expected to debut in 2024.
Ultimately, this new kind of transportation – a hybrid between a helicopter, airplane and drone – is intended to save time, while limiting travel-related carbon emissions in urban areas by operating purely on electricity.
"The goal of urban air mobility is to ease traffic congestion and reduce travel times. For example, a 90-minute ground commute to a downtown workplace could be reduced to a 15-minute air taxi flight," said Hwang.
University Leadership Initiative
The team, led by Hwang, is one of five academic groups that received the University Leadership Initiative (ULI) award from NASA. ULI was created to initiate a new type of interaction between NASA's Aeronautics Research Mission Directorate and US universities, with academic researchers taking the lead on their own research projects that further NASA's mission.
In addition to Hwang, the team includes UC San Diego engineers David Kamensky, Alicia Kim, and Shirley Meng. The team also includes Seongkyu Lee from UC Davis; Chris Mi from San Diego State University; Andrew Ning from Brigham Young University; Jeffrey Chambers and Adam Grasch from Aurora Flight Sciences; and Tyler Winter of M4 Engineering. In all, the researchers bring expertise in computational modeling and optimization, topology optimization, batteries, acoustics, electric motors, aerodynamics, composite materials, and concept design.
Key aspects of the ULI include a focus on transitioning the research results to industry or government partners to bring them to market; providing research opportunities for students; and promoting greater diversity in the aeronautics field through increased participation of underrepresented groups in engineering.
This project will have an industry advisory board consisting of both established aircraft companies and eVTOL startups. The team will also institute an aeronautics internship program for students, to enhance and coordinate recruiting and mentoring of undergraduate student researchers across all four universities involved. The internship will be run in partnership with the Academic Enrichment Program at UC San Diego, which has experience managing internship programs for first-generation, low-income and underrepresented students in engineering.
Stay in the Know
Keep up with all the latest from UC San Diego. Subscribe to the newsletter today.