Mary Walshok Honored with San Diego Business Journal Lifetime Achievement Award
The recently retired UC San Diego Associate Vice Chancellor for Public Programs and former Dean of UC San Diego Extended Studies dedicated five decades to the university and spearheaded the creation of UC San Diego Park & Market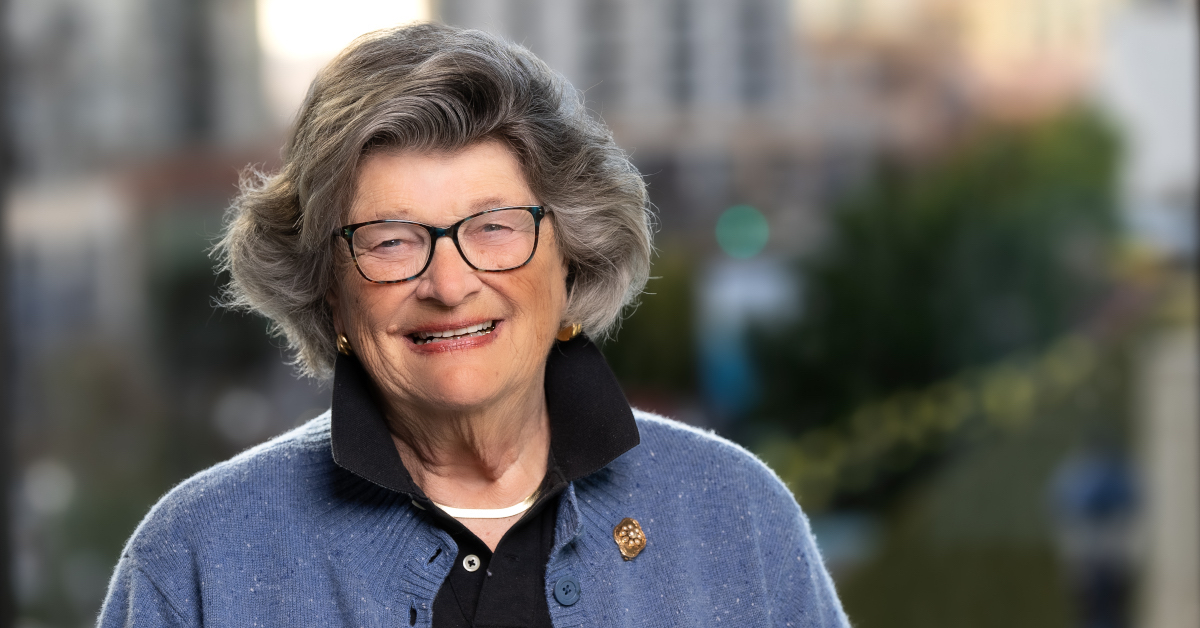 Published Date
By:
Share This:
Article Content
Mary Walshok, a longtime fixture of UC San Diego known for myriad contributions to the greater San Diego/Baja region, accepted a well-deserved Lifetime Achievement Award at the San Diego Business Journal's (SDBJ) Business Women of the Year Awards, held November 15, 2022.
Walshok was one of 13 San Diego area businesswomen, including Rady School of Management Dean Lisa Ordóñez, recognized for "standing up and speaking out" to make their voices heard in business, a theme inspired by a quote from Melinda Gates, a vocal supporter of women in business.
Before her retirement in June 2022, Walshok lived out this motto daily in her 50 years of service to UC San Diego, where she began as a research sociologist, then served as Associate Vice Chancellor and Dean of the Division of Extended Studies for four decades. During her time overseeing continuing education and public programming, she served more than 100,000 students annually.
Before being presented with her Lifetime Achievement Award, Walshok was introduced by San Diego business icon Malin Burnham as well as Mark Cafferty, CEO of the San Diego Regional Economic Development Corporation.
In his remarks, Burnham shared, "When Mary arrived at UC San Diego in 1972, there were only a handful of women in professional positions at the university. Mary changed all of that."
Throughout her career, Walshok dedicated herself to developing outreach efforts to accelerate the San Diego region's economic vitality, growing the region's globally competitive talent pool, and helping college graduates transition to high-demand employment areas.
Cafferty said, "Mary Walshok is the storyteller of our economy, the poet of our economy. To hear Mary talk about our economy is to hear pure poetry, even when you're talking about industry clusters and job training and some of those things that don't sound like poetry normally."
Walshok's life's work has focused on building social and intellectual connections between the university and the broader community in a manner that accelerates innovative business development, workforce readiness and inclusive social and cultural connections.
"I think one of the essential qualities of success and of joy in life and in work is being able to work in complicated groupings with diverse people across ages and stages and genders and races," Walshok said during her SDBJ Lifetime Achievement Award acceptance speech. "And boy, in the world we live in today, that kind of connectivity is really, really important."
In May 2022, Walshok championed the opening of UC San Diego Park & Market, the university's accessible new presence in East Village in downtown San Diego. The building's purpose is to serve as a community hub for connection and culture for all.
Walshok credits her unique career path and professional ambitions to her uncommon upbringing. The daughter of Swedish immigrants, Walshok spent parts of her childhood in both Europe and California, where she witnessed a range of cultures and lifestyles.
She is regularly called upon by the media for her expertise on national issues, as well as San Diego and Southern California economic and workforce topics. She frequently provides access to a vast array of regional intellectual resources through the award-winning UCTV, which she co-founded in 1993.
A native of Palm Springs, California, Walshok received her bachelor's degree in sociology from Pomona College in 1964, her master's degree in sociology in 1966 and her Ph.D. in sociology in 1969 from Indiana University. She has been a visiting professor at the Stockholm School of Economics for many years and in 2004 held an international appointment in the department of continuing education at Oxford University in England.
Walshok is a lifelong supporter of the arts and an active community volunteer. She resides in Del Mar, where she enjoys time with her family and friends as well as frequent visits to her second home in Borrego Springs.
You can read more about Walshok and her accomplishments in the recent special edition of the San Diego Business Journal.
Stay in the Know
Keep up with all the latest from UC San Diego. Subscribe to the newsletter today.