Don't Just Tell Students to Solve Problems. Teach Them How.
The positive impact of an innovative UC San Diego problem-solving educational curriculum continues to grow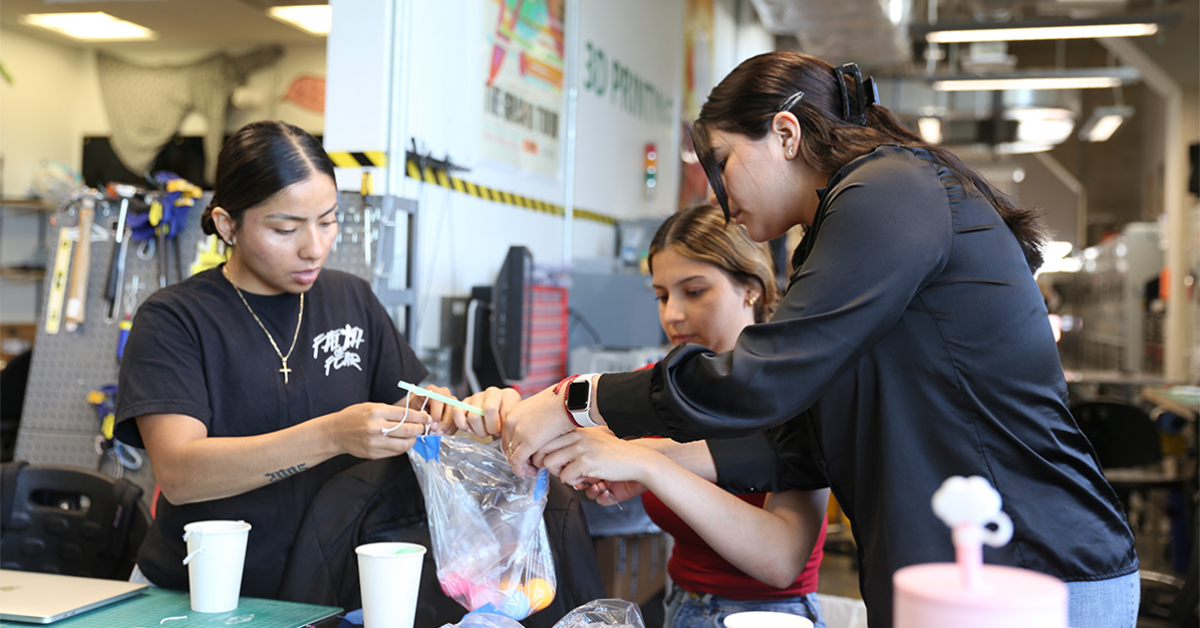 By:
Published Date
By:
Share This:
Article Content
Problem solving is a critical skill for technical education and technical careers of all types. But what are best practices for teaching problem solving to high school and college students?
The University of California San Diego Jacobs School of Engineering is on the forefront of efforts to improve how problem solving is taught. This UC San Diego approach puts hands-on problem-identification and problem-solving techniques front and center. Over 1,500 students across the San Diego region have already benefited over the last three years from this program. In the 2023-2024 academic year, approximately 1,000 upper-level high school students will be taking the problem solving course in four different school districts in the San Diego region. Based on the positive results with college students, as well as high school juniors and seniors in the San Diego region, the project is getting attention from educators across the state of California, and around the nation and the world.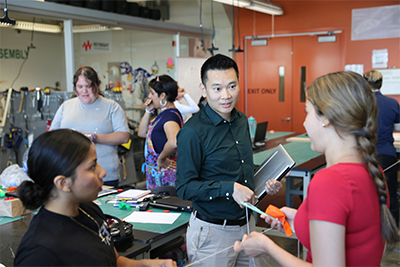 In Summer 2023, the 27 community college students who took the unique problem-solving course developed at the UC San Diego Jacobs School of Engineering thrived, according to Alex Phan PhD, the Executive Director of Student Success at the UC San Diego Jacobs School of Engineering. Phan oversees the project.
Over the course of three weeks, these students from Southwestern College and San Diego City College poured their enthusiasm into problem solving through hands-on team engineering challenges. The students brimmed with positive energy as they worked together.
What was noticeably absent from this laboratory classroom: frustration.
"In school, we often tell students to brainstorm, but they don't often know where to start. This curriculum gives students direct strategies for brainstorming, for identifying problems, for solving problems," said Jennifer Ogo, a teacher from Kearny High School who taught the problem-solving course in summer 2023 at UC San Diego. Ogo was part of group of educators who took the course themselves last summer.
The curriculum has been created, refined and administered over the last three years through a collaboration between the UC San Diego Jacobs School of Engineering and the UC San Diego Division of Extended Studies. The project kicked off in 2020 with a generous gift from a local philanthropist.
Not getting stuck
One of the overarching goals of this project is to teach both problem-identification and problem-solving skills that help students avoid getting stuck during the learning process. Stuck feelings lead to frustration – and when it's a Science, Technology, Engineering and Math (STEM) project, that frustration can lead students to feel they don't belong in a STEM major or a STEM career. Instead, the UC San Diego curriculum is designed to give students the tools that lead to reactions like "this class is hard, but I know I can do this!" – as Ogo, a celebrated high school biomedical sciences and technology teacher, put it.
Three years into the curriculum development effort, the light-hearted energy of the students combined with their intense focus points to success. On the last day of the class, Mourad Mjahed PhD, Director of the MESA Program at Southwestern College's School of Mathematics, Science and Engineering came to UC San Diego to see the final project presentations made by his 22 MESA students.
"Industry is looking for students who have learned from their failures and who have worked outside of their comfort zones," said Mjahed. The UC San Diego problem-solving curriculum, Mjahed noted, is an opportunity for students to build the skills and the confidence to learn from their failures and to work outside their comfort zone. "And from there, they see pathways to real careers," he said.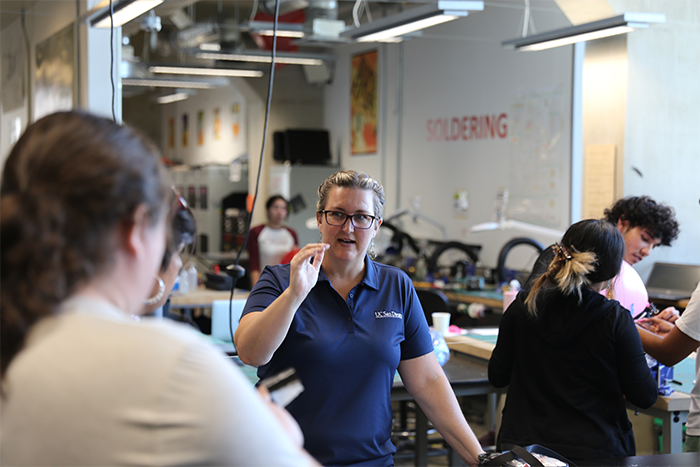 What does it mean to explicitly teach problem solving?
This approach to teaching problem solving includes a significant focus on learning to identify the problem that actually needs to be solved, in order to avoid solving the wrong problem. The curriculum is organized so that each day is a complete experience. It begins with the teacher introducing the problem-identification or problem-solving strategy of the day. The teacher then presents case studies of that particular strategy in action. Next, the students get introduced to the day's challenge project. Working in teams, the students compete to win the challenge while integrating the day's technique. Finally, the class reconvenes to reflect. They discuss what worked and didn't work with their designs as well as how they could have used the day's problem-identification or problem-solving technique more effectively.
The challenges are designed to be engaging – and over three years, they have been refined to be even more engaging. But the student engagement is about much more than being entertained. Many of the students recognize early on that the problem-identification and problem-solving skills they are learning can be applied not just in the classroom, but in other classes and in life in general.
Gabriel from Southwestern College is one of the students who saw benefits outside the classroom almost immediately. In addition to taking the UC San Diego problem-solving course, Gabriel was concurrently enrolled in an online computer science programming class. He said he immediately started applying the UC San Diego problem-identification and troubleshooting strategies to his coding assignments.
Gabriel noted that he was given a coding-specific troubleshooting strategy in the computer science course, but the more general problem-identification strategies from the UC San Diego class had been extremely helpful. It's critical to "find the right problem so you can get the right solution. The strategies here," he said, "they work everywhere."
Phan echoed this sentiment. "We believe this curriculum can prepare students for the technical workforce. It can prepare students to be impactful for any career path."
The goal is to be able to offer the course in community colleges for course credit that transfers to the UC, and to possibly offer a version of the course to incoming students at UC San Diego.
As the team continues to work towards integrating the curriculum in both standardized high school courses such as physics, and incorporating the content as a part of the general education curriculum at UC San Diego, the project is expected to impact thousands more students across San Diego annually.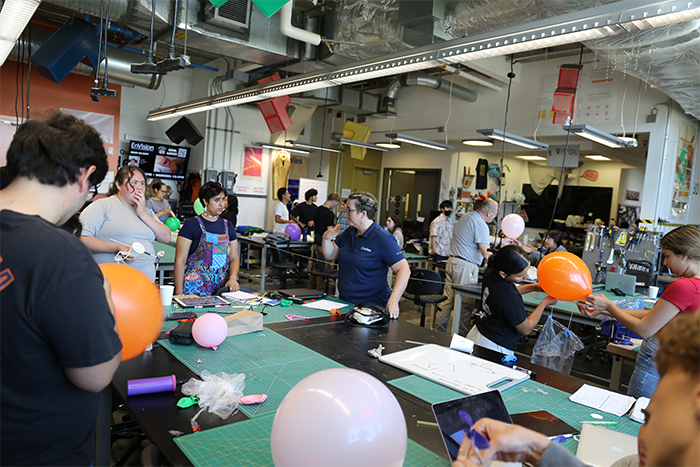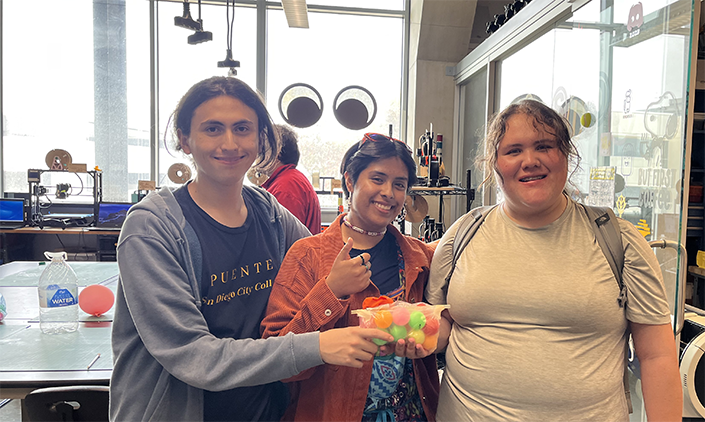 Portrait of the Problem-Solving Curriculum
On a sunny Wednesday in July 2023, an experiential-learning classroom was full of San Diego community college students. They were about half-way through the three-week problem-solving course at UC San Diego, held in the campus' EnVision Arts and Engineering Maker Studio. On this day, the students were challenged to build a contraption that would propel at least six ping pong balls along a kite string spanning the laboratory. The only propulsive force they could rely on was the air shooting out of a party balloon.
A team of three students from Southwestern College – Valeria, Melissa and Alondra – took an early lead in the classroom competition. They were the first to use a plastic bag instead of disposable cups to hold the ping pong balls. Using a bag, their design got more than half-way to the finish line – better than any other team at the time – but there was more work to do.
As the trio considered what design changes to make next, they returned to the problem-solving theme of the day: unintended consequences. Earlier in the day, all the students had been challenged to consider unintended consequences and ask questions like: When you design to reduce friction, what happens? Do new problems emerge? Did other things improve that you hadn't anticipated?
Other groups soon followed Valeria, Melissa and Alondra's lead and began iterating on their own plastic-bag solutions to the day's challenge. New unintended consequences popped up everywhere. Switching from cups to a bag, for example, reduced friction but sometimes increased wind drag.
Over the course of several iterations, Valeria, Melissa and Alondra made their bag smaller, blew their balloon up bigger, and switched to a different kind of tape to get a better connection with the plastic straw that slid along the kite string, carrying the ping pong balls.
One of the groups on the other side of the room watched the emergence of the plastic-bag solution with great interest.
"We tried everything, then we saw a team using a bag," said Alexander, a student from City College. His team adopted the plastic-bag strategy as well, and iterated on it like everyone else. They also chose to blow up their balloon with a hand pump after the balloon was already attached to the bag filled with ping pong balls – which was unique.
"I don't want to be trying to put the balloon in place when it's about to explode," Alexander explained.
Asked about whether the structured problem solving approaches were useful, Alexander's teammate Brianna, who is a Southwestern College student, talked about how the problem-solving tools have helped her get over mental blocks. "Sometimes we make the most ridiculous things work," she said. "It's a pretty fun class for sure."
Yoshadara, a City College student who is the third member of this team, described some of the problem solving techniques this way: "It's about letting yourself be a little absurd."
Alexander jumped back into the conversation. "The value is in the abstraction. As students, we learn to look at the problem solving that worked and then abstract out the problem solving strategy that can then be applied to other challenges. That's what mathematicians do all the time," he said, adding that he is already thinking about how he can apply the process of looking at unintended consequences to improve both how he plays chess and how he goes about solving math problems.
Looking ahead, the goal is to empower as many students as possible in the San Diego area and beyond to learn to problem solve more enjoyably. It's a concrete way to give students tools that could encourage them to thrive in the growing number of technical careers that require sharp problem-solving skills, whether or not they require a four-year degree.
Stay in the Know
Keep up with all the latest from UC San Diego. Subscribe to the newsletter today.