Diving into Seabird Science
The study of penguins and other seabirds takes flight through the research of Scripps graduate student Tammy Russell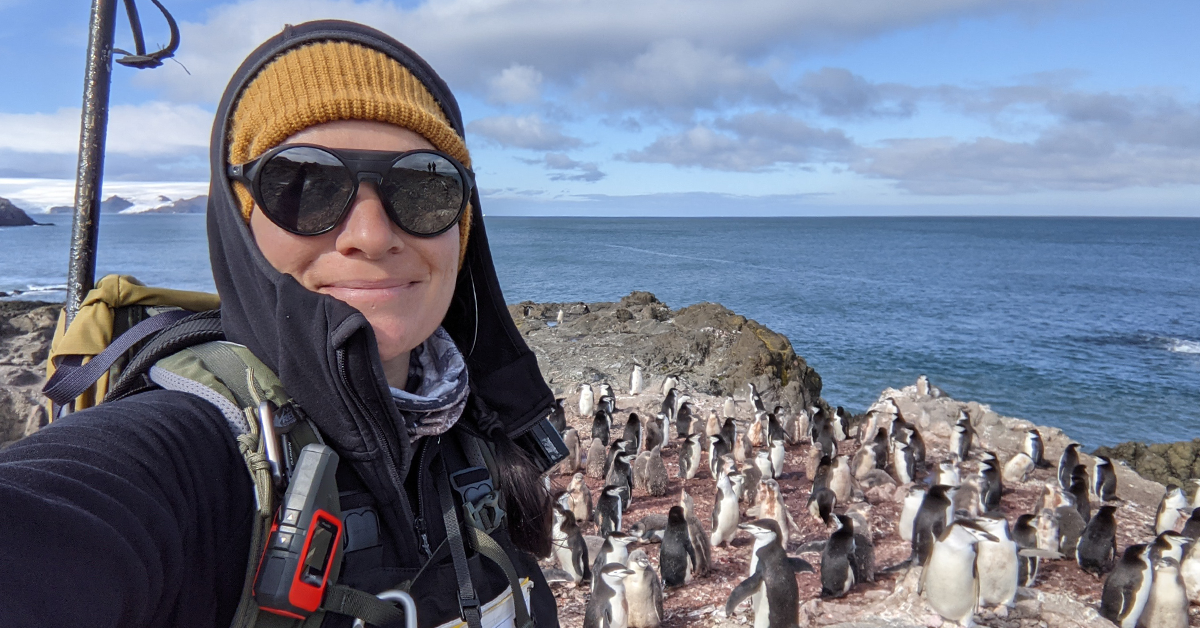 By:
Published Date
By:
Topics:
Share This:
Article Content
Growing up in a rural Southern California town in the 1990s, Tammy Russell didn't know any scientists. And yet it was there, amid the fields of Cherry Valley, that she started dreaming about a future in marine science.
"I knew from the time I was a little kid that I wanted to be a scientist and I wanted to go to Antarctica," said Russell, now a fifth-year PhD candidate at UC San Diego's Scripps Institution of Oceanography.
She thinks the Antarctic idea was likely the result of a documentary, "probably recorded by my mom on an old VHS tape, or something," she mused. Cartoons, wildlife films, and Zoobooks magazines highlighting the ocean, space, and seabirds—particularly albatrosses—further inspired a young Russell, leading to her "sense of wonderment" for the large oceanic birds and other feathered creatures.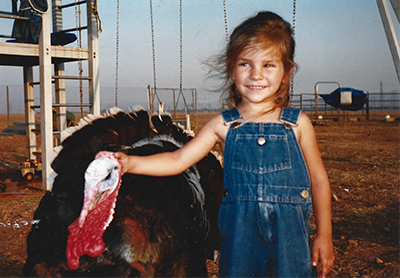 Fast forward to 2022, and Russell is now living out her childhood dreams at Scripps Oceanography, where she studies biological oceanography in the lab of renowned phytoplankton ecologist Maria Vernet. Russell's research focuses on the impacts of climate change and plastics on seabirds along the U.S. West Coast and the Antarctic Peninsula. This work takes shape through several different projects, all with a focus on marine stewardship and seabirds.
Supported by the prestigious NOAA Nancy Foster Scholarship, Russell's doctoral work investigates how seabirds use the U.S. National Marine Sanctuaries along the West Coast. For this project, she is using the largest data set on seabirds at-sea that's ever been compiled to examine the habitat use of seabird species between different areas along the coast. This work also seeks to identify long-term changes in the seabirds' population and distribution.
Beyond her PhD work, Russell has been involved in several research efforts focused on seabirds and microplastics. She launched the Penguano Project in 2019, working in collaboration with the Vernet Laboratory, NOAA Southwest Fisheries Science Center's Antarctic Ecosystem Research Division (AERD), and Jeff Bowman's laboratory at Scripps Oceanography. This research effort aims to collect and analyze penguin poop, or guano, samples from the Antarctic region, shedding light on the penguins' diet composition and the amount of microplastics found in the marine food web.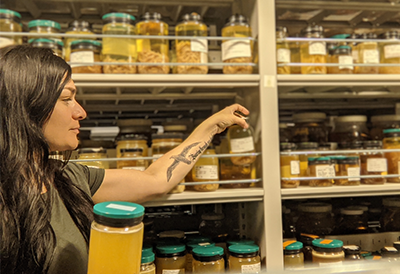 "Microplastics are a growing concern in the marine environment. We have found them all over the globe in all different habitats in all different organisms. But it hasn't been until the last decade that we've been finding them more and more in the Antarctic ecosystem," said Russell. "This work will be the first research to document these microplastics in Antarctic penguins."
Russell's microplastics work has soared to new heights over the past year through fieldwork collaborations with AERD and a research stint at the Smithsonian National Museum of Natural History, where she gained access to a trove of krill samples collected decades ago at the Palmer Long Term Ecological Research (LTER) site in the Antarctic Peninsula. She spent part of her spring in the lab in Washington, D.C., removing the stomach contents of Antarctic krill—a critical food source for many seabirds—to create a time series of plastic ingestion in these small crustaceans.
"I had always been obsessed with Antarctica, and it seemed like a really remote place untouched by humans. And then to find out that researchers are finding higher-than-expected amounts of microplastics in the waters around the Antarctic Peninsula? It just was one of those jaw-dropping moments," said Russell, explaining what drew her to this research. "I wanted to look at what is going on in the ecosystem in Antarctica, not just the presence of microplastics in the sea water, but how are the birds being impacted? How is this plastic moving through the food web?"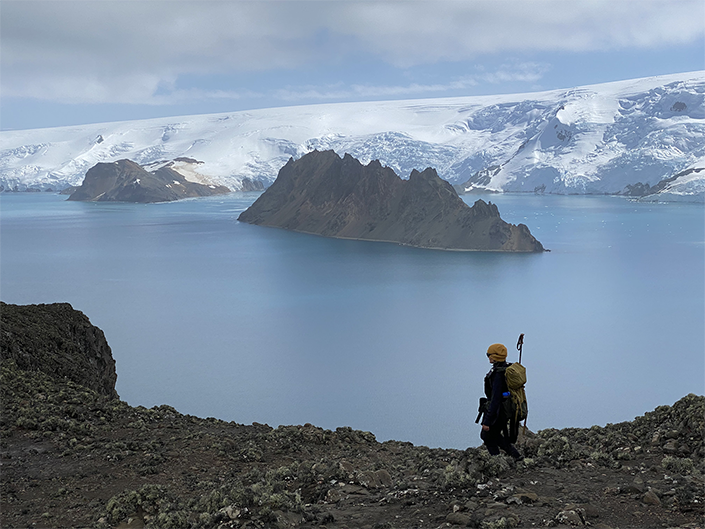 Antarctic Journey
In January 2022, Russell furthered her microplastics work by embarking upon her first journey to the frozen continent, fulfilling a lifelong goal. Following a week-long quarantine in Chile, she spent three weeks at the Copacabana Field Station on King George Island, located off the tip of the Antarctic Peninsula. There, she was immersed in seabird science, assisting AERD's Seabird Research Program with data collection to assess the population health of krill-eating Antarctic seabirds, and she collected penguin guano samples for the Penguano Project.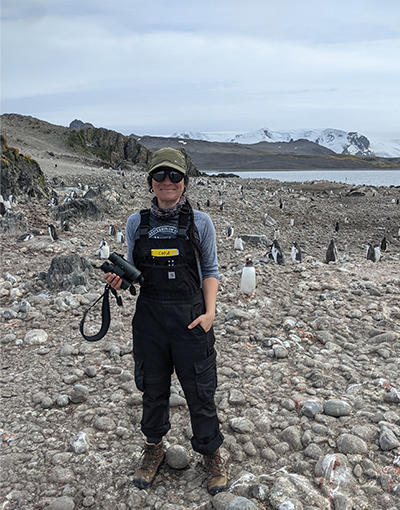 Russell described visiting Antarctica as the best experience of her life, calling it both incredible and overwhelming.
"It was such an adventure just to get there, using boats and planes, so my adrenaline was going. I'm very emotional so I thought I would be a mess but I wasn't—until I called my husband on the satellite phone and I couldn't even talk. I just cried. There were penguins yelling all around me and he was just laughing because he was so happy for me," said Russell. "It was really cool, but it wasn't until that moment where I realized, 'I can't believe this is real. I did it.'"
In the field, she observed numerous penguins from three different krill-eating species—Adélie, chinstrap, and gentoo penguins—as well as king and macaroni penguins, which aren't typically seen in that area. In addition to penguins, southern giant petrels, Russell's favorite bird, filled the sky.
Russell appreciated the amount of time she had to observe the penguins in their natural habitat. From the Copacabana Field Station's two large kitchen windows, she and her two colleagues had a direct view of the ocean and the area's many penguins, which often amused the researchers with their intricate interactions with one another.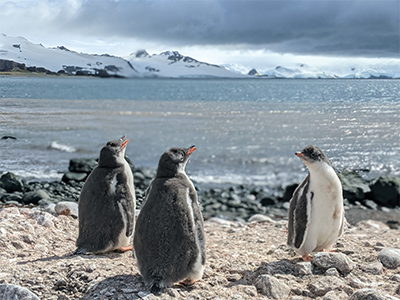 "We called that Copa TV," said Russell, recalling the penguin drama that took place each day. Among the most memorable behaviors she witnessed were gentoo chicks playfully chasing feathers "much like a cat or dog would chase a toy," and Adélie and gentoo chicks getting the "zoomies," where they would run around and flap their wings wildly.
"It was like watching my cat get the zoomies—they just couldn't control it," she said.
The silly penguin antics were a welcome relief from the heavy issue of plastic pollution and other stressors facing the Antarctic Peninsula, one of the fastest warming regions in the world. Russell said she felt grateful for the opportunity to contribute to vital research in the region.
"Understanding the impacts from microplastics on the Antarctic penguins that we study is really important because those populations and those species are already under tremendous pressure from climate change," she said.
Birch Aquarium Collaboration
This past year, Russell has also been collaborating on penguin research with Birch Aquarium at Scripps, which opened the Beyster Family Little Blue Penguins exhibit in July 2022. After volunteering at Birch Aquarium over the years, she was hired in the summer of 2020 as part of the planning committee for the new exhibit, which features the world's smallest penguins.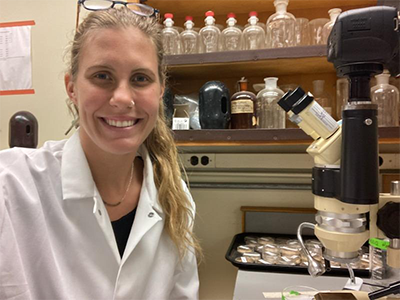 In early 2022, Russell and colleague Racquel Maronde, then a graduate student in the Scripps MAS MBC program, began working closely with the little blue penguins to test different methods for collecting and analyzing guano samples. Already this practice has proven to be tremendously helpful, allowing the researchers to refine their sampling processes on the little blue penguin guano before cracking into the harder-to-obtain guano samples collected from Antarctica.

"Working with Birch Aquarium provided an invaluable learning opportunity to design a sample collection protocol and to conduct some really cool research analyzing penguin guano," said Maronde, who graduated from Scripps in June 2022.
Both researchers said they were thrilled that the penguin exhibit is now open, so guests can experience the wonder of seabirds up close and learn about the important role they play in our ecosystems.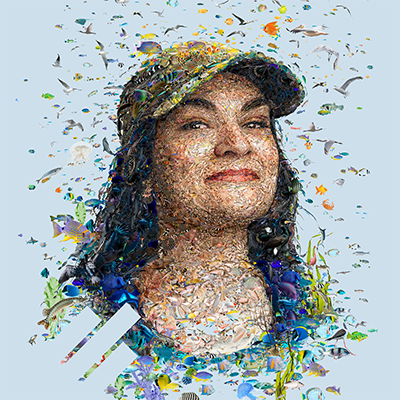 As she enters the final stretch of her PhD program, Russell will be diving deeper into data analysis, and will participate in research cruises closer to home, studying seabirds along the West Coast. She also plans to continue guano analysis for the Penguano Project, with help from some fellow students and colleagues.

Despite an already busy schedule, Russell plans to continue participating in outreach and mentorship opportunities. She is particularly passionate about supporting younger students, as she recalls her own difficulties navigating the uncharted territory of graduate school and a career in science.
"It's really cool to mentor students in a lab environment, where I can also teach them important skills like R-coding and share practical information about my grad school experience," said Russell. "I also love outreach, and do a lot of talks to schools on microplastic pollution and my other work. Plastic pollution is a sad topic, but by sharing my research in an engaging way, I hope to inspire people to want to learn more."

Follow Tammy Russell's latest research activities on Twitter and Instagram at @Marinamorphosis.
Topics:
Share This:
Stay in the Know
Keep up with all the latest from UC San Diego. Subscribe to the newsletter today.