Daring to Ask the Unanswered Questions
UC San Diego Health nurse researchers dive into exploring the unknown of complex issues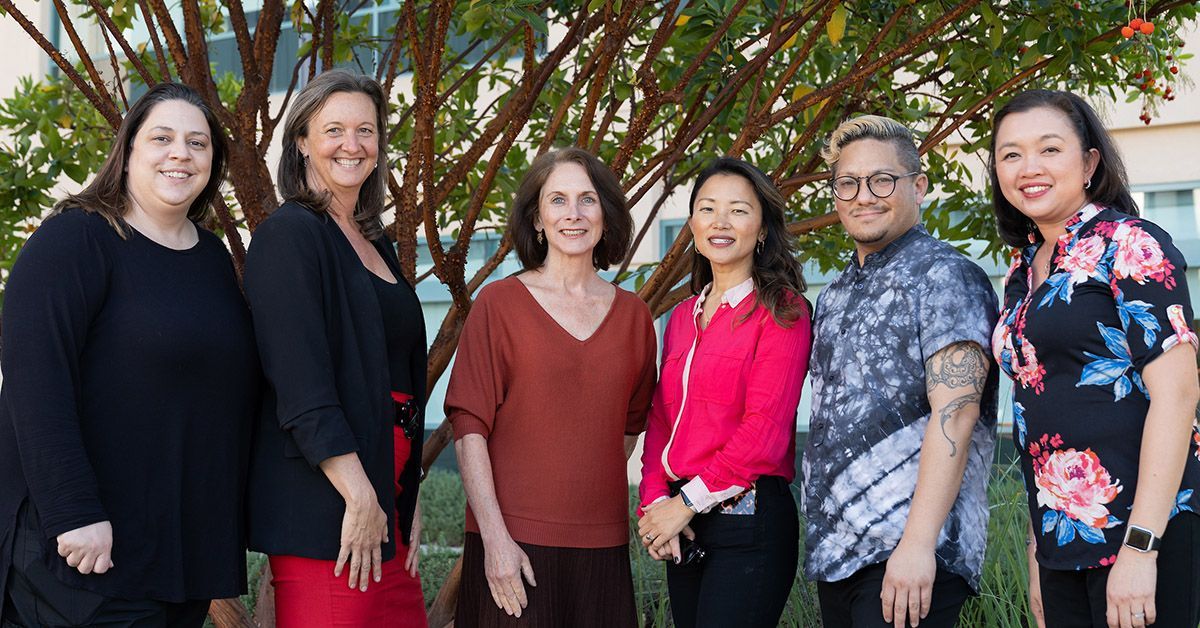 Published Date
By:
Topics:
Share This:
Article Content
Judy Davidson never imagined she'd be leading national research about the risk of nurse suicide or testing the first known suicide prevention program for nurses.
Yet, this research journey began after local suicides prompted her to ask: Are nurses at a greater risk of suicide than the general population? When the research firmly pointed to yes, she sought to investigate what could be done about it.
"Suicide was really a left turn for me," said Davidson, DNP, RN, nurse scientist at UC San Diego Health. "I'm known for my work in family-centered care, so what am I doing in suicide? But that's the interesting thing about research. Sometimes you stumble onto something profoundly important and realize that nobody has asked the question before. And there you have it — the next research study."
Now, after working to hone methods of risk detection with Sidney Zisook, MD, Distinguished Professor of Psychiatry at UC San Diego School of Medicine and psychiatrist at UC San Diego Health, work has just begun on a three-year, $1.5 million grant from the American Foundation of Suicide Prevention to test strategies aimed at improving the mental health of nurses and preventing suicide.
UC San Diego School of Medicine and Ohio State University partnered to secure the grant entitled, "HEAR plus MINDBODYSTRONG: A Mental Health Resiliency Intervention for Nurses."
The project will test strategies from the award-winning UC San Diego Healer Education Assessment and Referral Program (HEAR), an interactive, anonymous suicide risk screening program, along with a digitized cognitive behavioral skills-building program from Ohio State University called MINDBODYSTRONG.
If effective, this intervention could be used to safely detect mental health issues early and minimize suicide risk while bolstering a nurse's capacity to deal with the stressors inherent in the profession. If successful, the combination could serve as a model for other health care professions. The grant stemmed from UC San Diego School of Medicine and UC San Diego Health's landmark national study which confirmed that nurses are at a higher risk of suicide than the general population.
"The most important thing we can do as nurse scientists is to keep answering the unanswered questions," Davidson said. "For me, I've focused on how to minimize the impact this stressful profession can have on our mental health and well-being."
"This grant is a glass ceiling moment for nurses at UC San Diego Health. We're beginning to create structure and transform possibilities for nurses to contribute to the research mission of the organization."
A Mentor at Heart
Davidson shares her passion for research with other nurses at UC San Diego Health through mentorship. As far back as the 1980's, prior to graduate school, she fell in love with research and teaching and attributes her own successes to key mentors throughout her career. Whether it's through evidence-based practice projects, performance improvement initiatives or research, Davidson empowers nurses to utilize their skills and knowledge to uncover key innovations for advancing the profession. In her role as nurse scientist, she supports nurses with project development, presentations and publication.
Davidson recently formalized her research mentorship into a novel program called the UC San Diego Research Immersion Certificate Program. Over the past two years, more than 52 participants from mixed disciplines have tackled 17 research projects — nine of which have progressed successfully to publication, with others pending.
"It's all about learning by doing," Davidson said. "You get together and start working on a project, and each step of the way provide guidance about what's next. It's just about creating the space and giving nurses hope that they can make things better while giving them the support they need to take on their idea."
One of Davidson's key mentors is Zisook. He is a co-founder of UC San Diego School of Medicine's HEAR program, which provides education about risk factors and proactive screening focused on identifying, supporting and referring clinicians for untreated depression and/or suicide risk. First targeted to prevent suicides in physicians, it is now inclusive of all UC San Diego Health staff and faculty after Davidson and Zisook teamed up to broaden its reach.
The HEAR method of suicide prevention has been acclaimed as a best practice by the American Medical Association, Surgeon General, American Hospital Association and American Academy of Nurses.
"Judy helped transform the HEAR program from one that only served physicians to one that now embraces the entire health care family," Zisook said. "Her enthusiasm for research on this critically important area — preventing health care worker burnout and suicide — is infectious, as witnessed by the countless students, trainees, staff and faculty she is currently mentoring on groundbreaking suicide prevention research."
Discovering the 'Why'
Laura Chechel, MSN, RN, UC San Diego Health nurse manager, teamed up with Davidson to conduct her first research project. What began as one study about medication management has expanded to multiple projects, with no end in sight. She is now leading a follow-up study about the impact of changes in regulatory standards on patient outcomes.
"I'm the type of person that needs to know the why behind everything," said Chechel with a laugh. "If you do this, what happens? My inquisitive nature draws me to research, and Judy helped build that. The thing about Judy is that she is always going to say yes to an idea. She's never going to stifle someone's questions. She's always going to help mold it into something that will become meaningful."
That mentorship has motivated Chechel to pay it forward with other nurses. She's currently mentoring seven nurses to conduct clinical advancement projects which will result in a raise and promotion for the nurses she is mentoring. She is also gearing up to mentor others with a new research project.
"Nurses can truly see potential interventions to improve patient outcomes because of the sheer amount of time they spend with patients, so it's vitally important to provide opportunities for them to study the things they believe will advance care and optimize outcomes," Chechel said.
"I don't know that nurses always see themselves as potential researchers, but they play such an important role in patients having success in whatever treatment or therapy we are providing. Nurses have a unique perspective because they see what doesn't work. This makes them prime for exploring and testing new approaches to care."
UC San Diego's Research Immersion Certificate Program is unique in that it is driven by frontline nursing staff and nursing leaders who are passionate about research. The program, spearheaded by Davidson, has accelerated what is possible in nurse research, according to Paige Burtson Harrison, PhD, RN, UC San Diego Health director of nursing.
Harrison has conducted research for many years, including projects on standardizing diabetes education to improve glycemic control, compassion satisfaction among nurses and meditation to reduce rates of depression and anxiety among HIV patients.
"It is amazing the portfolio of research our nurses have amassed out of pure passion for the work they do," Harrison said. "I also believe nurses have a particular role to play in helping to translate research findings into clinical practice."
Davidson believes the key to successful nurse research projects is having a joy project that prompts them to uncover important unanswered questions.
"These types of research projects bring a lot of professional fulfillment," Davidson said. "There is a joy and pride that comes with nurses advancing the profession in a way that they may not have done otherwise, had they not asked the research questions."
If you or someone you know may be considering suicide, contact the National Suicide Prevention Lifeline at 1-800-273-8255 (En Español: 1-888-628-9454; Deaf and Hard of Hearing: 1-800-799-4889) or the Crisis Text Line by texting HOME to 741741.
Topics:
Share This:
Stay in the Know
Keep up with all the latest from UC San Diego. Subscribe to the newsletter today.