Cross-Cultural Center Celebrates 20 Years
Photos by Erik Jepsen/UC San Diego Publications
Center offers students, faculty and staff a place to discover, connect and succeed
In the mid-1990s, a shrinking number of students from underrepresented groups and an increasingly hostile state and national climate to people of color strained race relations at the University of California, San Diego. Through protest, signature gathering and teach-ins, students from the Student Affirmative Action Coalition (SAAC) along with concerned faculty and staff called for the establishment of a center that would support the concerns of underrepresented and underserved students while at the same time build campus engagement for diversity and social justice issues.
That scenario prompted then UC San Diego Chancellor Richard Atkinson to create a task force of students, staff, faculty and members of the San Diego community to guide the establishment of a Cross-Cultural Center (CCC) to foster meaningful dialogues, support the personal and professional development of students, and create spaces of education around diversity for the entire campus.
Jim Lin, UC San Diego math professor emeritus, was one of the original taskforce leaders. "How to create meaningful dialogues across cultures remains today a thorny problem that has led to wars, riots and deep divisions both nationally and internationally. The most recent example of this is the challenge of creating meaningful dialogues around the events occurring in Ferguson, Missouri this last week," he said.
Lin added, "Back then, the center was surrounded with lots of controversy. Critics said the CCC would have no effect on improving campus climate and wasn't needed."
Twenty years later, campus leaders like Atkinson, Lin and so many others can be proud of the legacy they built: The first of five resource centers now under the UC San Diego Office of Equality, Diversity and Inclusion, the Cross-Cultural Center is a safe place for the campus and the local community to unite in a holistic learning environment. Centrally located in Price Center East, it is one of the most used departmental spaces on campus.
"Many centers around the country have had a significant burnout rate for their staff," said Lin. "We have been incredibly fortunate to have Edwina Welch as director of the center and Nancy Magpusao as director of educational programs for over 18 years. Further, the Cross-Cultural Center has continued to bring fresh new ideas that stimulate and inspire."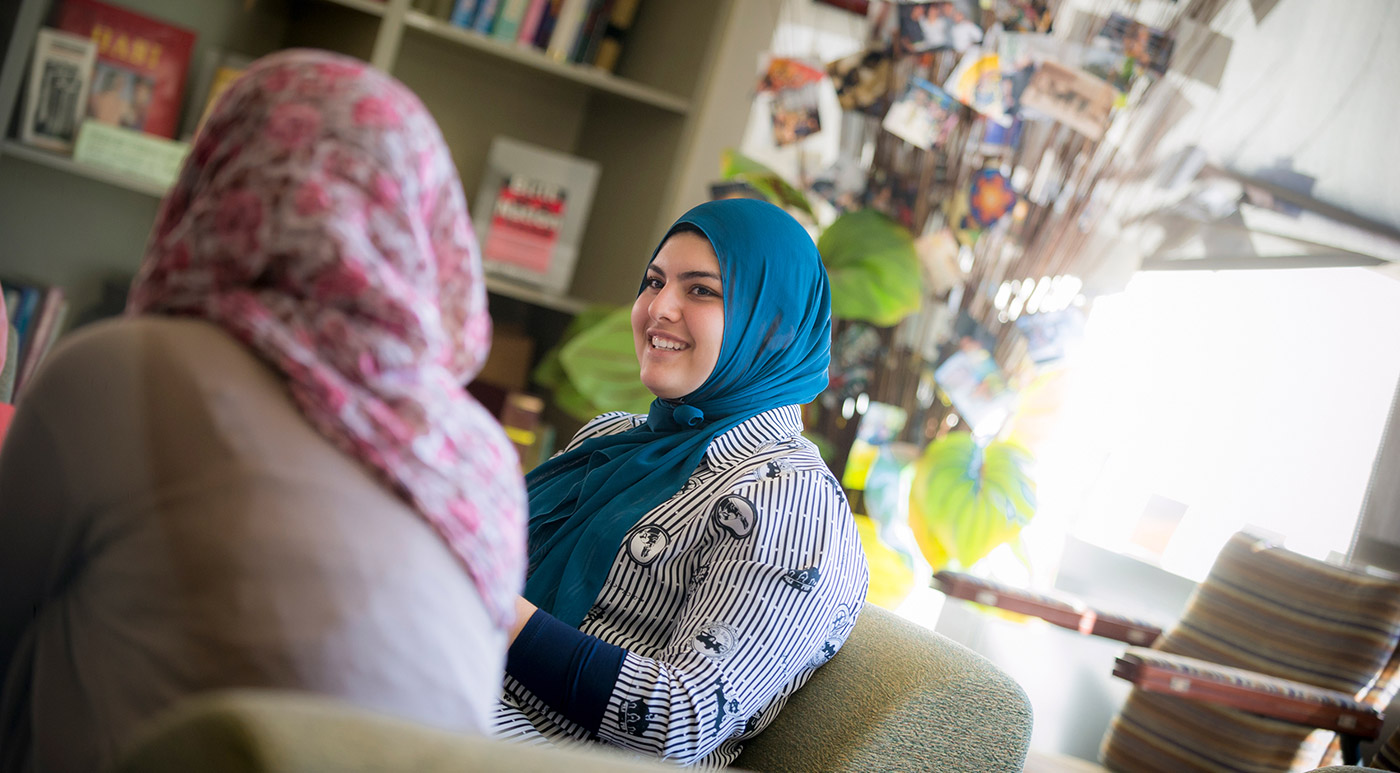 The Cross-Cultural Center opened in 1995; Welch joined as director in 1996. "Our goal is engagement across groups," she explained. "We are one of the only UC campuses, and just a few other universities, whose Campus Community Centers (Cross-Cultural Center, Black Resource Center, Lesbian Gay Bisexual Transgender Resource Center, Raza Resource Centro and Women's Center) serve the entire campus—students as well as staff, faculty and the San Diego community.
"Our 20th Anniversary will help illuminate the work we are trying to do," said Welch. "Our main goal hasn't changed since the center was opened—bringing together and honoring students, staff, faculty and the San Diego community. They are the reason and backbone of the work and activities of the Cross-Cultural Center."
The CCC is always abuzz with creative and enlightening workshops, lectures and engaging conversation. Welch noted that numerous social, cultural, academic and professional programs are offered, from faculty residencies and staff cultural competency training to graduate student pedagogy workshops, research opportunities and undergraduate peer leadership training.
At the Cross-Cultural Center, individuals learn about themselves as well as others in a supportive environment. Student interns play a critical role in the operation of the CCC, providing services and planning events for and about members of historically under-represented groups. They learn job-related skills and the importance and impact of team work, communication and personality/working styles.
"I really feel for students—particularly first years and transfers—who haven't found their community on campus," said third year student Sandra Amon, a CCC intern this year and a research assistant for the upcoming CCC manuscript Nexus: Complicating Community and Centering the Self (Cognella Press, spring 2015) "I found mine through the Cross-Cultural Center. I am from San Diego, so when I got into UCSD, I commuted from home. Looking back on that first year, I felt disconnected from campus all the more until I found my niche."
Amon, added, "The 20th Anniversary acknowledges the impact the Cross-Cultural Center has had at UC San Diego in bridging connections, building relationships and cultivating student leadership."
Activism is a key component of the Cross-Cultural Center, according to Jorge Mariscal, UC San Diego professor of literature and chair of the original planning committee. "The Cross-Cultural Center has a long history of student, staff and faculty activism," he said. "Though most UC campuses founded cross/multi-cultural centers in the early 1970s, UCSD did not recognize the importance of such a center as a tool for recruitment and retention. A coalition of student of color organizations, concerned students, staff and faculty began to insist more forcefully on the need for a Cross-Cultural Center. The CCC was born from student and community movements. Our continued success is directly grounded in the hard work and dedication of these and future generations."
As part of its milestone anniversary, the center is featuring a series of events including a Teaching Diversity Conference sponsored by the Office of the Vice Chancellor for Equity, Diversity, and Inclusion and John Muir College that will be held January 15, 2015. Jim Lin and Muir College writing director Carrie Wastal established the inaugural Teaching Diversity Conference in 2011.
This year's conference will explore, identify and develop student-centered instruction and practices with an aim toward building a more inclusive campus environment. Panels will hear from students, graduate student instructors, faculty and practitioners from UC San Diego and the broader community. A keynote address will be given by Dr. Shari Saunders from the University of Michigan's School of Education. For more information and to register for the daylong "Strategies for Creating Inclusive Classrooms and Communities" visit the website.
Another event to honor the Cross-Cultural Center's milestone anniversary is the (re)Centering 20 Years of Leadership, Empowerment and Community Engagement Celebration May 23, 2015 at the Price Center Ballroom.
Asked about the next 20 years for the Cross-Cultural Center and the campus climate, Welch said, "I'm really hopeful for the center's continued growth and development. Chancellor Khosla has made powerful changes organizationally, as well as opening access to students of all backgrounds through the Chancellor's Associates Scholars program. Things are changing. Just look at the diversity in leadership on our campus, including the hiring two new deans—Carol Padden for Social Sciences and Cristina Della Coletta in Arts and Humanities—and Juan González, our new VC of Student Affairs."
She added, "With the changing campus administration and the changing demographics of California, the center's work of critical engagement is necessary and important to giving students the skills and competencies for the world in which they will enter."
Welch also thanked Jim Lin for his work with the Cross-Cultural Center and most recently for funding, with his wife, the James and Julie Lin Diversity Leadership Award. This new category of scholarship recognizes students who create an atmosphere of community and promote diversity.
"We have incredibly talented and passionate undergraduate students at the Cross-Cultural Center," said Lin. "We have to figure out a way to make UCSD a more welcoming place for students of color. The CCC interns spend 15-20 hours a week thinking about these issues. To me, they are the future."
For more information about the Cross-Cultural Center, including 20th Anniversary activities, please visit ccc.ucsd.edu.
Stay in the Know
Keep up with all the latest from UC San Diego. Subscribe to the newsletter today.