Computer Science Students Garner 2023 Google PhD Fellowships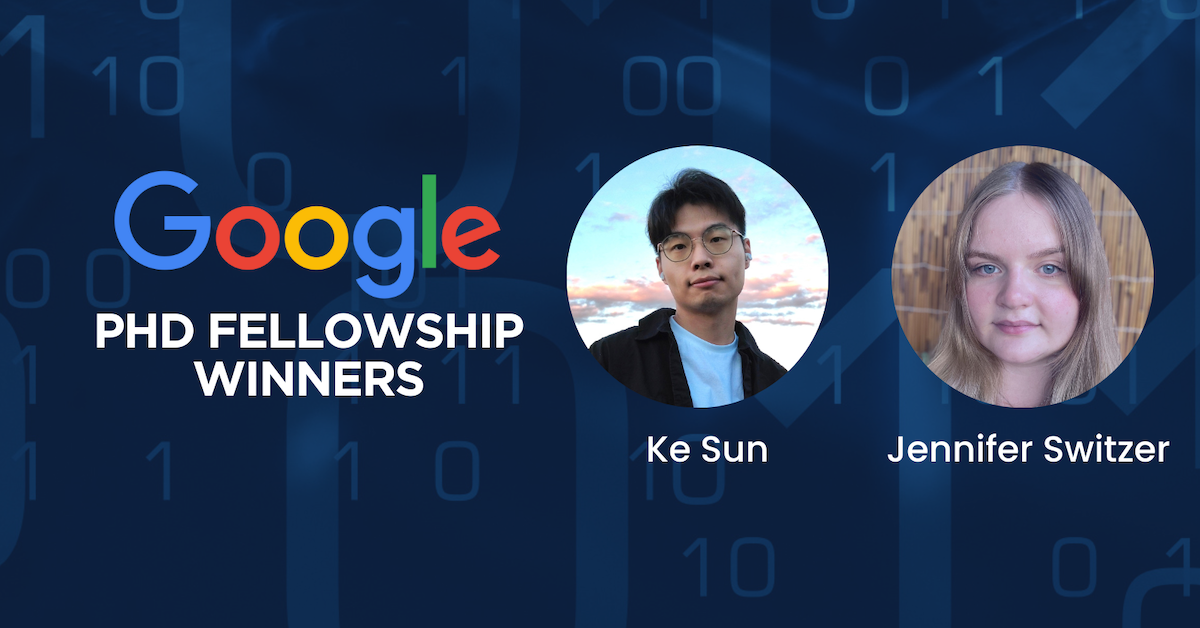 By:
Media Contact:
Published Date
By:
Media Contact:
Share This:
Article Content
Two PhD students in the University of California San Diego's Department of Computer Science and Engineering (CSE), Ke Sun and Jennifer Switzer, have been awarded 2023 Google PhD Fellowships. They join three recent CSE recipients: Yu-Ying Yeh, Tiancheng Sun, and Saining Xie.
The Google PhD Fellowship program recognizes a select group of exemplary PhD candidates worldwide who seek to influence the future of technology. CSE's 2023 fellows are already garnering attention for the reach of their technology research – in healthcare for Sun and the environment for Switzer.
Harnessing IoT Technology to Enable Senior Healthcare
For Ke Sun, the future of technology lies in ambient intelligence (AmI). In contrast to Internet of Things (IoT) which relies on explicit devices, AmI embeds sensors and processors into everyday devices enabling adjustments within the environment to meet individual needs and preferences.
Imagine a home environment where facial recognition detects you at your doorstep and allows you access. Lighting adjusts to suit specific family members. Window treatments respond to heat and glare. Phone messages are played automatically. The system scans for your calendared events and favorite TV programming and delivers timely reminders.
Sun's research focuses on delivering an accurate, robust, private, and affordable representation of AmI through the use of multi-modal sensors. This includes input from conventional human sensory data, such as audio and visual inputs, fused with unconventional non-human sensory data such as motion and wireless sensors, GPS, and biometric and ultrasound sensors, among others.
"The potential impact of my research could revolutionize independent living for the elderly, offering precise healthcare insights into behavior and cognition," said Sun. "Additionally, the research could enable automated in-home monitoring of life-threatening conditions, detect chronic diseases, identify environmental hazards, and provide insights into human cognitive psychology."
Sun's research also addresses one of IoT's most perplexing problems: privacy. Since voice assistants (VAs) were first introduced, consumers have been concerned that VAs record and send information to the cloud. Sun has designed MicShield, a companion device, which selectively jams unintended private speech while passing intended voice command.
"I am enthusiastic about collaborating with Google's exceptional talents to explore the seamless integration of my research into an expanded array of IoT and consumer electronic devices, effectively harnessing technology to enable human healthcare and enhance human experiences," said Sun, who is advised by Associate Professor Xinyu Zhang in the Department of Electrical and Computer Engineering.
Repurposing Phone Processors for a Smaller Carbon Footprint
Jennifer Switzer along with her coauthors, CSE professors Ryan Kastner and Pat Pannuto and PhD student Gabriel Marcano, is studying smartphone waste. The scale of the problem – an estimated 1.5 billion decommissioned smartphones annually – is nearly incomprehensible and demands a more nuanced solution than consumer recycling.
Smartphones begin life as copper, silver, gold, palladium and other raw materials. A carbon-devouring manufacturing process transforms these and other materials into components for assembly. After packaging and transportation, the devices begin their brief lifespan, an average of 2.5 years from purchase to deactivation.
Recycling these "junked" phones, so named because outdated models often languish in household junk drawers, dictates a second carbon intensive process to extract raw materials. It also ignores the reality that manufacturing smartphones leaves a larger carbon footprint than mining the materials. That's precisely why Switzer's novel strategy holds such promise.
Switzer's proposal hinges on the impressive functional lifespan of smartphone processors. These processors are built to last, running faultlessly for 10 years or more, well beyond the truncated 2.5-year lifespan of most smartphones. Switzer and her coauthors hope to recover the unspent 75% of these processors' usability, redeploying them for non-consumer applications.
"This award will make it easier for me to continue to pursue my interests in sustainable computing. I also think it's great that an industry leader like Google is interested in funding this sort of sustainability research," said Switzer.
Earlier this year, Switzer and her coauthors earned a Distinguished Paper Award at the 2023 Architectural Support for Programming Languages and Operating Systems (ASPLOS) conference. Since then, their paper has had over 50,000 downloads.
Students interested in applying for the fellowship can visit here.
Stay in the Know
Keep up with all the latest from UC San Diego. Subscribe to the newsletter today.