Community Celebrates Center for Taiwan Studies Launch
Bridging Literature and Music, the grand opening concert featured guest artists, alumni and current graduate students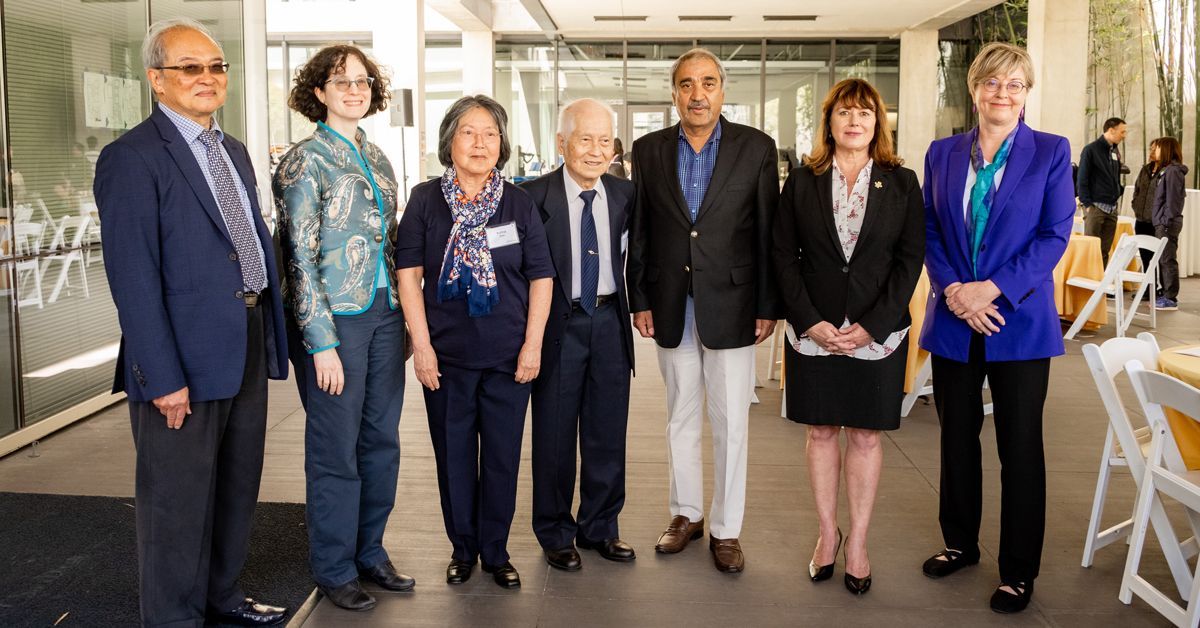 By:
Media Contact:
Published Date
By:
Media Contact:
Topics:
Share This:
Article Content
The School of Arts and Humanities celebrated the opening of the UC San Diego Center for Taiwan Studies with a community celebration in early May, held at the Conrad Prebys Music Center in the Department of Music.
Established with an endowment from longtime campus supporters Chiu-Shan Chen Ph.D. '69 and Rufina Chen, the Center for Taiwan Studies aims to connect local and international communities with diverse events and programming that expands the cultural understanding of Taiwan and Taiwanese Americans.
In addition to the Chens, attendees ranged from current students and alumni, local artists, a delegation from the Taipei Economic and Cultural Office in Los Angeles, staff and campus leadership. UC San Diego Chancellor Pradeep K. Khosla opened the event by welcoming guests and thanking the Chens; Executive Vice Chancellor Elizabeth Simmons followed.
"This important center was born out of Dr. CS and Rufina Chen's vision and passion for expanding the understanding of Taiwanese culture in San Diego. The Chens created an endowment at UC San Diego for a new comprehensive center, and enhanced their gift by funding a Chair in Taiwan Studies," Khosla said. "These efforts will continue to advance UC San Diego's role as a hub for cultural and academic exchange and collaboration."
In addition to introducing Amino C.Y. Chi, director general of the Taipei Economic and Cultural Office, Simmons explained how the center will serve as an important academic enrichment opportunity for campus, noting the importance of cross-disciplinary engagement. The Center for Taiwan Studies is administered within the Arts and Humanities Office of the Dean, and is currently led by faculty members in Literature and Music.
"The launch of the Center for Taiwan Studies exemplifies our commitment to cultivating a diverse and inclusive university community, and will offer interdisciplinary opportunities for students to develop transferable skills meant to lead and innovate in a diverse and interconnected world," Simmons said. "We anticipate that the center will provide new ways of seeing the world and making a difference. And we believe it will attract new creative and visionary partners for an even greater collective impact."
The grand opening celebration was held in the Department of Music in part because of center co-director Nancy Guy, an award-winning ethnomusicologist with research specializations in the musics of Taiwan and China. The center's inaugural director Ping-hui Liao is also an internationally recognized authority in Taiwan studies, specializing in Taiwan cultural history, East-West comparative literature and critical theory. An alum, he joined the faculty in the Department of Literature as the inaugural Chuan Lyu Endowed Chair in Taiwan Studies.
"Research in the Arts and Humanities plays a key role in the prestige and distinction of UC San Diego as a leading institution. That research is in large part driven by our faculty — faculty who are some of the most dynamic, most innovative and most groundbreaking in higher education today," said School of Arts and Humanities Dean Cristina Della Coletta. "Just as we celebrate the establishment of the Center for Taiwan Studies, we share our thanks to Professor Liao for shepherding the center as its inaugural director, and Professor Guy for joining at this crucial moment."
The concert's first performance featured excerpts from "A Thousand Sounds Towards Dawn." Originally commissioned by the Taipei Performing Arts Center for its grand opening, this piece combined indigenous songs composed and sung by SANGPUY of Taiwan's Pinuyumayan tribe, with contemporary percussion composed and arranged by alum Kuei-ju Lin Ph.D. '08. Performing alongside SANGPUY were fellow Department of Music alum Aiyun Huang DMA '04'TKT and current graduate students Michael Jones and Kosuke Matsuda.
Following brief comments from the directors and the presentation of a commemorative plaque to Liao by Chin, the event closed with Taiwanese folk music performed by the Formosa Generations Ensemble. The ensemble is a San Diego regional chamber group founded in 2018, and includes experienced artists alongside what they call "our next generation youth musicians."
The grand opening event celebrated culture and community.
"The UC San Diego School of Arts and Humanities is in many ways the cultural, academic hub of the university. We provide what we call 'an education for the common good, and firmly believe the skills taught in our disciplines are foundational, transferable and enduring," Della Coletta said.
"As within the Center for Taiwan Studies, our students, faculty and staff reflect a spirit of inclusiveness, a global perspective, and the cultivation of values that span time and distance: compassion, civility and ethics."
Topics:
Share This:
Stay in the Know
Keep up with all the latest from UC San Diego. Subscribe to the newsletter today.