Cognitive Science Ph.D. Student Wins 10th Annual Grad SLAM Competition
UC San Diego campus champion Sean Huang to advance to UC Final Round on May 5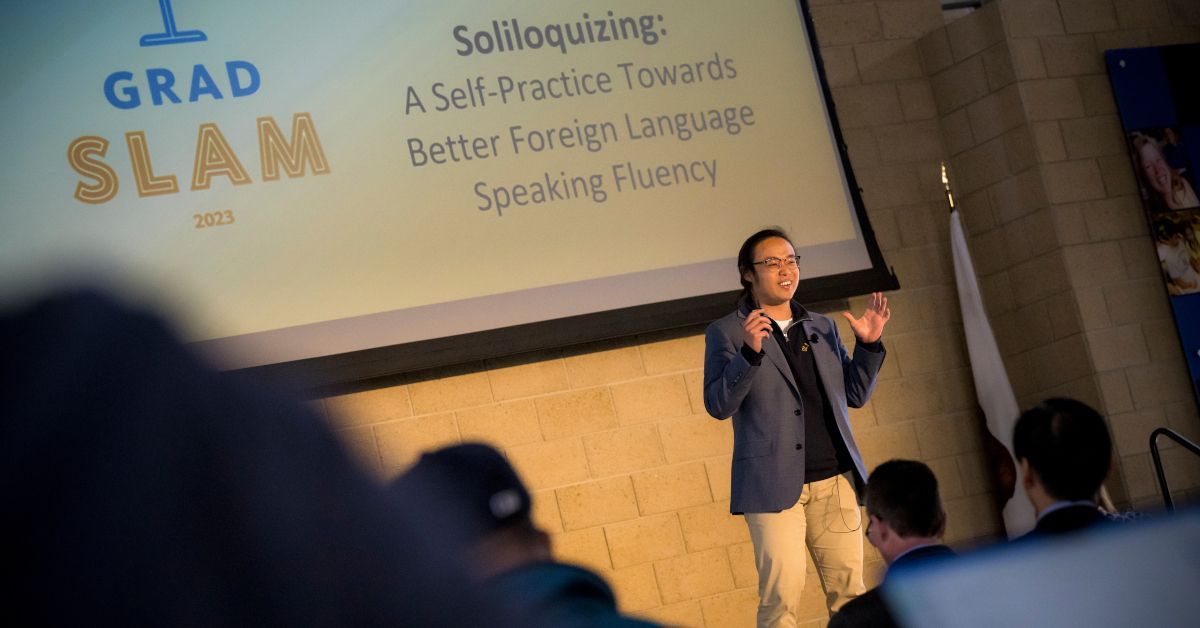 By:
Published Date
By:
Topics:
Share This:
Article Content
Twelve minutes a day: That's all it takes, says Shang-En (Sean) Huang, a Ph.D. student in the Department of Cognitive Science, to significantly improve speaking fluency in a foreign language by implementing a technique called soliloquizing—or, put more simply, talking to yourself.
On April 13, Huang had just three minutes to explain these findings to people outside his field during the UC San Diego final round of the 10th annual Grad SLAM, a UC-wide competitive public speaking event that gives graduate students an opportunity to showcase the potential impacts of their research.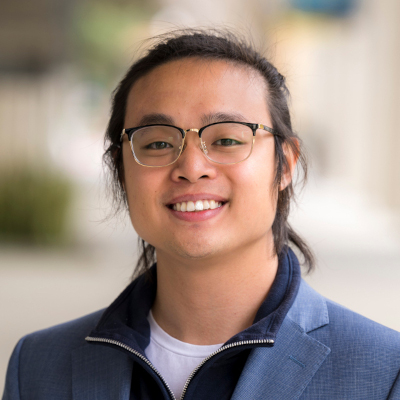 His engaging delivery of "Soliloquizing: A Self-Practice Toward Better Foreign Language Speaking Fluency" won over a panel of five judges from across UC San Diego, earning him the title of campus champion, a cash prize of $5,000 and a seat in the UC Final Round in San Francisco on May 5.
"We were incredibly excited to celebrate this, our 10th Anniversary Grad SLAM competition, and we are so proud not only of our campus champion, Sean, but also of the scores of incredibly impressive students who attended prep workshops and submitted entry videos," said Dean of Graduate Education and Postdoctoral Affairs James Antony. "Throughout their careers, graduate and professional students are asked to communicate complex information to folks outside their fields, such as policymakers, funders or the public. This competition helps them hone these important skills while they also compete for up to $5,000 in prize money. It's a win-win situation because participants earn prizes at all levels."

This year's 10 campus finalists represented a broad range of fields that include biology, literature, neurosciences and physics, each delivering an articulate and intelligible explanation of a complex topic—and the results of multiple years of research.
It's a communications challenge that could overwhelm even the most seasoned of scientists: how to explain their findings without the use of jargon, in the vernacular that is understood by elementary schoolers, aging grandparents and everyone in between.
As both in-person and livestream audiences watched, the finalists, who were selected from nearly 40 video submissions, each took to the stage in the Student Services Center to deliver their three-minute presentations, illustrated with just one slide.
In a format resembling a TED Talk or an elevator pitch, they spoke about their work on a range of topics—from identifying the threshold of ocean temperatures above which oysters can become infected with a deadly virus, to improving our understanding of conditions like seizure disorders and schizophrenia through the study of inhibitory neurons in the visual cortex. Each took home a cash prize of at least $500.
The second- and third-place titles both were awarded to graduate students in the Department of Mechanical and Aerospace Engineering: Ayush Giri, who received the $3,000 second-place prize for a presentation entitled "Towards a Soft-Growing Robot for Safer Colonoscopy," and Lily Astete Vasquez, who received an award of $1,500 for "Let's Talk Sh*t: A Simple Method for Improving Fecal Waste Degradation in Onsite Sanitation Systems," which took home third place.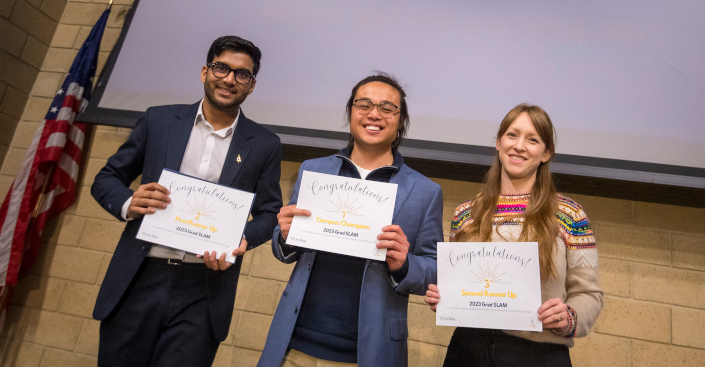 In preparation for the competition, participants were invited to a series of in-person coaching sessions organized by the UC San Diego Center for Student Involvement, during which they not only received valuable feedback from the center's staff, but also from each other.
For Huang, the chance to improve his science communication skills—and to spread the word about the practical applications of his research on soliloquizing—made Grad SLAM an opportunity he couldn't turn down.
"People could potentially be practicing their target languages using the soliloquizing technique," he said, adding that his interest in the concept of "learning engineering" began when he was working as an English language teacher in Taiwan.
"Why don't I do research that will actually help teachers teach better or help students learn better?" he recalls thinking to himself. Previous research on the soliloquizing technique lacked empirical evidence and solid guidelines surrounding the practice, leaving educators and language learners guessing as to the most effective way to implement it.
For the study, Huang recruited 28 participants from Taiwanese universities and had them practice soliloquizing in English for three sessions per weekday, with each session lasting about four minutes. Participants were provided pre-written prompts with a question and some related key words. What Huang found in his study was that not only did the participants' speaking fluency improve, but that applying "time pressure," such as adding a gradually increasing time constraint as the practice sessions progressed, was the most effective way to optimize this technique.

"Next time, before talking to someone in a foreign language, if you're feeling nervous about that, try talking to yourself in your target language at home with a little time pressure first," Huang says to the audience at the end of his presentation, giving them a concrete example of how they can apply his research findings to their own lives.
In the lab of his faculty advisor Seana Coulson, a professor of cognitive science, Huang is now participating in EEG research that will improve understanding of psycholinguistic reactions: how the brain processes and produces words.
"Some people say research is 1% inspiration and 99% perspiration. That's why it's so great to have someone like Sean in the lab. When results are murky, his energy and enthusiasm for science help motivate everyone to keep going," said Coulson. "Sean's research on language learning is an important topic in this age of globalization where so many people have to be able to converse in a language besides their mother tongue for business and educational purposes."
During the upcoming UC final round, Huang will face off against the campus champions from the nine other UC schools. But regardless of the outcome, he'll walk away with improved communication skills that will serve him well as he strives toward his goal of becoming a college professor.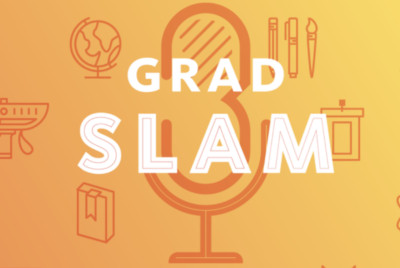 "In recent years, academics have increasingly learned that it's not enough to just learn new things and catalogue them for the library. Science communication is an important part of the job so that educators and entrepreneurs and policy makers can take the things that we learn and put them to use. Grad SLAM is all about instilling those communication skills in Ph.D. students early in their training so that they can talk to people outside of their specialty and convey the importance of their findings to a diverse audience," Coulson said.
Dean Antony encourages the entire campus community to tune in and support Huang in the UC systemwide Grad SLAM Final Round, which will be livestreamed on Friday, May 5 at 10:30 a.m. PDT.
"There will also be a chance to vote for Sean to receive the 'People's Choice Award,' so we welcome Tritons everywhere to join us at this virtual event—#VoteForSean!" said Antony.
Topics:
Share This:
Stay in the Know
Keep up with all the latest from UC San Diego. Subscribe to the newsletter today.