Choose Your Weapon: Épée, Piano or Guitar
Meet UC San Diego's Multi-Talented Emily Beihold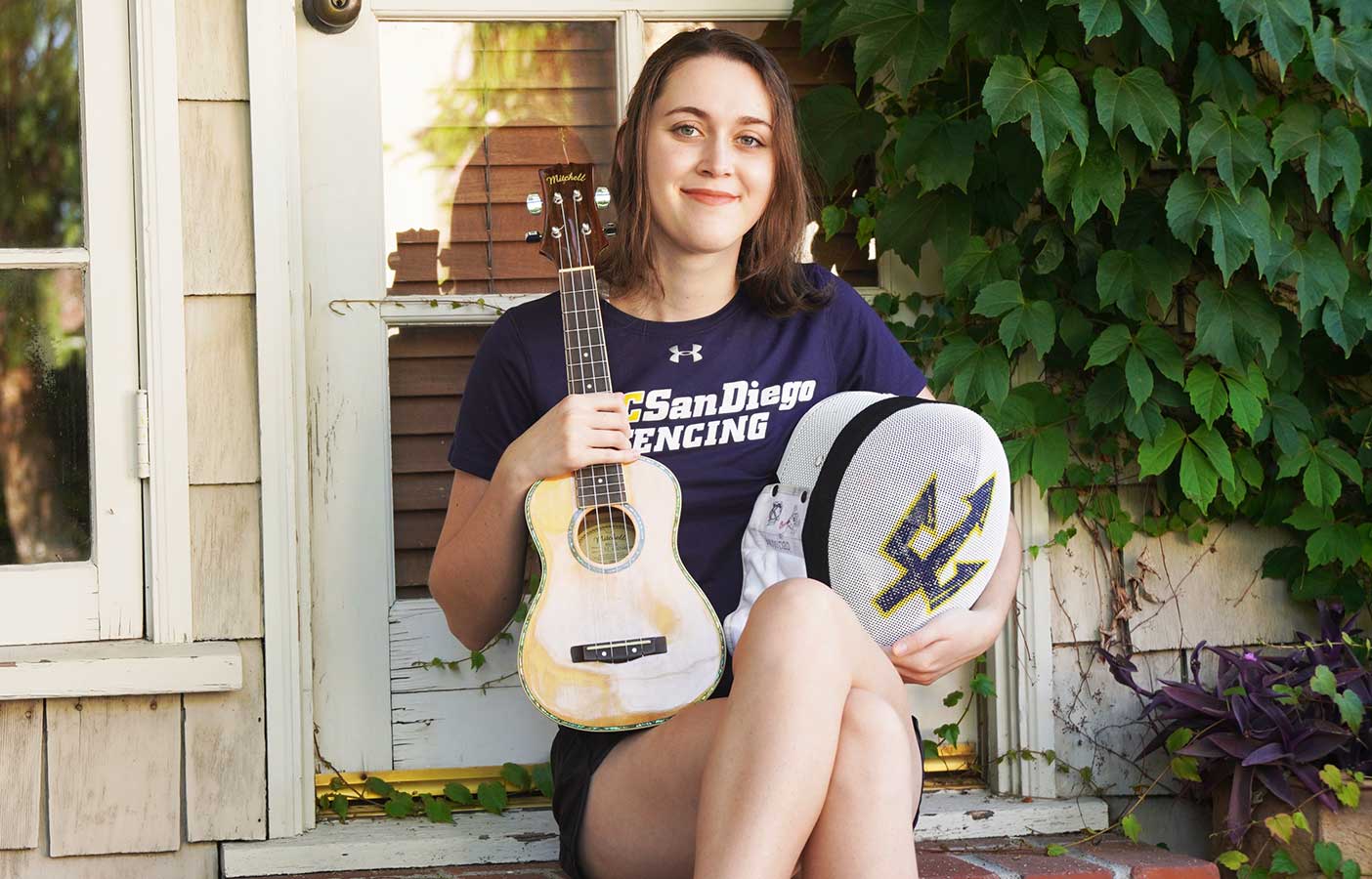 Beihold at home in Los Angeles pictured with her mask and ukulele.
Growing up just a few miles outside Los Angeles, there's a good chance one will become attracted to the arts. Whether it's music, film, television, architecture, dance, painting, or literature, the City of Angels offers up unlimited exposure to outlets of creativity.
Emily Beihold, a 2020 University of California San Diego graduate and Triton scholar-athlete, discovered her passions in Los Angeles County. All are a product of her environment, but not all are affiliated with the Hollywood Bowl, the Sunset Strip, the studios, or the museums.
A native of Glendale, located a mere 10 miles from downtown LA, Beihold's parents are involved in the entertainment industry, movies and television to be exact. Mom is a producer and dad is a storyboard artist. He is also a competitive fencer. Their influences run deep.
Beihold's weapons of choice in creative expression include the piano, the guitar, the ukulele, her voice, and the épée. The largest and heaviest of the three weapons utilized in fencing, the épée is a major player in the combat sport that has been part of the Olympic Games since 1896.
Beihold is in her element when performing on stage, writing and playing original music, and taking to the fencing strips to compete.
The music
Check out Em Beihold's music on Spotify!
Em Beihold, as she goes by in her music career, finds inspiration in the talents of Billie Holiday, Brandi Carlile, Ella Fitzgerald, Feist, Florence and the Machine, Lorde, and Regina Spektor. Her work spans several genres including folk, pop, and rock, all with indie and alternative leanings.
Things are going well for Beihold as she recently saw her music surpass 1,000,000 streams by fans.
Where did it all start?
"I remember when I was six I saw a piano in the window of a store and I asked my parents if I could have one," said Beihold. "They said yes, but only if I committed to taking lessons. It was an easy, albeit a bit rash, decision to start playing."
Beihold began taking lessons. She learned scales, sight reading, song writing, improvisation, and music theory. Her teacher, who she considers one of her biggest idols to this day, encouraged her to create her own music.
"I wrote my first song when I was seven," recalled Beihold. "It was called "America Home" and it was accompanied by piano and a drum track. It was the cheesiest thing you've ever heard. I listened to it last year and I was repulsed. But it's cute, I had a tiny voice then."
It wasn't long until that tiny voice began to grow.
"At summer camp in fourth grade, I saw a girl performing 'The Call' by Regina Spektor on stage," remembered Beihold. "I was just so moved and immediately I started thinking 'I want to be able to write like that, I want to be able to sing songs like that.'
"I wanted to sound like her (Spektor) and I love how she breaks the typical rules of song writing. When you listen to her, you don't always know what's going to happen next."
Along with the influences of living in Los Angeles and having creative parents, Beihold's schooling also played a big part in her love for music.
"I went to private and public schools and both were very arts-oriented," explained Beihold. "I had the support system in place there to be able to do my craft."
Beihold performs her original song "Shoot Her Down" in the video below.
After years of piano, voice, and writing practice, Beihold got a break in 2017.
At a live performance at Republic of Pie in North Hollywood, the crowd included the director, writer, and co-producer of a soon to be released movie. A fan of Beihold's set, she asked if she would be interested in writing a song for the film.
"She sent me the script and I wrote something based off of what I read," said Beihold. "I remember there was something in the script about droplets of water in a sink, and that's what I based the sound of the song off of. I sent it back and she said it fit perfectly.
"It was one of the best experiences ever. It just flowed, and that doesn't happen all of the time."
Beihold's creation, "Not Who We Were," is featured in the 2017 movie "I'm Not Here," which stars J.K. Simmons, Mandy Moore, Sebastian Stan, Max Greenfield, and David Koechner.
Here you can listen to the song.
Always wanting to progress, Beihold added guitar and ukulele to her repertoire.
"I know a good amount on the piano, but I feel a bit limited because I like a lot of songs on guitar and I wanted to write in that way," said Beihold. "It's a different process chord-wise when you write for guitar versus piano, so I bought a guitar and took lessons online."
And the uke?
"The ukulele was a gift from my parents," revealed Beihold. "It's a lot easier than the guitar with only four strings and a tiny fret board. Just about anyone can play the uke."
Beihold has taken to the streets with her ukulele, busking at farmer's markets along with a friend that sings harmonies. She also continues to play open mic nights, primarily in the Los Angeles area.
"I still get nervous, thinking that people won't like my music," said Beihold. "I played the 626 Night Market, a huge festival that draws 100,000 people over the weekend. It was so dark that I couldn't see anyone, so I wasn't nervous at all. It's more nerve-racking for me in coffee shops, where I can see everyone's faces.
What does her musical future look like?
"I'd like to continue to give it all that I have to be an artist," she said.
The fencing
Beihold has been involved in fencing since her childhood years, following in the lunging footsteps of her father.
A 2017 graduate of John Burroughs High School in Burbank, she won two state championships and placed third at the 2015 Division II National Championships.
She carried her athletic passion into college, becoming a competitive fencer for UC San Diego. The Tritons annually go up against powerhouse programs such as Columbia, Harvard, Northwestern, Notre Dame, Ohio State, Princeton, and Yale, to name a few.
Over her three years as an épéeist in La Jolla, Beihold twice qualified for the NCAA National Collegiate Championships, the pinnacle of fencing at the college level.
As a freshman in 2018, she placed 20th in épée during the two-day event at Penn State University. Beihold picked up a huge victory over Notre Dame's Amanda Sirico, who went on to win the U.S. Fencing Association National Championship a month later.
As a sophomore in 2019, she went deeper, finishing 12th to earn All-America honors in Cleveland. During her run, she defeated three of the four eventual finalists, including Sirico.
"When the event was over, I thought I had placed 13th and I was disappointed," revealed Beihold. "But then, my teammate Miya showed me the updated standings and I was 12th! I was shocked. Becoming an All-American was always a secret goal of mine, but it seemed so out of reach that I never vocalized it."
Beihold is a two-time All-Western Fencing Conference performer (2018 and 2019) and helped UC San Diego win league titles in 2018 and 2020. She served as the Tritons' épée squad captain this year.
"Fencing at UC San Diego taught me how to be a friend, a teammate, and a leader," said Beihold. "I also learned how to better manage my time by being a scholar-athlete while balancing school, jobs, and other extracurriculars all at once.
"The best thing were the people! I made lifelong friends not just with my teammates, but my coaches as well. Coach Juan Ignacio was an incredible mentor to me and I feel extremely fortunate to have been able to work with him for the past three years."
How long will Beihold continue fencing?
"Well, my dad's in his 60's and he's still killing it," she said.
The crossover
So is there any artistic connection between writing and performing music and fencing?
"Actually, yes," says Beihold. "As I do it over and over, the way that the blade hits another blade or someone's body, I hear a rhythm to it.
"In fencing, there's a practice called 'breaking tempo' in which you want to break that rhythm and change the timing, and that's my biggest weakness in the sport. Because of music, I think my brain is so used to having the rhythm keep going and I'm not wired to break it.
"Sometimes when I fence, I keep attacking, attacking, attacking and I just mow them down without really stopping to have a moment or get a reaction. Melodically, it just makes more sense to keep going."
Music and fencing are both tools to placate the soul as well.
"It's literally therapy once you get into the flow of it," said Beihold. "Over the past few quarters, I haven't really written much because I've been so busy with school. I was getting very emotional with no release. Fencing certainly helped to an extent, but it's not the same as translating your feelings into words and notes.
"Fencing is definitely creative, but it's more of a physical release as opposed to an emotional release. It brightens my mood, but it's not necessarily fixing anything. Music fixes more."
Is listening to music prior to competing a major part of her routine?
"I listen to music before fencing sometimes, but I'm not dependent on it," she said. "Sometimes I like silence; I guess that's when I think best."
The future
A communication major with a business minor, the multi-talented Beihold graduated from UC San Diego on June 13 of this year. The kicker? She was just a junior, earning her degree in just three years as a result of taking many high school AP courses that allowed her to enter UC San Diego with a slew of credits already earned.
As a collegiate scholar-athlete, Beihold collected academic awards to go along with her athletic accolades, earning CoSIDA Academic All-District honors as a sophomore before being named a Chancellor's Scholar-Athlete Award winner as a junior.
"In college, I wanted to learn more about marketing, and more specifically, how to market myself," said Beihold. "I was also interested in learning about media and film and how music and film go together. If music doesn't work out, I'll probably go into film in some capacity."
Currently, Beihold is working on putting an album together, her first commercial endeavor since releasing a six-song EP in 2017. Staying home due to the COVID-19 pandemic has afforded her plenty of time to write new songs and revisit unfinished ones.
Her short-term goal is to release something next year. Looking long term, she hopes to get to a point in her career in which she can tour and perform at music festivals.
"I know my future is in music," she said. "I just don't know if it's in performing or writing."
Wherever her talents take her, the show must go on.
Stay in the Know
Keep up with all the latest from UC San Diego. Subscribe to the newsletter today.