Changing the Future
Alumna Helen Griffith leads 'Most Innovative' high school, located in San Diego's Central Library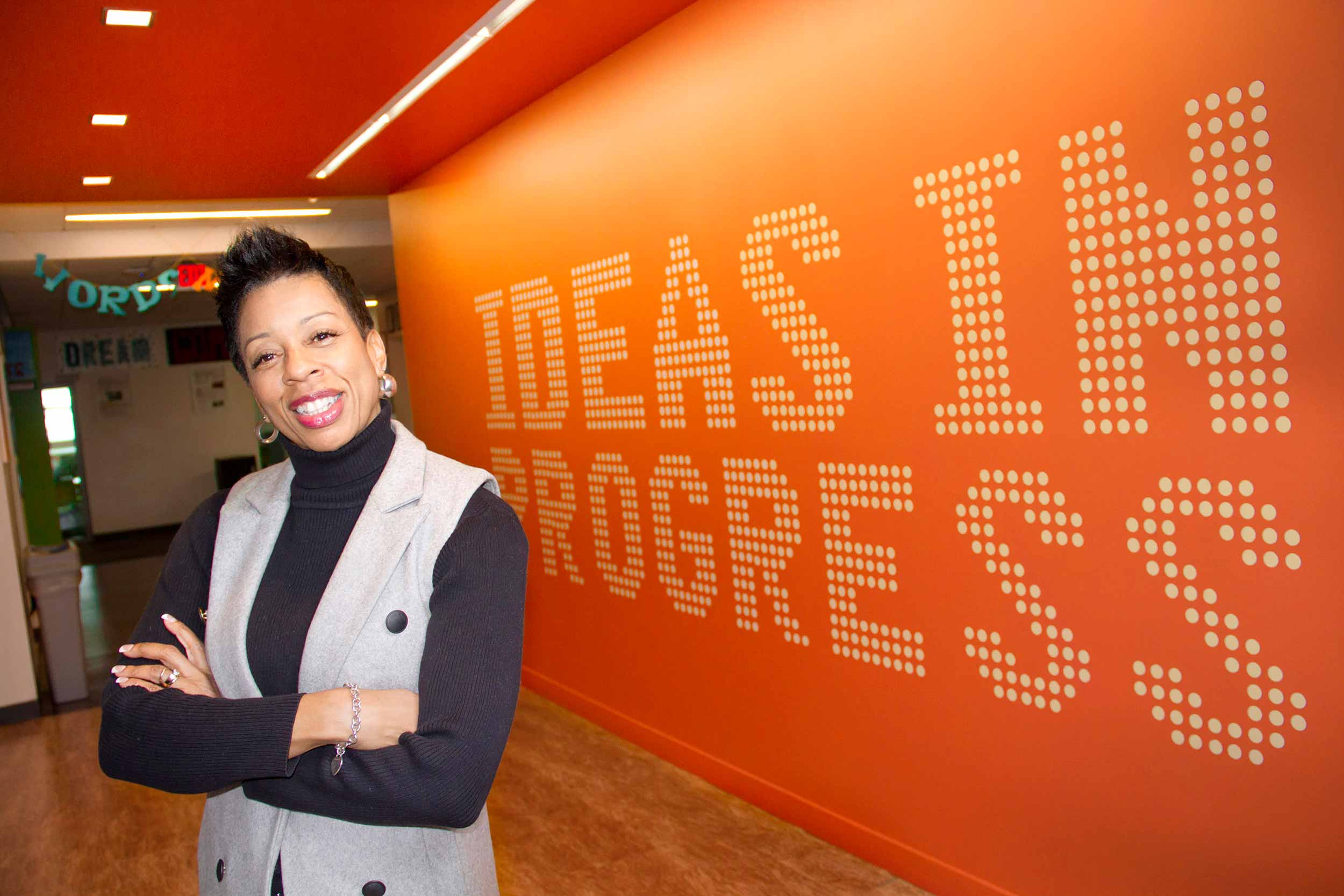 Dr. Helen Griffith, UC San Diego Department of Communication alumna 1981, now heads e3 Civic High School. Photos by Erika Johnson/University Communications
UC San Diego Division of Social Sciences alumna Helen Griffith had little interest in a career in education when she came to campus as a transfer student. There was no way, she said, she would work around the clock like her mother did as a teacher and principal, but one thing stuck: a passion for reading and, hand-in-hand, libraries. She grew up loving the iconic Geisel library at UC San Diego.
Even as an adult, there is something about the learning possibilities offered by a library that excite Griffith. Today, the 1981 Department of Communication graduate is the founding and current executive director of e3 Civic High School—located, ironically, in the unique and beautiful San Diego Central Library downtown.
Also the founding principal of Millennial Tech Middle School, Griffith reflected on how she made it to where she is now, balanced on a foundation she built at UC San Diego: "The experience that I had as an undergraduate student gave me the strongest base, especially in communication, to go anywhere. It also provided me with a strong, strong base that I was able to later go to graduate school and be successful."
Innovation at its core
In 2015, the charter high school Griffith directs was named to the first "Most Innovative K-12 Schools in America" list by Noodle, a website that provides educational resources to families. Noodle examined 140,000 schools to come up with its list, honoring those with "visionary methodologies" who challenge "well-established notions" of education, the site says.
"Innovation means doing whatever's necessary to meet the end result and not being tied to the old way of doing business, but also being free to incorporate the old way if it meets the goal," Griffith said. "Innovation to me really is thinking about, by any means necessary, achieving the goals for the students."
The school was recognized, in part, because it is located within the downtown library. It sits on the sixth and seventh floors, with a separate, private entrance, and Griffith calls the library the school's "chief partner." Not only does the location give these students fingertip access to a world-class system, but it also serves as a partner for cutting-edge technology initiatives: for example, students are helping to test an augmented reality program, for example, as well as training and working in computer program internships.
What's more, Griffith and the e3 Civic High faculty are teaching these kids to change the world.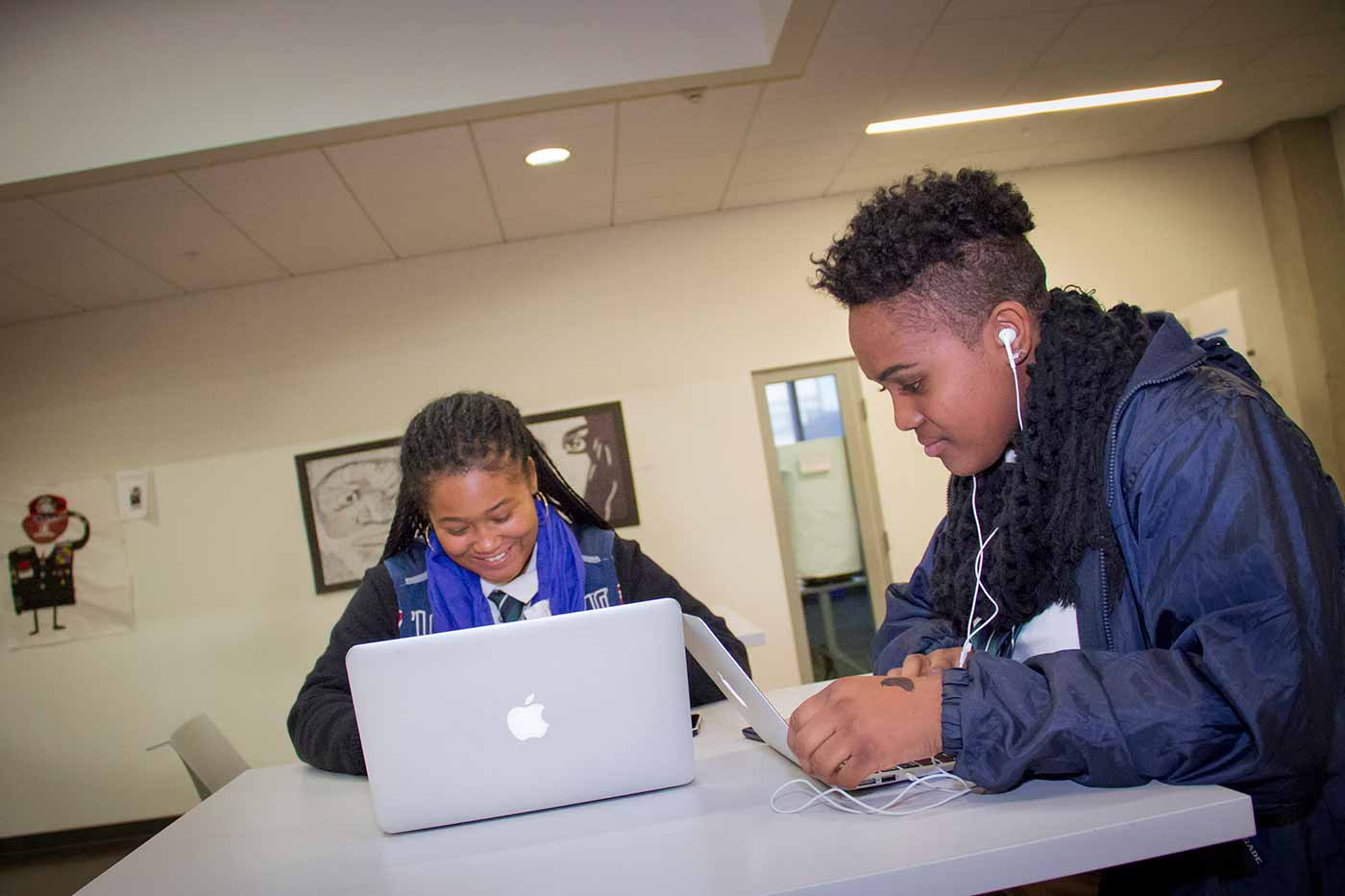 "Within everything that we do, we try to weave in an element of civic engagement, giving back and leadership," Griffith said, who was named one of San Diego's 50 people to watch in 2013 by San Diego Magazine. Among her other honors are the 2010 – 2011 Educator of the Year award from the California League of Middle Schools and the 2007 Outstanding African-American Educator of the Year from Pi Delta Kappa.
"In our project-based learning, there's always an element of giving back," Griffith said. "There's this relevance—this authenticity—that we like to build in. It's not a college requirement for service; it's a way of life."
Representing STEAM
With a goal of providing an education alternative for the downtown San Diego core, e3 Civic High School enrolls students primarily from underserved and underrepresented communities. Almost 90 percent of the students are of color and 77 percent are below the poverty level, Griffith said. With a curriculum focus on science, technology, engineering, arts and mathematics—STEAM, not just STEM—the school has grand plans.
"We want to create the next generation of underrepresented students and female students in the STEAM professions," she said matter-of-factly.
It's not just talk. Griffith can discuss any number of ways they are innovating the way these students interact with the arts and sciences. They have a robotics program, a Central Library-focused partnership in computer programming, a mentoring program with engineers in the community and a multiple-year project with the UC San Diego School of Medicine.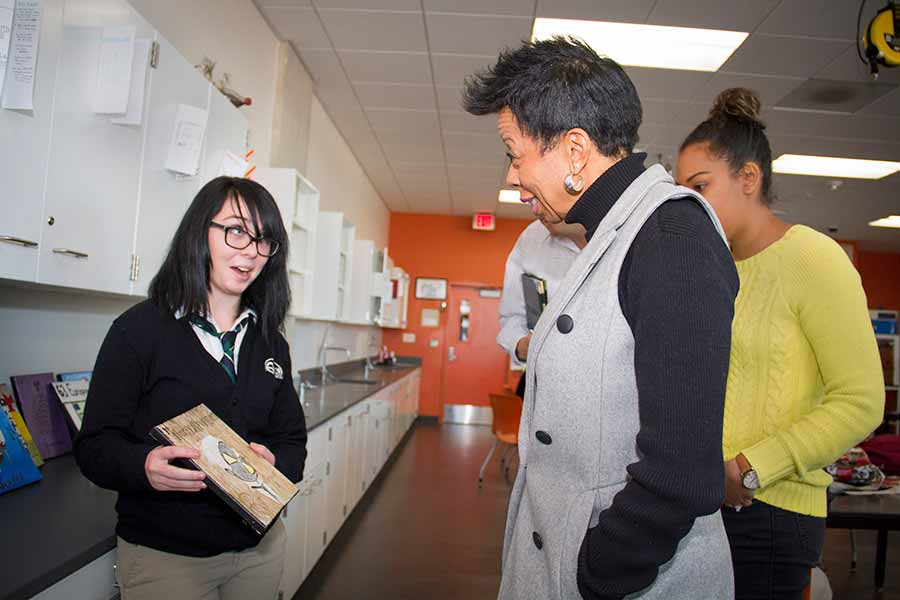 UC San Diego medical school students Denise Yu and Jeremy Egnatios initially developed and helped secure the partnership with Griffith three years ago. The pair worked closely with Griffith and her students, ultimately providing a "Healthy Lifestyles, Healthy Living" curriculum to implement. Based on the success with Yu and Egnatios, the relationship was then incorporated into the School of Medicine's clinical foundations course.
One of the concepts for the course itself is for the School of Medicine Academic Communities to engage with outside, non-UC San Diego communities to look at social determinants of health, environmental and occupational health, cultural humility, and disparities. In this instance, groups of medical students engage with several high schools in the region to perform a community assessment.
"We were attracted to the school because it was a bit different from other high schools," Yu said. The medical students also recognized that Griffith was a strong advocate for her students Now a fourth-year medical student having completed the clinical foundations course, Yu returns to e3 on her own time to tutor students in math. She said she hopes to work with underserved populations in the future, including at-risk youth.
"The administration wants to ensure that these [high school] students have the tools to succeed after graduation, and this includes planning, leadership and critical problem solving skills," Yu said. "Above all else, they support each and every individual student in achieving their dreams."
Finding passion
Griffith has the option to take the community assessment findings and apply them directly to her school, similar to what she did with the curriculum from the first interaction with Yu and Egnatios that addressed nutrition and health, bullying, gender inequality and the communication that divides teens, among others. The high school students participated in a School of Medicine-led "Doc for a Day" program, and even came to campus for a behind-the-scenes look at the school. Griffith said she hopes to have an e3 Civic High graduate as a UC San Diego med student one day.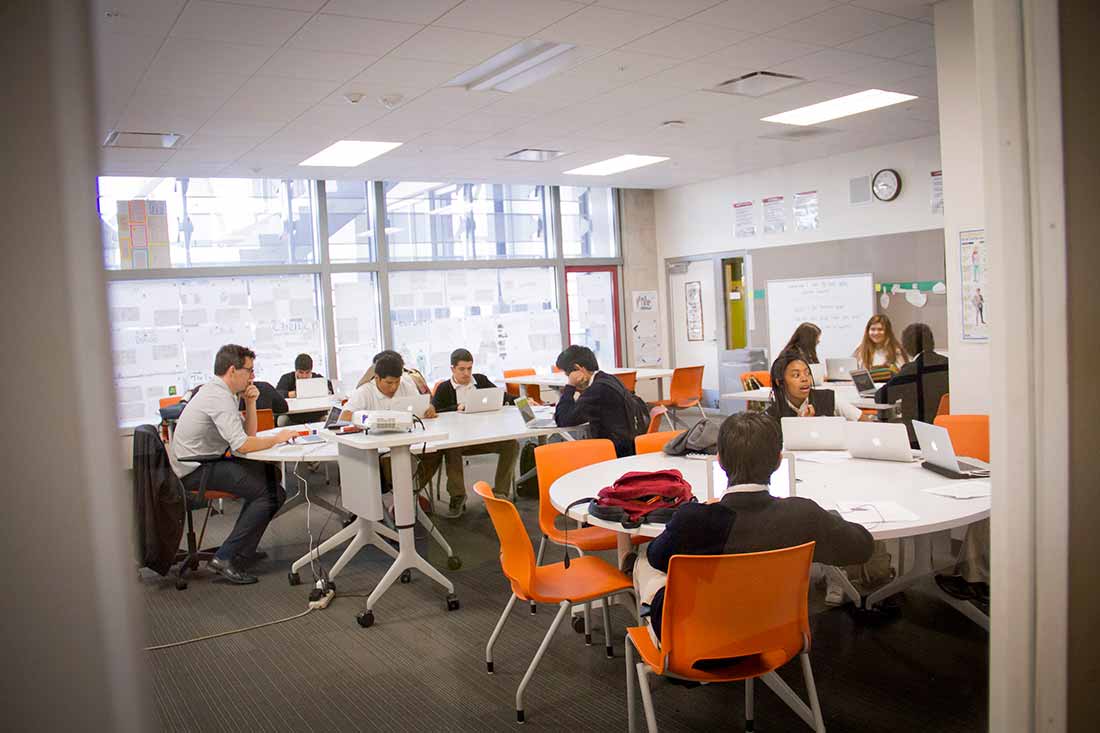 "Our vision is really to put [students] in their place of passion. Not everybody's going to be a teacher, or an executive director, or a principal, or an author, but if that's what gives you pleasure and drive and passion, then you need to be there," Griffith said. "We need to create the fertile ground by which they can grow and thrive."
So far, the results have been phenomenal, she said. Now in their third year, the first graduating class will get their high school diplomas this year: more than 70 students who took a gigantic leap of faith in 10th grade to come to a charter school with no history. Griffith said that at the time, she and the team were "selling a promise" to the children and their families.
When that first group of students arrived at e3 they were, for the most part, doing poorly in their classes, with some outright failing. But Griffith said her school provided a place for students looking for a second, or better, chance.
"To see how they are thriving, speaking, performing, communicating, creating and owning their selves," she said of those original students. "They are taking ownership for their future."
Stay in the Know
Keep up with all the latest from UC San Diego. Subscribe to the newsletter today.