Published Date
Celebrating Our Differences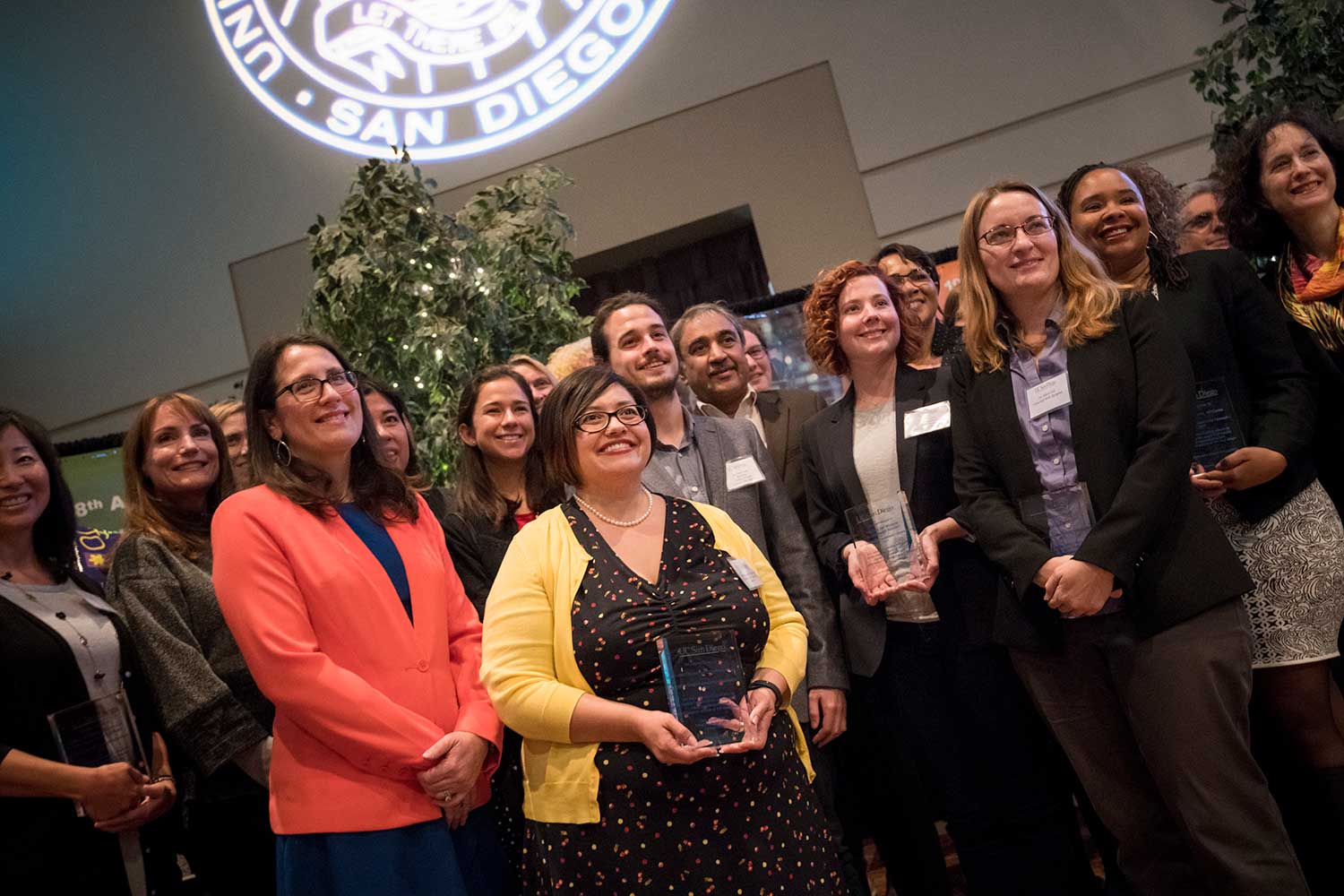 Photo by Erik Jepsen/UC San Diego Publications
UC San Diego honors 23rd annual Equal Opportunity/Affirmative Action and Diversity Awards recipients for their commitment to diversity, equity and inclusion
"There are many who say the world is not fair, but we don't have to just sit back and accept it," said Daniel Yee, a doctoral student at Scripps Institution of Oceanography at UC San Diego.
"Inclusion, diversity and equity are important, not just as a progressive cause, but as a way to improve society for people at every social and economic level," added Yee, who volunteers at the Rosa Parks Tutoring Program, a recipient of the annual UC San Diego Equal Opportunity/Affirmative Action and Diversity Awards. "We can decide to help people in need because it can come back and enrich our lives in return."
Diversity of perspective, background and heritage are valued at UC San Diego to create an inclusive community where all can thrive. In 2017-18, the campus recognized 20 individuals, departments and organizational units for their outstanding contributions in the areas of equal opportunity, affirmative action, diversity and the UC San Diego Principles of Community during the year. The award ceremony, presented by Equal Opportunity Services, honored recipients on March 1 at the Price Center West Ballroom.
"I am so grateful to UC San Diego faculty, staff and students for their efforts to embrace diversity of mind and body on our campus," said Chancellor Pradeep K. Khosla. "The commitment of these individuals has had a tremendous impact on promoting a more inclusive and equitable culture at UC San Diego."
The Rosa Parks Tutoring Program, a Student Award recipient, offers free tutoring to students attending Rosa Parks Elementary in City Heights, one of San Diego's poorest communities. The program was recognized for providing free, one-on-one tutoring in math, English, Spanish and the fine arts to low-income students. Led by graduate students, the program works with children between first and fifth grade, including those with Mexican and East African backgrounds, to develop learning skills and provide role models for pursuing higher education.
Embracing UC San Diego's commitment to diversity and inclusion is important to Joselyn Harris, a Vice Chancellor Area award recipient who works at the UC San Diego Medical Center. As the hospital's first openly transgender staff member, Harris has worked to improve communications between hospital staff and LGBT patients through education, including leading faculty and staff through sensitivity and awareness trainings. One of her main goals has been informing people on how discrimination can stifle critical conversations with regard to a patient's health.
Harris' passion to improve health care in San Diego led her to participate as a member and serve as former co-chair of the Chancellor's Advisory Committee on Gender Identity and Sexual Orientation Issues at UC San Diego. She has also been on several committees at the San Diego LGBT Community Center, and was the former-treasurer of Equality Professional Network. She currently holds positions on the San Diego County HIV Prevention Board, and is president and administrator of the San Diego Human Dignity Foundation.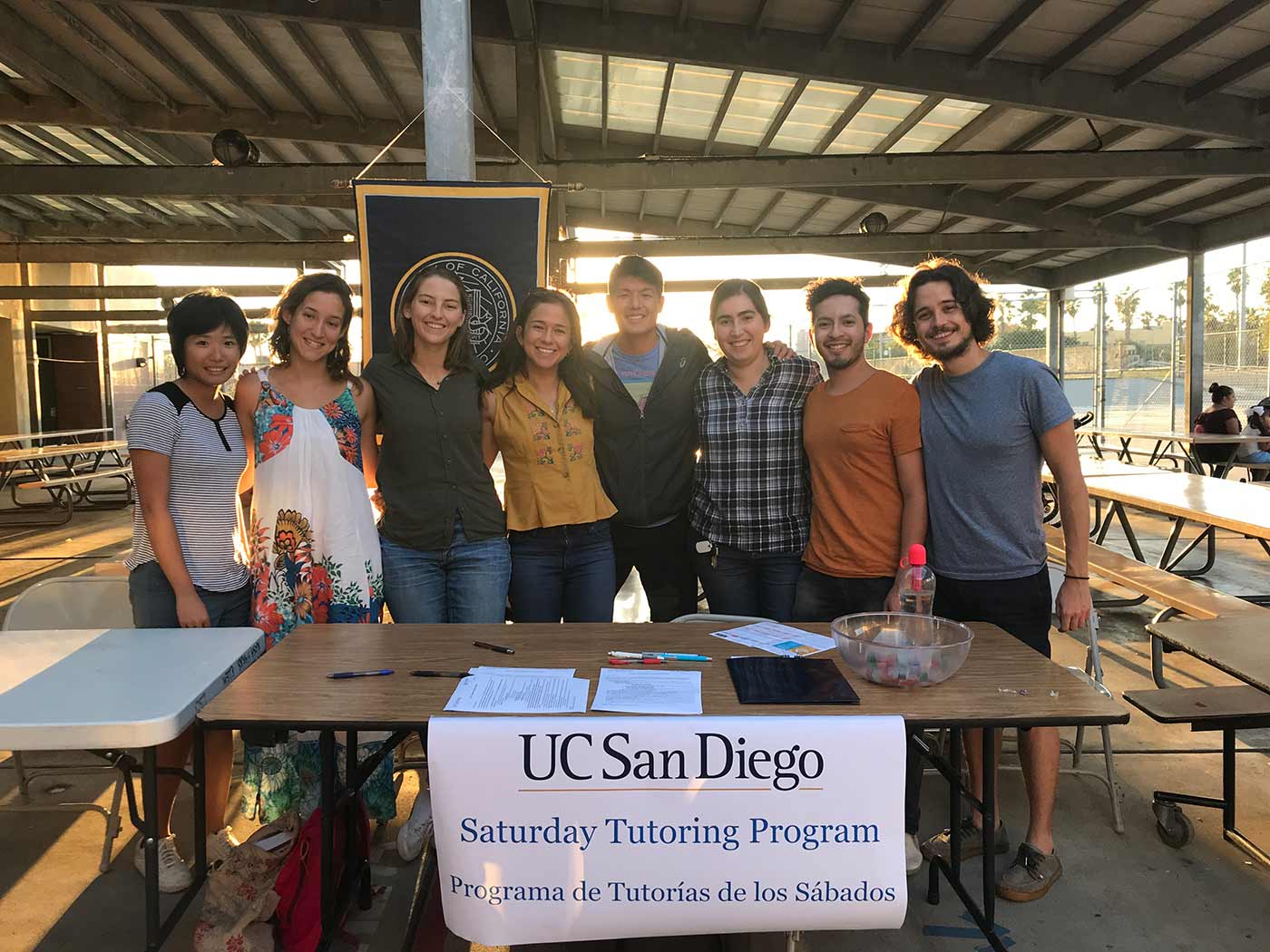 Two university-wide Individual Award recipients, Karin Sandstrom, assistant professor in the Department of Physics, and Ebonee Williams, a staff member at the Jacobs School of Engineering, were recognized for their contributions in advancing underrepresented students in science, technology, engineering and math (STEM) fields. UC San Diego has been recognized as a top university for the highest number of women graduates in STEM.
Williams, who serves as executive director for the Gordon Engineering Leadership Center, has spent the last eight years developing the center, which teaches engineering students critical skills of leadership, responsibility and vision. Forty percent of the center's undergraduate students and 60 percent of its graduate students are women—a largely underrepresented demographic in engineering majors and degrees.
Dedicated to fostering an equitable, welcoming and sustainable culture of academic excellence in engineering and beyond, Williams has led talks at local and national diversity conferences. She has also held positions with the National Society of Black Engineers and the Equity, Diversity and Inclusion Advisory Council, and devotes her time to mentoring students at UC San Diego.
Sandstrom has been a strong advocate for diversity in the Division of Physical Sciences. Shortly after arriving at UC San Diego in 2015, she began actively mentoring female undergraduate physics majors by leading the organization of the Conference for Undergraduate Women in Physics.
During the course of this work, she recognized that the eligibility criteria for some department and divisional awards excluded a large fraction of underrepresented students and women. She advocated for changes to make eligibility more inclusive and to better reflect the intention of the award, which is to celebrate excellence in research, education and outreach. "The fact that my field, and STEM fields in general, are excluding people of color and white women from fully pursuing these careers is an injustice that I think is all of our jobs to correct," Sandstrom said.
The Physics faculty member also mentors students from underrepresented groups through the transition from undergraduate to graduate school. In addition, Sandstrom has served on the admissions committee, advocating for a holistic review of applicants to minimize biases demonstrated from a focus on standardized test scores.
Stay in the Know
Keep up with all the latest from UC San Diego. Subscribe to the newsletter today.