Celebrating 25 years as the Jacobs School of Engineering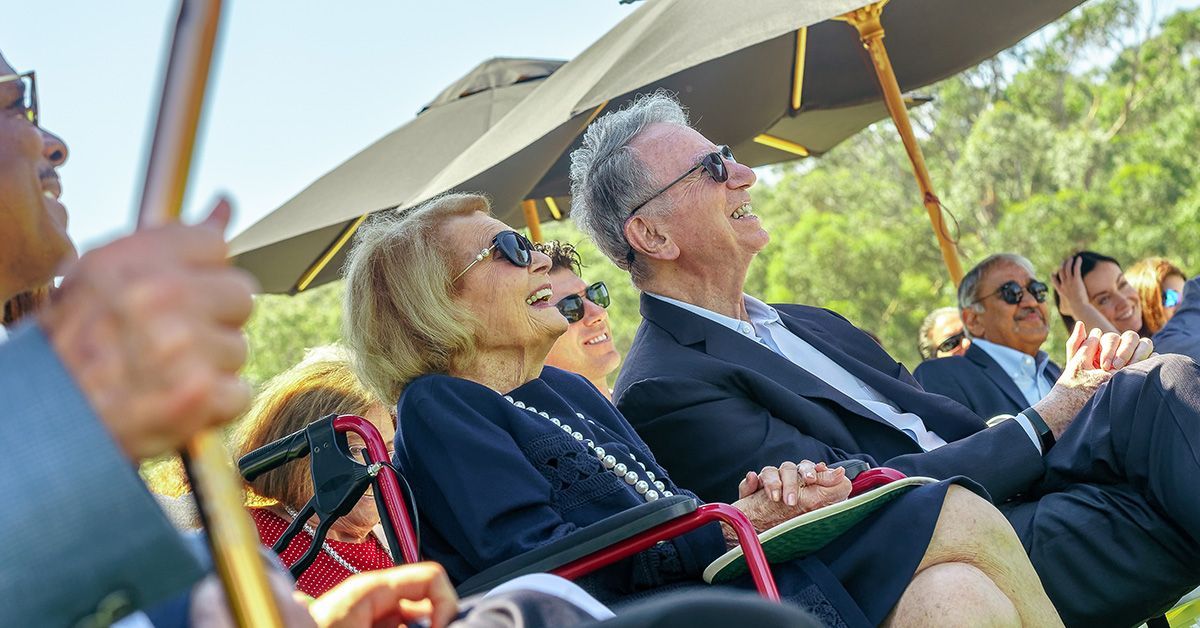 Published Date
By:
Share This:
Article Content
The University of California San Diego Jacobs School of Engineering is celebrating 25 years of being, well, the Jacobs School of Engineering. In 1998, a generous gift from Irwin and Joan Jacobs put the relatively new school of engineering at UC San Diego on a trajectory to become the perennial top-10 powerhouse of engineering and computer science education, research, and technology transfer that it is today.
In the 25 years since the school was named the Irwin and Joan Jacobs School of Engineering in honor of that gift, nearly 42,000 students have graduated with bachelor's, master's or doctoral degrees in engineering and computer science. Those students have gone on to parlay the skills they learned at the Jacobs School to make positive impacts in the creation of new industries, in research, in education, in healthcare and all across the public and private sectors in a multitude of ways.
"It's a great day to celebrate the 25th anniversary of the naming of the Jacobs School of Engineering," said Chancellor Pradeep K. Khosla, noting that the Jacobs School was the first UC San Diego school to be named. "You might wonder why it is so important that we celebrate the 25th anniversary of the naming of the school. In universities, we give birth to organizations like institutes, centers and schools – and not everybody has the good fortune to be named. To be named means somebody recognized the potential, and with their hard-earned assets and their time, said, 'you know what, I'm going to bet on you.'"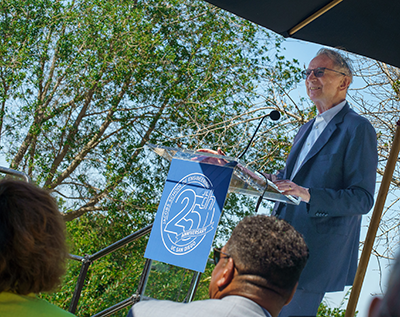 That bet has proven foundational, as the Jacobs School has continued to expand resources to translate scientific discoveries to market, lead research breakthroughs and increase the number of engineering and computer science students it serves.
"We came here in 1966 when the only buildings were Revelle buildings, so my office was in Urey Hall for the first few years," said Irwin Jacobs. "I didn't come into an engineering school, it was called Applied Electrophysics. In fact, the department had more physicists than engineers, but it was still a very interesting group, and one that we were able to build on."
The Jacobs certainly did build on those foundations, helping to propel the school even after Irwin left the faculty to co-found Linkabit and later Qualcomm. Many of the key players in the development of the Jacobs School of Engineering gathered on Sept. 8 at the new Franklin Antonio Hall to thank Irwin and Joan Jacobs for their gift, and reflect on where the school has been and where it's going.
"For 25 years we have been fortunate to have Irwin and Joan at the very core of our school. We are giving thanks and celebrating what happened 25 years ago," said Albert P. Pisano, dean of the UC San Diego Jacobs School of Engineering. "But we are also looking forward. The next 25 years are going to be a very exciting time. We are going to need students trained in engineering and computer science working for the public good more than ever before. We are going to need to innovate to solve the biggest challenges the world has. We are going to look ahead, drive our missions in education, research and technology transfer in order to have bigger impacts. The Jacobs School has arrived. But it is not yet done rising."
Bob Dynes, president emeritus of the University of California and chancellor of UC San Diego when the engineering school became the Irwin and Joan Jacobs School of Engineering, recalled his surprise that engineering at UC San Diego was only a division, not a school, when he arrived to the campus from Bell Laboratories in 1990. In 1992, the division did become a school of engineering, but something was still lacking.
"The name UCSD School of Engineering – it was a school now, but it didn't quite have the panache that a leading school in the top 10 should have," said Dynes. "A world-class university with the UCSD School of Engineering – ehhh. It needed a distinguished and recognizable name."
Shortly after this very naming happened, Dynes recalled spotting Irwin and Joan walking hand-in-hand on campus early one Saturday morning to see the new name of the school up on Engineering Building Unit 1 (EBU1).
"At that moment I knew that engineering was on its way," said Dynes. "It wasn't a doubt anymore, with that kind of passion from these leaders in this community, I knew we were on our way to being the world's best. Twenty-five years later, and wow, look at what is here now. If I knew then what I know now, I wouldn't have believed it. So I have no idea what we're going to look like 25 years from now, but I can hardly wait to see it."
At the event, Richard Atkinson, former chancellor of UC San Diego and president of the University of California in 1998 when the school was renamed, provided additional insights.
"This celebration is a very special moment in the history of the University of California San Diego, but if I were to develop a list of special moments in its history, I'm not sure this would be the first item on my list," said Atkinson. "The first item on my list would be August, 1966, when Joan and Irwin, the Jacobs family, moved from Boston to San Diego and became members of the faculty of UC San Diego. This is a great day and it's honoring a couple that has really made a great difference to this institution."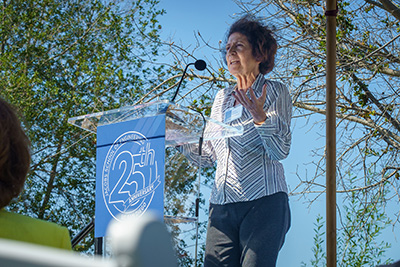 In addition to having strong leaders at the community and university level, having top faculty producing impactful, cutting-edge research and educating the next generation of engineers was crucial to the success of the school.
"In the university setting, greatness starts with the faculty," said Bob Conn, who was dean of the school in 1998 when it became the Jacobs School. "You can have great leaders but if you don't have great faculty, you won't attract top students. You need great people, and as we began to get great faculty and then great students, we began to rise in the rankings – it's a virtuous cycle. This was augmented fabulously by your gift, Irwin and Joan. Without that name and the resources that came with the gift, like the Chancellor said, you're a school of engineering like so many others. The Jacobs School has flexible resources coming from the endowment, and is a powerful brand; everybody knows it, and it's one of the reasons why we're great. I can't thank you enough, both for the gift and for your friendship over all these years – just fabulous."
The Jacobs School of Engineering is now home to nearly 300 faculty across six academic departments, focused on developing and implementing engaging engineering and computer science curriculum at scale, driving research advances for the public good, and translating innovation to society.
One of those early influential faculty members was Jan Talbot, a chemical engineer who joined the Aeronautical and Mechanical Engineering Sciences (AMES) department in 1986, and later helped to found the Department of NanoEngineering, the first of its kind in the nation. She recalls the years around the 1990s as a golden time in her career, where her research was supported by industry and state funding, and she taught small classes of students. This enabled her to feel supported to take on leadership roles both within the university and her research field.
"Much has changed over this time, amazingly great things have happened with the School of Engineering, but the same things that made me thrive in this place still exist today," said Talbot, now a professor emerita. "First of all, there are bright and creative undergraduates, graduate students and colleagues. Secondly, low barriers for interdisciplinary work, and support from industry…and opportunities for service and leadership which I think helped to make improvements in the campus. I still tell that to young faculty – you can make changes."
Another faculty member who felt empowered to take on leadership roles to make change at the Jacobs School was computer science and engineering professor Jeanne Ferrante, who joined the faculty in 1994 after years at IBM Research.
"While at IBM Research I worked really hard for 16 years not to become part of leadership," said Ferrante, now a professor emerita. "And that was because I have a real anti-authority streak. However, after two years of being here at UC San Diego I found myself becoming department chair of computer science and engineering. What led me to do that? Well, I realized after a time that the school itself had a bit of a rebel nature to it. Innovative…approaches were part of the school culture and the Jacobs School became a master at creating 'pilot programs' that were more often than not later adopted when they were successful by the rest of campus."
In addition to making an impact on the campus itself, students and faculty are encouraged to pursue interdisciplinary research to solve the pressing challenges no lab or discipline can tackle alone, and have access to a broad suite of entrepreneurial support to translate their research discoveries into successful commercial enterprises.
"I did a little calculation and realized that using some fudgy arithmetic, it's my 50th anniversary of leaving teaching, leaving UC San Diego," said Irwin Jacobs. "At that time, I rationalized it by saying I've been teaching theory all this time, now I have the chance to show that that theory is useful in practice. What's exciting now, is you look around the school and the various departments, the students, faculty, staff, and there are so many things happening, I don't think you have to leave the university anymore to realize you're making a huge impact on the world around us."
Since the naming gift in 1998, Irwin and Joan Jacobs have continued their transformative support of the Jacobs School and UC San Diego more broadly. Just a few examples include gifts to support undergraduate and graduate student scholarships and fellowships; the Jacobs Medical Center; endowed chairs across campus; a Center for Health Innovation at UC San Diego Health; the School of Global Policy and Strategy; and the Stuart Collection, among many many others.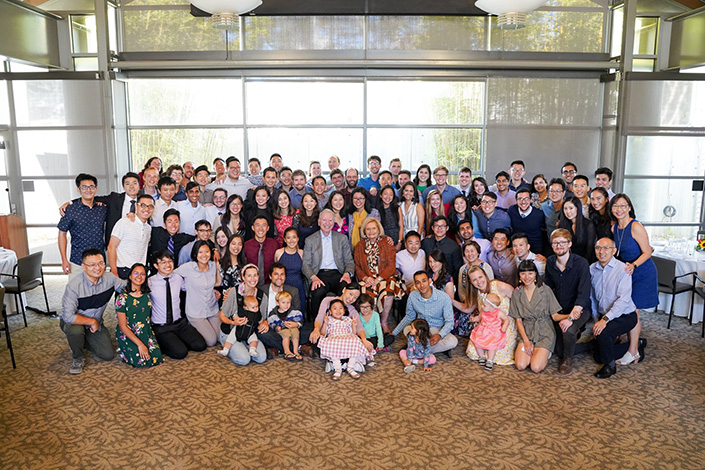 Stay in the Know
Keep up with all the latest from UC San Diego. Subscribe to the newsletter today.