Campus's Remarkable Transformation Celebrated at Open House
Published Date
By:
Share This:
Article Content
In the past decade, UC San Diego Chancellor Pradeep K. Khosla has assembled a leadership team that has delivered a breadth of physical improvements to the campus for researchers, faculty, students, staff, patients and the surrounding community—with more than $7 billion invested in new connections, medical facilities, labs, housing and places to reflect, innovate and celebrate. The chancellor addressed a lively and engaged crowd at the Ida & Cecil Green Faculty Club to look back at all that we've accomplished and get a glimpse of what is to come.
He noted it all started with UC San Diego's first-ever Strategic Plan, a shared vision of a physical, cultural and intellectual transformation developed through an inclusive bottom-up process engaging more than 10,000 campus and community members.
"Eleven years ago, we created the Strategic Plan as a framework for all decisions centered around these words—student-focused, research-centered, service-oriented, public university," said Khosla. "Eleven years later, we are pleased to showcase the remarkable progress we have achieved in pursuit of our goals, provide updates on the ongoing campus transformation, and share our future plans to continue the innovative academic and research excellence of this world-class university."
During his presentation, Chancellor Khosla highlighted multiple projects planned for the future that will enhance UC San Diego's presence as a top public research university and also as one of the top universities in the nation for startup creation.
Science Research Park in the university's east campus includes La Jolla Institute for Immunology and the Center for Novel Therapeutics. Through a public-private partnership, Wexford Science & Technology, LLC will develop up to 1.1 million square feet of new life science and technology research space. This will help advance university initiatives, augmenting and enhancing UC San Diego's instructional and research base, allowing students to learn from top industry scientists and attracting private industry tenants seeking joint research or other collaborative projects with the university. Science Research Park is scheduled to go to the UC Regents for approval this fall, with construction anticipated to begin in late 2024.
On the west campus, the Multidisciplinary Life Sciences Building will create a vibrant laboratory facility that meets the need for campus and Health Sciences research space, encourages multidisciplinary collaboration across UC San Diego's research programs and provides an opportunity to advance the university's research and public service missions. This proposed facility will be located within the Health Sciences West district, just west of the Skaggs Pharmaceutical Sciences Building. The proposed undergraduate instructional space would integrate wet lab and computational lab instruction to promote interdisciplinary scholarship and equip undergraduate students with the necessary skills to work in the modern life sciences industry. This project is expected to go to the UC Regents for approval in 2024, with construction anticipated to begin in late 2024.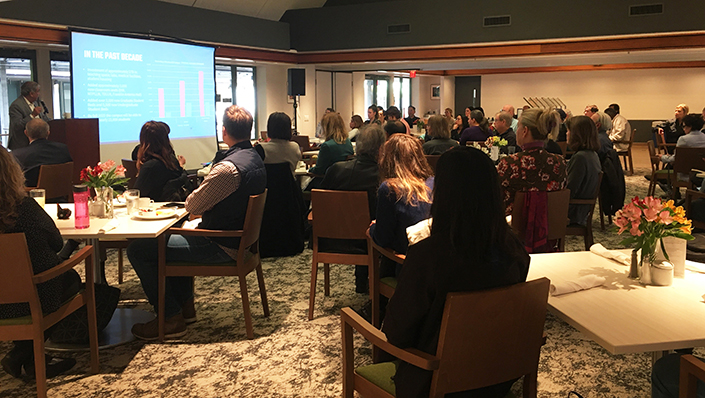 Among the attendees at the open house was Mark Dawson, a fundraiser for the Jacobs School of Engineering who joined the university five months ago. "This is a beautiful campus that is expanding and growing, and I wanted to learn about what's coming," said Dawson. "As someone whose role is external-facing, I need to know as much as I can for conversations and meetings with donors and prospective donors. The more I learn, the more I am impressed by the quality of the research and all that happens here. I am especially impressed by the commitment to collaboration and cross-pollination across campus."
Before and after the presentation from Chancellor Khosla, the faculty, staff, students and community members in attendance could look at renderings of upcoming projects arranged throughout the space and speak with university experts on hand to answer questions.
One community member attending the event was Dominique Cano-Stocco, a UC San Diego alumna who earned her undergraduate degree at in political science and master's degree in marine biodiversity and conservation from Scripps Institution of Oceanography. "You would think I'd know everything that's happening on campus, but there's so much going on, I wanted a refresh," Cano-Stocco remarked. "I'm most excited about the additional housing on-campus, knowing the impact to students. I applaud the university for being ahead of the curve and understanding what was needed."
In the past decade, UC San Diego has opened 3,530 new beds for graduate students and 2,000 new beds for undergraduate students. With 18,022 total beds on campus today, UC San Diego ranks third in the nation for student housing inventory, just behind Penn State University and UCLA.
Providing access to below market rate housing for UC San Diego students will continue to be a top priority for the university. Three new housing neighborhoods are planned to open by 2025—Theatre District Living and Learning Neighborhood, Pepper Canyon West Living and Learning Neighborhood and Ridge Walk North Living and Learning Neighborhood—adding 5,700 new undergraduate beds to campus. Last fall, UC San Diego was able to provide housing to 39% of undergraduate students and 49% of graduate students. The university's ultimate goal is to provide on-campus housing to up to 65 percent of all students by 2035 and to continue to make progress toward a four-year housing guarantee at below market rates.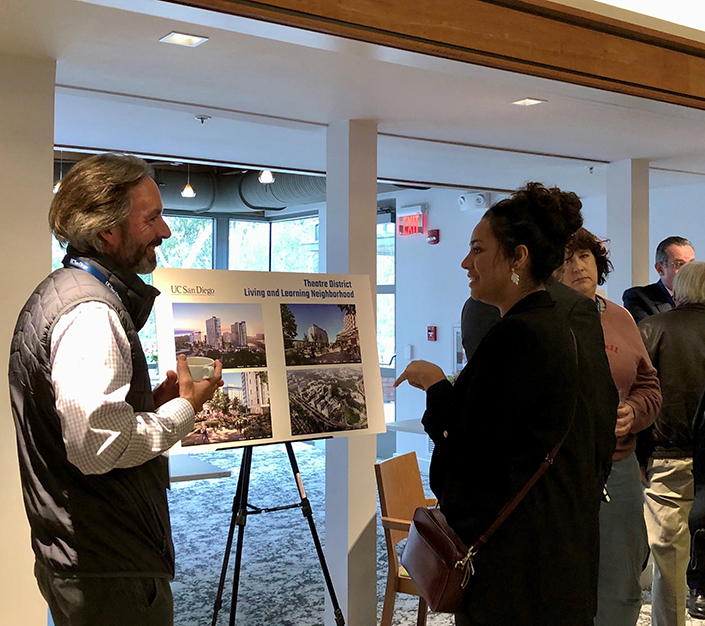 Another upcoming project highlighted at the open house is Triton Center. Anticipated to open in 2026, it will expand and centralize support for students at the heart of the UC San Diego campus. This includes health, mental health and well-being services, but also resources for students' academic success and personal development, like the Teaching + Learning Commons, Transfer Student Success Hub and Global Initiatives.
One eye-catching aspect of the design is the Alumni and Welcome Center which is wrapped in a programmable media mesh, similar to the renovated Mandeville Art Gallery. It will serve as a home away from home for UC San Diego alumni as well as an engaging campus gateway for students, faculty, staff and visitors alike. A multi-purpose building with a 500-person event space and art gallery will provide a place for celebration and connection. Triton Center also includes public realm improvements and accessible parking.
Kelvin and Brian Tam are fourth-year economics students and also transfer students who were drawn to the rendering of Triton Center's Alumni and Welcome Center. "We were interested in the new upper-division transfer housing but also in Triton Center," said Brian Tam. "It's a unique design and I'm interested to learn more about what's inside." Kelvin Tam added, "We are both excited to see how it will impact campus life and the quality of services that UC San Diego provides to students."
Learn about all of our transformative projects—past, present and future—on Plan Design Build.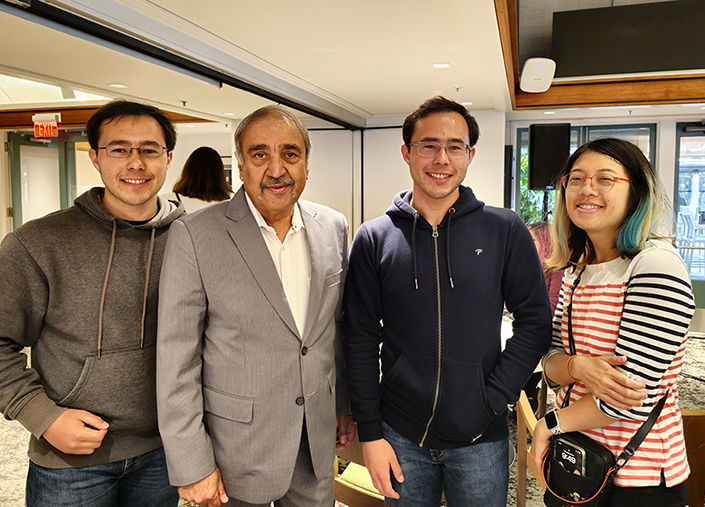 Stay in the Know
Keep up with all the latest from UC San Diego. Subscribe to the newsletter today.