California Governor Gavin Newsom Visits UC San Diego's Nimitz Marine Facility
Tour highlights innovative hydrogen-hybrid research vessel in development that will be vital to studying California coast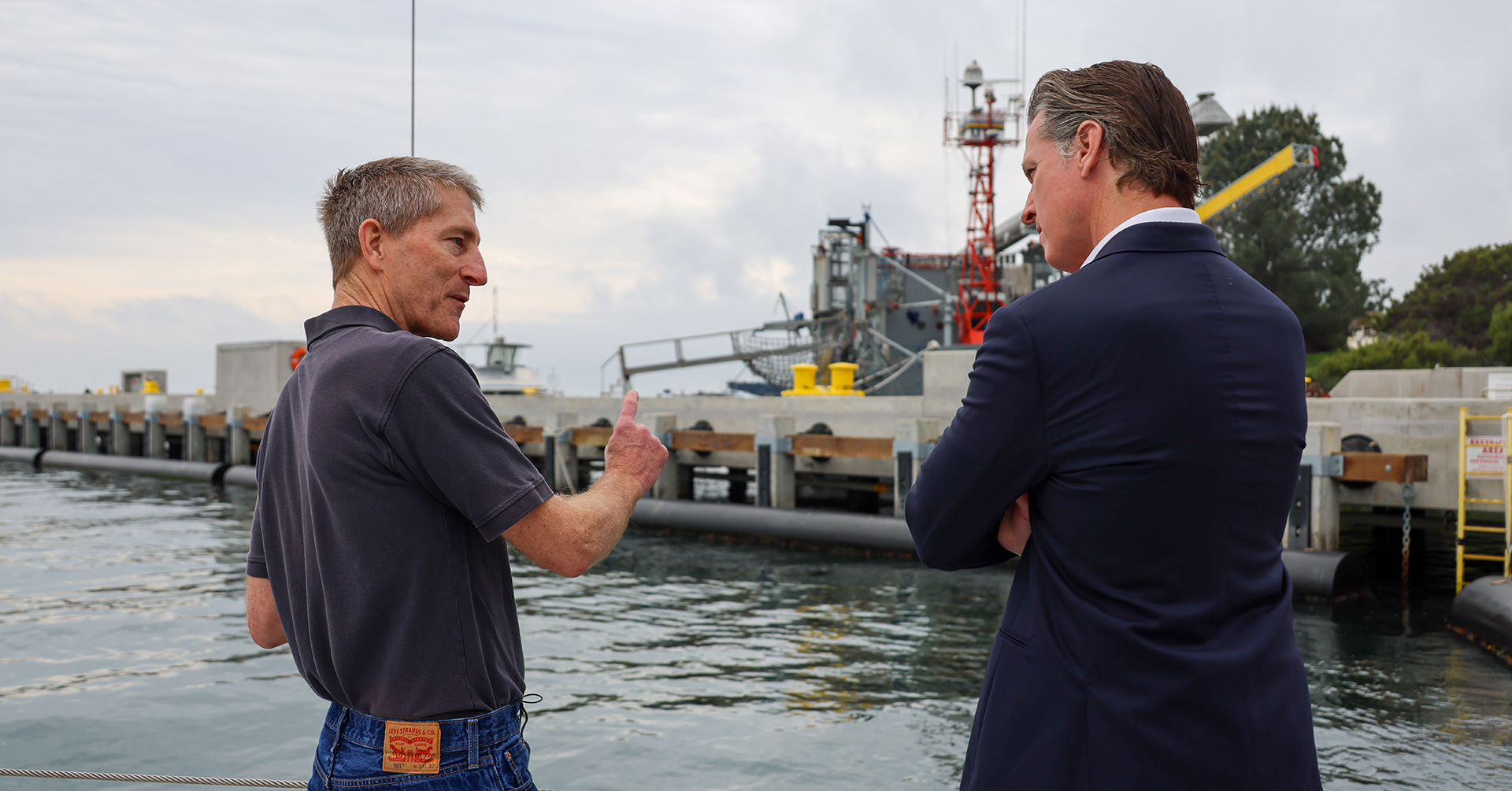 By:
Media Contact:
Published Date
By:
Media Contact:
Share This:
Article Content
California Governor Gavin Newsom and Senate President Pro Tempore Toni G. Atkins stopped by UC San Diego's Nimitz Marine Facility on Sunday, March 19 to highlight an innovative new California coastal research vessel in development. Once completed, the vessel will demonstrate advanced capabilities to reduce greenhouse gas emissions and criteria pollutants in maritime operations.
The visit was part of Gov. Newsom's four-day statewide tour to announce his 2023 policy agenda. At Nimitz Marine Facility, where the Scripps Institution of Oceanography academic research fleet is stationed and managed, the focus was on the new California Coastal Research Vessel which state legislators allocated $35 million to develop in 2021 and which will be dedicated to California research missions. This vessel is being designed with a hydrogen-hybrid propulsion system that will enable it to operate with zero-emission capabilities, a first-of-its-kind system in the maritime industry.
"California continues to lead the way in clean energy innovation, and this vessel is another step in transitioning to a carbon-neutral economy," said Gov. Newsom. "It's great to see UC San Diego and Scripps Oceanography lead the hands-on education, training, and scientific research we need to tackle the climate crisis."
The visit included a tour of Research Vessel Robert Gordon Sproul, which has served thousands of University of California students in its nearly 42 years of service but is nearing completion of its service life. Scripps Oceanography's Associate Director and head of ship operations Bruce Appelgate led the tour and science demonstrations on board the vessel, alongside UC San Diego Chancellor Pradeep K. Khosla and Margaret Leinen, Vice Chancellor for Marine Sciences and Director of Scripps Oceanography.
"I was thrilled to learn about the progress being made on this innovative project, which will play a critical role in supporting policy decisions to protect our state's precious coastal environment from climate change impacts and train the next generation of California's climate and policy leaders," said Atkins, who helped secure $35 million in budget funding for the project in 2021-22. "I look forward to its completion in the next several years."
The innovative vessel will feature a hybrid propulsion system that will use clean renewable hydrogen and fuel cells to enable zero-emission operations for 75 percent of its missions. On longer missions, secondary electrical power will be provided by clean-running Tier 4 diesel generators. The ultimate goal, however, will be to eliminate fossil fuels entirely from the vessel, which is why it will be built to accommodate clean renewable methanol as its secondary fuel as soon as that technology matures. With the selection of a naval architect last year, the design of the vessel and its clean power systems is currently underway.
"With this vessel design, UC San Diego strengthens our global leadership in climate research and in transformative clean energy innovation in the maritime industry as a whole," said Khosla. "This vessel will train future climate science leaders through unparalleled hands-on learning and expand our capacity to understand and protect our coastline–and our entire planet–from the devastating effects of climate change."
Currently, emissions from diesel engines on ships are significant emitters of greenhouse gases and pollution. Development of this and subsequent zero-emission vessels is essential to the University of California's Carbon Neutrality Initiative, with the goal to be carbon neutral by 2025.
"The Governor and Pro Tem's continued support of our research programs is deeply appreciated by our entire university community," said Leinen. "Seagoing experiences are a cornerstone of educational programs at UC San Diego. The research conducted on this vessel will provide California decision-makers with essential information needed to develop science-based policy and climate resilience solutions on issues vital to the California economy such as the health of marine fisheries, harmful algal blooms, severe El Niño storms, atmospheric rivers, sea-level rise, ocean acidification, and much more."
Final design, U.S. Coast Guard approval, construction and commissioning of the vessel will likely take an additional three years. When completed, it will join the fleet of vessels managed by Scripps including the Navy-owned research vessels Sally Ride and Roger Revelle, which conduct global oceanographic research, and R/V Bob and Betty Beyster, a nearshore scientific workboat. All research vessels are stationed and maintained at the university's Nimitz Marine Facility in Point Loma.
Stay in the Know
Keep up with all the latest from UC San Diego. Subscribe to the newsletter today.