Physics Professor Brian Keating Named 2022 Legend of Flight Honoree
Published Date
By:
Topics:
Share This:
Article Content
University of California San Diego Professor of Physics Brian Keating was recently honored by the International Air & Space Hall of Fame as a 2022 Legend of Flight honoree. Keating was recognized for his work in studying the universe's oldest light, called the cosmic microwave background, and using it to learn about the origin and evolution of the universe.
Guests from around the world convened at the San Diego Air & Space Museum's Edwin D. McKellar Pavilion of Flight on November 19 to recognize Keating and the other honorees and learn more about each of their accomplishments. Keating received a plaque, a medal, and a custom portrait that is permanently mounted at museum next to luminaries including Neil Armstrong and Keating's late UC San Diego colleague, Professor of Physics Sally Ride.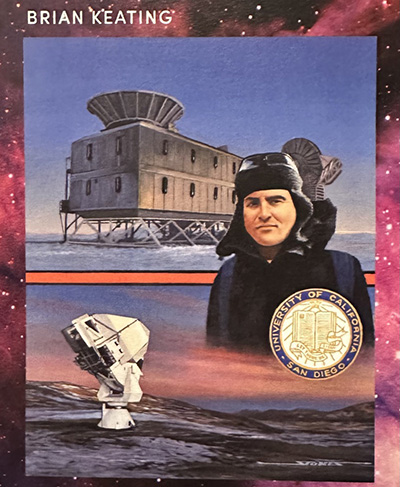 "I am so delighted and humbled to accept this award with such outstanding fellow recipients from the world of business, commercial and military aviation. At times like this I wonder if I'm even good enough to have imposter syndrome," said Keating who is a Chancellor's Distinguished Professor of Physics at the Center for Astrophysics and Space Sciences.
Since 1963, the International Air & Space Hall of Fame has honored the world's most significant pilots, crew members, visionaries, inventors, aerospace engineers, business leaders, preservationists, designers and space explorers.
"We're exceptionally pleased to honor this exemplary Class of 2022 because these men and women are amongst the most talented figures in the history of air and space," said San Diego Air & Space Museum President and CEO Jim Kidrick. "Achievements in aviation and space, as embodied by the honorees in the prestigious International Air & Space Hall of Fame, directly represents the human pioneering and exploring spirit."
Keating is the director of the Simons Observatory, located in Chile's Atacama Desert. Scheduled for completion in 2024, the four-telescope array will reveal details about galaxy clusters and their formation, neutrino mass, dark matter, and the quantum events from which the universe evolved.
Keating is also the author of three books, including Losing the Nobel Prize, and is the creator and host of the podcast and YouTube Channel "Into the Impossible." He is the second Department of Physics honoree, after Sally Ride was honored in 1985.
Topics:
Share This:
Stay in the Know
Keep up with all the latest from UC San Diego. Subscribe to the newsletter today.