Rethink, Rewrite, Redefine—How Biodegradable Plastics Are Reshaping Sustainability
A new book written by UC San Diego researchers and students makes a case for the future of algae-based materials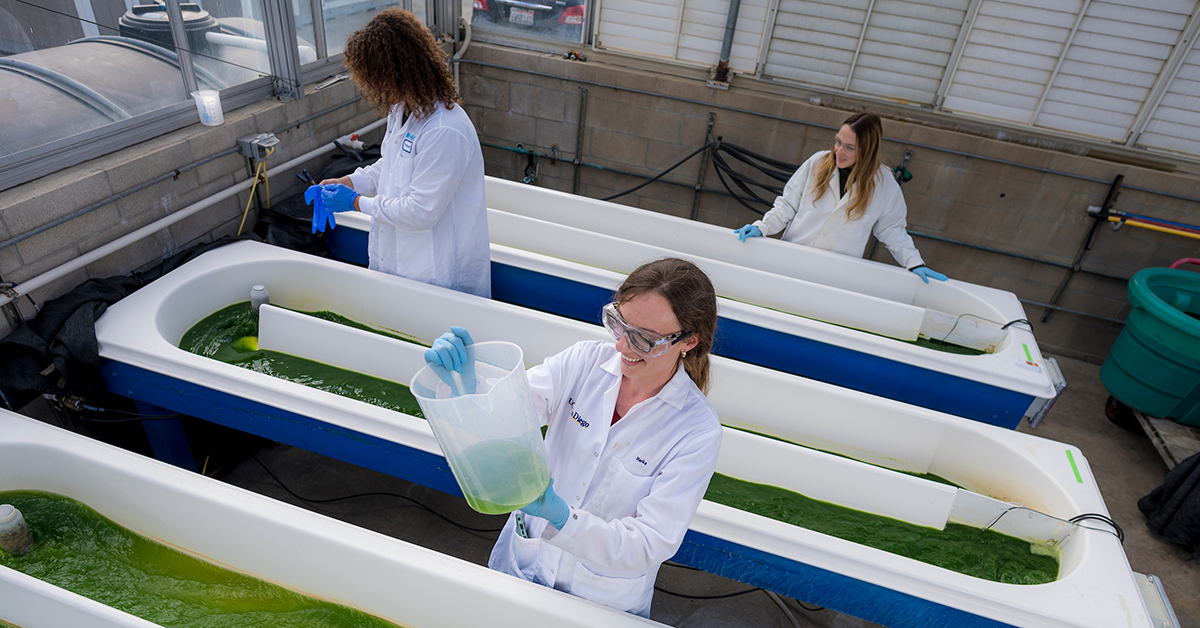 Published Date
By:
Share This:
Article Content
The University of California San Diego's vision is to be a student-centered, research-focused, service-oriented public university. There are countless examples across campus of the ways these three pillars are upheld, but it is unique to find all three incorporated at once. Now a new book on algae-based biodegradable plastics showcases student research and the monumental potential it has to change consumerism on a global scale.
Statistics on the environmental damage of plastics are stark: in 2018, U.S. landfills received 27 million tons of plastic (U.S. Environmental Protection Agency); up to 199 million tons of plastic may exist in our oceans (United Nations Environment Programme); and it can take up to 450 years for plastic bottles and diapers to decompose (World Economic Forum).
Researchers at UC San Diego have spent many years developing a biodegradable plastic alternative made from algae. This algae-based polymer has already been used to make surfboards, flip-flops and walking shoes. Rethinking Polyester Polyurethanes: Algae-Based Renewable, Sustainable, Biodegradable and Recyclable Materials (Emerging Issues in Analytical Chemistry), published by Elsevier, details the basic science of creating bio-based polymers, lifecycle assessments and a techno-economic analysis.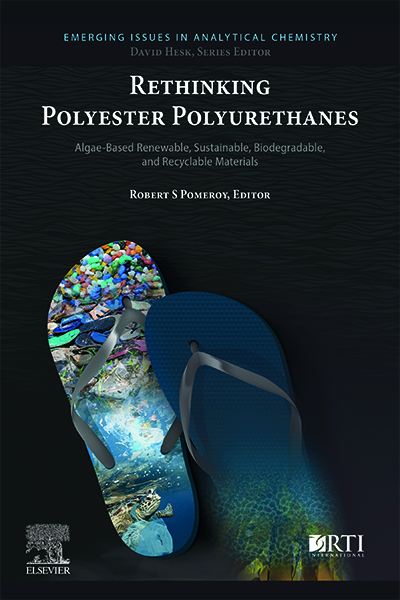 Edited by Professor of Chemistry and Biochemistry Robert "Skip" Pomeroy, and largely written during the pandemic, the book's contributing authors include UC San Diego faculty, research scientists, postdoctoral scholars, alumni, and graduate and undergraduate students.
"The academic teaching labs at UC San Diego are intentionally designed to foster collaboration among dedicated individuals and groups who are seeking solutions to the growing sea of plastic that plagues our oceans," said Chancellor Pradeep K. Khosla. "Robert Pomeroy, Michael Burkart and Steven Mayfield have engaged a diverse set of perspectives from students, industry and the community in their efforts to apply innovation and an entrepreneurial mindset to protect our planet's resources. They reflect our campus commitment to taking bold, creative actions to solve one of the world's most challenging problems."
REDEFINING RECYCLING
For all the attention it receives, recycling is often prohibitively expensive and inefficient. Only a small fraction of plastics are recycled, and most new plastic products are not made from recycled materials.
Pomeroy's lab specializes in analytical chemistry, which he believes can help us redefine terms like "recyclable" and "biodegradable." A chapter in the book about greenwashing — claiming something is environmentally friendly when it's not — takes a closer look at these labels.
He points out that just because an item can be recycled doesn't mean it gets put into the recycling bin, and even then, it may not make it to a recycling plant. For instance, plastic-coated milk cartons are technically recyclable, but there aren't any facilities in California that recycle them. Many times, these kinds of "recyclable" items are simply burned.
Another example is using the word "biodegradable." Sometimes manufacturers will include a small amount of inert material, such as wood fiber, in a plastic product and claim it is biodegradable. "All they're doing is creating microplastics," said Pomeroy. "Now we're challenging the words. We're challenging the definitions. This is where the analytical chemistry comes in. We want to establish a right way to do this."
Fundamentally, Pomeroy believes we need to change the way we think about plastics, including single-use plastics, such as straws and medical supplies. While paper straws disintegrate too quickly — often mid-drink — ones made from algae polymers will hold their structural integrity long enough to be useful, but then biodegrade in a fraction of the time of a plastic straw.
"We need to be more thoughtful about making the lifetime of the product match the lifetime of its use," Pomeroy stated.
REWRITING THE TEXT
Pomeroy wanted the book to be relevant and to show the science, but also to be something that was readable without speaking over people's heads or talking down to them. It is meant to be a resource to industry professionals involved in the sales, marketing or manufacture of polyurethane products; those in regulatory roles who want to understand the advantages of bio-based materials; and those involved in the research of bio-based materials, including students in environmental chemistry, engineering and materials science.
Pomeroy found eager students from across disciplines to work in his lab and contribute to writing chapters. "Some students are from chemistry, some are chemical engineers, some are statisticians, some are biologists," he stated. "They come from a lot of different places. Sometimes the best research opportunities aren't in your department."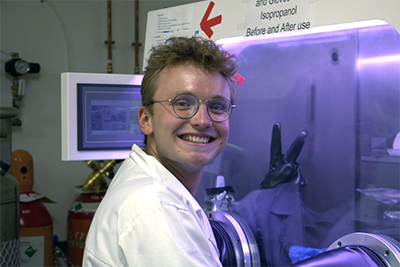 One student was Anton Samoylov, who graduated in 2021 with a B.S. in chemical engineering, and began working in Pomeroy's lab as a freshman. Although he wasn't a chemistry major, during a Triton Day lab tour, Samoylov was drawn in as Pomeroy enthusiastically discussed his work in developing algae surfboards and the potential of algae as a biofuel and renewable plastic.
As an undergraduate, Samoylov worked on the book with two mentors, postdoctoral scholars An Phung and Bhausaheb Rajput, whom he already knew from working together on making microfluidic flow systems for polyurethane precursor synthesis.
Now a graduate student at the University of Arizona, studying chemical and environmental engineering, Samoylov said, "Having small groups of authors for each chapter was great because I had the ability to engage deeply with the writing process. Because of the work we did together, I felt comfortable and proud taking ownership of that book chapter. Skip's lab definitely provided me unique opportunities."
RETHINKING THE STUDENT EXPERIENCE
"Why do students come to UC San Diego? Is it to sit in a lecture hall with 300 other students or is it because there is an opportunity to participate in the life of the university?" Pomeroy asked.
"Everyone who worked on this book — they got hands-on lab experience; they published research papers; they interacted with our start-up company, Algenesis. I think that is a huge added-value not many other universities can provide."
It was also important for students to see what the life of a faculty researcher was like. "We do have enviable jobs, but we work hard. And we work hard because we're passionate about it," Pomeroy stated. "I want our students to see that this is our life, but it could be their life too. If they put in the work, they can be leaders in their field."
One emerging leader is Miheer Modi, who earned his bachelor's and master's degrees in chemistry from UC San Diego, and is now a research associate with Scripps Research. In working on the book, Modi learned how to sift through large quantities of information, see a project through to completion and pace himself to achieve long-term goals — traits that have proved useful in his current position.
"I have tremendous respect and admiration for Dr. Pomeroy's insight," Modi said. "His lab gave me that safe space and opportunity where I could explore and develop my passion for analytical chemistry, which has now led to a job I thoroughly enjoy."
Stay in the Know
Keep up with all the latest from UC San Diego. Subscribe to the newsletter today.