Published Date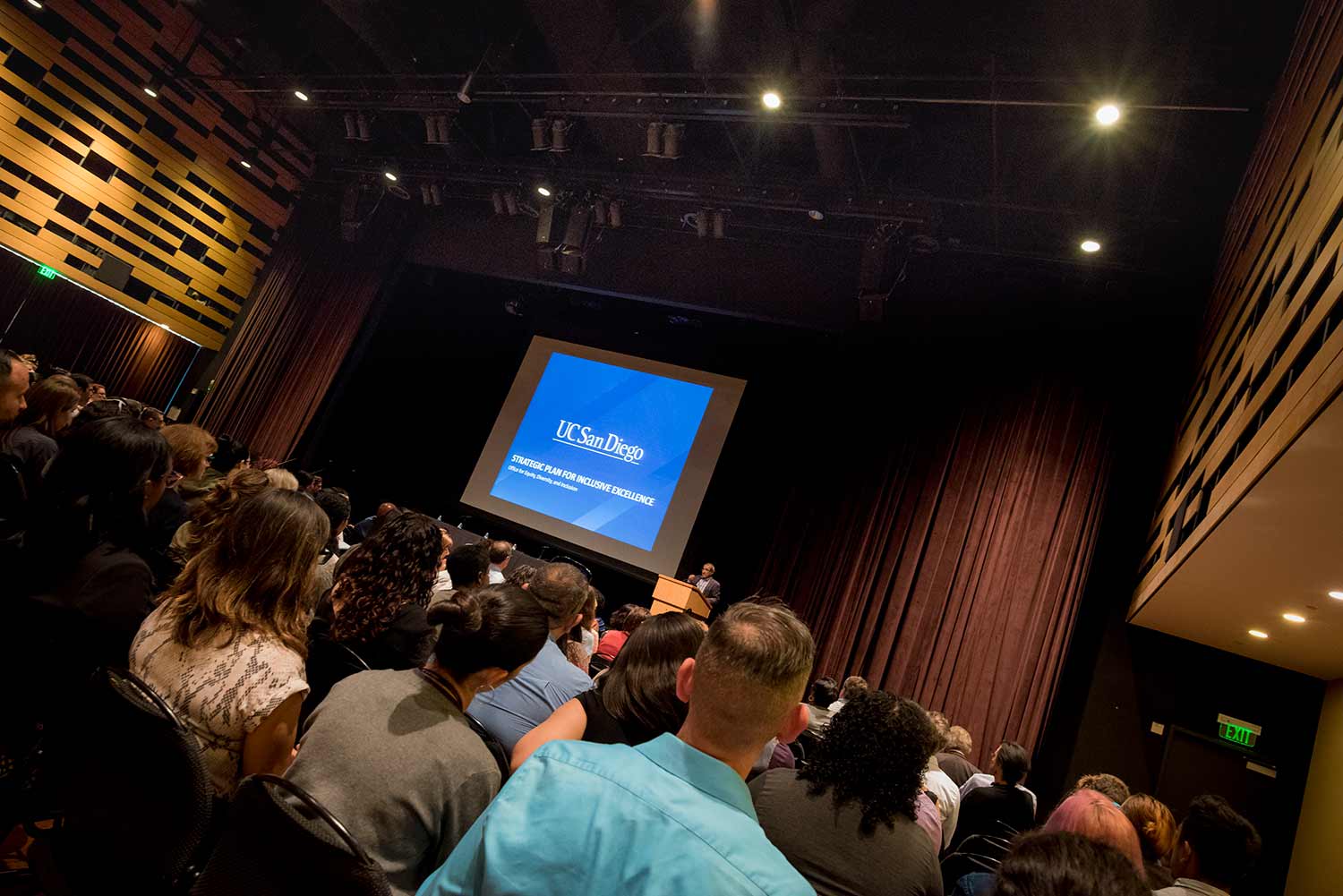 Be the Change
Campus community invited to contribute to creation of a more inclusive UC San Diego
If one thing changes, everything changes. This was the message that 300 faculty, staff and students received on Oct. 19 at the launch of UC San Diego's Strategic Plan for Inclusive Excellence. More than just informational, the event was a call to action for each and every person at our university to recognize their role and responsibility in making UC San Diego an inclusive place where all have the opportunity to achieve their aspirations.
"You are here because you are a leader," said Chancellor Pradeep K. Khosla to the audience. "You own this plan completely; it would not be successful without you."
It takes just one person to fuel a movement. The plan will be shaped by every voice that contributes an idea, which makes it imperative that all members of the campus community are heard. There are many ways to take part, for instance by submitting suggestions on IdeaWave, a crowdsourcing platform to share ideas and collaborate with others to promote progress.
For those would who like to discuss thoughts in person within a group setting, numerous workshops and seminars will be hosted. In addition, there are opportunities to connect through organizations on campus with which you are already affiliated: look for event announcements and messages from the Academic Senate, Associated Students, the Campus Community Centers, Graduate Student Association, Staff Association and other partners.
Creating a community with heart
Five years ago, Chancellor Khosla launched UC San Diego's first ever Strategic Plan. Among the five goals outlined within the Plan, the second focuses on cultivating a diverse and inclusive university community that encourages respectful, open dialogue and challenges itself to take bold actions that will ensure learning is accessible and affordable for all.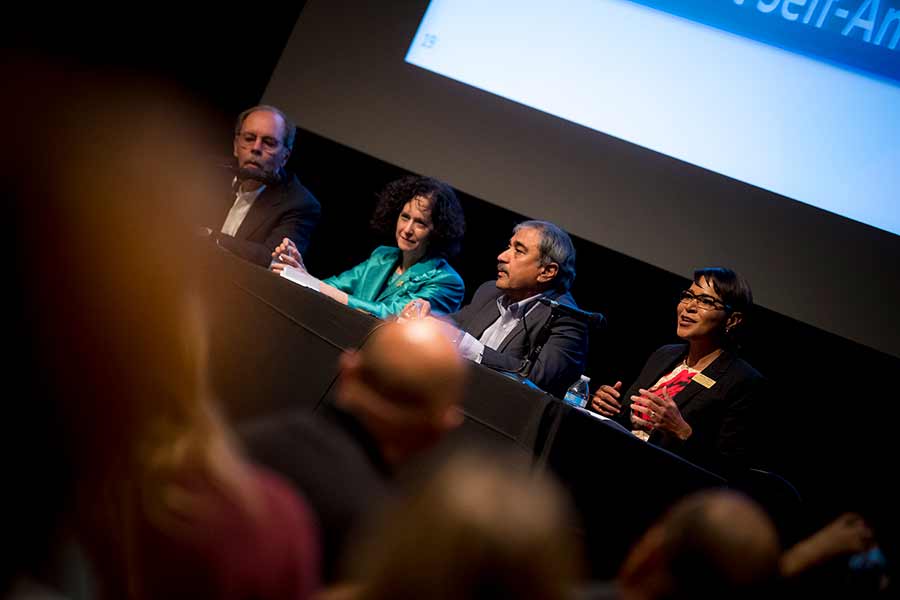 And already progress has been made. Since then, three new campus community centers have been created, including the Raza Resource Centro, the Black Resource Center and the Intertribal Resource Center. Living communities have been developed to enhance the academic experience of Black, Latino and LGBT students. And the Leaders for Equity Advancement and Diversity (LEAD) Fellows program was created to build capacity through a cadre of trained equity, diversity, and inclusion leaders who promote inclusive excellence across campus.
Yet the journey of making UC San Diego a more inclusive place to learn, live and work is just beginning. The Strategic Plan for Inclusive Excellence, led by the Office for Equity, Diversity, and Inclusion (EDI), will engage the campus community over the next nine months by seeking feedback and actionable ideas that will continue to propel UC San Diego in the right direction.
"The Strategic Plan for Inclusive Excellence is essentially a road map that will outline our commitments and expectations, as well as the mechanisms for accountability," said Vice Chancellor for EDI Becky Petitt. "It's important to me is that our current faculty, staff and students feel like they are included, that they feel welcome, that this is a place where they can thrive."
Launching our shared future
Over the past year, with guidance from the EDI Office, the EDI Advisory Council has been laying the groundwork for the strategic plan. The group—comprised of student, staff, faculty and alumni representatives who advise senior administrators—listened to what the community was asking for and distilled four core tenets that will underpin the plan as it begins to unfold.
Inclusive Excellence: A systemic approach that integrates diversity, equity and inclusion into all institutional operations, at every level, as a necessary component of academic excellence.
Inclusion: Intentional engagement that enables all students, staff and faculty to participate fully in every aspect of campus life.
Community/Climate of Care: A campus where all community members, regardless of differing social identities, feel respected and included in the full participation of an equitable learning and working environment.
Accountability: Transparency and acknowledgement of our campus's willingness to accept responsibility for proactively and fully engaging all aspects of equity, diversity and inclusion.
One idea can make waves. The campus community is invited to provide their unique perspectives on these tenets as well as spark new ways to promote inclusion. Using campus community input, the first draft of the plan will be produced in the winter quarter of 2018. In the spring, faculty, staff and students will be invited to review, refine and add additional ideas. By fall 2018, a comprehensive strategic roadmap will emerge based on the collective genius of those who took part, and will begin to be implemented in partnership with all campus members.
"We are asking everyone to rethink and reimagine a new way of being and really encouraging a cultural shift on our campus," said Assistant Vice Chancellor for EDI Diane Forbes Berthoud, who is assisting in the plan's development. "This is about you. This is about us growing together and creating something new. The idea of one person making change is real. And we can make that happen."
Stay in the Know
Keep up with all the latest from UC San Diego. Subscribe to the newsletter today.