Astrophysicist David Lesser Takes on UC San Diego's Makerspace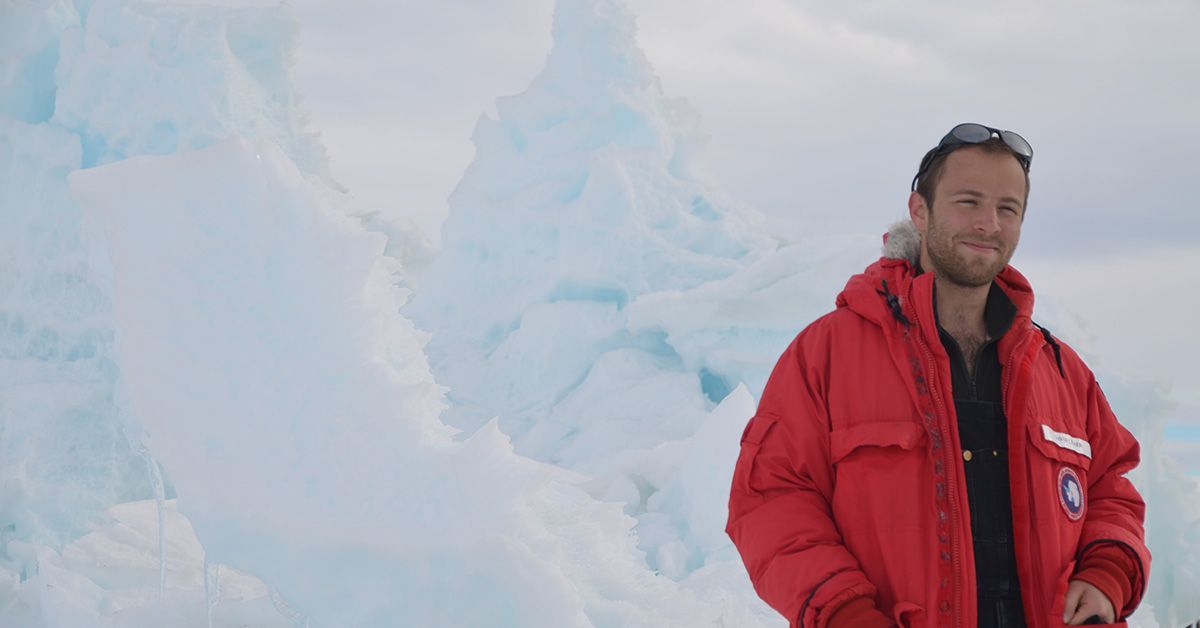 Published Date
By:
Share This:
Article Content
David Lesser's career has taken him from the high reaches of the Chilean mountains to the searing cold of Antarctica. Both astrophysicist and educator, he is drawing on his varied background at the Qualcomm Institute (QI) as director of the Makerspace, an open access workshop area in UC San Diego's Design and Innovation Building (DIB).
A cross between a laboratory and a learning center, the Makerspace provides UC San Diego and the surrounding community with public-use tools, from 3D printers and laser cutters to sewing machines and table saws. Lesser's mission is to establish the workshop as a place where students, faculty and industry partners can mingle, learn from one another and share best practices across disciplines.
Adventure and Technical Puzzles at the Edge of Space
Lesser's path to directing this experimental space began in physics class.
As a freshman at Oberlin College in Ohio, he enrolled in a course with a professor who believed in reinforcing classroom learning through experimentation. Lesser and his classmates were assigned to a laboratory where they implemented the theories behind physics in practical systems, taking that first step toward applying their college smarts to real-world scenarios. It was an opportunity he would later realize was comparatively rare.
"That was a formative experience for me and a big part of what I try to replicate today," said Lesser. "I like the nuance of theory, and I also like tinkering with things. That class really showed me these two things are not opposed to one another."
Lesser graduated with honors in 2010 and immediately set out to pursue a doctoral degree in a field that seemed rich with engineering challenges: astrophysics.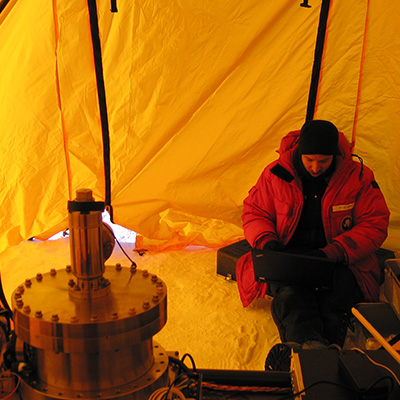 Then and now, the space beyond our solar system posed what might seem like an unanswerable question: How does one build an instrument that allows scientists to study an environment so hostile and inaccessible that it would forever remain out of reach?
As a graduate student with the University of Arizona, Lesser developed and built receivers, antennas, carbon fiber frames and other components for aerial and ground-based telescopes that could tackle this question. These high-frequency radio telescopes were a big thing in astrophysics, designed specifically to scan the cosmos for emissions from the vast clouds of dust and gas that wander the space between solar systems.
Several such projects took Lesser on multiple journeys into the innermost reaches of Antarctica, where the extreme lack of humidity made it possible to detect light that otherwise would have been absorbed by moisture in the atmosphere.
Shortly after the team returned home from constructing a ground-based unit called the High Elevation Antarctic Terahertz (HEAT) Telescope, they stopped receiving data. Sometime in the Antarctic night, the telescope had failed, and it wasn't rebooting.
Learning to Improvise
Scrambling, Lesser and his advisor threw together an impromptu "war room" to strategize and puzzle out which tools and supplies they might need on the ground. Together, they departed for the frozen continent, where they worked upwards of 16 hours per day out on the ice, toiling over the telescope in the biting cold.
As Lesser recalls, they had just finished reassembling the unit when one of its new components—a resistor—exploded with a sound "like a gunshot." With the plane's limited cargo space, they hadn't brought a replacement. All they had on hand was one of the many bamboo poles that the crew used for everything from raising a flag to anchoring a tent in the snow.
"I created my own 'wire round' resistor, which is literally just a calibrated length of wire wrapped around a structural support—in this case, the bamboo," said Lesser.
The makeshift resistor did its job. Years later, after a return trip to their old study site, Lesser's advisor would gift it to him for his graduation.
For the next several years of his doctoral degree, Lesser took on other challenges, including two NASA-funded initiatives to design aerial telescopes—one of which had a diameter about as wide across as the height of an average telephone pole—that could fit inside enormous spherical balloons. These balloons carried their cargo as high as 150,000 feet above sea level, where they rested above more than 90% of Earth's atmosphere with a clear line of sight into the space between stars.
Known as the "interstellar medium," this region of space is host to enormous dust and gas clouds that hold clues to mysteries as complex as the life cycles of stars and planets. Gaining insight into the factors that influence the development of celestial bodies—their size, composition and age—could go a long way toward answering questions about changes in galaxies over time and the existence of Earth-like planets beyond our solar system.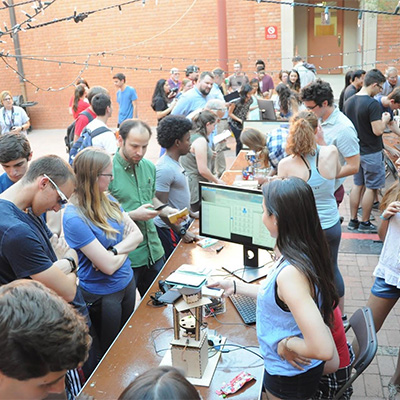 Engineering for the Future of Astrophysics
As he worked through his doctoral and later postdoctoral research, one refrain Lesser kept hearing from colleagues touched on the disconnect between the tools astronomers and astrophysicists needed and the ones they received. Without gaining hands-on experience before they entered the workforce, the engineers who developed tools for scientific study struggled to translate ideas on the page into usable equipment.
At the time, Lesser was a member and leader of the local Xerocraft makerspace in Tucson, Arizona. In this space, he saw the opportunity to bridge the gap between students' education and the hands-on learning that could both ease their path into the workforce and help deliver more efficient equipment to researchers. All of the tools he used on-site, from laser cutters to 3D printers, could solve tricky engineering problems.
As Xerocraft grew in size and clientele, Lesser partnered with friends at the University of Arizona, where he was in the process of completing his doctoral work. Together, they designed a new pair of undergraduate engineering courses and an accompanying teaching lab at the university. For the courses' final project, Lesser and his colleagues challenged students to create a robot that could sort Skittles by color.
The problem was more difficult than it seemed at first glance—the machine had to use computer vision to identify color and separate the candy through a mechanism built from scratch. Friends of Lesser's attempted the challenge and managed to sort 50 Skittles in 10 seconds. Even then, they barely beat the records set by their students.
"When you involve both theory and practice, students love the opportunity to do 'real stuff,'" said Lesser. "They get to use real, professional equipment to solve problems that even their teachers would find challenging."
Throughout his tenure as Xerocraft's vice president and, later, its president, Lesser focused on forming new partnerships with local K-12 schools and businesses to reach students, entrepreneurs and artists around Tucson, and joined efforts to fabricate personal protective equipment in the early months of the COVID-19 pandemic.
'Low Barriers and High Ceilings'
Now, as director of UC San Diego's Makerspace, located in the Design and Innovation Building across from the trolley, Lesser seeks to create a similar self-sustaining community that welcomes individuals and teams from the university and local neighborhoods. From working with faculty to develop innovative classes that offer practical training to opening for walk-ins, Lesser's vision is no less than to redefine the student experience.
"By offering equipment from different disciplines, the Makerspace pulls together a variety of activities from across campus," he said. "That includes work with faculty to build more hands-on content into their curricula as well as with individual students, student groups and research teams. My goal is 'low barriers and high ceilings,' in other words, easy ways to get into the space and entry-level equipment for beginners, as well as professional equipment for more advanced users and applications."
Equipment in the Makerspace includes 3D printers, laser cutters, a full electronic shop, a metal shop, routers, a woodshop, plastics fabrication and 3D scanning.
While other makerspaces exist on the UC San Diego campus, the Design and Innovation Building Makerspace is unique in being explicitly open to everyone rather than designated for specific groups or departments; it provides access to students who don't have such facilities and those who are working on projects in interdisciplinary teams.
"The idea is to build a space that attracts and supports many types of people and encourages them to work together," said Lesser.
The Makerspace is currently open to the UC San Diego and local communities. For questions about resources and training programs, contact David Lesser at dalesser@ucsd.edu.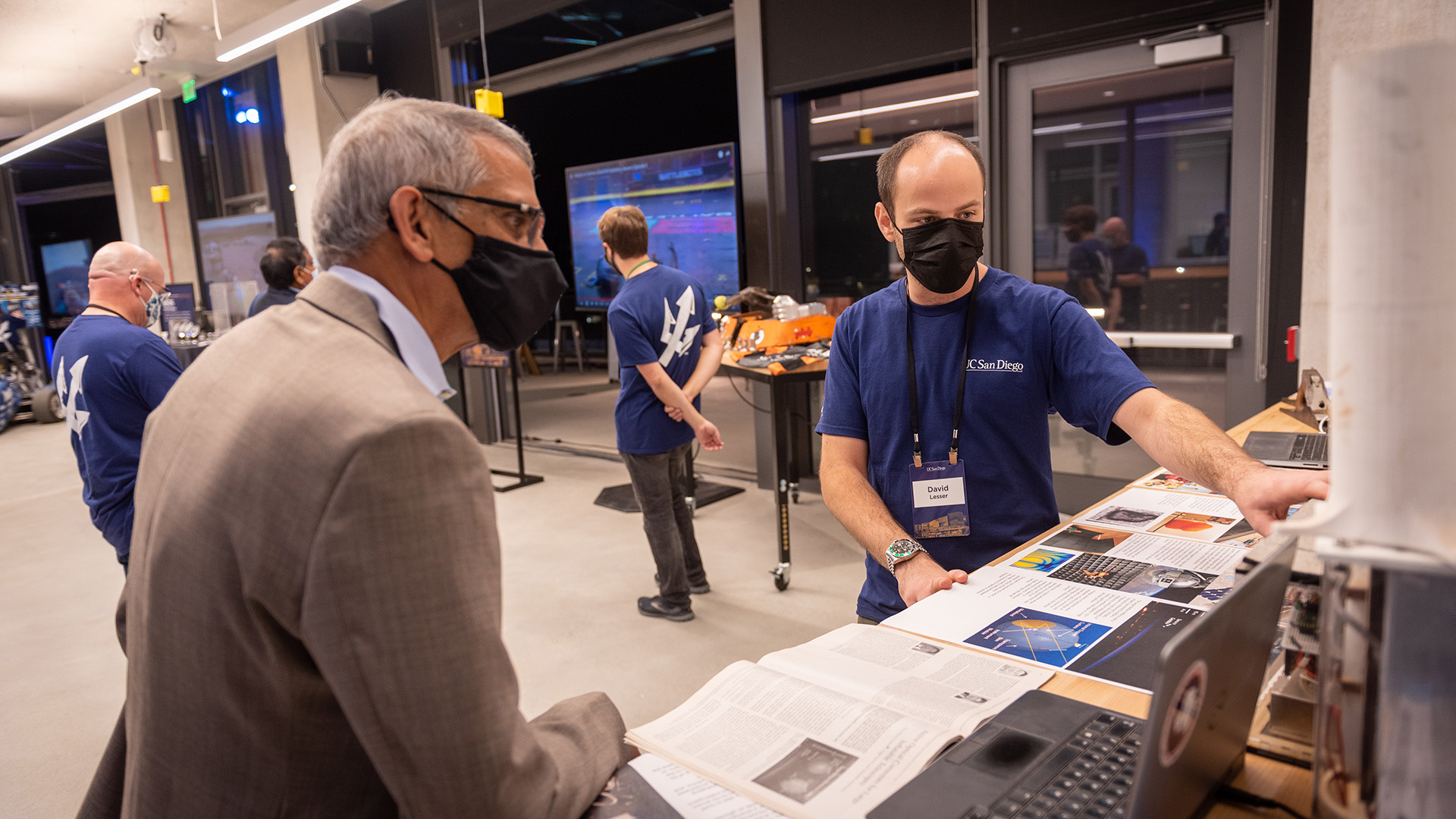 Stay in the Know
Keep up with all the latest from UC San Diego. Subscribe to the newsletter today.