An Artistic Adventure: The Stuart Collection Turns 40
From the iconic "Sun God" to the bold "Fallen Star," the Stuart Collection has made its mark on the UC San Diego campus over the past four decades. This October marks the 40th year of the collection, which continues to expand since it was first established through an innovative partnership between the Stuart Foundation and the university. Now with 21 works, and another currently under construction, the sculptures have become an unforgettable part of UC San Diego's landscape, enriching the cultural, intellectual and scholarly life of the campus.
In recognition of the milestone, we sat down with Stuart Collection Director Mary Beebe and Operations Manager Mathieu Gregoire—both of whom are retiring from their roles this year. Along with Assistant Director Jane Zwerneman, Beebe and Gregoire have grown and maintained the collection since it began in 1981. They share behind-the-scenes stories, how artists take the lead in making their ideas come to life, what sculpture will be revealed next, and more.
Q. How did you first get involved with the Stuart Collection?
Beebe: In 1981, I was running a contemporary art space in Portland, Oregon when I got a call from UC San Diego Visual Arts Professor Newton Harrison. He asked me if I would come down and interview for a job—to which I had not applied and was not interested in. Southern California was not my cup of tea; I'm from Oregon and I like the rain. I met with Stuart Collection founder James Stuart De Silva and his wife, Marne, the collection's advisory board and campus leadership. When I was offered the job, I mulled it over and decided to go for it, to upend my life and start something new.
In Portland, we offered a program for local college students to get credit by helping us at the center. Mathieu had been one of our best student contributors; I was impressed by his ability and knowledge. When we started our first installation, "Sun God" by French artist Niki de Saint Phalle, I knew I needed his help.
Gregoire: Most of what I had to offer at the time—I was about 25—was not experience, but a sense of adventure. I was a young, experimental artist, and as someone who grew up with French as my first language, Niki was this wonderful revelation. Since the first installation, I've worked as an independent consultant with the Stuart Collection, served as a part-time lecturer in the Department of Visual Arts at UC San Diego as well as pursued other art related projects around the world.
Q. How did you choose the location of the first sculpture, "Sun God?"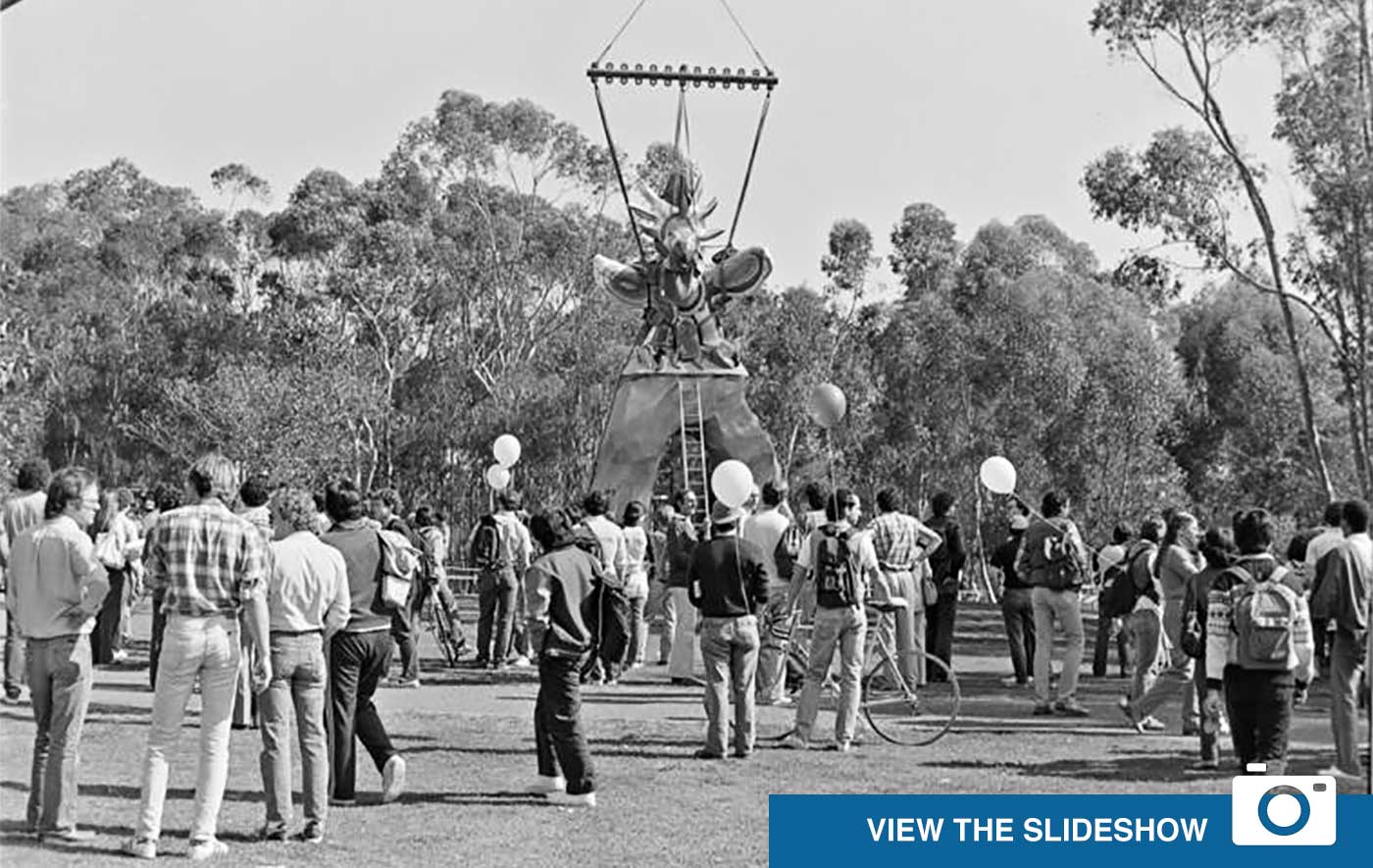 Gregoire: Well, Niki chose the site, but I was left to pick the exact spot. There wasn't really a center to the area. I was pondering it and there was this beautiful young couple who walked up. The woman had a parrot on her shoulder. They sat down and she took the parrot off her shoulder and put it on the ground. I watched in amazement and put a stake in that spot. That ended up being the location of "Sun God." Sounds apocryphal, but it did happen this way. There was always an element of magic with Niki, and with Kiki Smith [another Stuart Collection artist] as well.
Q. How is the Stuart Collection different than most art collections?
Beebe: When I was hired, I told the advisory board that I didn't want to be a curator. I wasn't trained as one, and I didn't want to go around and buy things and place them on campus. I wanted to work with artists, which is what we have done since the beginning. Asking each artist to respond to the situations here at the university has become a kind of modus operandi. We are not a sculpture garden or a museum, we are a site-specific public art collection—one which you discover as you wander or cross the campus. The 21 works are placed throughout the upper campus.
Gregoire: We don't approach it as, "Here's a new building, let's think of an artwork to accompany it." The advisory board selects multiple artists, and we identify those who are available and interested. We invite them to UC San Diego to discover a space somewhere on the 1,200-acre campus that resonates with them. They submit a proposal, sometimes after years of contemplation, and at times the idea goes through multiple revisions.
But what is really unique is that many of the artists in the Stuart Collection don't come from the domain of public art. We have been able to get these truly significant, internationally known people to visit, and we offer them this puzzle to solve in their own way. Everything they need, we try to provide, as opposed to most art commissioning organizations that put the primary burden for feasibility on the artist. We have encouraged their most ambitious ideas.
Q. What behind-the-scenes anecdotes can you share about the creation of Do Ho Suh's "Fallen Star" house?
Gregoire: "Fallen Star" is a great example of a work that responds to an existing situation; the engineering building it sits on was built in the mid-1980s. Do Ho Suh came up with three ideas—originally, he proposed a house that stuck out of the side of a modernist building with the intention of blending domestic and institutional architecture. He never thought to include a rooftop and 'front yard.' That evolved after several attempts on other campus buildings.
"Fallen Star" and Tim Hawkinson's "Bear" were both built by Pacific Southwest Structures, who took it on just for the challenge, and those projects would not have gotten done without their willingness and expertise. We also worked with a local crane operator named Chris Allen who, over the span of about 30 years, helped us bring to life Richard Fleischner's "La Jolla Project," "Bear," and the recent 199-foot-tall pole that is Mark Bradford's "What Hath God Wrought," the tallest structure on campus to date.
Beebe: Do Ho thought we'd choose the easy one. But Mathieu kept saying, "We've got to do the house!" We took a collective deep breath and said yes. After surveying a few campus buildings that might work, including Urey Hall and Price Center, we settled on Jacobs Hall (Engineering Building 1).
Everything in the house has a story and connection. Many of the furnishings are personal items that were donated by staff at the Jacobs School of Engineering, which Do Ho carefully placed in the home. It's all in the details to make it feel just the way it's supposed to be. We have a steam machine that puts out puffs of smoke to mimic a fire in the fireplace. The lights go on and off at night. The television turns on by timer. "Fallen Star" exists on so many levels; you can see it from a mile away, or as a looming object from right below, or enjoy the intimate garden from the rooftop.
Q. What is been the most fun part of growing the Stuart Collection?
Beebe: My favorite part is working with the artists and talking about ideas and what's possible. We've gotten proposals from a lot of artists that never came to fruition. That's been as much fun as the others. The response is often delightful—for instance, works like "Sun God" have been adopted by the students as an unofficial mascot and a meeting place, a symbol of happiness and welcoming for the university.
Gregoire: I enjoy solving problems and the unpredictability of not knowing what's going to be around the next turn. There is an interesting dichotomy between the conceptual idea and the 'nuts and bolts,' figuring out how to build it within the physical reality. There is a kind of practical poetry.
One of the best experiences was going beyond the normal domain of public art for the installation of "Wind Garden" by John Luther Adams. As a composer, he comes from this other world of music and noise. It's just wonderful to have this piece that's kind of not there; it's in the air, there's nothing except that you're invited into this world of paying attention.
Q. How do you respond when people say they don't understand a certain sculpture?
Beebe: We've always gotten different responses, ranging from "Huh?" to "Why" and "Wow." Talking about the artwork with students and visitors, and watching them absorb and think and ask questions, that's really what the collection is about. Expanding your vision and idea of what is possible. It's a new adventure in learning.
Gregoire: We find that people want an explanation so that they can put an artwork into a mental drawer. But that's the opposite of art. It's important to have things that are inexplicable or have multiple readings; art that changes each time you confront it. In some way, the sculptures are a continuing question no matter how hard you try to explain them.
Q. What is the next piece to be installed?
Beebe: Our current project involves artist Ann Hamilton, who first visited the campus in 2013 to conceive an installation, and it has been evolving ever since. Her work is about movement, and she often has an element of sewing or weaving. When we learned of the construction of a new entryway to campus as well as the arrival of the Blue Line trolley, it was an ideal match. Her piece is an "ocean of words," a pathway that is embossed with quotations from artists, scientists, poets and others who have spent time at UC San Diego throughout the university's history and made an impact.
Gregoire: When you get off the trolley you will encounter this concordance, which ranges from 26 to 40 feet wide and extends 800 feet into the heart of the campus. As you're walking along, if you want to know the origin of a certain quotation (there are 1,300 lines to explore), you will be able to find the author and full excerpt, as well as the original source inside the Library. There's an investigative possibility—it has tentacles that reach out into every aspect of the university.
Q. What are your hopes for the future of the collection?
Gregoire: Looking into the future, however the Stuart Collection evolves with new leadership, my hope is that the sense of experimentation and change over time continues. It should take risks, embrace new media and new forms of expression. Just like the work that gets done in labs across the campus, it should be a continuing experiment.
Beebe: The Stuart Collection has cultivated a kind of spirit among a lot of people here. Even for those individuals who in the beginning thought we didn't need art on campus, that it would be too much trouble, or believed students wouldn't like it. Rather than just placing objects around campus in various places, we've tried to integrate these in a way that makes for discovery. If one is paying attention, they change over time, or even in a minute. I hope that sense of wonder continues to grow, helping to transform UC San Diego into a real destination for art and culture.
Stay in the Know
Keep up with all the latest from UC San Diego. Subscribe to the newsletter today.