Published Date
Academic Senate Honors Campus Scholars for Distinguished Teaching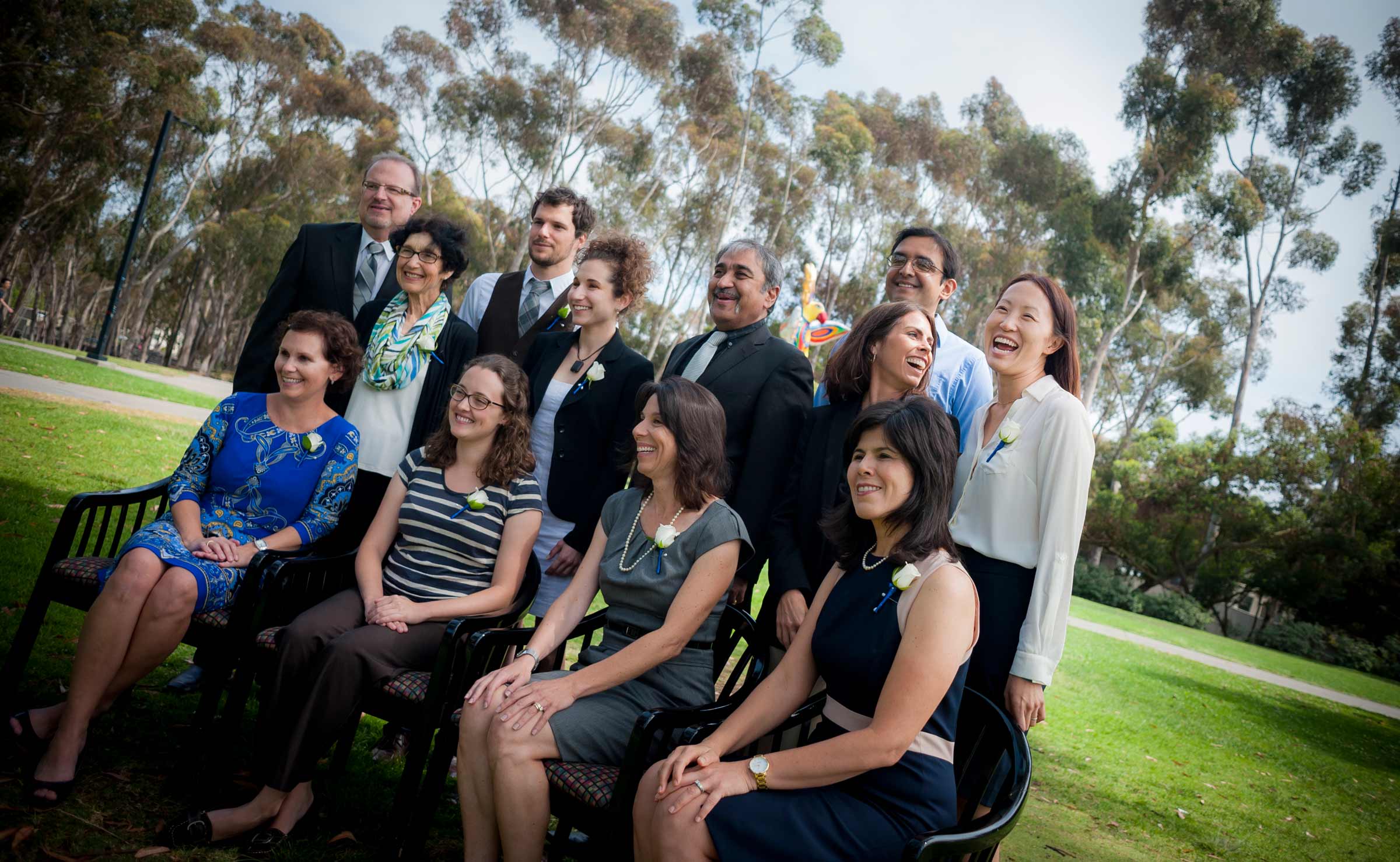 Photos by Erik Jepsen/UC San Diego Publications
After a well-attended and sun-lit reception al fresco, UC San Diego's Academic Senate presented the 2014 Distinguished Teaching Awards to 12 campus scholars in a formal ceremony.
Chancellor Pradeep K. Khosla and Academic Assembly Chair Kit Pogliano were featured speakers for the event, held May 27 in the Ida and Cecil Green Faculty Club.
"These stand-out scholars personify our commitment to teaching, research and service," said Khosla. "It is because of such scholarly and scientific achievers that UC San Diego has become world-renowned in only five decades, preparing our next generation of leaders and tackling some of society's most complex challenges."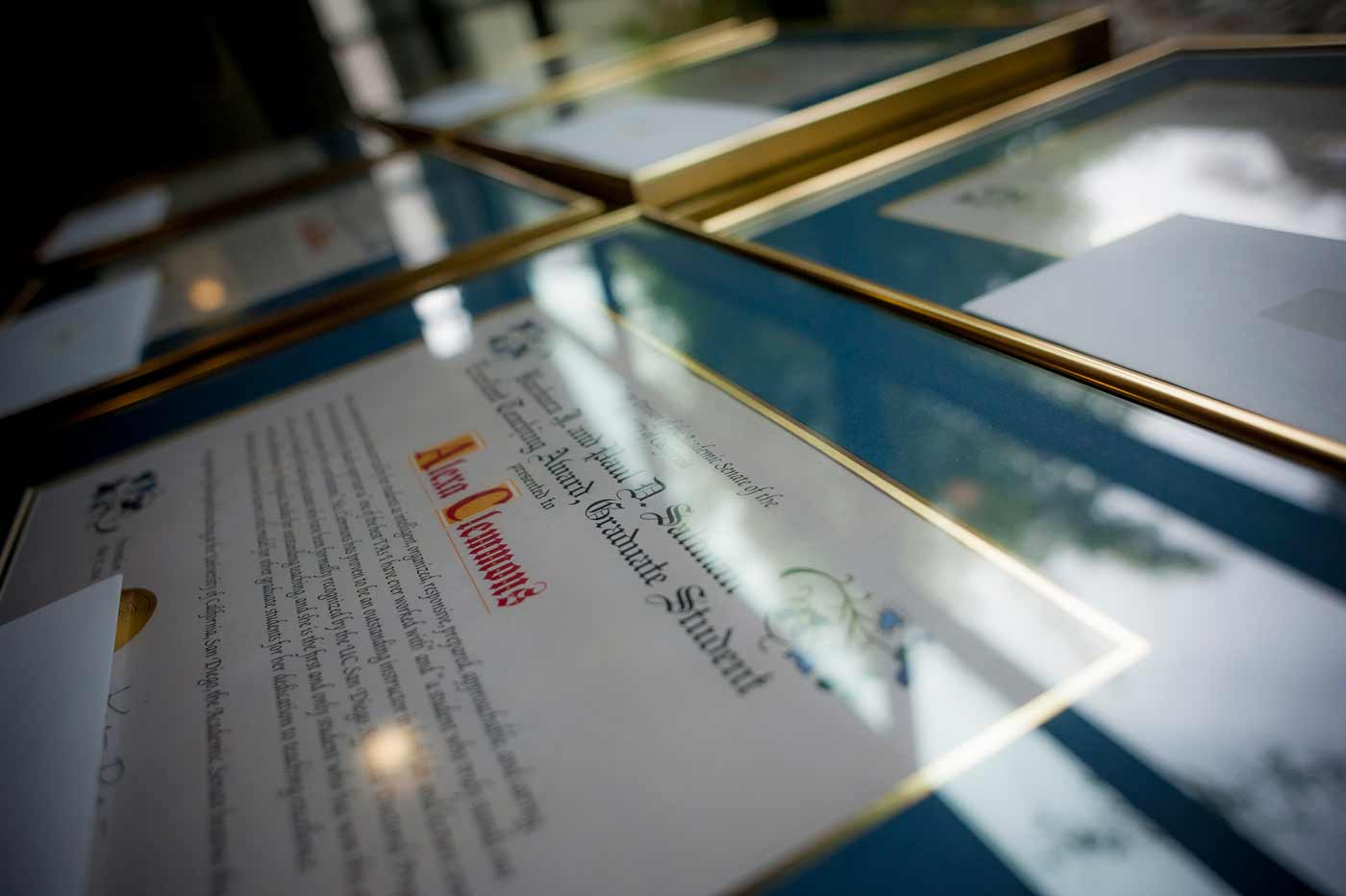 Distinguished Teaching Awards for Senate members were presented to Brookie M. Best, Skaggs School of Pharmacy and Pharmaceutical Sciences; Stacey Brydges, Chemistry and Biochemistry; Sanjoy Dasgupta, Computer Science and Engineering; Nancy Kwak, History; and Natalia M. Molina, History.
Barbara J. and Paul D. Saltman Distinguished Teaching Awards for Non-Senate members were presented to Mirle D. Rabinowitz Bussell, Urban Studies and Planning; Nora D. Laiken, Medicine and Pharmacology; and Robert J. Ternansky, Chemistry and Biochemistry.
The Barbara J. and Paul D. Saltman Distinguished Teaching Awards for Graduate Students were presented to Alexa Clemmons, Biological Sciences; David Stone, Physics; and Tara Zepel, Visual Arts.
In addition, the Oliver Johnson Award for Distinguished Leadership in the Academic Senate, a University of California systemwide recognition, was presented to Joel Dimsdale, Psychiatry.
Those attending the ceremony heard details of the awardees' teaching skills in the words of their colleagues:
Brookie M. Best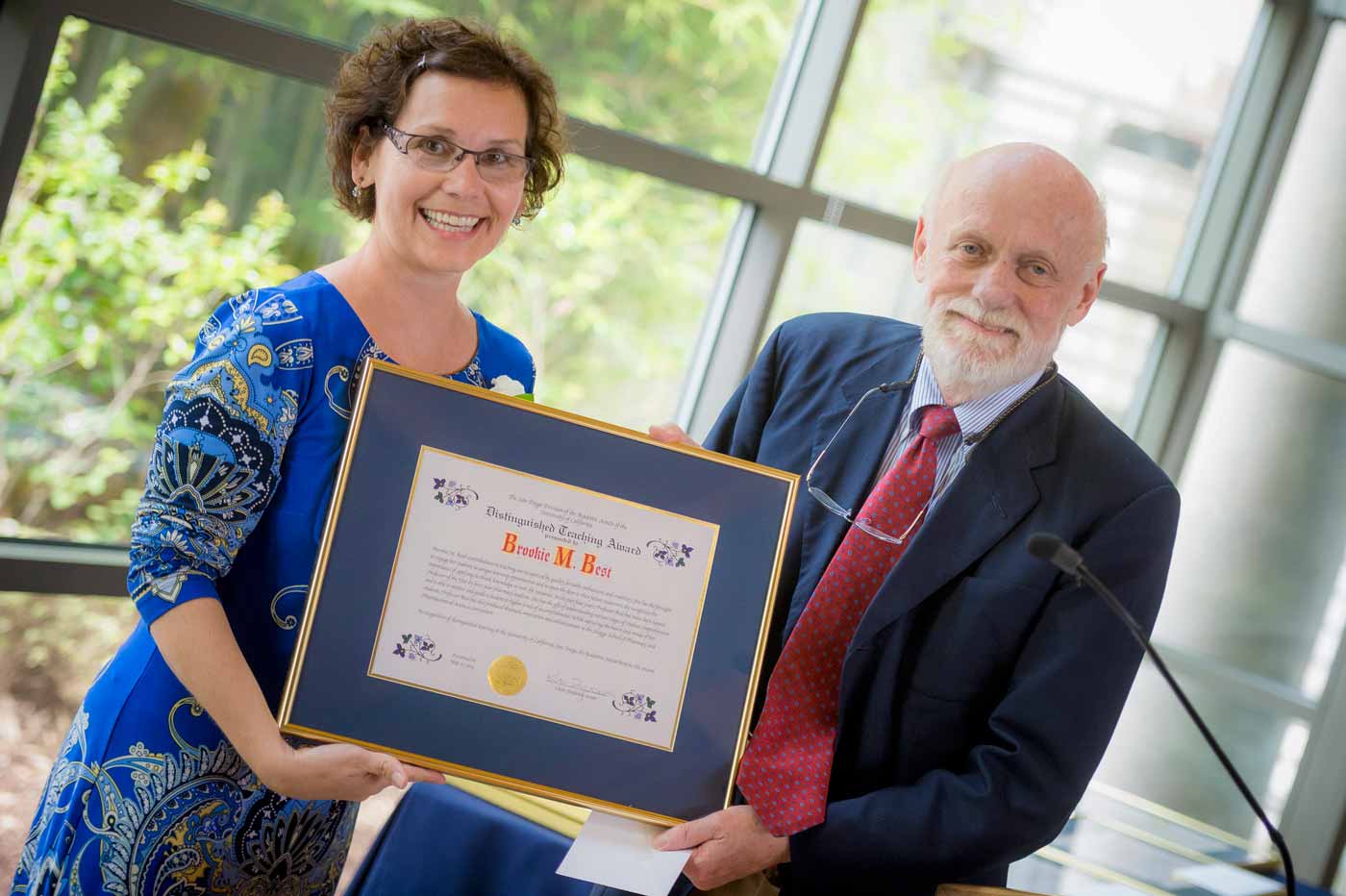 Brookie M. Best's contributions in teaching are recognized by quality, breadth, enthusiasm, and creativity. She has the foresight to engage her students in unique learning opportunities and to open the door to their future endeavors; she recognizes the importance of applying textbook knowledge to real-life scenarios. In the past four years, Professor Best has twice been named Professor of the Year by first-year pharmacy students. She has the gift of understanding various stages of student comprehension and is able to mentor and guide a student to higher levels of accomplishment. While capturing the hearts and minds of her students, Professor Best has also produced dramatic innovation and enhancements in the Skaggs School of Pharmacy and Pharmaceutical Sciences curriculum.
Stacey Brydges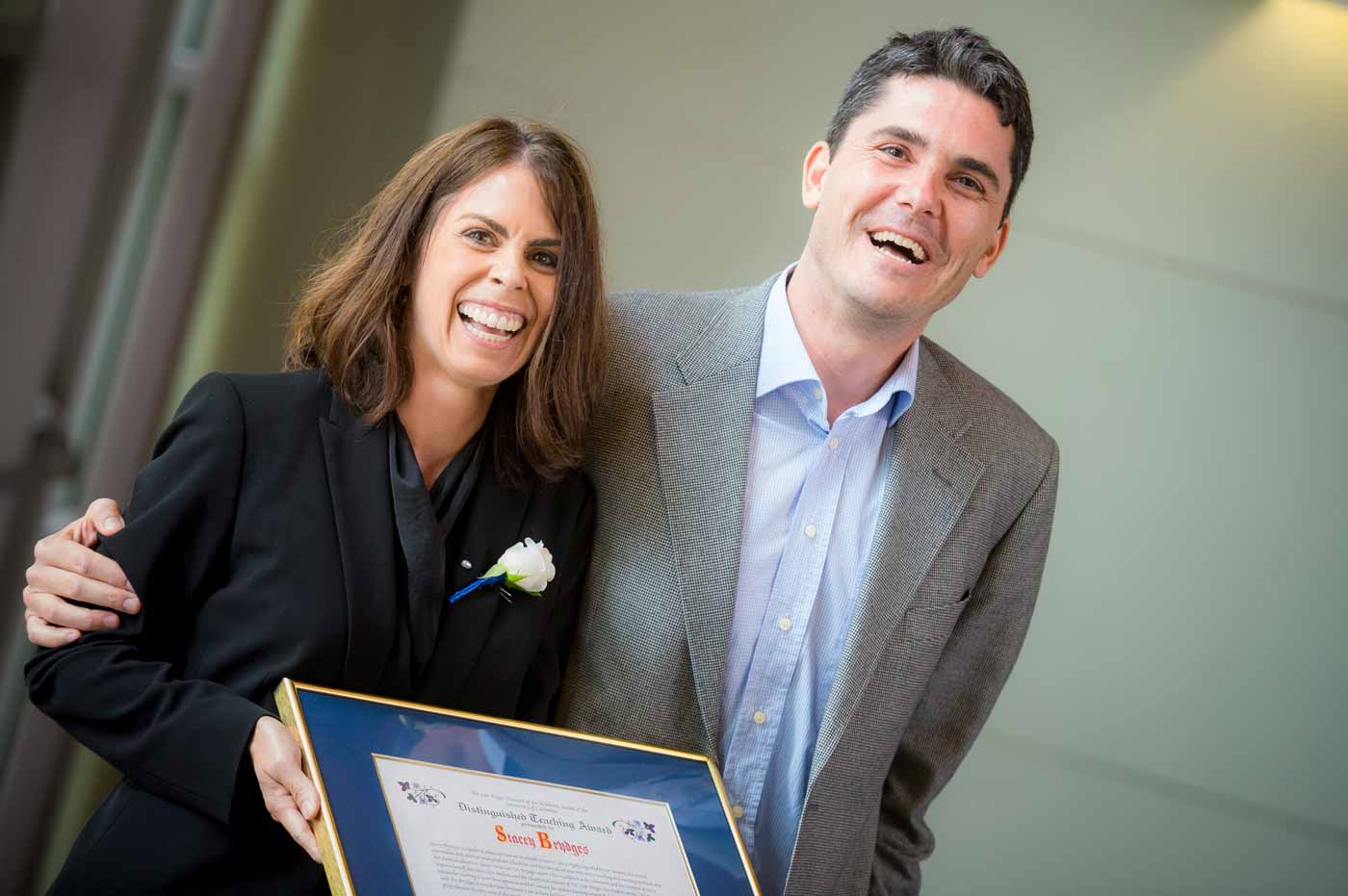 Stacey Brydges is a leader in education and an invaluable resource. She is highly regarded by her students, has shown tremendous dedication to undergraduate education, and has introduced new interactive teaching and learning methods into her chemical education classes. What sets Dr. Brydges apart is her excellence in the classroom and her constant drive to improve herself, her classes, her students, and the educational mission of UC San Diego. One student wrote, "Dr. Brydges' passion for teaching is more than apparent and her concern for student learning unmatched. As I reflect upon my education with Dr. Brydges, I consider how fortunate I am to have had her support and guidance every step of the way. She is truly a great educator in every sense of the word: teacher, mentor, counselor, and motivator."
Sanjoy Dasgupta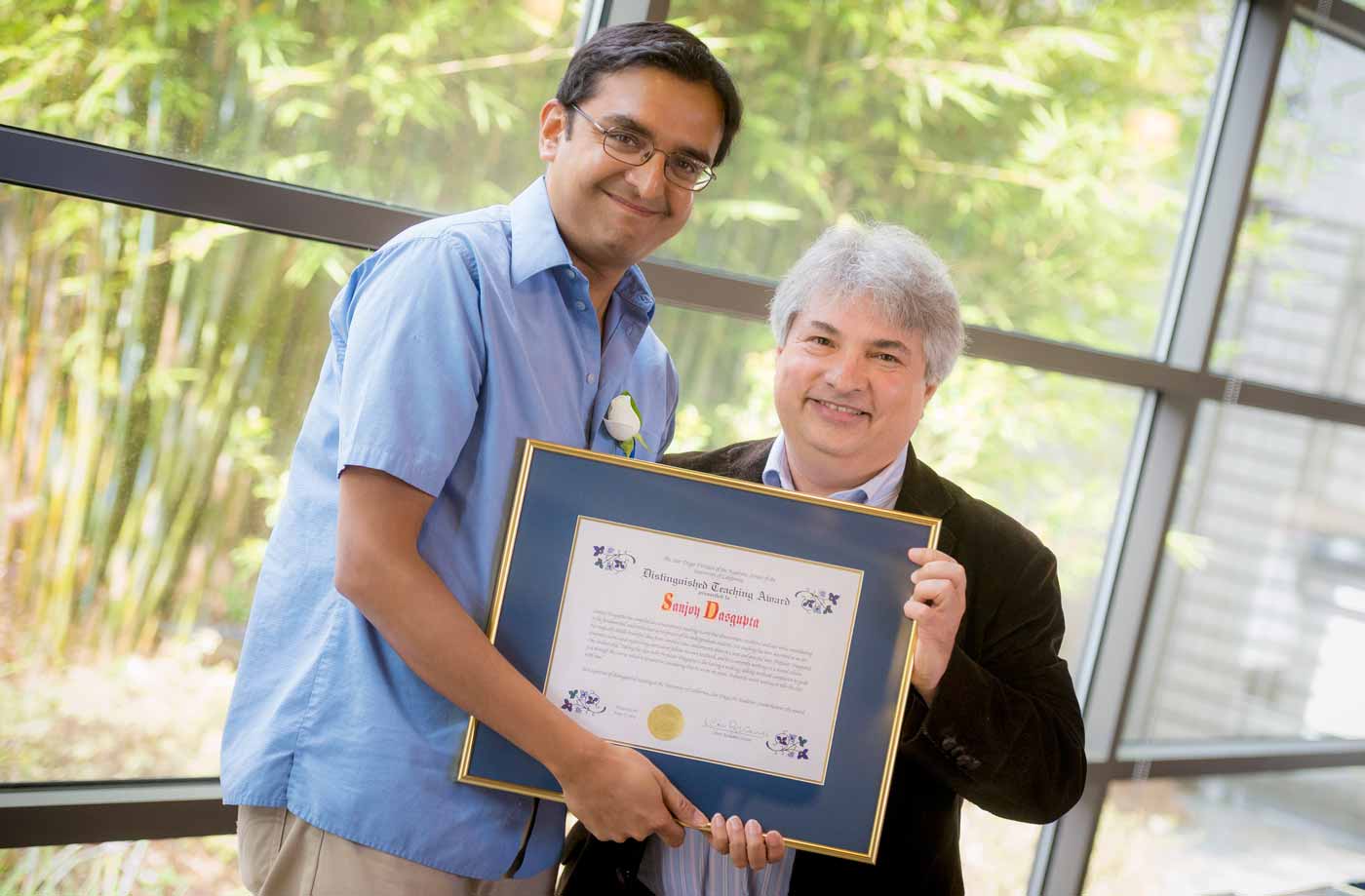 Sanjoy Dasgupta has compiled an extraordinary teaching record that demonstrates excellence and care while contributing to the fundamental and intellectual development of his undergraduate students. His teaching has been described as an art: He magically distills beautiful ideas from complex issues and presents them in a neat and graceful way. Professor Dasgupta's computer science and engineering curriculum follows his own textbook, and he is currently working on a second edition. One student said, "Taking the class with Professor Dasgupta is like having a walking, talking textbook companion to guide you through the course, which is no surprise considering that he wrote the book. Definitely worth waiting to take the class with him."
Nancy Kwak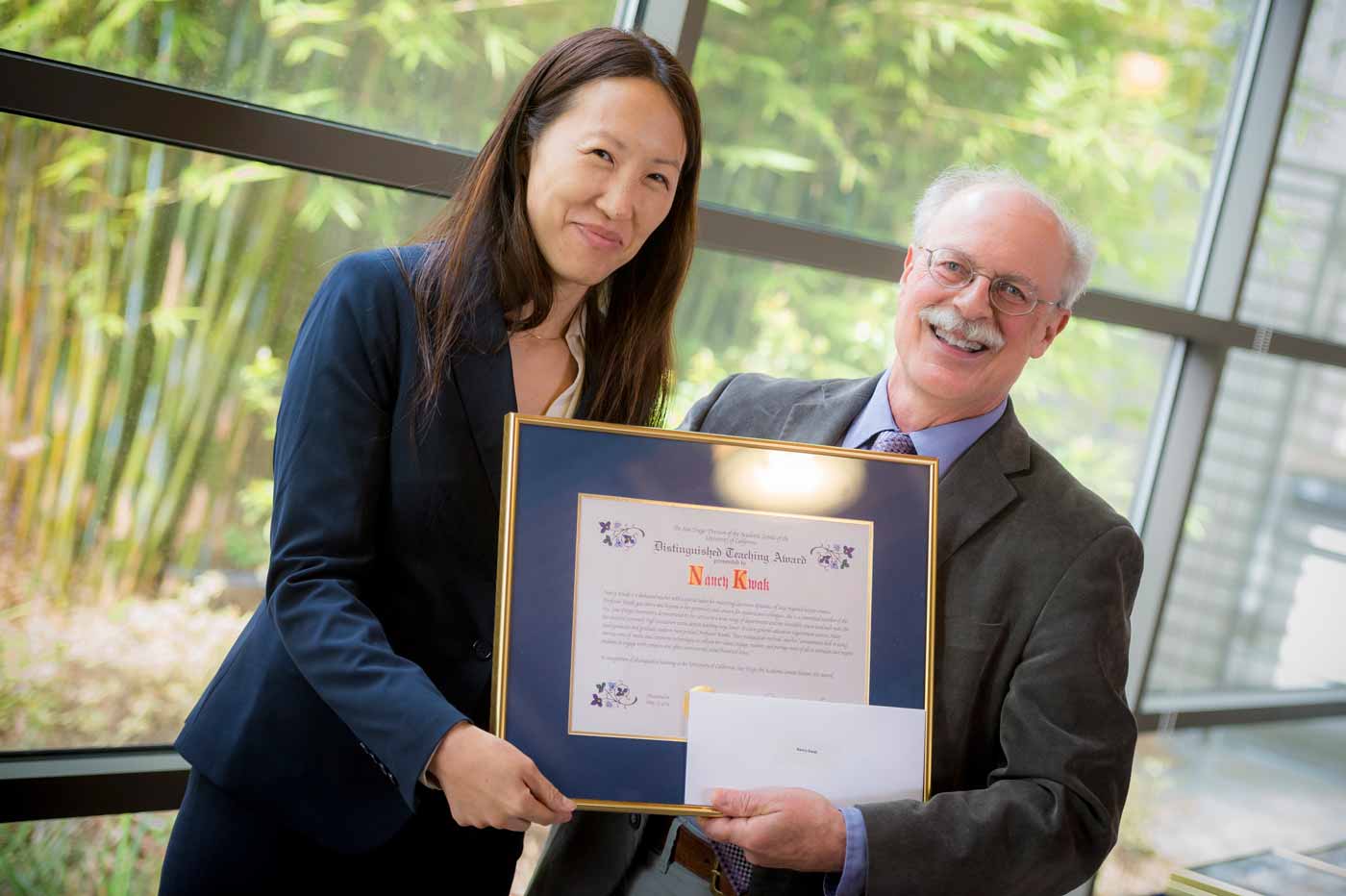 Nancy Kwak is a dedicated teacher with a special talent for mastering classroom dynamics of large required lecture courses. Professor Kwak goes above and beyond in her generosity and concern for students and colleagues. She is a committed member of the UC San Diego community, demonstrated by her service to a wide range of departments and her incredible course load each year. She has received extremely high evaluation scores despite teaching large lower-division general-education requirement courses. Many undergraduate and graduate students have praised Professor Kwak's "keen pedagogical methods" and her "consummate skill in using various sorts of media and classroom technologies to enliven her classes, engage students, and perhaps most of all, to stimulate and inspire students to engage with complex and often controversial social/historical issues."
Natalia M. Molina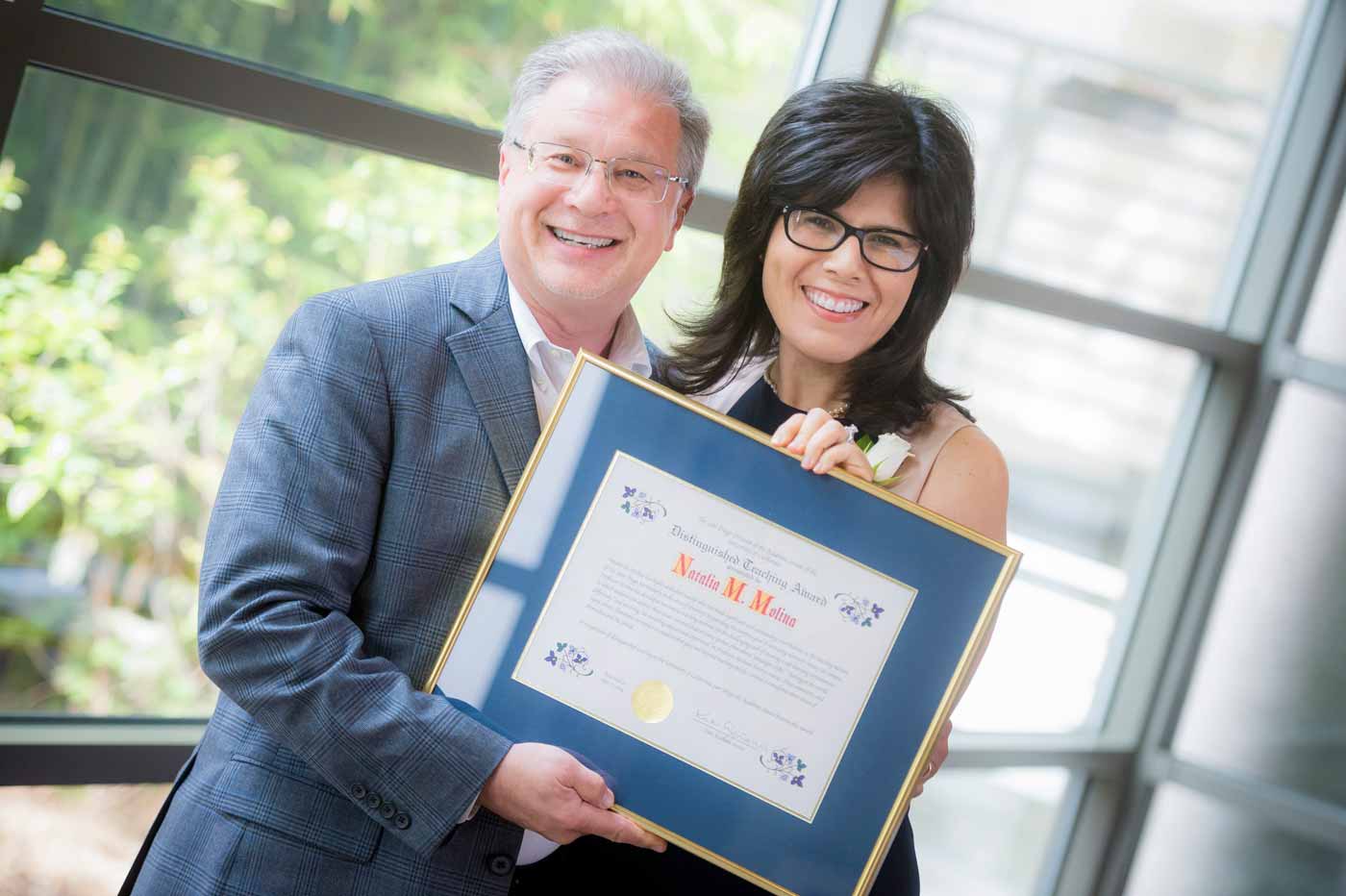 Natalia M. Molina is a highly dedicated teacher who has made significant and outstanding contributions to the teaching mission of UC San Diego, particularly in the area of diversity. In pursuing the campus's goal of increasing diversity literacy on campus, Professor Molina has developed innovative teaching methods for the challenging task of creating a safe learning environment in which students can address these issues. Several students have spoken often about "paradigm shifts," "looking at the world differently," and receiving "an enriching educational experience" in Professor Molina's history courses. These comments, and many others, illuminate an impact on students that goes well beyond teaching specific content; it transforms their vision of themselves and the world.
Mirle D. Rabinowitz Bussell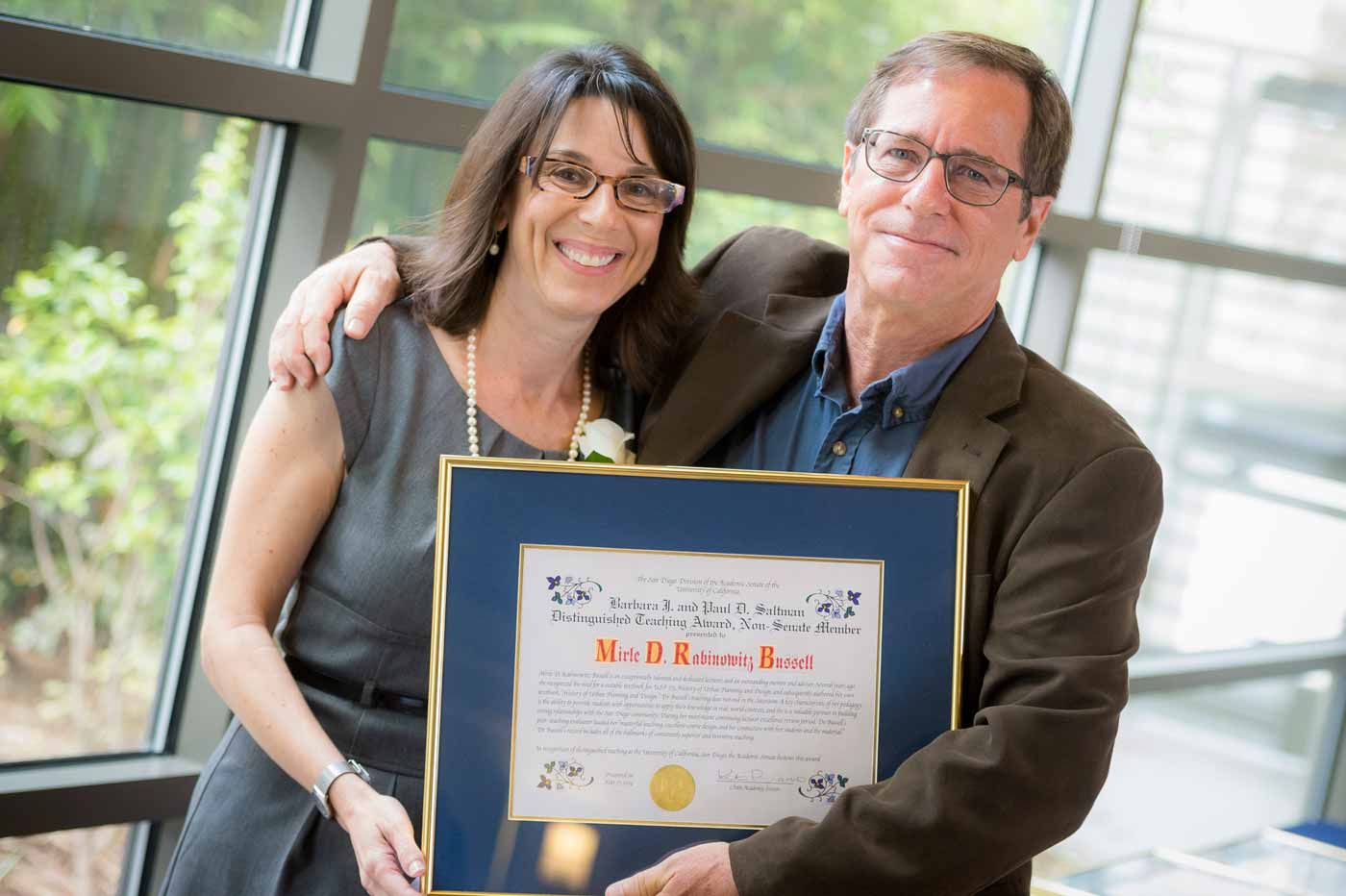 Mirle D. Rabinowitz Bussell is an exceptionally talented and dedicated lecturer, and an outstanding mentor and adviser. Several years ago, she recognized the need for a suitable textbook for USP 173, History of Urban Planning and Design, and subsequently authored her own textbook, "History of Urban Planning and Design." Dr. Bussell's teaching does not end in the classroom. A key characteristic of her pedagogy is the ability to provide students with opportunities to apply their knowledge in real-world contexts, and she is a valuable partner in building strong relationships with the San Diego community. During her most recent continuing lecturer excellence review period, Dr. Bussell's peer-teaching evaluator lauded her "masterful teaching, excellent course design, and her connection with her students and the material." Dr. Bussell's record includes all of the hallmarks of consistently superior and inventive teaching.
Nora D. Laiken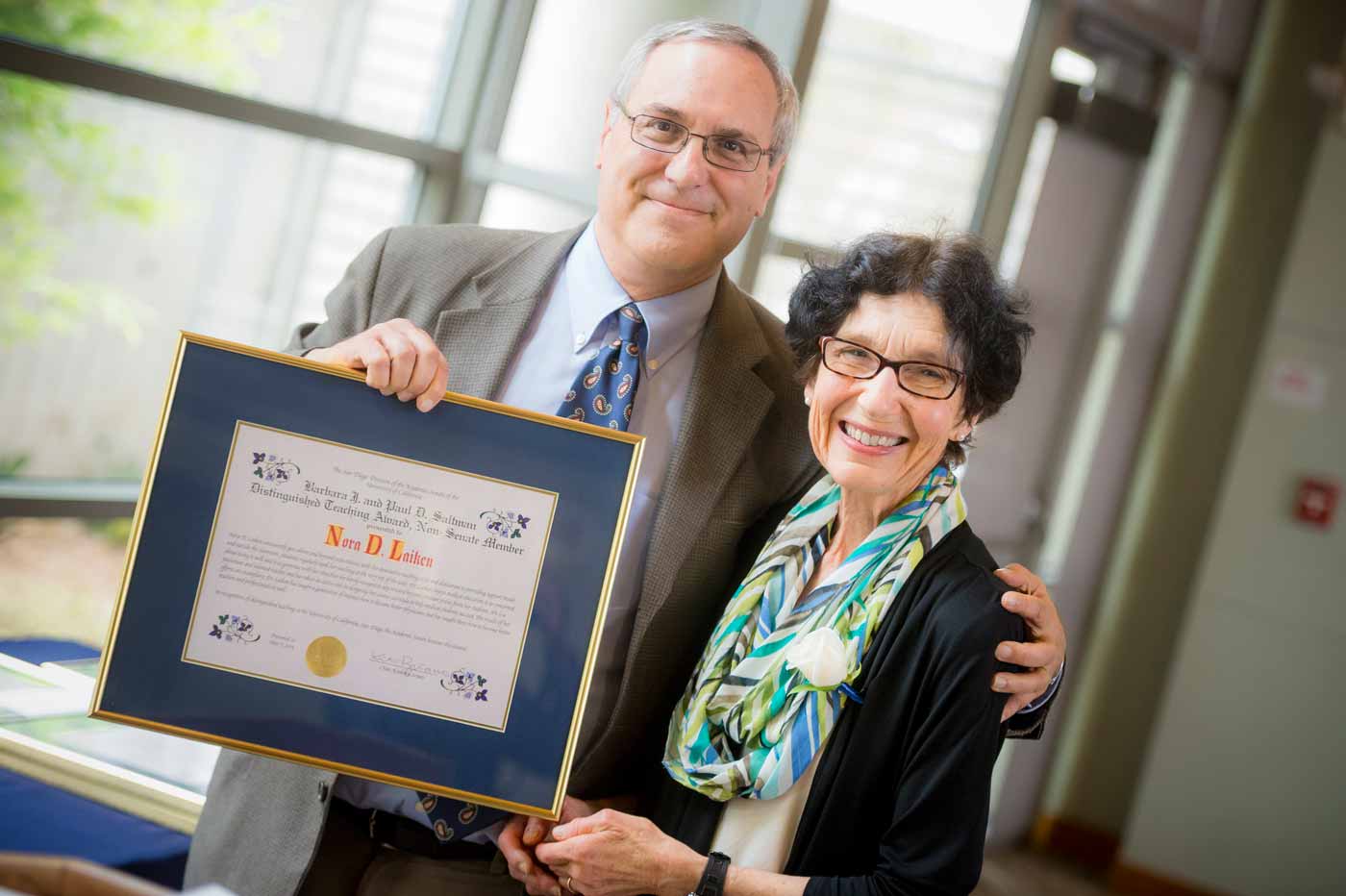 Nora D. Laiken consistently goes above and beyond expectations with her innovative teaching style and dedication to providing support inside and outside the classroom. Students regularly rank her teaching at the very top of the scale. Dr. Laiken enjoys medical education, is so concerned about doing it well, and is so generous with her time that she barely recognizes any reward beyond constant praise from her students. She is a passionate and talented teacher and has taken an active role in designing her course curricula to help medical students succeed. The results of her efforts are exemplary. Dr. Laiken has taught a generation of trainees how to become better physicians and has taught them how to become better teachers and professionals as well.
Robert J. Ternansky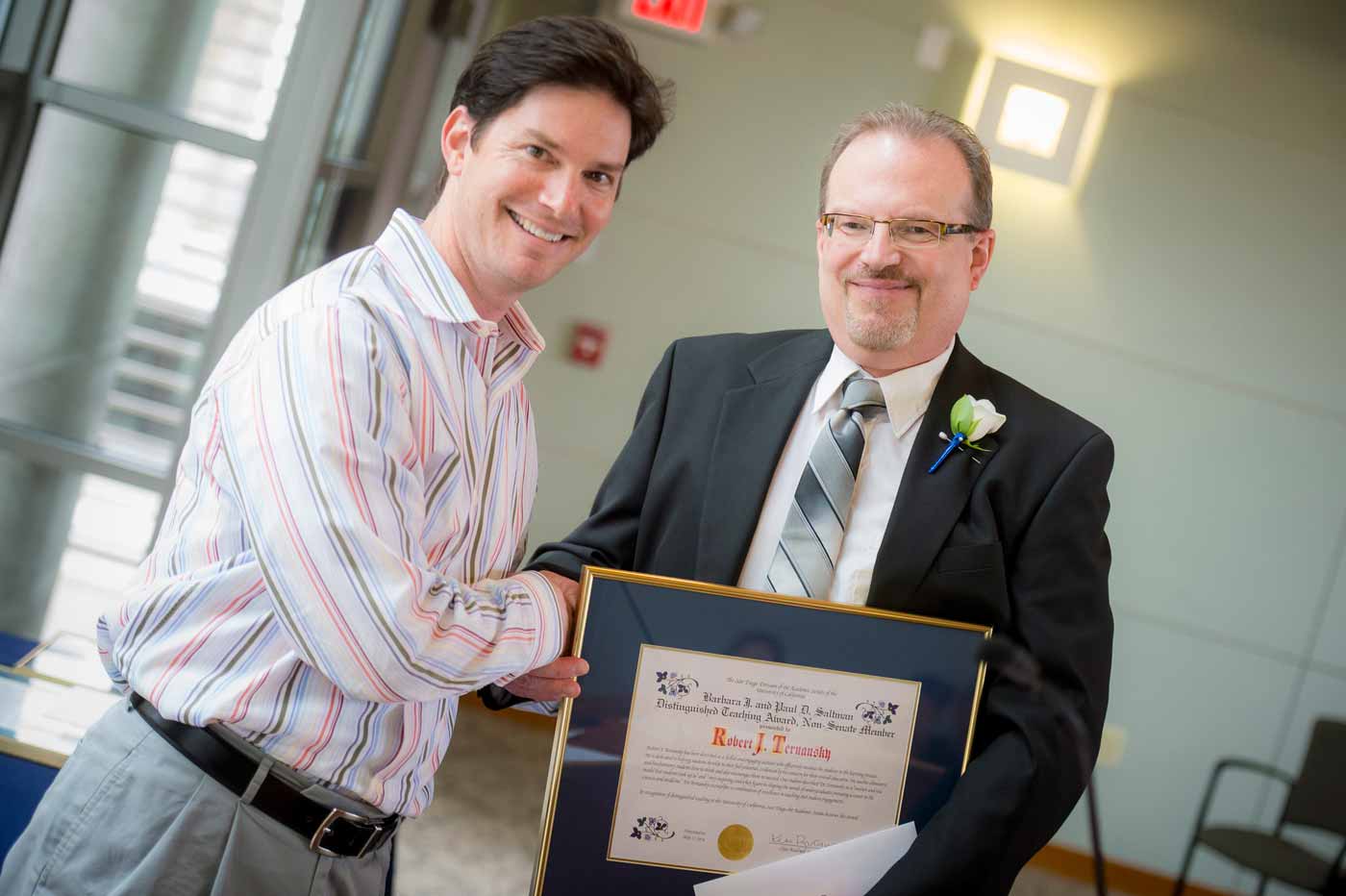 Robert J. Ternansky has been described as a skilled and engaging lecturer who effectively involves his students in the learning process. He is dedicated to helping students develop to their full potential, evidenced by his concern for their overall education. He teaches chemistry and biochemistry students how to think and also encourages them to succeed. One student described Dr. Ternansky as a "mentor and role model that students look up to" and "very inspiring and a key figure in shaping the minds of undergraduates pursuing a career in the sciences and medicine." Dr. Ternansky exemplifies a combination of excellence in teaching and student engagement.
Alexa Clemmons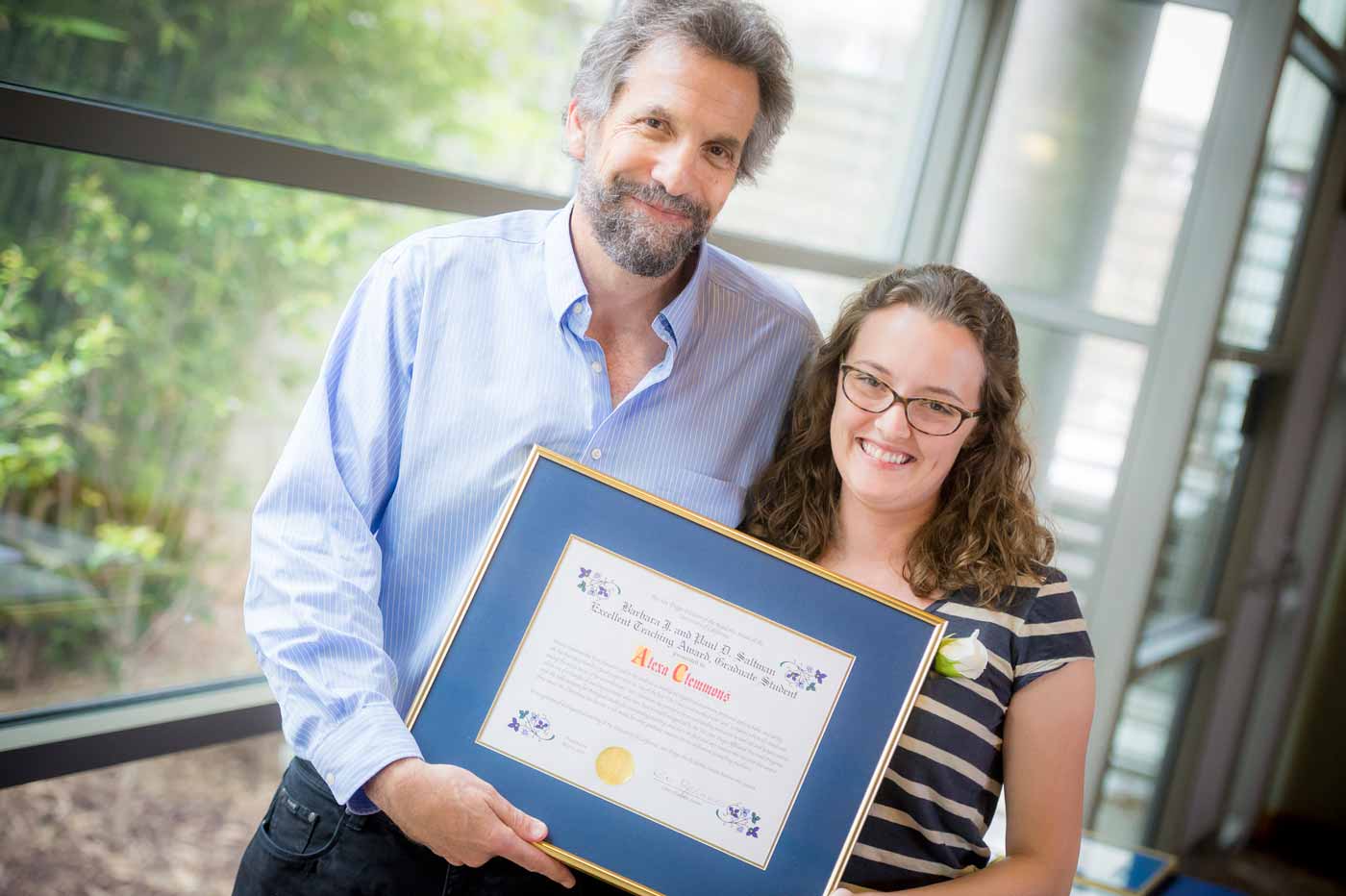 Alexa Clemmons has been characterized by her students as intelligent, organized, responsive, prepared, approachable, and caring. She has been described by a faculty supervisor as "one of the best TAs I have ever worked with" and "a student who truly stands out among the rest in terms of her contributions." Ms. Clemmons has proven to be an outstanding instructor in both lab and lecture courses. She is one of a handful of teaching assistants who have been formally recognized by the UC San Diego Affiliated Doctoral Program with the Salk Institute for Biological Studies for outstanding teaching, and she is the first and only student who has won this award three times. Ms. Clemmons has become a role model for other graduate students for her dedication to teaching excellence.
David Stone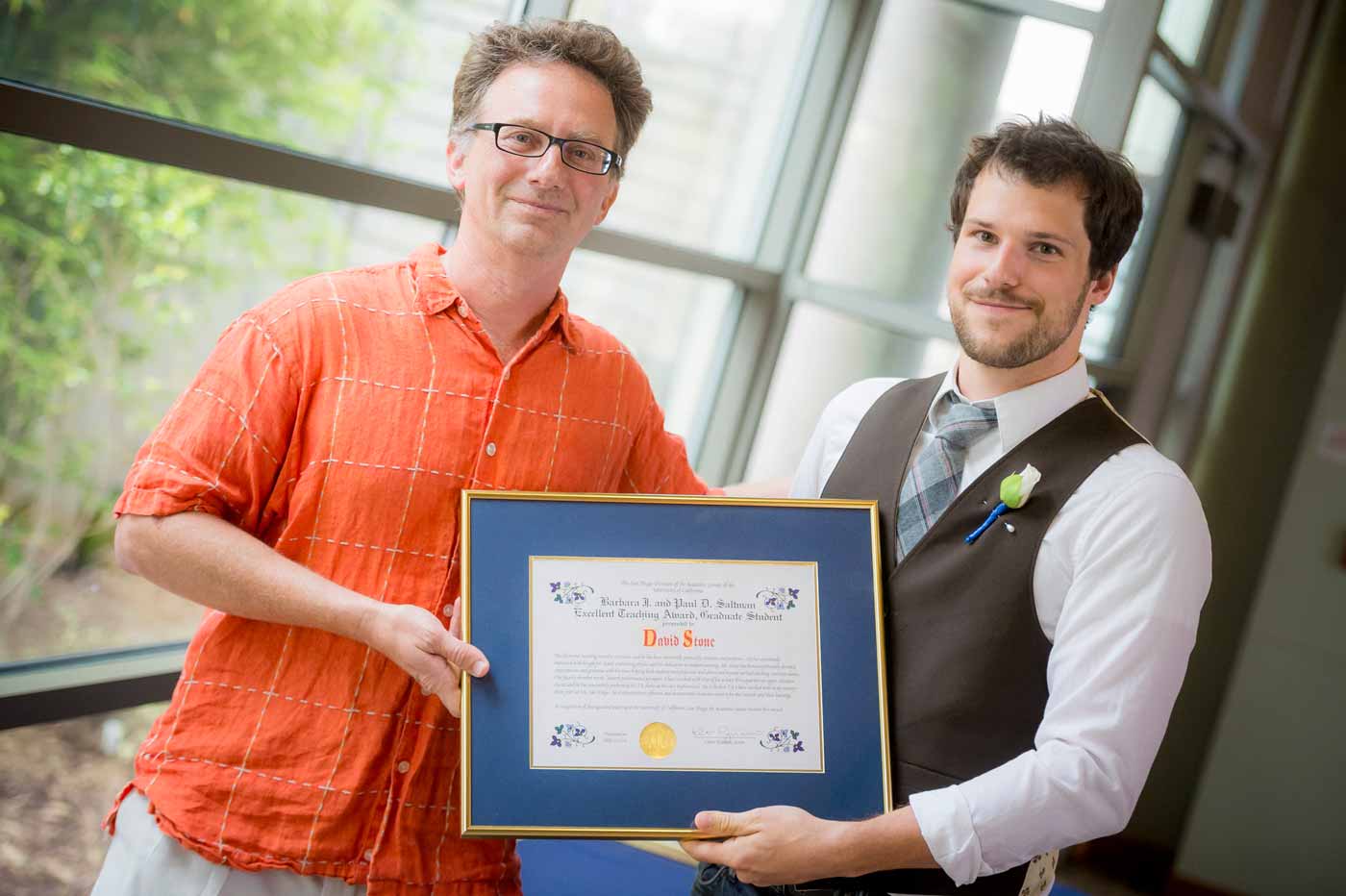 David Stone's teaching record is extensive, and he has been universally praised by students and professors. He has continually impressed with his gift for clearly explaining physics and his dedication to student learning. Mr. Stone has been exceptionally devoted, conscientious, and generous with his time, helping both students and professors well above and beyond normal teaching-assistant duties. One faculty member wrote, "Superb performance yet again. I have worked with David for at least three quarters on upper-division classes, and he has consistently performed his TA duties at the very highest level. He is the best TA I have worked with in my twenty-three years at UC San Diego. He is conscientious, efficient, and demonstrates a sincere concern for the students and their learning."
Tara Zepel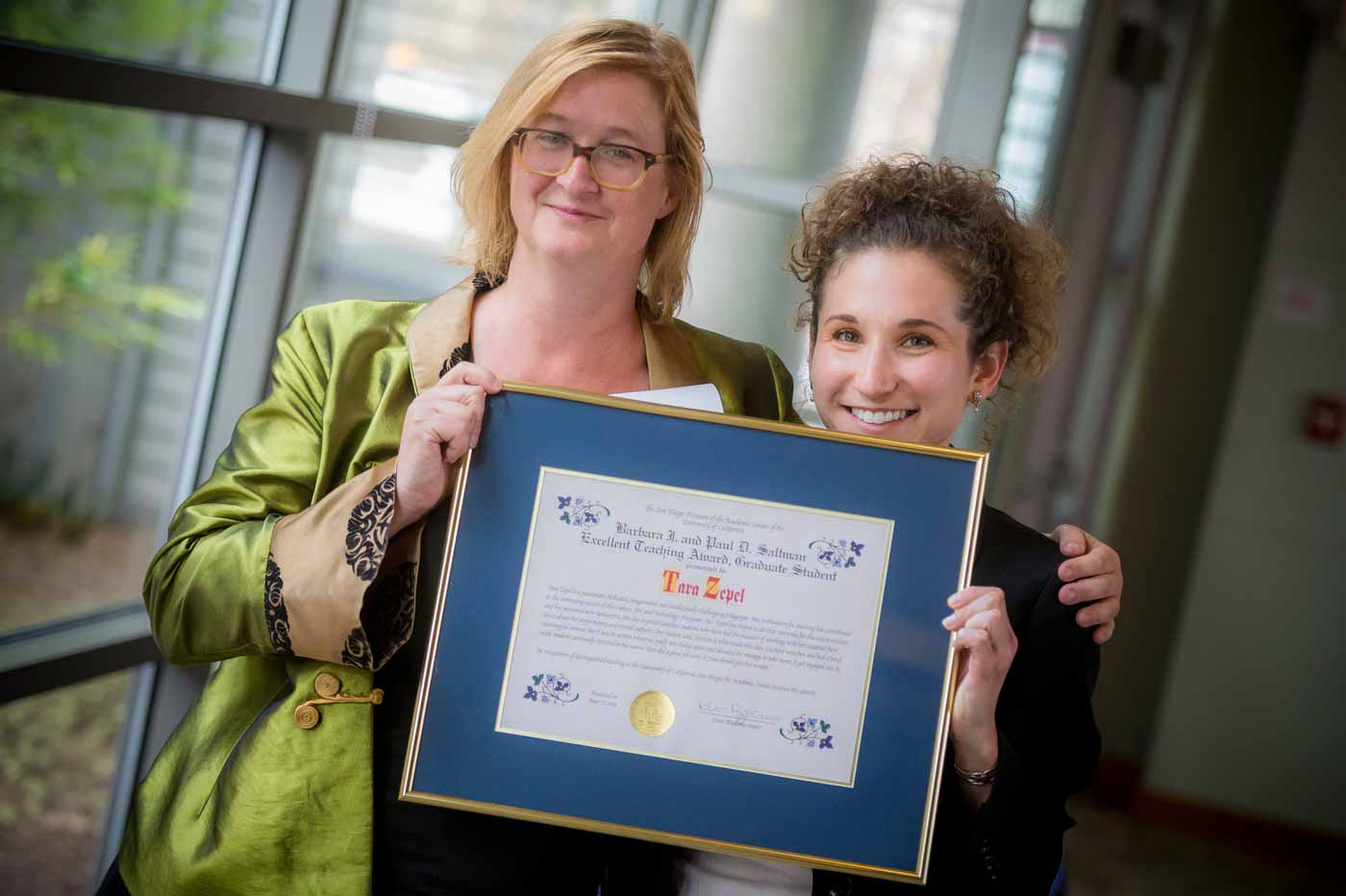 Tara Zepel is a passionate, dedicated, imaginative, and intellectually challenging pedagogue. Her enthusiasm for teaching has contributed to the continuing success of the Culture, Art, and Technology Program. Ms. Zepel has helped to develop curricula for discussion sections and has mentored new instructors. She has inspired countless students who have had the pleasure of working with her; students have raved about her performance and overall support. One student said, "Section is what made this class. Lectures were fun and had a lot of meaningful content, but it was in section where we really tore things apart and decoded the message to take home. I got engaged, too. It made students personally invested in the course. Tara did a great job with it. You should give her a raise."
Joel Dimsdale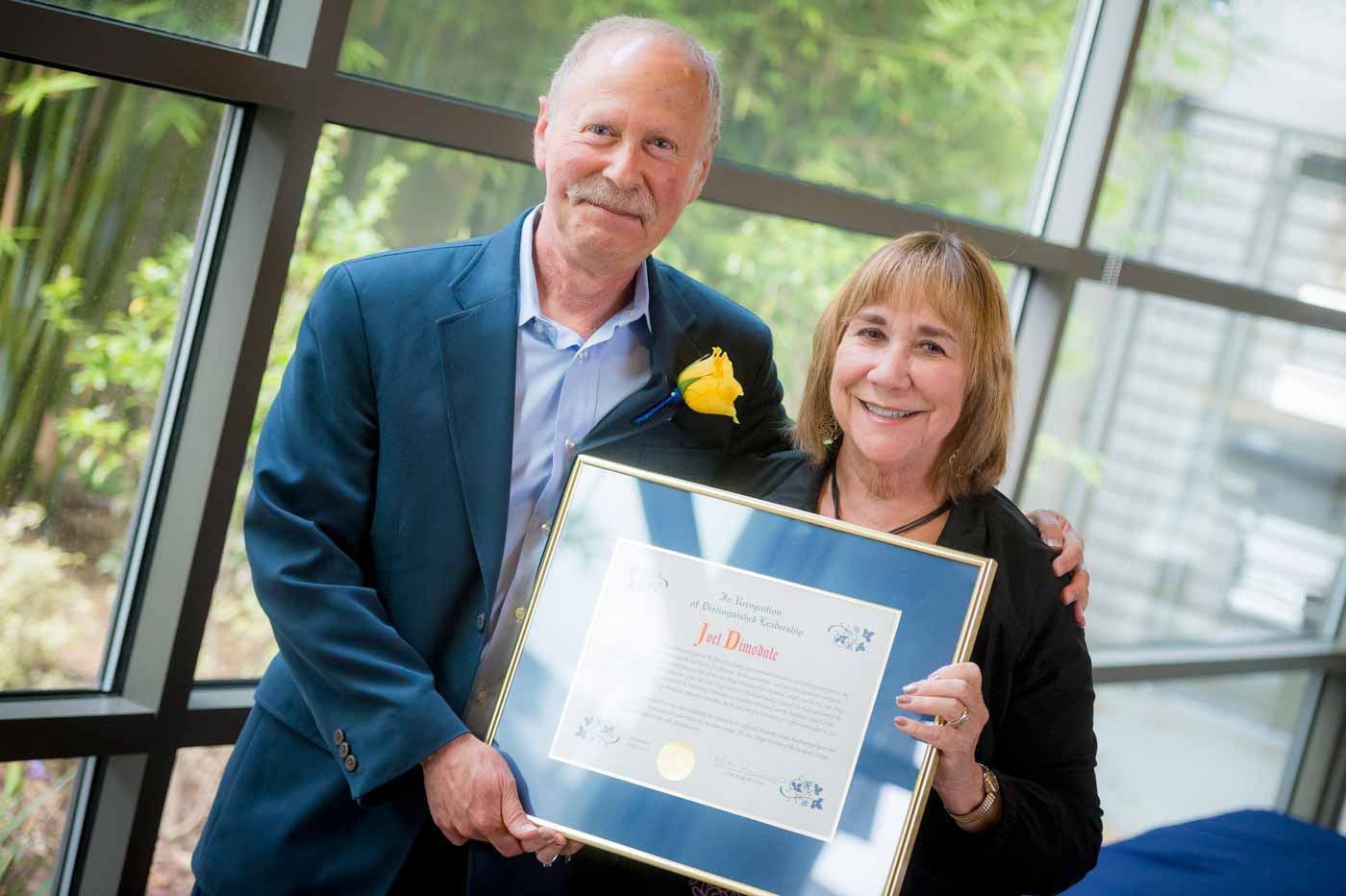 Joel Dimsdale is a Distinguished Professor Emeritus in the Department of Psychiatry. He is a stellar scholar; an honored figure in his field; a generous adviser internationally, nationally, and regionally; and an exemplary participant on faculty senate committees for the San Diego Division of the Academic Senate and the UC system. Beginning in 1985 divisionally and in 2000 systemwide, he has consistently—and often simultaneously—served on many high-profile and high-impact committees. Admired for his performance, Professor Dimsdale has been chair of the San Diego Division of the Academic Senate and chair of the UC San Diego Committee on Committees, has served on virtually every important standing committee, and has been a vigorous member of numerous committees at the UC San Diego School of Medicine. Systemwide, Professor Dimsdale has been a member of the University Committee on Academic Personnel, and the Academic Council of the Academic Senate, and he was vice chair and chair of the UC Faculty Welfare Committee. Most recently, he was selected to be on the Academic Advisory Committee for selection of the UC president, which eventuated in the appointment of President Janet Napolitano.
Distinguished Teaching Awards for senate members are $1,500 each, the Saltman Awards for non-senate members are $1,000 each, and the Saltman Excellent Teaching Awards for graduate students are $500 each.
The Saltman Awards were established in the 1999-2000 academic year in honor of the former biology professor and chair of the Distinguished Teaching Committee. Funds for the awards and the reception are provided by the Chancellor, the Executive Vice Chancellor for Academic Affairs, and donors to the Barbara and Paul Saltman Endowment Fund.
Stay in the Know
Keep up with all the latest from UC San Diego. Subscribe to the newsletter today.