A Voice for the Underrepresented Named to Panel Advising Biden on Cancer 'Moonshot'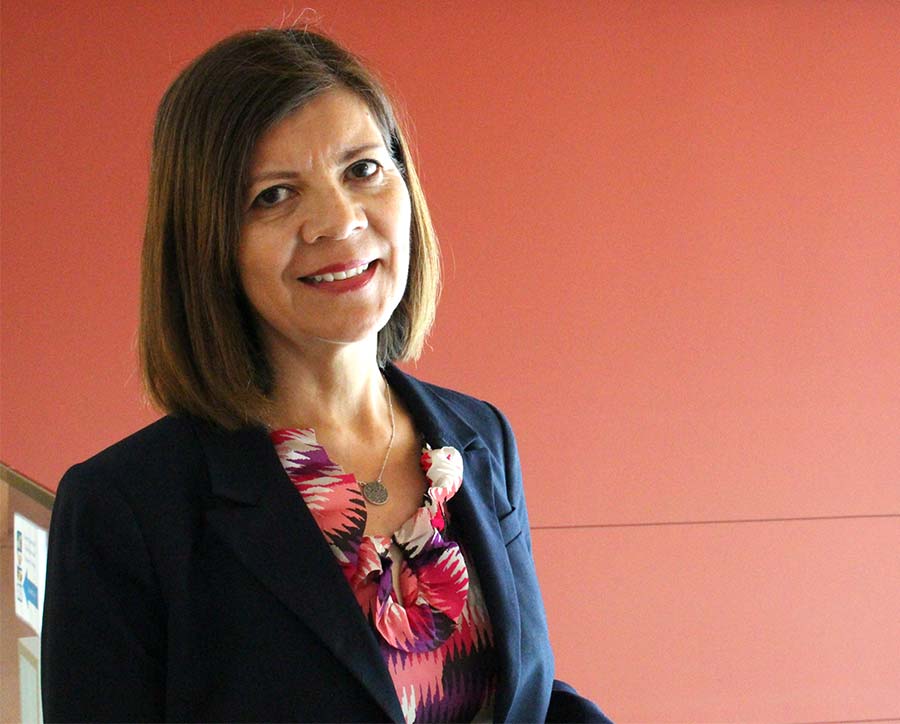 María Elena Martínez was 10 years old when she moved to Chicago from Mexico with her family. Although her parents only had a primary school education, they encouraged her educational pursuits. She went from being an immigrant living in a low-income community to a post-doctoral fellowship at Harvard University, to a tenured professor in academia. She currently works in an important field of cancer research that aims to close an inequity gap in cancer treatment among racial and ethnic groups.
Martinez built a solid research career in cancer prevention when cancer disparities were almost unheard of and little funding opportunities were available to help support building a career in this area. Thankfully, that has changed. For the last ten years, Martínez has championed the field of cancer disparities, serving on numerous national boards and committees with the goal of reducing cancer disparities and inequities in treatment available to underserved populations.
Her voice, academic scholarship and leadership made her a clear choice to be named among 28 distinguished individuals to the Blue Ribbon Panel to help inform the scientific direction at the National Cancer Institute (NCI) of Vice President Joe Biden's National Cancer Moonshot Initiative.
"Cancer research is moving at an accelerated pace thanks to the commitment of prominent researchers who study cancer from the molecular to population science level," said Dr. Scott M. Lippman, Director of Moores Cancer Center at UC San Diego Health. "Vice President Joe Biden's commitment to allocate new resources to cancer research and his call to action that has brought experts, like our own María Elena Martínez, together is an opportunity to transform scientific discoveries and change how we prevent and treat cancer for the better."
The panel brings a wealth of expertise from academia, industry and the advocacy community and will serve as a working group of the presidentially appointed National Cancer Advisory Board (NCAB), which advises the NCI. With a wide range of scientific expertise, from biology and immunology to genomics and bioinformatics, the panel's charge is to assess how to best accelerate progress against cancer and evaluate the potential of new research investments to combat cancer. The panel will deliver a report to the NCAB this summer. After considering the report, the NCAB will then deliver its recommendations to the NCI.
"Medical breakthroughs, including new technology and new drugs to treat cancer, may only become accessible to individuals and patients with greater resources who get care in certain clinics and hospitals," said Martínez. "My voice in panels and boards, such as the Blue Ribbon Panel is to ask about ensuring that progress resulting from cancer research is translated and available to all communities."
The study of cancer disparities is in its infancy, having only become a national focus over the past 10 years. Pioneers in this area, such as Martínez, have raised awareness of the complex source of disparities among racial and ethnic groups and those with economic or educational disadvantages.
"Why is it that your race or ethnicity increases the chances of dying from cancer?" asked Dr. Martínez. "Is it biology, education, money or culture that creates cancer disparities? It is very complex. Biology is part of it, but you cannot ignore cultural and financial factors that get in the way."
In 2012, Martínez was recruited to the UC San Diego School of Medicine as professor of Family Medicine and Public Health and co-lead of the Moores Cancer Center's Reducing Cancer Disparities research program for her leadership commitment to her field. She was named Sam M. Walton Endowed Chair for Cancer Research and is responsible for leading and coordinating research in the development of interventions that reduce cancer risk and programs that modify behaviors among underserved populations in the Moores Cancer Center catchment area of San Diego and Imperial counties.
Martínez is helping build new bridges with San Diego State University investigators who bring research, education and outreach portfolios to strengthen the ties between the two universities to build translational and transdisciplinary science. Together, the universities applied for and received a NCI grant to fund the SDSU/UCSD Cancer Center Comprehensive Partnership with the aim to understand the reasons behind cancer disparities and impacts on Hispanics.
In making strides in the challenging area of cancer disparities, Martínez takes a grassroots approach. Interactions with community members and partnerships with physicians and health care providers caring for medically underserved and low-income patients are necessary to ensure greater success in reducing disparities, said Martínez. These are among the patients who need the most help.
"You have to take into account the needs of each population within a community," said Martínez. "There are risk factors, language and cultural differences that are unique for each group. And it's these populations that often do not seek medical care or preventive care due to a variety of personal, cultural, or economic reasons."
During the conduct of the Ella Binational Breast Cancer Study—a study that investigated whether epidemiological, biological and clinical risk factors differed between women in Mexico and Mexican-American women living in the United States—Martínez visited physicians in their clinics to introduce the study to them and ask how she could help doctors become involved in understanding and addressing breast cancer in their Hispanic patients. She found herself giving presentations and connecting physicians to other cancer experts. These efforts increased participation in the study to 1,200 women—not an easy task given that participation by some racial and ethnic groups in research studies is often low in other studies.
Her career path wasn't easy. After graduating from high school, Martínez became the first in her family to obtain a bachelor's degree. Her career took her to Texas, where she was offered a job requiring a master's degree. A single mother of two, Martínez considered it and decided to pursue the degree.
Later, her advisor suggested she consider a doctoral program. The decision wasn't easy, but Martínez enrolled and took it slow. After earning her Ph.D, a post-doctoral fellowship opened up at the University of Texas MD Anderson Cancer Center. One year later, she was offered another fellowship at Harvard University.
The experience she gained was extraordinary, but living in Boston with two children was financially difficult. At the end of her two-year Harvard fellowship, Martínez reached out to contacts she had previously made in Arizona and was offered a job at the Arizona Cancer Center and a University of Arizona assistant professor position. She remained in the Grand Canyon State for 15 years until her move to San Diego in 2012.
Her recruitment to think tanks and advisory boards is a grand accomplishment but is also an inspiration to students, postdoctoral fellows, and junior faculty she now mentors. She is helping to shape future investigators in the field of cancer disparities and is supporting underrepresented populations to join those ranks.
"If we are not building the next generation of disparities scientists, we are doing the field a disservice," said Martínez. "There are not enough of us to begin with."
Stay in the Know
Keep up with all the latest from UC San Diego. Subscribe to the newsletter today.