A Smartphone's Camera and Flash Could Help People Measure Blood Oxygen Levels at Home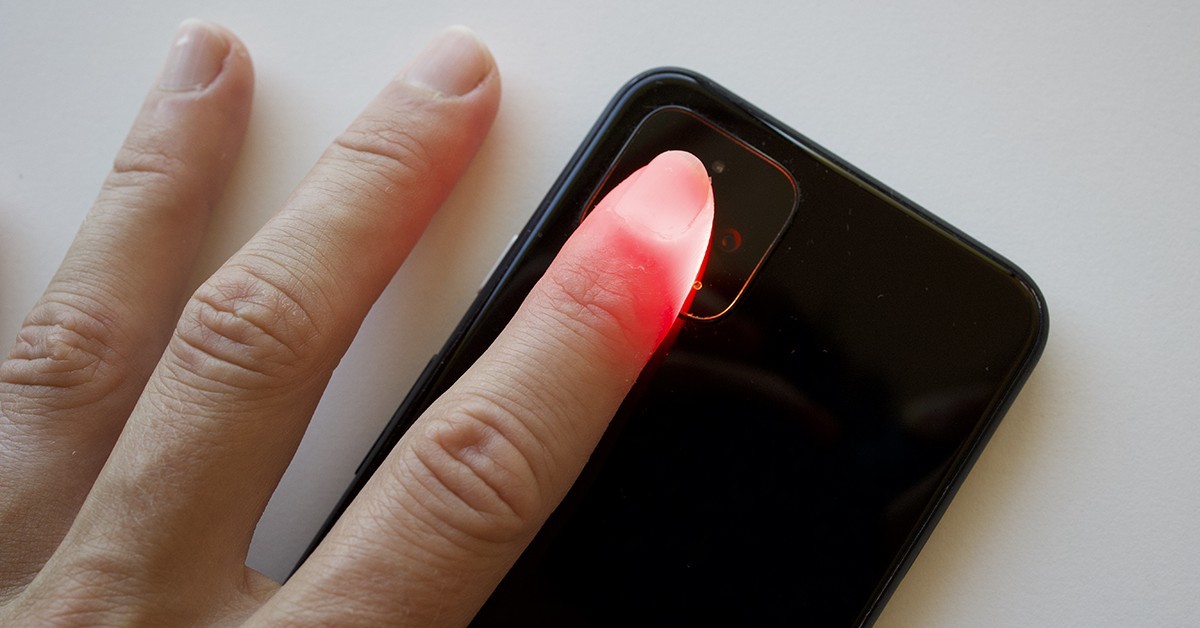 Published Date
By:
Topics:
Share This:
Article Content
Monitoring the amount of oxygen in your blood could one day be done using your smartphone, shows a study by the University of California San Diego and University of Washington.
Having the ability to monitor oxygen saturation at home or on the go could help patients keep an eye on conditions that make it harder for bodies to absorb oxygen from the lungs, such as asthma and COVID-19. These conditions can lead to oxygen saturation percentages that drop to 90% or below, an indication that the patient needs urgent medical attention. For reference, healthy individuals have oxygen saturation levels of about 95%.
In a proof-of-concept study, researchers showed that smartphones are capable of detecting blood oxygen saturation levels down to 70%. This is the lowest value that pulse oximeters—the small clip-on devices used in the clinic to measure blood oxygen levels—should be able to measure, as recommended by the U.S. Food and Drug Administration.
The new technique involves participants placing their fingertip over the camera and flash of a smartphone, which uses a deep-learning algorithm that the team trained to decipher the blood oxygen levels. When the team delivered a controlled mixture of oxygen and nitrogen to six subjects to artificially bring their blood oxygen levels down, the smartphone correctly predicted whether the subject had low blood oxygen levels 80% of the time.
The results were published Sept. 19 in the journal npj Digital Medicine.
"This work is the first to show, through a rigorous clinical procedure, how well smartphones can measure blood oxygenation using their built-in cameras," said senior author Edward Wang, a professor of electrical and computer engineering at UC San Diego and a faculty member of the university's Design Lab. "Enabling people to monitor their own oxygenation at home is particularly important, as this is often one of the first signs to triage for to make sure a patient is not becoming dangerously sick."
The researchers had six participants wear a standard pulse oximeter on one finger and then place another finger on the same hand over a smartphone's camera and flash. Each participant had this same setup on both hands simultaneously.
During this process, the smartphone's camera records a video. With each heartbeat, fresh blood flows through the part of the finger illuminated by the flash, explained Wang, who started this project while he was a Ph.D. student at University of Washington. "The camera records how much that blood absorbs the light from the flash in each of the three color channels it measures: red, green and blue," he said. The resulting intensity measurements were fed to a deep-learning algorithm.
Each participant breathed in a controlled mixture of oxygen and nitrogen to slowly reduce their oxygen levels. The process took about 15 minutes. For all six participants, the team acquired more than 10,000 blood oxygen level readings between 61% and 100%.
The researchers used data from four of the participants to train the deep-learning algorithm to predict the blood oxygen levels. Data from the other two participants were used to validate the method and test it to see how well it performed on new subjects.
"Smartphone light can get scattered by all these other components in your finger, which means there's a lot of noise in the data that we're looking at," said co-lead author Varun Viswanath, an electrical engineering Ph.D. student at UC San Diego who is advised by Wang. "Deep learning is a really helpful technique here because it can see these really complex and nuanced features and helps you find patterns that you wouldn't otherwise be able to see."
The team notes that the smartphone technique has a long way to go before it is ready for people to start using it at home or in the clinic. For this study, the team recruited six participants aged 20 through 34. Three identified as female, three identified as male. One participant identified as being African American, while the rest identified as being Caucasian. The algorithm will need to be tested on more people with different skin tones to help ensure the technology is accurate for everyone.
"Our vision is that one day, as we continue to refine smartphone-based health monitors like this one through more rigorous testing on diverse people and smartphone models, people can monitor their health directly at home by downloading an app," said Wang.
Paper title: "Smartphone camera oximetry in an induced hypoxemia study."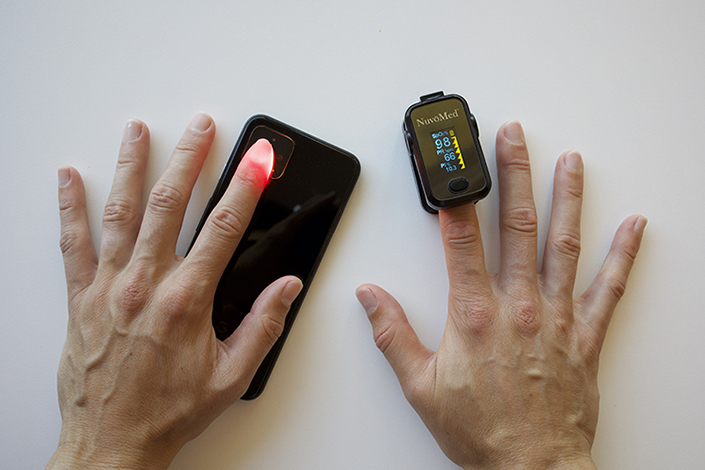 Topics:
Share This:
Stay in the Know
Keep up with all the latest from UC San Diego. Subscribe to the newsletter today.