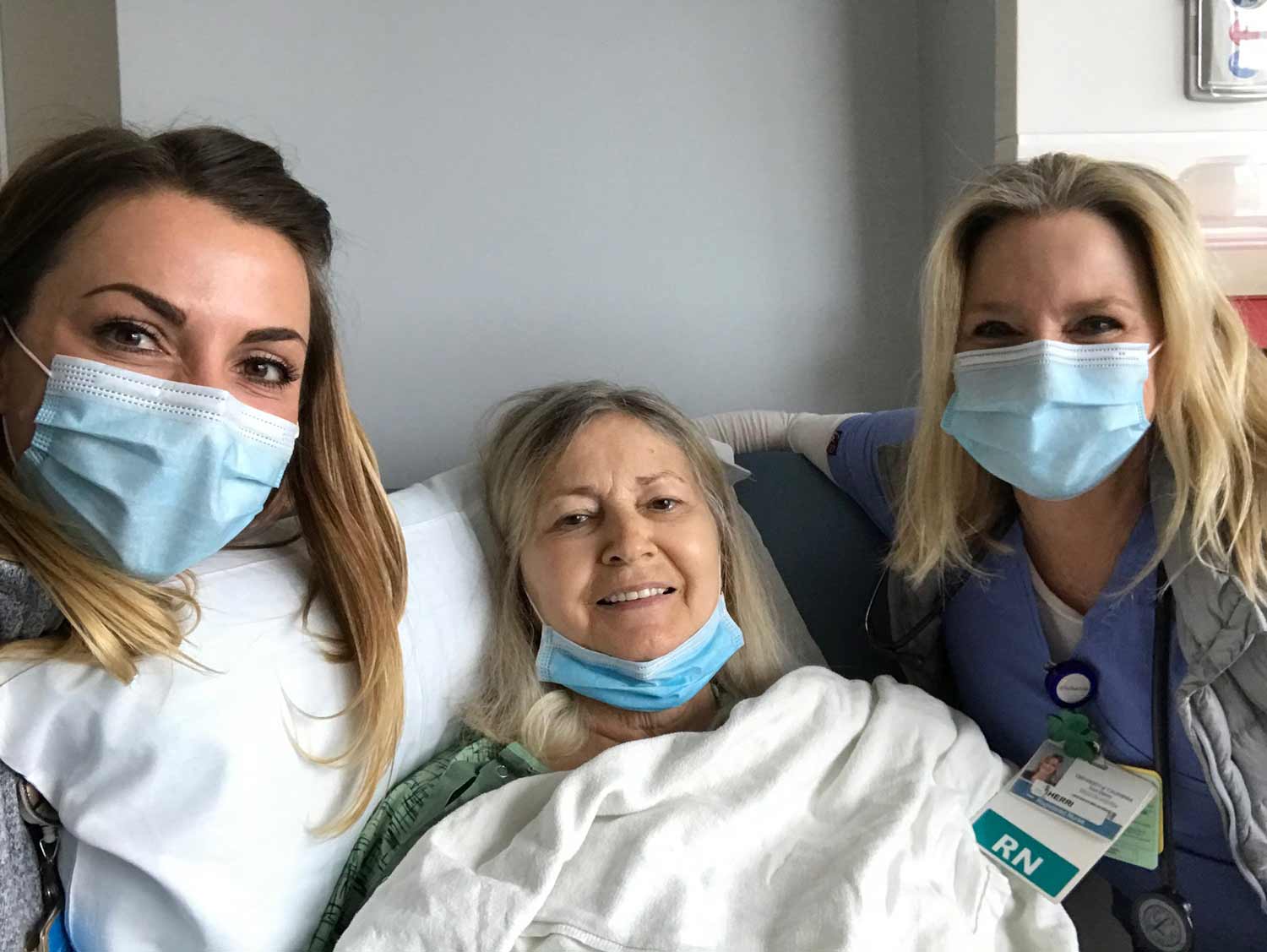 A Kidney Named Lefty
Through remote donation, a woman's life is saved and a "sisterhood" is formed
Barbara Gallas, age 70, knew she was getting significantly more ill.
"I had no energy. I could do like two errands and then I needed to go home and go back to sleep," she said.
In 2005, the San Diego resident was diagnosed with polycystic kidney disease, a genetic disorder that causes many fluid-filled cysts to grow in the kidneys. Unlike the harmless kidney cysts that can form later in life, PKD cysts can distort the shape of your kidneys, including making them much larger.
Gallas was at the point where the only treatment option to save her life was a kidney transplant. "At the point when a transplant was dire, my kidney function dropped from 13 percent to 10 percent," she said. "I could barely walk 50 feet."
Gallas was a candidate for UC San Diego Health's Living Donor Kidney Transplant Program.
The living donor option is attractive to patients for three main reasons:
Kidneys from living donors last longer than kidneys from deceased donors, resulting in a significant increase in long-term survival for recipients
Recipients of living donors may receive transplants before they start on dialysis
Shorter wait time. Surgery can be scheduled at a time that is convenient for both the recipient and the donor.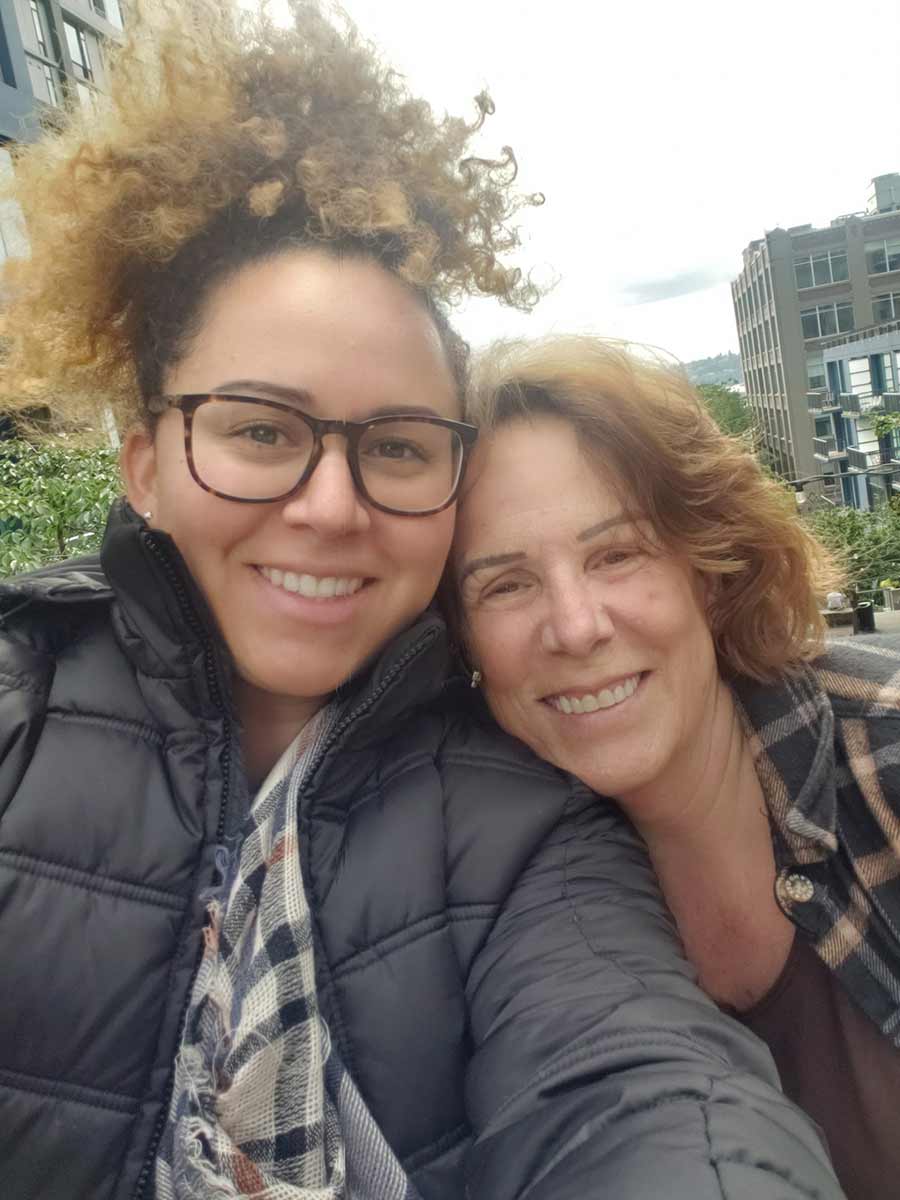 "In California, kidney transplant candidates sometimes wait up to 10 years for a kidney transplant from a deceased donor. Living donation is an extraordinary, life-saving option that helps eliminate the risks of waiting," said Dr. Kristin Mekeel, chief of transplant and hepatobiliary surgery at UC San Diego Health.
Gallas learned who her donor was approximately a year before her actual transplant surgery. "I couldn't believe this individual I didn't know was about to make this unbelievable sacrifice for me. It was a miracle," she said.
Millie Martin, a Seattle resident, decided to donate after seeing a social media post by one of Gallas' close friends.
"I had my cup of coffee and opened up Facebook one morning, and the first post that came up was from a longtime friend of Barbara's pleading for someone to help," said Martin. "I had been praying for a long time that I could do something out of the ordinary that would have a deep meaning."
After a thorough medical evaluation, it was determined that Martin was a match for Gallas. A healthy lifestyle, diet and exercise followed. "I lost 25 pounds and felt very strong," said Martin.
The donor and recipient began communicating through phone calls and text messages. They started referring to themselves as "sisters of the kidney." They even named the organ that would give Gallas a second chance at life "Lefty."
But it didn't come without some initial stress. "I was very concerned about traveling to San Diego on a plane for the surgery. It was right when COVID-19 hit," said Martin.
That's when she learned she didn't even have to leave Washington to donate.
Although implemented before the global pandemic, remote donation is now being utilized at a higher rate to prevent the spread of the novel coronavirus. Donors can go through the entire process at a hospital near them that is affiliated with the National Kidney Registry.
UC San Diego Health is a partner center with the National Kidney Registry, which means the hospital system is the only one in San Diego to receive referrals for remote donations.
"Right now, people are worried about traveling because of the potential exposure to COVID-19, so remote donation eliminates the process of having to travel and stay in a hotel," said Dr. Jennifer Berumen, director of the Living Donor Kidney Transplant Program at UC San Diego Health. "The coordination is set up with specialized transplant teams. The kidney actually gets a GPS tracker that goes with it, so we can track it at all times and see exactly when it gets on that plane or on the road and when it will arrive at our center."
On June 16, 2020 at around 8 a.m., Martin's kidney was removed at a Seattle hospital. "Lefty was on its way," said Martin. At around 9 p.m., it was transplanted into Gallas at UC San Diego Health. "The kidney worked right away," said Beruman, who was Gallas' surgeon.
Although Gallas says she noticed a difference almost immediately, she is still on the road to recovery.
"Some days I have strength and some days I don't, but I don't worry about it because I am just go grateful to be alive. I'm back to driving, and I can do a little bit of grocery shopping," said Gallas. "I could never repay Millie for all that she has done for me, but one day I do hope to pay it forward and do something big for someone else."
Martin attributes being in good shape prior to the surgery to healing quickly. She says she was up and walking the day after surgery. "Aside from having my children, donating my kidney was one of the most incredible experiences I have ever gone through. I am so happy I did it, and I could not have donated to a better recipient. We are bonded for life now by an organ and a true friendship."
"Millie's heart is so beautiful, and her kidney is allowing me to live a full life for years to come. We will always be like sisters. I will always love her," said Gallas.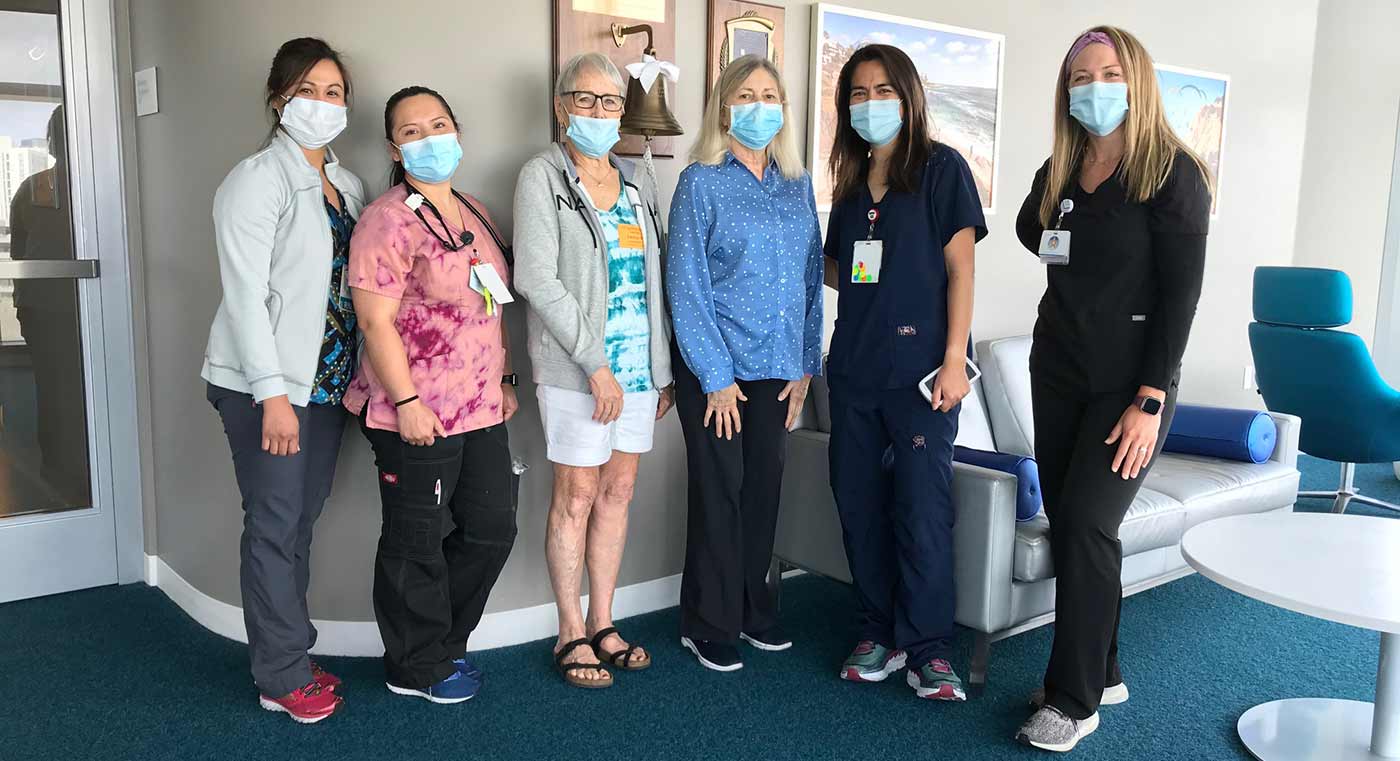 Berumen adds, "There are still thousands of people on the transplant wait list who need a kidney. Remote donation through the Living Donor Kidney Transplant Program really expands the options for patients. It's been a huge success so far. We hope to see many more stories like the 'sisters of the kidney.'"
Recent data from the Scientific Registry of Transplant Patients shows that kidney transplant at UC San Diego Health has a one-year survival rate of 99 percent, above the national benchmark of 97 percent. Nephrology at UC San Diego Health was also recently ranked 34 in the nation by the 2020-2021 U.S. News & World Report survey.
Stay in the Know
Keep up with all the latest from UC San Diego. Subscribe to the newsletter today.