A Celebration With Heart
UC San Diego celebrates ceremonial groundbreaking of Triton Center, soon to serve as the new heart of campus and hub for returning alumni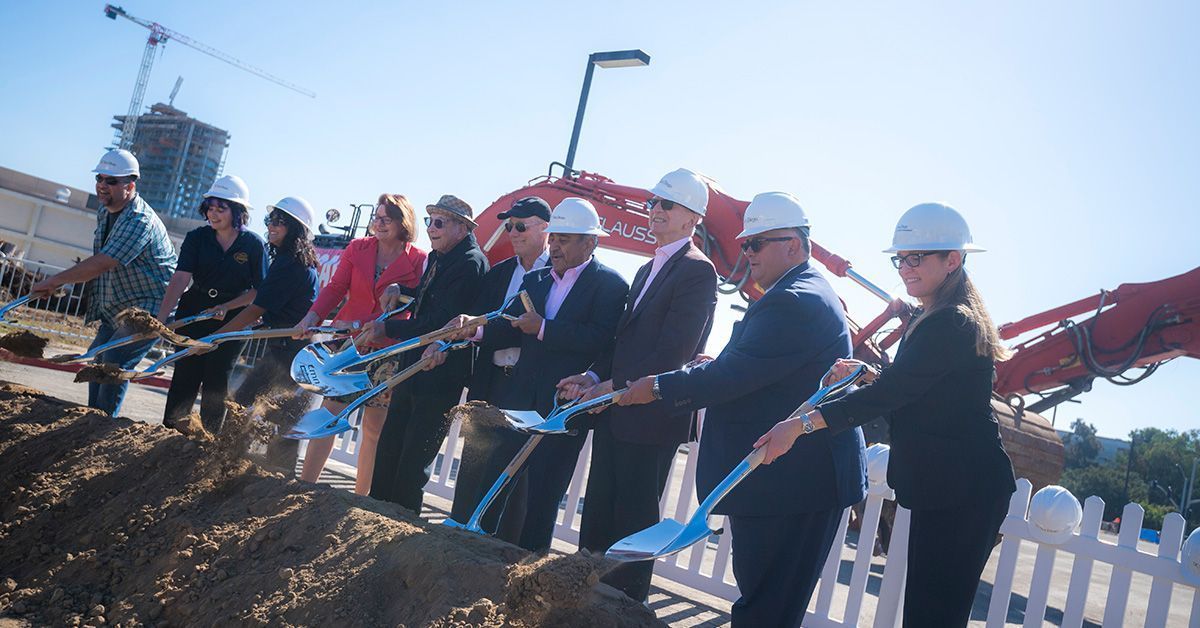 Published Date
By:
Share This:
Article Content
Triton Center, UC San Diego's highly anticipated new vibrant urban core – and heart of campus – got a jolt of energy last weekend with the ceremonial groundbreaking of the complex. UC San Diego community members came together with alumni, donors, friends and dignitaries to celebrate Triton Center, which is slated for completion in 2026.
During the event, Chancellor Pradeep K. Khosla recognized and thanked the generous and dedicated supporters and partners who have helped make the project a reality. Speakers included UC Regent John A. Pérez and California Senate President pro Tempore Toni G. Atkins. Attendees then participated in the official ceremonial groundbreaking, complete with golden shovels and hard hats.
Designed to be a welcoming, socially dynamic destination, Triton Center will centralize student and campus services; showcase UC San Diego's distinctive accomplishments, heritage, art and culture; and offer spaces for relaxation, enrichment and celebration.
"Triton Center at UC San Diego is one of the most momentous and transformative projects in the history of our university," said Pradeep K. Khosla. "Currently, UC San Diego is missing a clearly defined center, with our academic support services for students and faculty spread widely across campus. This project has been central to our long-range development plan, aligning all of our strategic goals with one comprehensive, fully integrated facility at the heart of campus, with student support as the main focus."
Totalling nearly 300,000 square feet, Triton Center will centralize the resources necessary to meet the needs of UC San Diego's growing and diverse student population, with four thoughtfully designed, co-located buildings with distinct purposes.
The Student Health and Well-Being Building will consolidate and expand access to health, mental health and well-being resources in a unique collaboration between student health and university health clinicians. This includes urgent care, primary care, pharmacy services, sports medicine, vision and optometry clinic, wellness and the new home of Counseling and Psychological Services (CAPS). The campus received $30 million in funding from the State of California (state general fund) for the Student Health and Well-Being Building, thanks to the support of Senate President pro Tempore Atkins, who spoke at the event.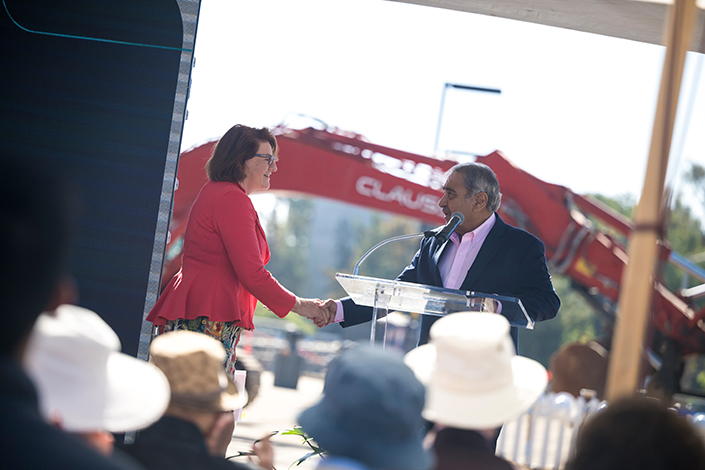 With the goal of furthering students' academic success and personal development, Triton Center will feature a building focused on student success. The facility will include an expansion of the Teaching + Learning Commons, which according to campus data, has helped improve graduation rates and shortened time-to-degree for students who have utilized the program's services. The building also will provide facilities for the Triton Transfer Hub, which will be vital as we grow our transfer student population. The Office of Global Initiatives also will be housed here to promote student access to transformational, global engagement opportunities, along with campus support and administration.
Triton Center also will feature an Alumni and Welcome Center, serving as a home away from home for our alumni as well as an engaging campus gateway for students, faculty, staff and visitors alike. Alumnus Taner Halıcıoğlu '96, who committed the lead gift for the Alumni and Welcome Center, spoke about the importance of having a central place for the campus community and alumni to connect and mentor UC San Diego students and more.
A gift to solidify UC San Diego as an arts destination
During the festivities, Chancellor Khosla also announced the generous donation of a world-class contemporary art collection from Iris and Matthew Strauss and the Strauss Family Foundation.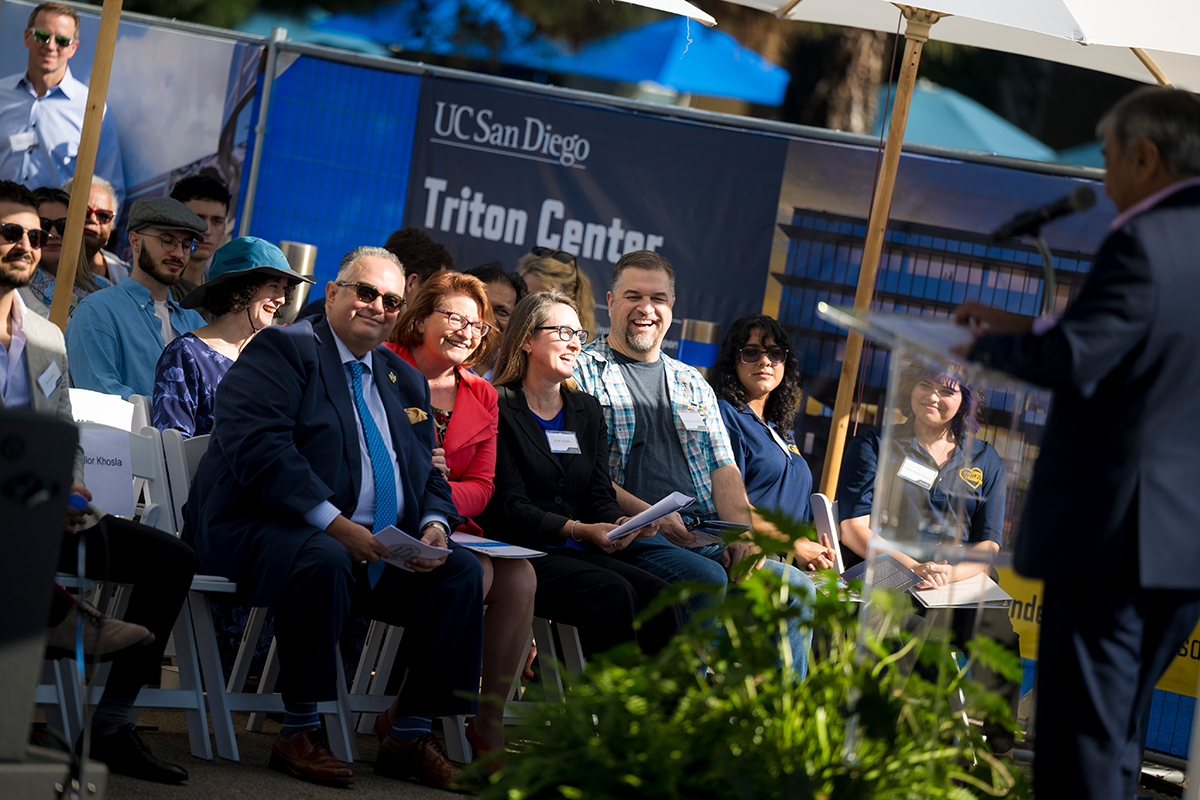 Pieces from the collection, comprising more than 100 works from some of the world's top contemporary artists, will rotate on display throughout the Triton Center and in the newly named Strauss Family Meta Gallery. In addition to opening up the collection more broadly to students and members of the public, the Strauss Family Meta Gallery will further establish the campus as an arts destination.
The Strauss Family Meta Gallery will be adjacent to UC San Diego's first dedicated celebration space, which can accommodate up to 500 attendees. The space is designed to encourage connections for special events, conferences, and campus, student and community programming.
"Triton Center will be transformational for this campus, our students, and the entire region," said Chancellor Khosla, in closing. "It will offer an opportunity to engage with everything UC San Diego has to offer. It will be a place to find and nurture a sense of community, with students at the center. I look forward to welcoming you to Triton Center as it takes shape in the months ahead."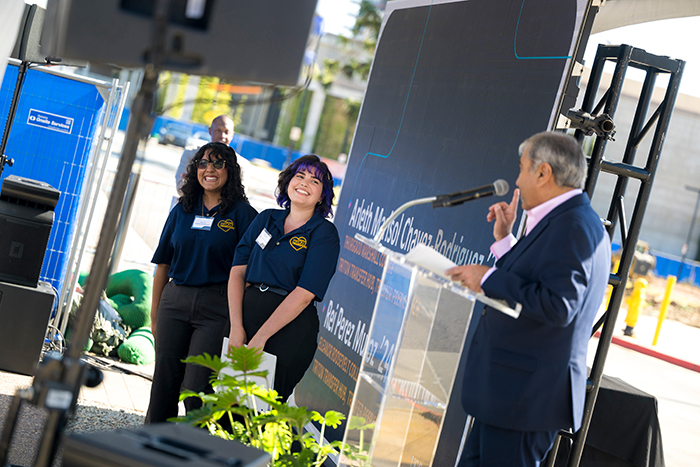 Stay in the Know
Keep up with all the latest from UC San Diego. Subscribe to the newsletter today.