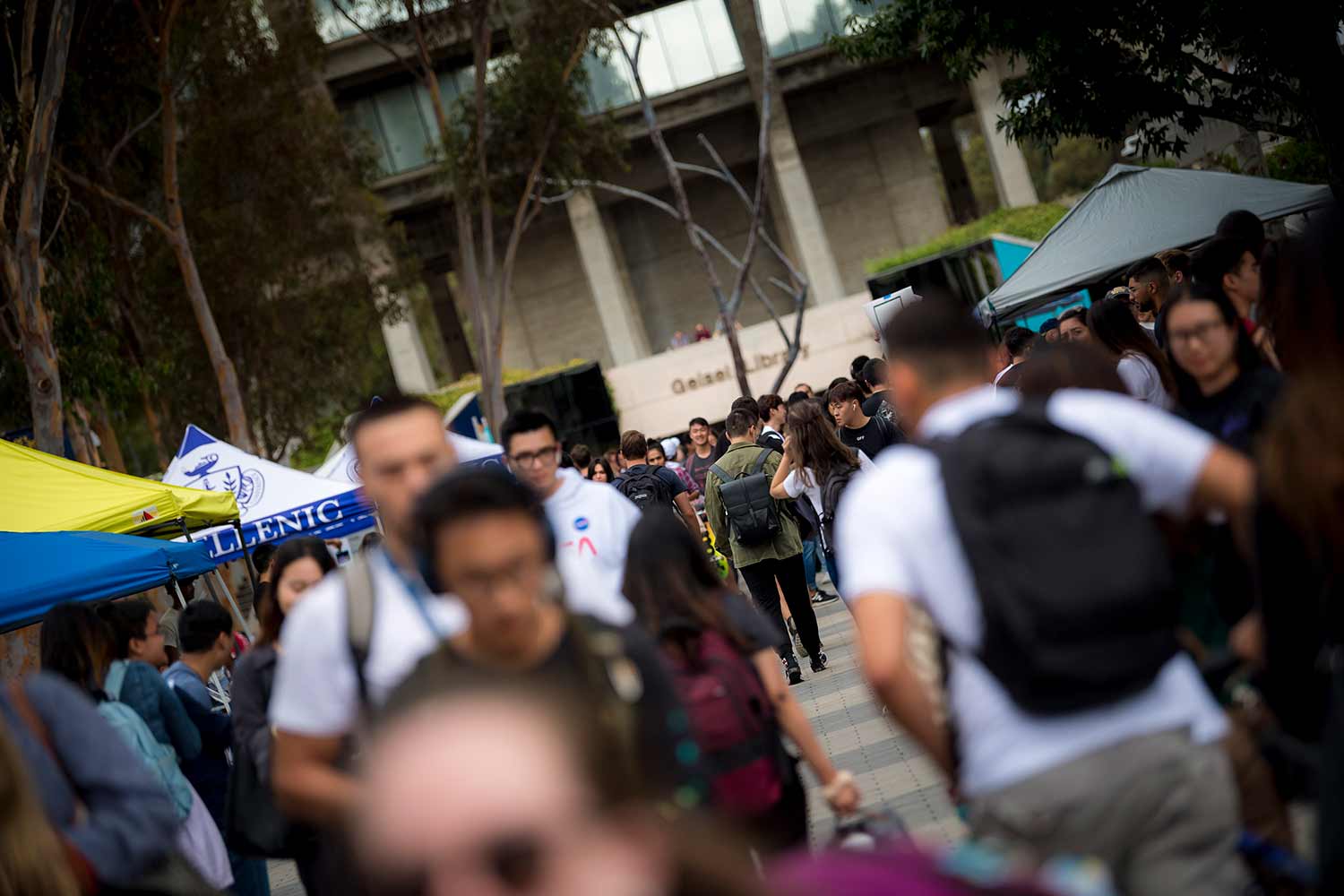 9,000 New Students Arrive to an Evolving Campus
"I want to surround myself with like-minded people who are going to challenge me," explained Eden Markel as she transferred her belongings from her parent's car to a cart during move-in day. One of UC San Diego's newest students, she joins over 9,000 first-year and transfer students who arrived on campus this September. "I chose UC San Diego because it is a globally prestigious institution. The professors who teach here, the students who go here, it's a different caliber of education."
Approximately 39,000 new and continuing students began the fall quarter on Sept. 26. More than 6,000 new first-year students and 3,000 transfer students enrolled; among the cohort, 34% are first in their family to attend a four-year university and 37% come from a low-income household. The campus continues to attract diverse students, welcoming 2.5% more underrepresented students than the previous year. Incoming first-year students bring an overall average GPA of 4.08 with a middle-fifty percent SAT score range of 1250 to 1470. Additionally, the average GPA for new transfers this year is 3.54.
"This fall, we are pleased to welcome UC San Diego's new and returning students," said Chancellor Pradeep K. Khosla. "The campus is evolving in exciting ways to provide a dynamic student experience, from the construction of new multidisciplinary learning spaces to novel areas of study that address critical issues in our world and a greater diversity in healthy dining options."
All students will have the chance to explore more than a dozen new majors and minors that are being launched throughout the academic year. The new offerings include degrees in anthropology with a concentration in climate change and human solutions; human development sciences with a focus on healthy aging; and Latin American studies with a concentration in migration and border studies. Additionally, several minors are debuting, including political data/data analytics as well as climate change studies.
The campus celebrates a culinary renaissance
It's hard to miss Soda & Swine, a long-awaited new neighborhood eatery on campus. Passersby are drawn to the promenade punctuated by vintage lamp posts, Victorian steampunk-inspired décor and alluring outdoor fireplaces. The newly renovated space—formerly Porter's Pub—is managed by University Centers in partnership with UC San Diego alumnus Arsalun Tafazoli, '06, founder of Consortium Holdings, which is known to carefully customize each restaurant location to reflect the unique community. The restaurant and bar is the third in a series that have exploded in popularity across San Diego, with locations in North Park and Liberty Station. The campus restaurant will be the first Soda & Swine to serve breakfast (in addition to lunch and dinner), and is open from 8 a.m. to 10 p.m., seven days a week.
Another culinary transformation is happening in the center of campus: Dirty Birds Bar and Grill is flying to Price Center, with plans to land in the space formerly occupied by Round Table Pizza. A local favorite with spots in Pacific Beach, Liberty Station and San Diego State University, the restaurant is known for serving over three dozen flavors of chicken wings—from maple chipotle barbecue to salt and vinegar. A spacious outdoor patio with fire pits will unveil this fall, with plans to launch the restaurant by the end of the year. Each new restaurant is chosen by the University Centers Advisory Board, the majority of which comprises undergraduate and graduate students from across campus.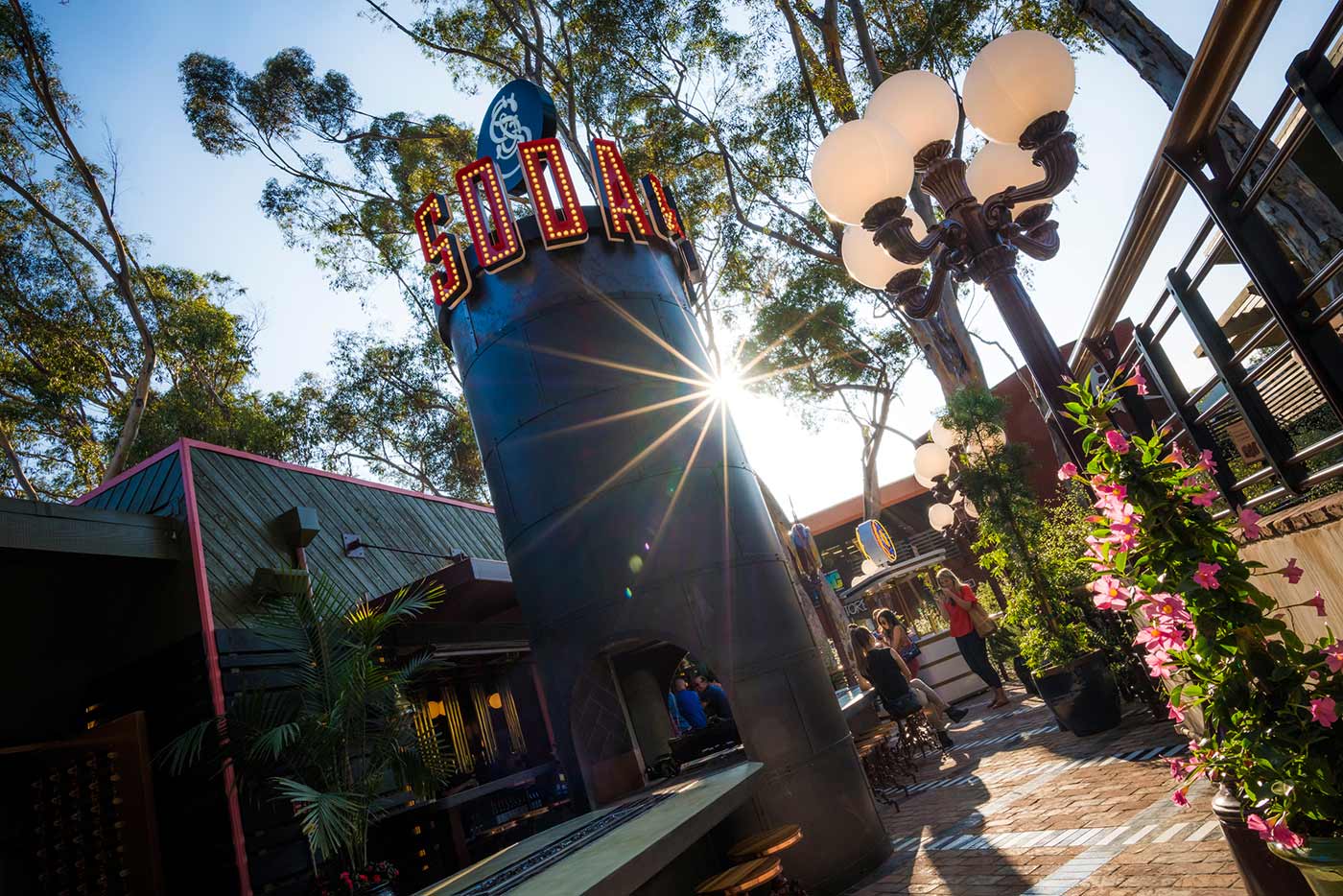 A new movement to offer healthier and more sustainable food options at campus restaurants and markets is also underway. UC San Diego's Housing, Dining and Hospitality (HDH) is launching "Rooted in Flavor," inspired by "Menus of Change," a groundbreaking initiative from The Culinary Institute of America and Harvard T.H. Chan School of Public Health. The transformation includes vegetarian options at all stations, more whole grain and plant-forward menu items, reduced beef entrees and greater emphasis on in-season fish. New menu items will be featured across all restaurants, including Canyon Vista, which will reopen this fall in Warren College. All restaurants will offer new innovative dishes, from vegetarian tacos to whole wheat pizza dough and fish-based pad Thai.
This September, Best Colleges recognized UC San Diego's diverse food options, naming the school 10th in the nation for college dining. In addition to praising selections such as gelato and made-to-order sushi, the ranking applauded the university's efforts to provide dietician services, hydration stations, menus that include kosher and halal diet choices and more.
Modern learning spaces ignite collaboration
Five years from now, the UC San Diego campus may be nearly unrecognizable to anyone who hasn't watched the transformation unfold. From new buildings to enhance the student experience, to the arrival of the UC San Diego Blue Line trolley that will connect the campus to downtown and South San Diego, big changes are happening. On Oct. 24, the university will break ground on the Design and Innovation Building, a 74,000-square-foot multipurpose space, expected to be finished in summer of 2021. The building is intended to unite students and scholars in engineering, visual arts, and cognitive science. The collaboration between these disciplines will be deepened with additional spaces for the Office of Innovation and Commercialization and the Alumni Association—all in an effort to further foster the UC San Diego spirit of entrepreneurship. The facility will be located adjacent to the new trolley station and feature flexible spaces that can be configured to meet, collaborate and design.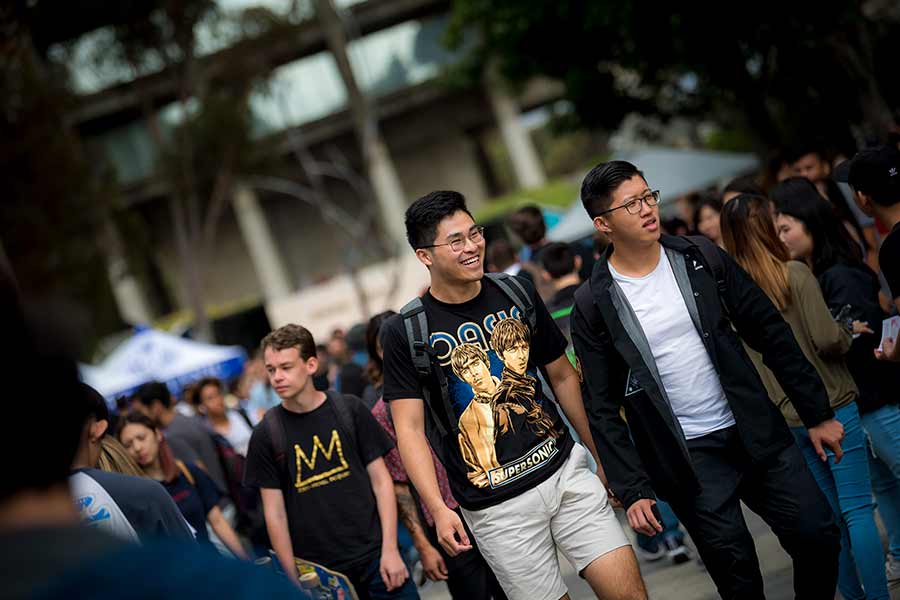 In November, another synergistic space will begin to take shape in the Jacobs School of Engineering. Franklin Antonio Hall, a 200,000-square-foot building to be completed in 2021, will feature laboratories, classrooms, faculty offices, meeting spaces, an auditorium and café. It will be a hub for innovation across diverse fields of research, working together to advance critical health, energy, autonomy and security challenges facing society.
With the various construction projects underway, the campus has launched a "watch where you walk campaign" to help pedestrians navigate around impacted areas on campus. The campaign is one of several initiatives Transportation Services is rolling out this fall to help pedestrians, cyclists and e-scooter riders get around safely.
App connects open study spaces, ID cards, food
Need to know if there is room in Geisel Library to study? Wondering if Price Center is brimming with activity? Students can be connected to campus better than ever thanks to the UC San Diego app, which now includes real-time foot traffic monitoring at concentrated locations across campus. The application feature is supported by Occuspace, which was founded by UC San Diego alumnus Nic Halverson.
The campus app also features space to digitally store student IDs, a more convenient option when they are needed to scan. In addition, students who may be food insecure can be alerted when food from campus events is left over that might otherwise have gone to waste, made possible through a partnership between IT Services, UC San Diego Catering and the Basic Needs Initiative.
And for those seeking more affordable and culturally-relevant food shopping opportunities, a new grocery shuttle will begin running every Saturday between noon and 8 p.m. with four stops near the Balboa/Convoy area, also supported by the campus's Basic Needs Initiative. The grocery shuttles serve both undergraduate and graduate students; a UC San Diego student ID is all that is needed to board. This service, which will begin Oct. 5 from Mandeville Loop, is made possible through a partnership between the Basic Needs Initiative, Transportation Services, and Housing, Dining and Hospitality.
Stay in the Know
Keep up with all the latest from UC San Diego. Subscribe to the newsletter today.