5 Ways to Embrace Your Inner Triton During Alumni Celebration Weekend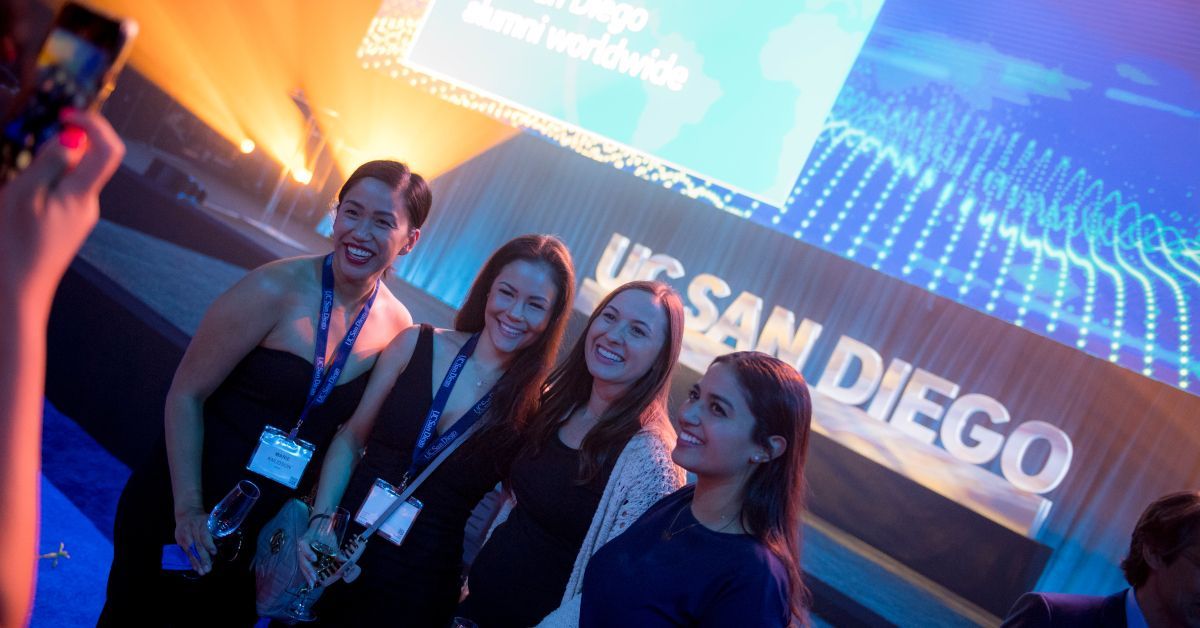 By:
Published Date
By:
Topics:
Share This:
Article Content
Mix and mingle at the Museum of Contemporary Art San Diego while taking in stunning sunset views from a patio overlooking the Pacific. Visit your favorite nostalgic spots and discover new, state-of-the-art campus additions during open house events. Bring the whole family along to join fellow Tritons for "Day at the Padres" and a fun-filled pre-game party at Petco Park.
These are just a few of the unique opportunities planned during Alumni Celebration Weekend, May 5-7, when Tritons of all ages will come together, both in-person and virtually, to celebrate the global impact of UC San Diego's 234,000 alumni and counting.
"Around the world, Tritons are leading the way in nurturing community, shaping tomorrow's innovative workforce and creating a more sustainable, equitable future for all," said Chancellor Pradeep K. Khosla. "For our alumni, UC San Diego is home—and we want them to know they always have a place here. During Alumni Celebration Weekend, come marvel at the transformation of our campus, connect with old and new friends, and join us in celebrating our outstanding UC San Diego alumni."
With virtual events offered throughout the week, leading up to the weekend's festivities around San Diego, there are endless opportunities to be part of the excitement. Here are five ways to embrace your inner Triton as you join the celebration of innovative UC San Diego alumni who are making waves in their career fields, communities and beyond:
1. Experience an elegant art + ocean venue at the 44th annual Alumni Awards Celebration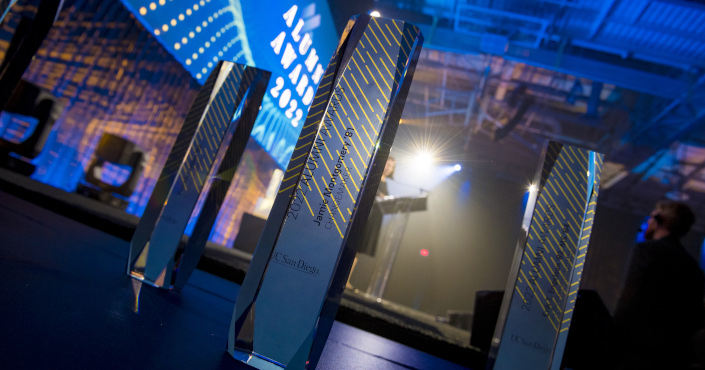 Soak up the beauty of art and nature while lauding the contributions of four outstanding Tritons at this year's 44th annual Alumni Awards Celebration on Friday, May 5 at 6:30 p.m. The free event, which promises to be an evening of elegance and inspiration at the Museum of Contemporary Art San Diego in La Jolla, will feature live entertainment, delicious bites and full access to the museum's collections, which represent a range of genres. Look for works by numerous UC San Diego-affiliated artists currently on display, including alumnus and Professor Emeritus Kim Robert MacConnel, a previous Alumni Awards recipient, and Stuart Collection artist Niki de Saint Phalle, who created the iconic Sun God statue on campus.
Be among the first to learn who will be recognized in the categories of Outstanding Alumnus/Alumna; Changemaker; Emerging Leader; and International Award as you join Chancellor Khosla and campus leaders in celebrating this year's esteemed honorees.
"This is an opportunity to rejuvenate, reconnect and celebrate in a beautiful seaside venue," said Ping Yeh '99, M.S. '01, President of the UC San Diego Alumni Board of Directors. "I hope my fellow Tritons will join me there as we recognize the achievements of four extraordinary UC San Diego alumni."
With sunset views from a seaside patio and an audience bursting with Triton pride, there's no better place to spend your Friday night. Register now to reserve your spot and get ready for an evening you won't soon forget.
2. Rediscover the campus you love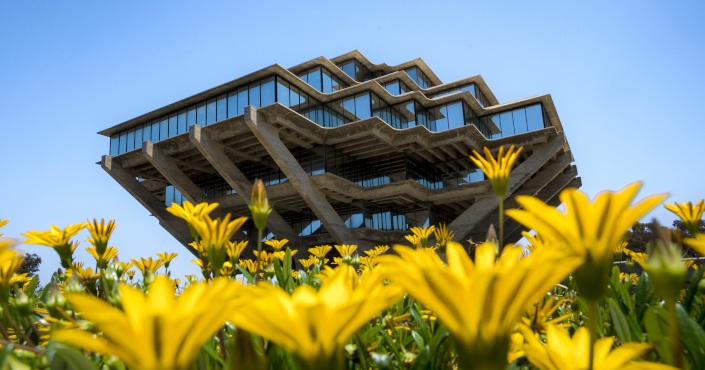 A lineup of open house events on Friday, May 5, will welcome Tritons back to campus for a walk down memory lane—and a glimpse into the future. Return to Geisel Library to see its newly renovated spaces or visit the Jacobs School of Engineering for an ice cream sundae and a self-guided or staff-led tour of the stunning new Franklin Antonio Hall.
Whether you're cheering on UC San Diego scholar-athletes as our Division I softball and baseball teams face off against Big West rival CSUN, visiting the laboratory of Professor Steve Mayfield, founder of Blueview Footwear and Algenesis, or bringing your family for a guided tour of Scripps Pier, come rediscover the campus you love and enjoy what it means to be a Triton.
3. Catch baseball fever with Day at the Padres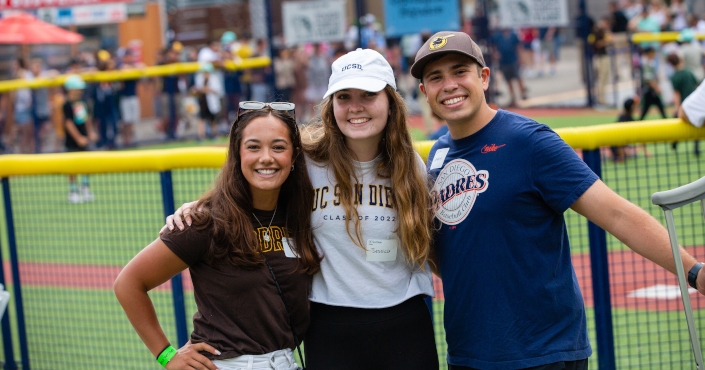 Head downtown on Sunday, May 7, to connect with Triton friends and family and cheer for your team in a classic Southern California rivalry as the San Diego Padres take on the Los Angeles Dodgers. Join our pre-game event at 2 p.m. in a dedicated area inside Gallagher Square and enjoy food, drinks, lawn games and more before taking a seat in our select Triton seating area ahead of the first pitch at 4:08 p.m.
Purchase your tickets now to sit in the UC San Diego Alumni section—and ensure your weekend ends on a high note.
4. Network and reminisce at alumni-owned Rough Draft Brewery for GOLD Gathering and Games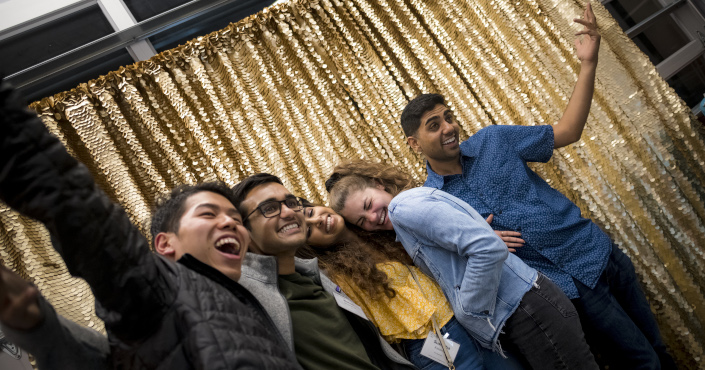 If you're a Graduate of the Last Decade (GOLD) alumni, meet up at the Rough Draft Brewing Co. tasting room in the Mesa Nueva area of campus on Saturday, May 6 from 3-6 p.m. Founded by alumnus Jeff Silver '94, Rough Draft offers 12 craft brews on tap. Enjoy snacks, pub games and trivia during the GOLD Gathering and Games, where you'll have a chance to catch up with old friends and network with new ones.
"Staying connected with fellow Tritons after graduation has been a great way for me to make new friends and enjoy new experiences. I'm so happy that the San Diego Regional Alumni Club and GOLD alumni events help provide these opportunities," said Omar Abu-Hantash '21, President of the San Diego Regional Alumni Club. "I'd encourage anyone that wants to make new friends and meet like-minded people to attend our event next month. We are going to have a blast!"
5. Commemorate the 45th anniversary of Summer Bridge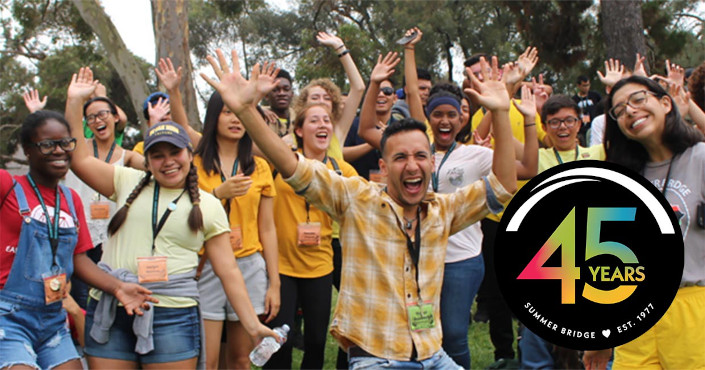 Did Summer Bridge make a difference in your life? For 45 years, the program has helped expand access to education by fostering a successful transition from high school to university for incoming undergraduate students—particularly first-generation scholars and those from underserved populations. Join Summer Bridge alumni, current students and staff to celebrate the impact of this transformative program with a celebratory 45th Anniversary Brunch on Saturday, May 6 at 9:30 a.m.
Topics:
Share This:
Stay in the Know
Keep up with all the latest from UC San Diego. Subscribe to the newsletter today.