Halıcıoğlu Data Science Institute (HDSI) holds its first in-person graduation ceremony for the 2022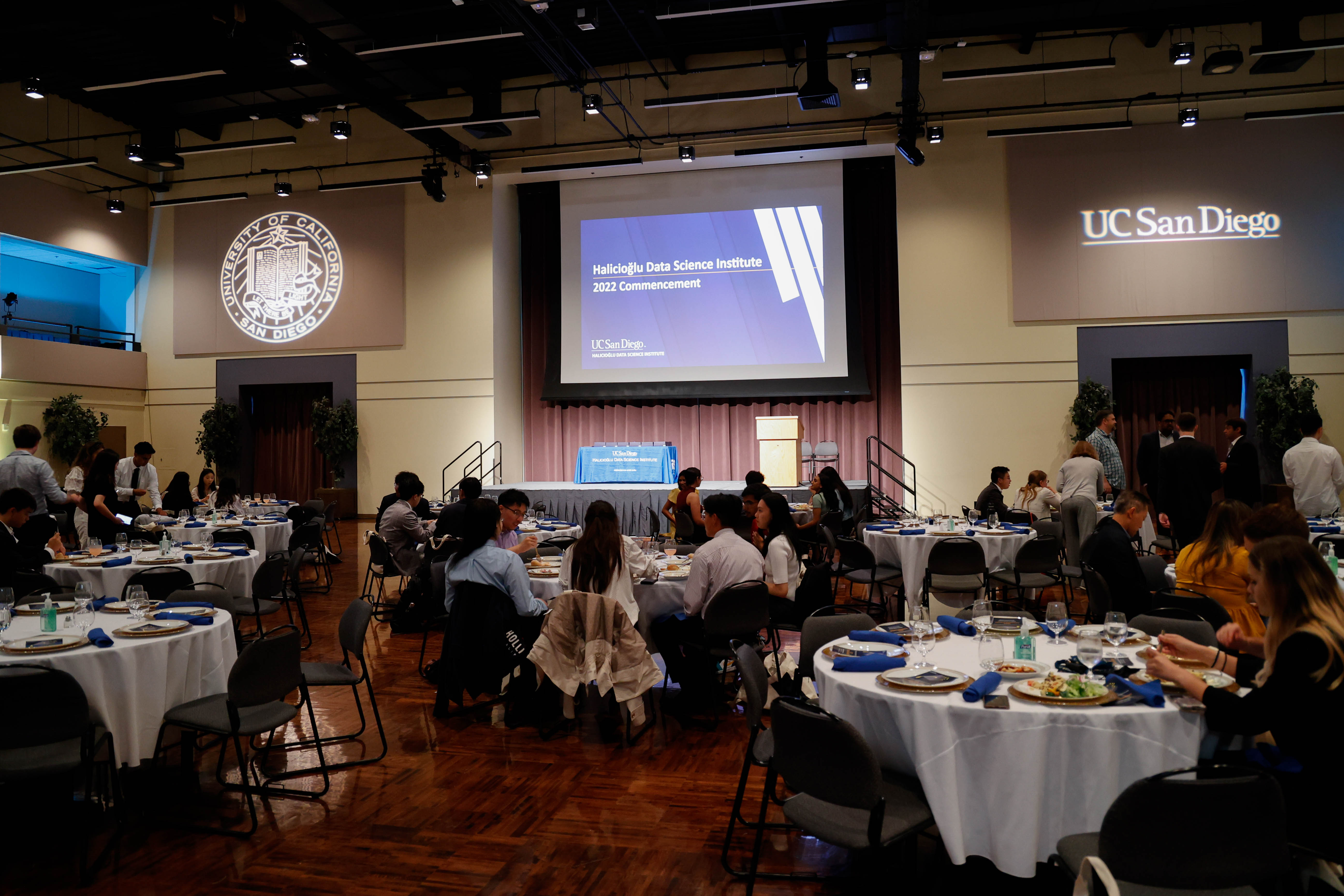 Published Date
Article Content
We congratulate over 140 students in the Class of 2022! The ceremony was administered by the Student Affairs team led by Sonlong Ngyuen, the Undergraduate Manager at HDSI, Mona Wang, and Meredith Longo, both Program Coordinators & Undergraduate Student Advisors.
"After two years of Covid restrictions, it was a joy to see the HDSI community come together to celebrate our Class of 2022 graduates at our inaugural in-person ceremony," said Sonlong.
"With over 5K students in our classes, HDSI courses have significant reach outside of our majors and minors and we continue to welcome students from all majors to benefit from these courses, provide support to faculty teaching data science-related courses in other departments, as we build campus-wide capacity for new and exciting programs."
"This being the third batch -- of 147 graduates that will be part of nearly 500 alumni of our Data Science program, not including nearly half as many data science minors; while a new batch of nearly 300 students will enter our undergraduate program, drawn from over 2K applicants," said Rajesh.
In the inaugural year, our graduate programs received 1,285 applicants and we already have 13 Ph.D. accepts (65% yield on offers) and 79 MS accepts (54% yield on offers). Together with the CSE department, we are also starting our inaugural class of nearly two dozen students in our Online MS degree program, an important on-ramp to Data Science, and university education.
The event took place on June 9, from 5:30-7:30 PM, at Price Center West Ballroom. COVID restrictions applied and only students with a green thumb were allowed to attend the event.
The program started with a warm welcome from the Director of the institute, Rajesh Gupta, and congratulations from the donor, Taner Halıcıoğlu. Awards were given to recognize the contributions and accomplishments of students. Anamika Gupta, a graduating senior, also spoke about her experience in the popular degree program.
The event proved to be a success, and all in attendance seemed to enjoy the festivities. Students also were given gift bags to help them remember their time at HDSI and will be inducted into the Alumni division. This resource is available in the next chapter and holds exciting opportunities for the UC San Diego Triton community to collaborate, empower, and support along the way. Tap into your alumni network and check out the resources available to you at alumni.ucsd.edu.
Stay in the Know
Keep up with all the latest from UC San Diego. Subscribe to the newsletter today.