10 Spaces to Find Serenity on Campus
By:
Published Date
By:
Topics:
Share This:
Article Content
From rugged coastline and sweeping views of the Pacific to eucalyptus groves and public art installations spread across 1,200 acres of coastal woodland, there's beauty and inspiration to be found around every corner at UC San Diego. But it's easy to get so caught up in the hustle and bustle of everyday life that we forget—or simply don't take the time—to venture off the beaten path to reflect, balance our emotions and boost our well-being.
As Mental Health Awareness Month comes to a close, we've put together a list of 10 spaces on campus to find serenity. When you find yourself in need of some peace, consider taking the time to pause and reset at one of these soul-filling spots.
1.

Scripps Crossing Pedestrian Bridge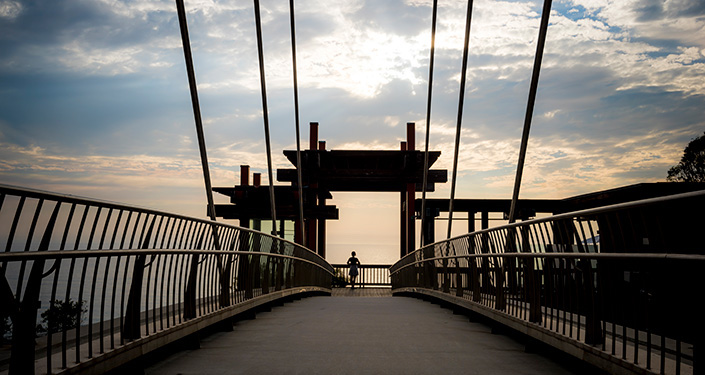 Looking for a way to soak up spectacular ocean views without battling crowds? Scripps Crossing Pedestrian Bridge, suspended above La Jolla Shores Drive adjacent to Nierenberg Hall, offers an ideal opportunity to do just that. While the bridge serves a practical purpose—linking the east and west sides of the Scripps Institution of Oceanography campus for those traveling on foot—it's also a prime spot for relaxation. The scenic overlook at the end of the bridge includes built-in benches to sit or rest as you gaze down the coastline over one of the most scenic routes in San Diego.
2. The Wind Garden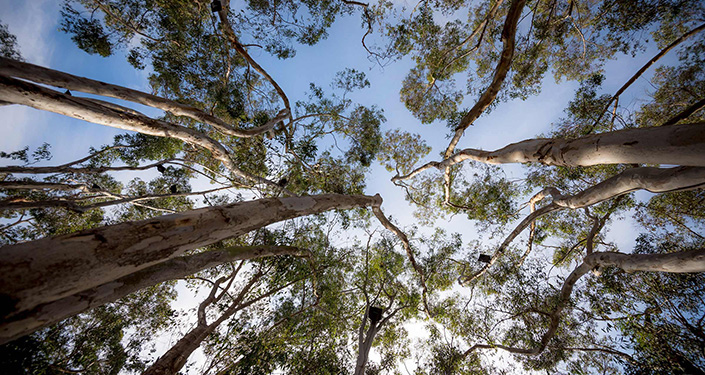 Next time you find yourself near the Mandell Weiss Theatre and in need of some solitude, wander into the eucalyptus grove to the west. There, 32 trees have been fitted with motion and light sensors that translate varying forces of wind and changing light patterns into sound. It's an essentially invisible public art installation known as "The Wind Garden," created by Pulitzer Prize-winning composer John Luther Adams as part of UC San Diego's renowned Stuart Collection.
3. Hammock Swings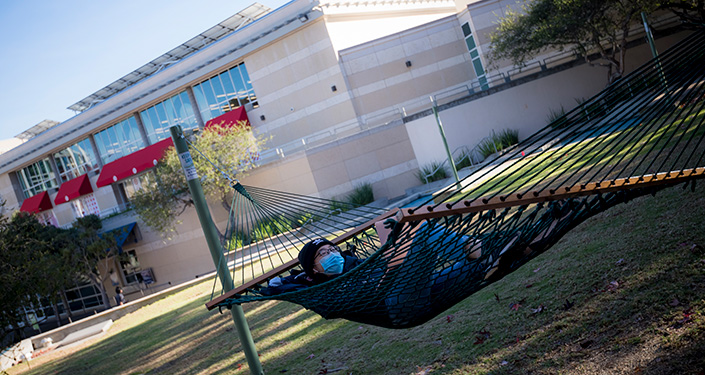 From the lawns of the Price Center and the Main Gym to Revelle and Marshall Colleges, campus hammocks are a student-favorite spot for self-care. There's something therapeutic about rocking in a hammock, and it's a great way to get your daily dose of Vitamin D. Put on your headphones, read a book for pleasure or take a nap in between classes and you'll feel refreshed in no time.
4. Green Roof at Revelle College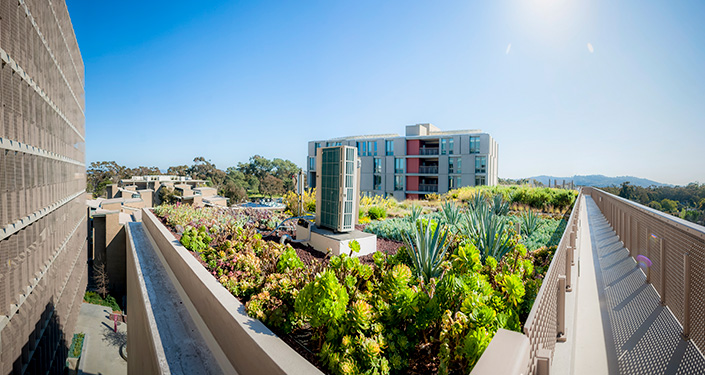 Want to experience a lush garden and breathtaking view of the Pacific at the same time? Head to the sixth-floor Green Roof atop the Charles David Keeling Apartments at Revelle College. Drought-tolerant succulents, flowering plants and low-spread shrubs are planted over a waterproof casing that helps absorb rainwater and provides insulation to reduce heating and cooling costs. In addition to its energy-saving features, the rooftop oasis includes benches and seating areas for studying and relaxation.
5. Garden of Eden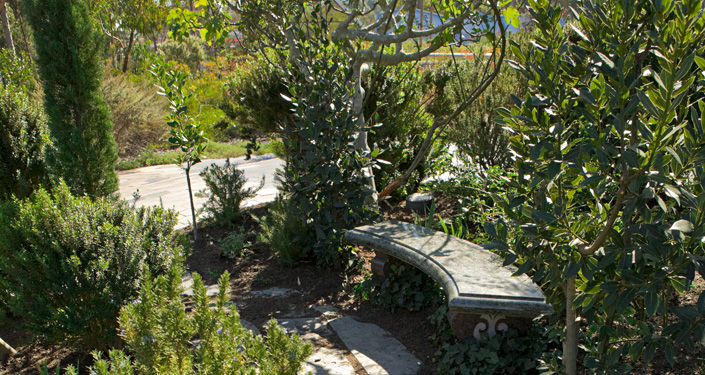 Often traversed by students, staff, faculty and campus visitors en route to Geisel Library, Snake Path is one of the more iconic installations in the Stuart Collection, created by innovative artist Alexis Smith. The path circles around the "Garden of Eden," where fruit trees surround a marble bench inscribed with a quote from Thomas Gray: "Yet ah why should they know their fate/When sorrow never comes too late/And happiness too swiftly flies/Thought would destroy their Paradise/No more, where ignorance is bliss, tis folly to be wise." Next time you walk along Snake Path, take a minute to sit on the bench in this tucked-away spot and ponder the rich symbolism inherent in Smith's work.
6. The Big Purple Couch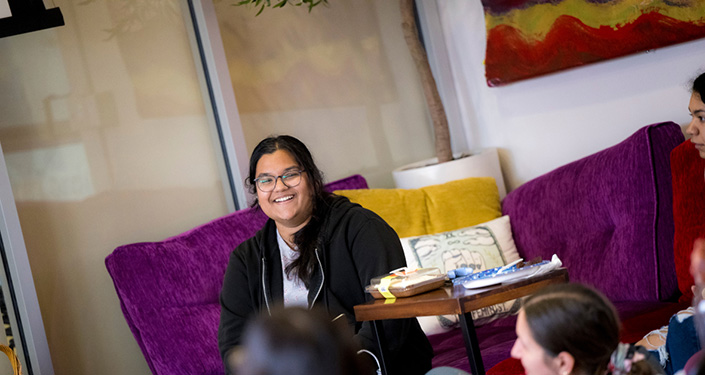 At the UC San Diego Women's Center, located in Student Center West, a big purple couch in the living room serves as an inviting spot where members of the campus community can take a moment to rest and recharge. Also available in the center are a community kitchen, a lending library, a family-friendly space with baby changing stations and a private lactation room for nursing mothers. The Women's Center provides education and support surrounding gender issues, with the goal of promoting an inclusive and equitable campus community.
7. La Jolla Project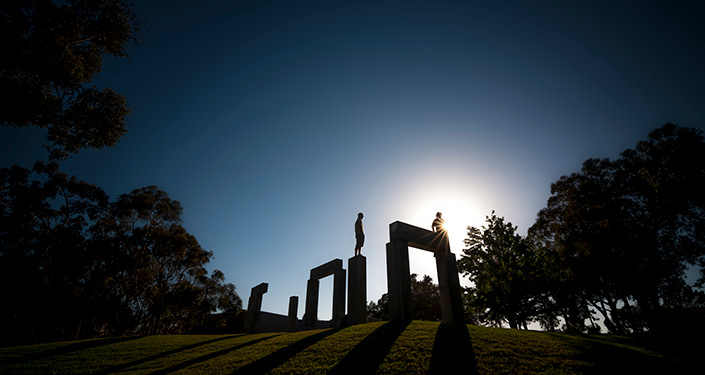 Commonly referred to on campus as "Stonehenge," the La Jolla Project, created by artist Richard Fleischner, was the third work to join the Stuart Collection after its completion in 1984. Located on the Revelle College Lawn south of Galbraith Hall, the installation is made up of 71 blocks of pink and gray granite in arrangements reminiscent of architectural concepts that include columns, arches and doorways. Its unique layout lends itself to all sorts of interesting nooks where you can sit or lie back and gaze at the trees that surround the grassy lawn.
8. Torrey Pines Gliderport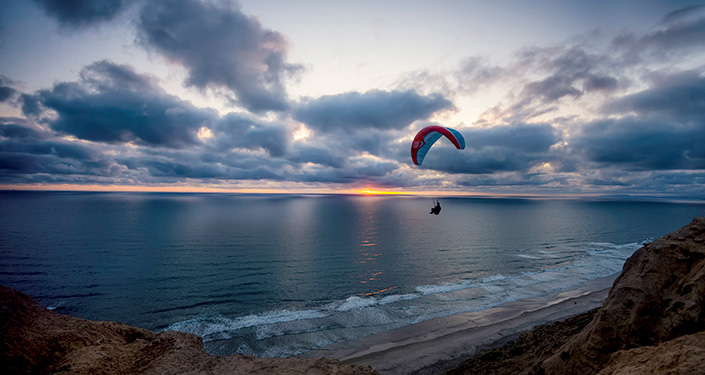 The Torrey Pines Gliderport, located at 2800 Torrey Pines Scenic Drive just west of North Campus, offers what's arguably one of the most magnificent views in San Diego. Visit on a clear day and you'll find yourself mesmerized by the dozens of hang gliders and paragliders silently floating off the seaside cliffs over the beach below. If you're an adventure-seeker, you can experience the breathtaking beach views and the unique tranquility of flying soundlessly through the sky. The Gliderport offers lessons and tandem flights, and you can even try parahawking—soaring in a tandem glider with a trained falcon leading the way.
9. Roger's Community Garden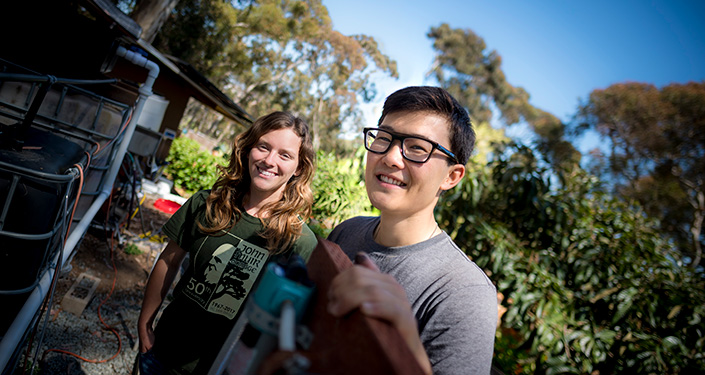 One great way to clear your mind is by getting your hands dirty and connecting with the Earth. At the student-run Roger's Community Garden, located in UC San Diego's Theatre District, students, staff and community members can learn and improve their gardening skills, grow food for the campus community and engage in sustainability efforts developed to reduce the campus's carbon footprint. Stop by during "garden hours" every Sunday from 10 a.m. to 2 p.m. to check out the space and learn how you can get involved.
10. McReynolds Family Coral Reef Garden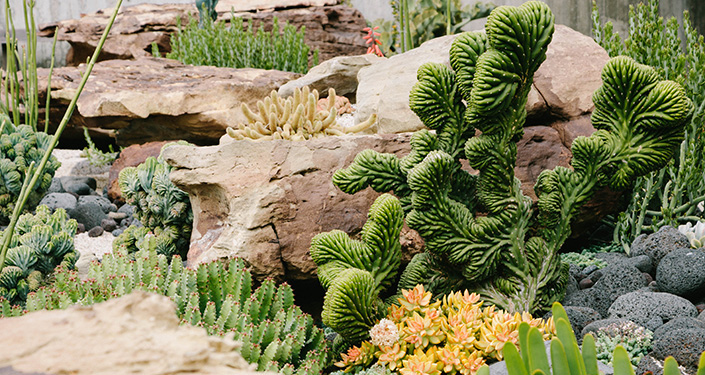 Located along the Scripps Coastal Meander Trail near the Eckart Building, the McReynolds Family Coral Reef Garden at Scripps Institution of Oceanography was designed to "bring science out of the labs and into a garden," giving members of the campus community and the general public a unique opportunity to learn about coral reef ecology. The reef-inspired succulent garden uses drought-resistant succulents, cacti and rocks to simulate three distinct coral reef zones: the shallow reef crest, the fore reef and the lagoon.
Topics:
Share This:
Stay in the Know
Keep up with all the latest from UC San Diego. Subscribe to the newsletter today.