World Premiere Brings the Haunting Music of the Arctic to San Diego
Published Date
By:
Share This:
Article Content
On Saturday, Oct. 15 at 8 p.m., renowned composer Lei Liang unveils a new composition evoking cycles of life and change in the Arctic at UC San Diego's Conrad Prebys Music Center Experimental Theater.
The new piece, "Six Seasons," represents the culmination of a years-long collaboration between Liang, the inaugural Research Artist in Residence at the Qualcomm Institute (QI) and Chancellor's Distinguished Professor of Music at UC San Diego, and oceanographers at Scripps Institution of Oceanography.
"As someone who grew up listening to the music of Bach and Brahms, I'm now listening to the music of belugas in the Arctic," said Liang. "It's been such an inspiring journey."
The award-winning Mivos Quartet will return to UC San Diego to perform the new piece for a live audience.
The Music in Change
Liang's composition draws its name from the seasons marked on a traditional Inuit calendar from Canada's Nunavut Territory. Historically, these calendars have delineated seasons not by specific dates, but by landscape changes that dictate patterns of hunting and migration.
"Six Seasons" captures these shifts by interweaving original music with audio recorded by Joshua Jones and John Hildebrand of the Whale Acoustics Laboratory at Scripps Oceanography. In 2015, Jones traveled to the Chukchi Sea far offshore Alaska's north coast to deploy hydrophones on the seafloor, where the devices have recorded the sounds of cracking ice, waves and the calls of migrating animals for ten years.
Liang's vision invites a response to these recordings in real time, encouraging musicians and audience members to listen and engage with the Arctic environment from thousands of miles away.
"Working with Professor Liang has transformed sound recordings that we typically think of as data into a personal experience of the underwater world deep within the Arctic Ocean," said Jones. "It's been extremely meaningful and we're asking new research questions as a result."
Encouraging New Partnerships between the Arts and the Sciences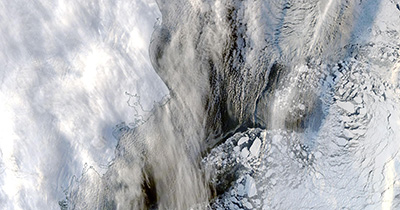 At the Whale Acoustics Laboratory, Jones, Hildebrand, and colleagues study recordings like the ones featured in "Six Seasons" to better understand the ecology of marine animals and to predict the effects that environmental change and human activities have on their life cycles.
In part, Liang's interdisciplinary partnerships aim to draw attention to this and other research studies at UC San Diego. Through a seminar series that includes "Hearing Seascapes," "Hearing Earth" and, most recently, "Hearing Extremes," Liang fosters new collaborations between graduate students in the Department of Music and scientific researchers specializing in big data, fire science and other fields. The seminar's goal is to break down boundaries between the arts and sciences and to inspire more people to engage across disciplinary lines.
Liang plans to continue his residency at QI for at least two more years, creating new work in an environment that exists at the intersection of science, technology and the arts. In 2021, Liang received the prestigious Grawemeyer Award for Music Composition for "A Thousand Mountains, A Million Streams," a climate change-inspired work developed under his residency at the institute, first as Composer in Residence and then as Research Artist in Residence.
Another work, "Hearing Landscapes," sonifies Chinese landscape paintings and writings by painter and art historian Huang Binhong (1865—1955). The piece emerged from a collaboration between Liang and Falko Kuester, director of QI's Cultural Heritage Engineering Initiative and a professor of structural engineering and computer science and engineering at the UC San Diego Jacobs School of Engineering.
"At QI, scientists can learn from artists and artists can learn from scientists," said Liang. "In Chinese, the word for university is daxue, which literally means 'great learning.' I consider it a great blessing for me to participate in this great learning project that brings arts and sciences together, and not to think of them as divisions, but as one single unit."
"Six Seasons" was commissioned by the Mivos Quartet, is made possible by a generous grant from the Jebediah Foundation New Music Commissions, and is presented by UC San Diego's Art Power. To learn more and buy tickets, visit https://artpower.ucsd.edu/event/lei-lang-with-mivos-quartet/.
Stay in the Know
Keep up with all the latest from UC San Diego. Subscribe to the newsletter today.