With $25 Million Gift to Bioengineering at UC San Diego, Gene Lay Honors his Mentor Shu Chien
In recognition of the gift, UC San Diego's bioengineering department will be named the Shu Chien-Gene Lay Department of Bioengineering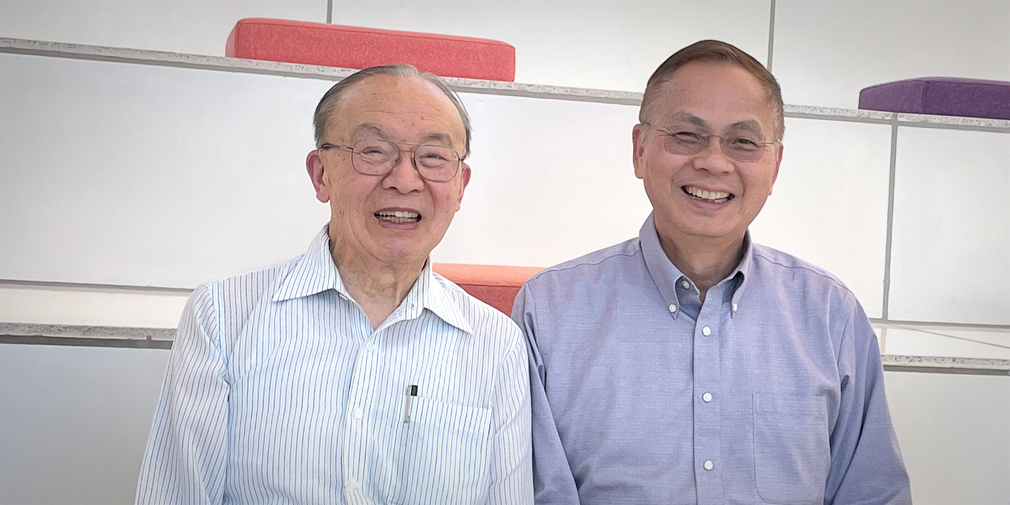 Published Date
By:
Share This:
Article Content
Eminent biotechnology innovator and entrepreneur Gene Lay, through the Laygend Foundation, has committed to provide $25 million as an endowment gift to support the University of California San Diego's world-leading bioengineering department. The gift will provide sustained support for students, faculty and teaching facilities in the bioengineering department at the UC San Diego Jacobs School of Engineering.
Lay's gift honors Shu Chien, a UC San Diego emeritus professor of bioengineering and medicine who is a renowned bioengineering researcher, educator and mentor. In recognition of Lay's generous gift, UC San Diego is renaming its bioengineering department the Shu Chien-Gene Lay Department of Bioengineering.
Over more than three decades of mutual friendship, Chien has served as a mentor and sounding board to Lay, who is the founder and CEO of the San Diego biotechnology company BioLegend, which was acquired by PerkinElmer in 2021.
"Gene Lay's generous support will empower our bioengineering department to build on its well-recognized strengths in teaching, research and biotechnology workforce development," said UC San Diego Chancellor Pradeep K. Khosla. "At the same time, Gene is recognizing and honoring Shu Chien's incalculable contributions to UC San Diego and to the field of bioengineering. It's only fitting that this tribute to Shu comes from Gene, another visionary leader in the worlds of biotechnology and innovation."
Chien is one of the people who built the foundation for UC San Diego's sustained success in bioengineering. His countless research, teaching, mentoring and leadership contributions have empowered so many others to thrive. The department's graduate program, for example, has ranked in the top five in the nation for more than two decades; and it recently ranked #1 in the nation for part of its undergraduate program.
"I am very grateful that Dr. Shu Chien came into my life over 30 years ago. He is my role model," said Lay. "His perseverance, integrity, caring nature and passion continue to inspire me to make a difference in the world. Dr. Chien's work embodies the mission of the Laygend Foundation, which is to translate scientific discovery into life-changing therapies and medicine. I am proud to support Dr. Chien's vision and the students and faculty of the bioengineering department at UC San Diego."
The endowment, when funded, will build on the department's excellence by providing transformative annual recurring support for research and education. In particular, the gift will provide annual payouts that allow the department to maintain and increase its excellence through stronger efforts to:
Recruit and retain ever more outstanding early-career bioengineering faculty

Attract more of the most talented, most promising bioengineering graduate students

Enhance undergraduate bioengineering student experiences, and workforce development efforts by creating new and upgraded hands-on instructional laboratories
Collectively, this funding will be critical for the department's efforts to bridge gaps between bioengineering research and clinical impacts that directly improve human health.
Bioengineering is the second department across all of UC San Diego to be named in recognition of philanthropic support. UC San Diego Health's Viterbi Family Department of Ophthalmology was the first named department.
Honoring Shu Chien
Shu Chien served as the founding chair of the Department of Bioengineering at UC San Diego in 1994. His research accomplishments include advances that underpin our understanding of how blood flow regulates the function of the cardiovascular system, which is directly relevant for understanding heart attacks and strokes, two of humanity's biggest killers. Chien's work helped to create an area of bioengineering called mechanobiology, which considers the effect of mechanical and physical forces on living tissues – such as the effects of the forces produced by blood flow on the endothelial cells that line blood vessels throughout the body. Chien is also well known for his incredible contributions as a mentor, a teacher and a service-focused administrator both on campus and within the many different research communities he belongs to.
In 2019, during a two-day celebration in honor of Shu Chien's retirement, hundreds of people traveled from around the world to celebrate Chien. The examples he gave over the years on how to be a better researcher – and a better person – clearly resonated with the hundreds of students, colleagues and collaborators the world over who view him as a deeply beloved mentor.
"In life, you like to be recognized. You like to help other people, and have other people help you," said Chien. Referring to his name being added to his beloved bioengineering department, Chien remarked: "It's unbelievable. I'm extremely grateful. It's marvelous to have my name associated with the department together with Gene."
Asked how he might like to be known by people who see his name as part of the department, Chien said, "I'd like people to think of me as a dedicated teacher and researcher. I want to bring the best out of my students and fellows whom I train, to make them better than me. As a professor, you just like to see that you can bring out the best in the people whom you train."
In terms of research, Chien is still engaged, forever focused on efforts that make use of new fundamental knowledge in order to improve human health.
Chien and his wife, Dr. K.C. Chien, were themselves recently recognized for their support of the Jacobs School of Engineering through a named, collaborative research laboratory in Franklin Antonio Hall, UC San Diego's newest engineering building.
UC San Diego Bioengineering
UC San Diego has been a leader in bioengineering since the 1960s, even before the term bioengineering was well known. The campus was one of the very first places in the world where engineers began to systematically use their technical expertise to study biological phenomena to both deepen basic understanding and to advance medicine. Our collective understanding of human health and disease has grown by leaps and bounds thanks to the creative and thoughtful application of engineering and computer science principles to biology and medicine.
"Our bioengineers are well known for their drive to collaborate with physicians and develop new and better ways to improve human lives through engineering. With this absolute focus on positive impact, it's fitting that bioengineering will be our first named department here at the Jacobs School of Engineering," said Albert P. Pisano, dean of the UC San Diego Jacobs School of Engineering. "Gene Lay's wonderfully generous gift, in honor of Shu Chien, will make us even more capable of delivering positive impacts to people's lives – the very thing that drives both Gene and Shu."
Chien joined the bioengineering program at UC San Diego in 1988, after forging his own path to connect physiology, medicine, math and engineering at Columbia University. Working with a small group of creative thinkers at UC San Diego, Chien founded the Department of Bioengineering, which grew to be one of the top in the nation and the world. Chien also created the UC San Diego Institute of Engineering in Medicine, which synergizes the research activities in engineering, science and medicine across the campus. In addition, he created the Bioengineering Institute of California that links the 10 University of California campuses together to collaborate on research and education in bioengineering. At the national level, Chien played a critical role in the establishment of the National Institute of Biomedical Imaging and Bioengineering in the U.S. National Institutes of Health (NIH).
"This transformational gift will enable us to invest in world-class infrastructure, to create new hands-on undergraduate laboratory experiences that build on our educational excellence, and to ensure that our amazing students are prepared to be the next generation of biotechnology industry leaders in our region and beyond. But that is just part of the story," said Adam J. Engler, bioengineering professor and chair at the UC San Diego Jacobs School of Engineering. "Gene Lay's generosity will also provide our students with more opportunities to participate in high-impact research teams led by our amazing bioengineering faculty. Our faculty's goals are to discover what it takes to cure disease, to preserve health, and understand the world around us. This gift is going to help our faculty, students and staff get there. Shu and Gene – from everyone here in bioengineering at UC San Diego – thank you for everything. We deeply appreciate you both."

Stay in the Know
Keep up with all the latest from UC San Diego. Subscribe to the newsletter today.