What are the Drivers of Chronic Infectious Disease?
A $1 million grant from the Steven & Alexandra Cohen Foundation will launch a UC San Diego-led national effort to more deeply study tissue samples from patients with conditions ranging from long COVID-19 and relapsed Lyme disease to chronic fatigue syndrome
By:
Media Contact:
Published Date
By:
Media Contact:
Share This:
Article Content
Researchers at the University of California San Diego have received a $1 million grant from the Steven & Alexandra Cohen Foundation to support a multi-method effort to deeply characterize the microbial, viral, immune and genetic characteristics of tissue samples collected from patients with an array of persistent, problematic conditions, from long COVID-19 and Lyme disease to myalgic encephalomyelitis/chronic fatigue syndrome (ME/CFS).
Dubbed the "Tissue Analysis Pipeline," researchers hope the findings could lead to improved tissue-based diagnostics for patients. The Steven & Alexandra Cohen Foundation is the largest private funder of Lyme and tick-borne disease research, which includes more than $88 million in grants.
"Infection-associated chronic conditions, including long or chronic Lyme disease, are a growing health crisis," said Alexandra Cohen, president of the Steven & Alexandra Cohen Foundation. "We are proud to support UC San Diego with this collaborative research grant. By working together, we can increase our impact and help patients living with these devastating diseases."
Infectious diseases are a historical scourge, and while some are now mitigated by vaccines and other treatments, many remain resistant to treatment or newly emerged.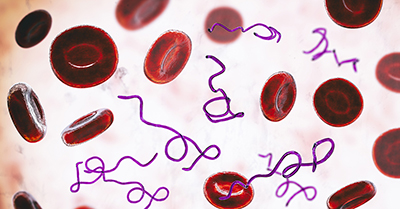 For example, more than 30,000 new cases of Lyme disease, which is caused by bacteria transmitted through the bite of an infected tick, occur each year. Early diagnosis and antibiotic treatment can be effective, but some patients report persistent symptoms and disease recurrence.
Long COVID, which was not recognized as a medical condition until the emergence of the SARS-CoV-2 virus and subsequent pandemic, involves the recurrence of symptoms, such as fatigue, respiratory difficulties and neurological changes. For some, these post-COVID conditions last weeks, months or years, possibly a lifetime, and may result in disability. It is estimated that 15% of adults in the U.S. who get COVID later report long COVID symptoms.
The Tissue Analysis Pipeline will be directed by scientists at UC San Diego and the J. Craig Venter Institute, with members from other institutions, including the Joint Genome Institute at Lawrence Berkeley National laboratory, the PolyBio Research Foundation, the Hormel Institute at University of Minnesota, Harvard Medical School and Mount Sinai South Nassau (NY).
Pipeline participants will collect tissue samples from clinicians and researchers working with patients afflicted with infection-associated chronic diseases, specifically Lyme, COVID, ME/CFS and Ehlers-Danlos syndrome, an group of inherited disorders that affect connective tissues, such as skin, joints and blood vessel walls, and can leave patients more vulnerable to chronic infections.
According to pipeline researchers, Richard Gallo, MD, PhD, Distinguished Professor of Dermatology and chair of the Department of Dermatology at UC San Diego School of Medicine and Christopher Dupont, PhD, professor of genomic medicine and synthetic biology at the J. Craig Venter Institute, the long-term vision is to develop methods that can be used to more deeply delve into tissue samples of patients with other chronic diseases that are tied to persistent pathogens or infectious processes, including currently understudied conditions like endometriosis and interstitial cystitis.

Stay in the Know
Keep up with all the latest from UC San Diego. Subscribe to the newsletter today.