Watching Loved One Go through Treatment Inspires Father to Become Nurse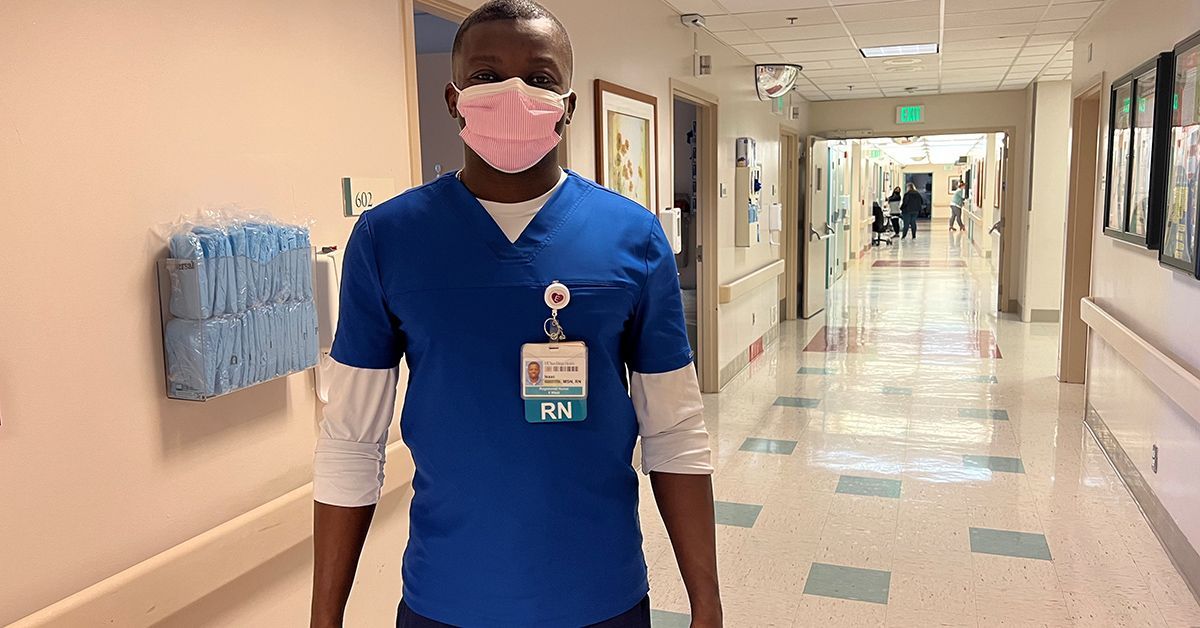 Published Date
By:
Topics:
Share This:
Article Content
Isaac Awolola has worn many hats. He's a husband and father, he holds a bachelor's degree in math with a master's degree in computer science, he was a Navy Corpsman with the United States Navy for eight years, he is a licensed vocational nurse, and now, he's a registered nurse with UC San Diego Health.
Awolola credits going to the hospital to visit his dad as the inspiration to join the medical field.
"Seeing how the hospital staff took such great care of my dad to make sure he healed is what originally sparked my interest in health care," said Awolola. "My first love was to become a doctor, but I've since realized bedside nursing is my true calling, because I get to build that relationship with each patient the way it happened for my dad."
A recent alum of the New Graduate Nurse Transition to Practice Program at UC San Diego Health, Awolola now works in the Medical/Surgical Telemedicine Unit at UC San Diego Medical Center in Hillcrest.
According to Awolola, the program truly set him up for success as a newly hired nurse at UC San Diego Health.
"While I'm already well-versed in the nursing skillset and scope, being partnered with an experienced mentor provided me with the guidance I needed to ensure I understood policies and processes already in place at this incredible institution," said Awolola.
"The program and mentorship ensured I was ready to provide the best possible care for patients."
Established in 2008, the New Graduate Nurse Transition to Practice Program at UC San Diego Health was the first of its kind in the region.
The program provides supported clinical learning, peer-to-peer engagement and an introduction to professional development resources, all with the overarching goal of providing the highest level of patient care.
In 2019, the New Graduate Nurse Transition to Practice Program at UC San Diego Health received accreditation with distinction by the American Nursing Credentialing Center's (ANCC) Practice Transition Accreditation Program. It was the first program in the region to earn the accreditation.
This year, the program was re-accredited with distinction by the ANCC.
"This program provides the infrastructure for us to develop best practices and high standards of care for our organization, which directly impacts our patients," said Heather Warlan, PhD, director of the New Graduate Transition to Practice Program at UC San Diego Health.
"The re-accreditation we've received demonstrates to the nursing community and the San Diego region at large that we are committed and invested in having the most comprehensive nurse training program possible."
The goals of the program include supporting new graduate nurses' life-long learning and professional development, ensuring new graduate satisfaction, validating critical thinking and clinical decision-making skills, and keeping new graduate nurse turnover rate below the national benchmark.
The six-month program is held three times a year, with each cohort including approximately 40 newly hired nurses.
Over the course of the training, participants benefit from classroom and virtual synchronous learning, hands-on training and mentorship opportunities. Nurses are able to voice their experiences openly in a nonjudgmental environment that facilitates peer support, leadership guidance and opportunities to develop evidence-based best practices and responses for navigating future issues.
To be re-accredited by the ANCC, the program had to demonstrate a strong commitment by nursing leadership to ensure consistent structures and processes are in place across sites and inpatient practice settings.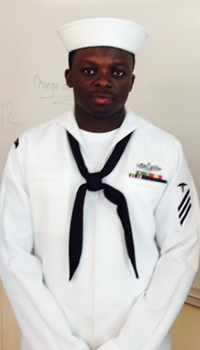 During the re-accreditation review process with the ANCC, clinical nurse specialists and educators at UC San Diego Health were recognized for their leadership and skills in developing, designing and evaluating robust orientation programs by specialty.
Warlan added that the New Graduate Nursing Program would not be as successful without the strong commitment of the program's nurse preceptors and their passion for the nursing industry as a whole.
"Our nurses lead the way in achieving clinical excellence as can be seen by our national rankings and accreditations, such as this recognition from the ANCC," said Margarita Baggett, RN, MSN, chief clinical officer at UC San Diego Health. "Each one of our nurses work together to bring purpose, meaning and joy to our work. I'm so proud to know them and work with them."
For Awolola, involvement in the program impacted his way of providing care and gave him a sense of comradery.
"Just like in the military, in nursing we're a team, and this program really exemplifies that," added Awolola.
"UC San Diego Health's vision of providing world-class medical care comes by doing things the right way, not taking shortcuts, following guidelines and keeping our patients safe. The New Graduate Nurse Transition to Practice Program upholds that mission every day."
Topics:
Share This:
Stay in the Know
Keep up with all the latest from UC San Diego. Subscribe to the newsletter today.