Washington Monthly Names UC San Diego the Nation's No. 1 Public University
Campus also ranked the 13th in the region for offering students the 'best bang for the buck'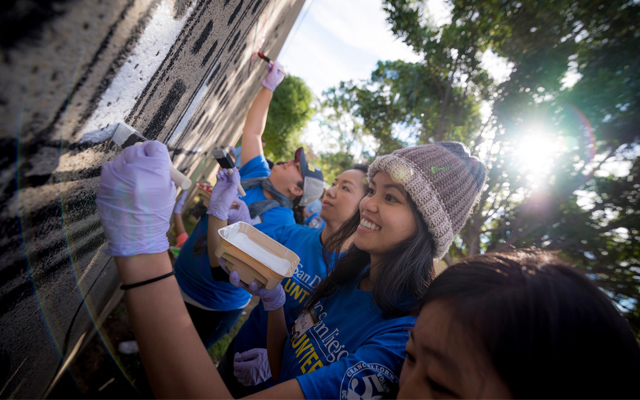 Published Date
Article Content
The University of California San Diego has been ranked the number one public university in the nation for serving the public interest for the seventh consecutive year by Washington Monthly. The magazine released its annual rankings today measuring social mobility (recruiting and graduating low-income students), research (preparing undergraduates for graduate school as well as discovering new technologies and creating ideas) and service (encouraging students to give back to their country).
Washington Monthly also rates colleges that are doing the best job of helping non-wealthy students attain marketable degrees at affordable prices. UC San Diego was listed as 13th in the Best Bang for the Buck Colleges in the West category.
"We are honored to be named the nation's number one public university for our contributions to the public good," said Chancellor Pradeep K. Khosla. "As one of the world's top research universities, UC San Diego is committed to educating next-generation leaders, spurring scientific discovery and economic growth, and providing college access and opportunity to a diverse population of students."
The methodology for the rankings differed slightly in 2016 compared to previous years, as Washington Monthly added new data elements in the social mobility category to measure the net college price for low income students, as well as the earnings performance of graduates 10 years after they enrolled in college. University of California colleges continued to dominate the list with five additional UC campuses listed in the top 20. Those campuses included UC Berkeley, UCLA, UC Davis, UC Riverside and UC Santa Barbara.
Social mobility
In addition to offering academic and research excellence, Washington Monthly praised UC San Diego for serving large numbers of students from low-income families. With an economically diverse student body, almost two-thirds of UC San Diego's undergraduates receive financial aid (including student and parent loans) and about 35 percent of its students are Pell grant recipients.
Among UC San Diego's initiatives that are designed to promote social mobility is the Chancellor's Associates Scholarship program. Established in 2013 by Chancellor Khosla, the program improves the pathway for students from historically underserved communities to achieve a higher education. When coupled with other forms of financial aid, the scholarship essentially covers all costs associated with a UC San Diego education including housing and books. Nearly 400 of the campus's current students are benefiting from the program.
Other organizations have lauded UC San Diego's efforts to enroll and graduate large numbers of low income students. Recently, the campus was ranked the country's No. 2 college in graduate success measures in a new report by the Washington, D.C.-based Third Way. The organization looked at UC San Diego's Pell students, graduation rates, post-college earnings, loan repayment rates and more — ranking the campus second out of 535 four-year public colleges and universities in the U.S.
Research
UC San Diego has continued to successfully produce undergraduate alumni who go on to receive doctorate degrees as well as faculty awards and research expenditures. In addition, UC San Diego's research funding has surpassed $1 billion four out of the last five years. The funding supports UC San Diego's groundbreaking discoveries, innovations and medical breakthroughs. From developing a temporary tattoo that can measure blood alcohol levels from sweat to prevent intoxicated drivers from getting behind the wheel, to studying how the brain's stopping system derails a train of thought, giving insight into Parkinson's disease, and designing an innovative new model to arrest pancreatic cancer growth, UC San Diego's cutting-edge research positively impacts the lives of millions around the world.
Service
UC San Diego students participate in service in a wide range of ways. There are 572 registered student organizations—with 88 organizations that have a primary focus on service. In 2015, a total of 18,723 students completed 3,380,247 hours of community service.
This year, 42 of the campus' student social innovators attended the Clinton Global Initiative University (CGI U). As part of the conference, students develop commitments to action—new, specific and measurable initiatives that address global challenges. At this year's conference, UC San Diego's students presented 18 commitments which ranged from supplying clean, easily accessible drinking water for a rural community in India to providing new and rapid HIV testing to meet the needs of high-risk populations along the U.S./Mexico border, among others. This was the highest number of students representing UC San Diego since the campus played host to CGI U in 2011.
From recognition as a top college by the Peace Corps to inclusion in the President's Community Service Honor Roll, UC San Diego's faculty, students and staff have been honored for its support of volunteering, service-learning and civic engagement.
The complete 2016 Washington Monthly college rankings and feature stories can be found here. Founded in 1969, Washington Monthly is a bimonthly nonprofit magazine covering politics, government, culture and the media. The College Guide rankings first appeared in the publication in 2005.
Stay in the Know
Keep up with all the latest from UC San Diego. Subscribe to the newsletter today.