Visual Arts Exhibitions Emphasize Building Community at UC San Diego and Beyond
Published Date
Article Content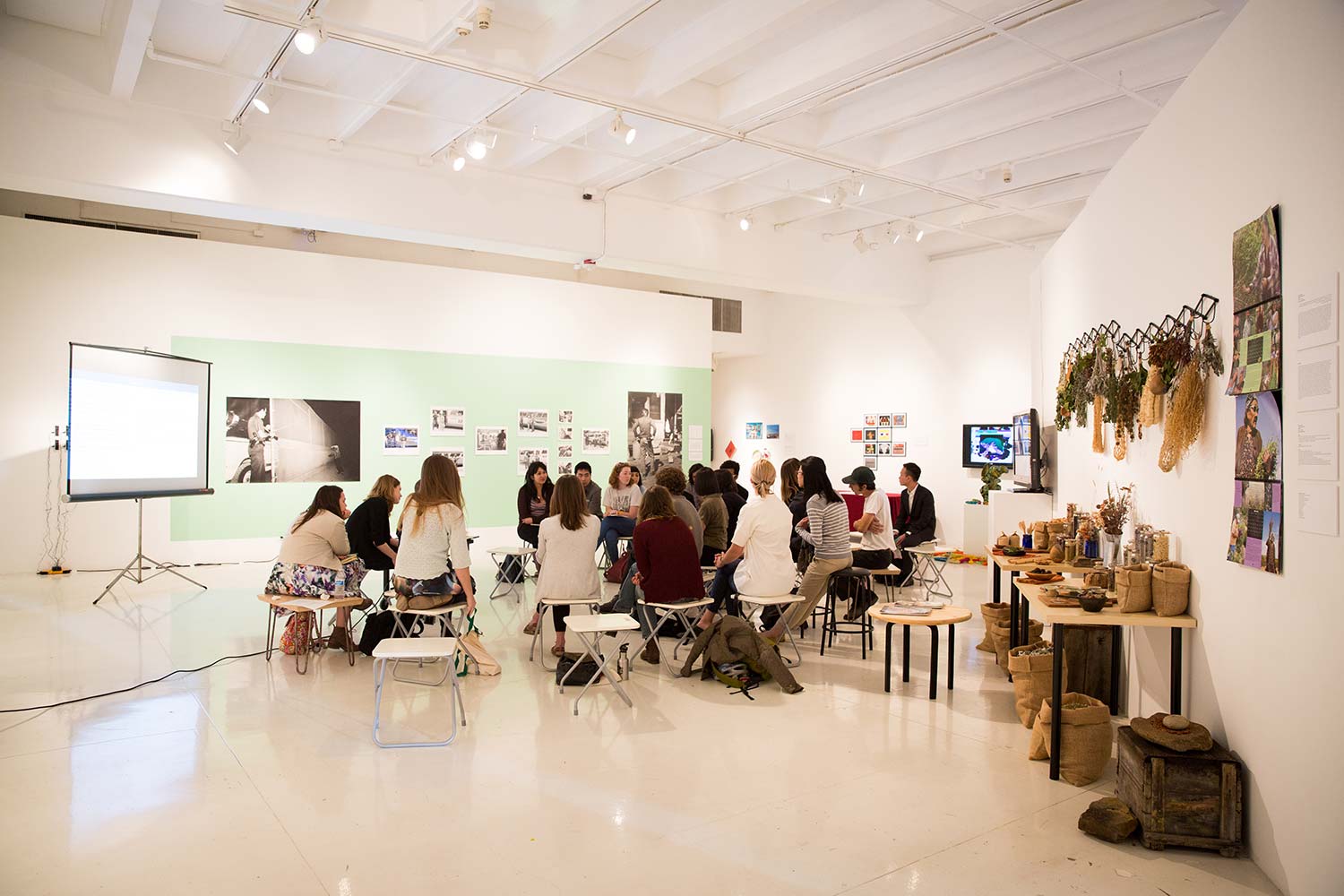 Hundreds of visitors recently helped usher in "Making Communities: Art and the Border," an exhibition that shines a light on immigrant communities as a source of creativity. During its opening, several UC San Diego artists participated in a speaking program addressing the recent rhetoric citing Mexico as a source of crime and economic decline. Curated by Ph.D. alumna Tatiana Sizonenko ('13), this third major exhibition in a series of programs celebrating the Department of Visual Arts' 50th anniversary—"VISUAL ARTS @ 50: ART INTO LIFE—is on view now through April 13 at three distinct campus locations: the University Art Gallery (UAG), the SME Visual Arts Gallery (SME) and the Cross Cultural Center galleries.
"The department has a long-standing history of collaboration and engagement with artists in Tijuana and in San Diego's Chicano community," notes Sizonenko. "'Making Communities: Art and the Border' gives visibility to the artistic practices of UC San Diego's faculty, emeritus faculty and alumni whose work is grounded in the immediate world of the border and who made extraordinary contributions in the field of contemporary art."
The exhibitions in UAG and SME feature 20 artists focusing on social issues ranging from immigration to labor inequality, with participating artists also imagining a more interconnected world. UC San Diego artists featured in the exhibition and who participated in the panel discussion include:
David Avalos
Cog•nate Collective
Collective Magpie
Alida Cervantes
Teddy Cruz
Electronic Disturbance Theater 2.0
Louis Hock
Las Comadres
Fred Lonidier
Yolanda López
Jean Lowe
Kim MacConnel
Victor Ochoa
Rubén Ortiz-Torres
Iana Quesnell
Allan Sekula
Elizabeth Sisco
Deborah Small
Perry Vasquez
Yvonne Venegas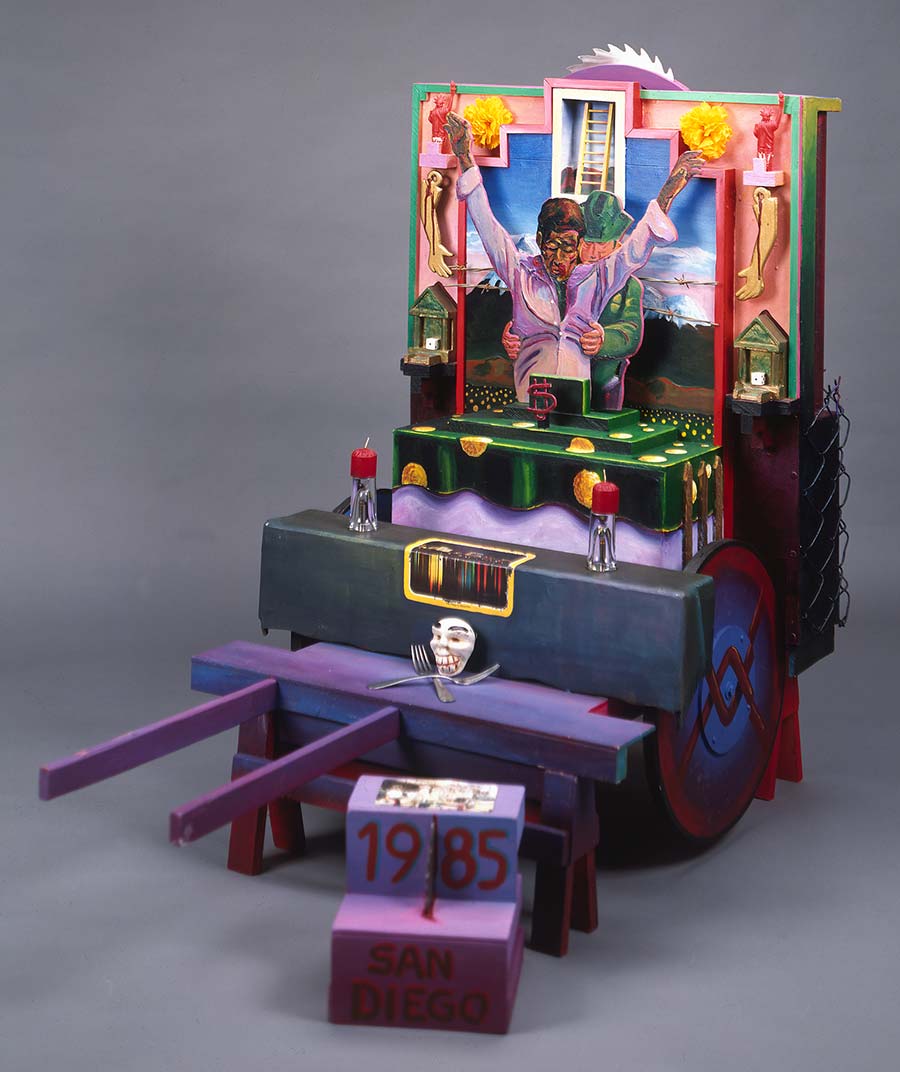 Activism threads throughout "Making Communities: Art and the Border," with López's lithograph "Who's the Illegal Alien, Pilgrim?" (1978) as the oldest work on display. The piece is installed across from Avalos's "Donkey Cart Altar" (1985), which evokes commentary on the treatment of immigrant laborers. Additionally, an appreciation of indigenous communities resonates through the exhibition. Small's installation, "The Ethnobotany Project" (2009-2017), incorporates plants, herbs, books and materials to bring awareness to cultural practices and the well-being of native or indigenous communities.
Complementing the exhibitions in the UAG and SME, Department of Visual Arts alumni and students are exhibiting artwork in the Cross Cultural Center galleries until March 31. Alida Cervantes (M.F.A,'13), Ash Eliza Smith (M.F.A,'13), undergraduate artists Kathy Garcia and Isabella Pulido have installed paintings, photography and video pieces that engage with the border as a physical reality, subject of imagination and site for social engagement and problem-solving.
As part of "Making Communities," the department will host a performance April 6 at 6 p.m. in the Visual Arts Presentation Lab, SME 149 followed by a roundtable at 7:30 p.m., on the second floor of the Visual Arts Facility.
First, Cog•nate Collective will present "Dialagesthai," a performative reading. "We recite anecdotes from growing up along [and] across the border—drawing on family stories and personal memories—alongside animated theoretical diagrams reflecting on social and economic dialectical constructs and relationships," notes the collective. Afterwards, Solaimani will moderate a dialogue with artists from Tijuana.
"The roundtable will act as a critical counterpoint to the multitude of gestures happening around border art in this moment, to rethink and question the impulse of reactionary border art shows," explains Solaimani.
"Making Communities: Art and the Border" is supported in part by a Climate Grant from the Office of the Vice Chancellor for Equity, Diversity and Inclusion. Any views or opinions expressed in this program are solely those of the speakers or organizers, and do not necessarily represent those of the Office of the Vice Chancellor. The exhibitions are also supported by the University of California Institute for Mexico and the United States, the Institute for Arts and Humanities, the Chicana/o Latina/o Arts and Humanities Program (CLAH), and the Department of Ethnic Studies. For more information about "Making Communities: Art and the Border" visit the University Art Gallery.
UC San Diego's Department of Visual Arts is ranked 13th in the nation for fine arts, according to U.S. News & World Report, with high-ranking specialties in multimedia and sculpture. The Division of Arts and Humanities jumped 10 points to #23, according to U.S. News and World Report's 2017 Best Global Universities rankings.
Stay in the Know
Keep up with all the latest from UC San Diego. Subscribe to the newsletter today.