Venturing 'Into the Woods' with Muir Musical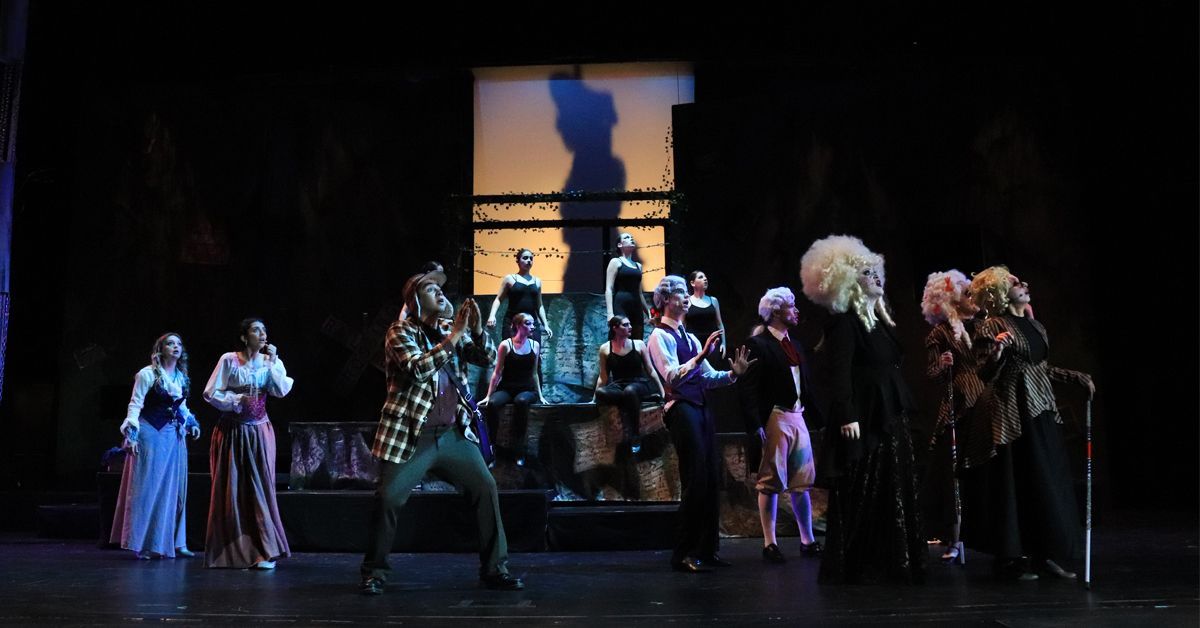 By:
Media Contact:
Published Date
By:
Media Contact:
Share This:
Article Content
One early April afternoon, first-year UC San Diego theatre and music students Nikki Yar and Garrett Lee rehearse a frantic, romantically charged tumble down stage that leaves everyone out of breath and red in the face. As two of the cast members of Muir Musical's Into the Woods production, Yar and Lee play two morally ambiguous characters in a show that questions what's right and what's wrong in a world where nothing is absolute.
Every year, the Muir Musical Ensemble puts on a fully student-produced musical; this year, they chose the epic adventure, Into the Woods, which ran from April 8 through April 15. Established in 1991 by Muir student Orren Webber, the ensemble aims to provide students who are not necessarily theatre majors with the opportunity to be a part of a Broadway-scale production.
"We are the only musical theatre company on campus," said director and fourth-year theatre and communication student Molly Lasher, noting that the university's Theatre and Dance department has focused mainly on plays during her time on campus, not musicals. "Musical theatre is such a good outlet for emotions—we want to provide that for as many students as we can and do so in a way that's accessible."
This year, we had the chance to grab a behind-the-scenes look at how the popular show came together.
Taking on Into the Woods was no small challenge. A classic musical by Stephen Sondheim and James Lapine that premiered at San Diego's Old Globe in 1987, the story braids together the journeys of several Brothers Grimm characters (Cinderella, Little Red Riding Hood, and Jack of "Jack and the Beanstalk," among others) with that of the childless Baker and his wife. They all pursue their desires and, as you can imagine, anything can–and will–happen. Our motley collection of characters soon find that what they've been wishing for might not be what they want and their "happily-ever-afters" might not be so happy after all.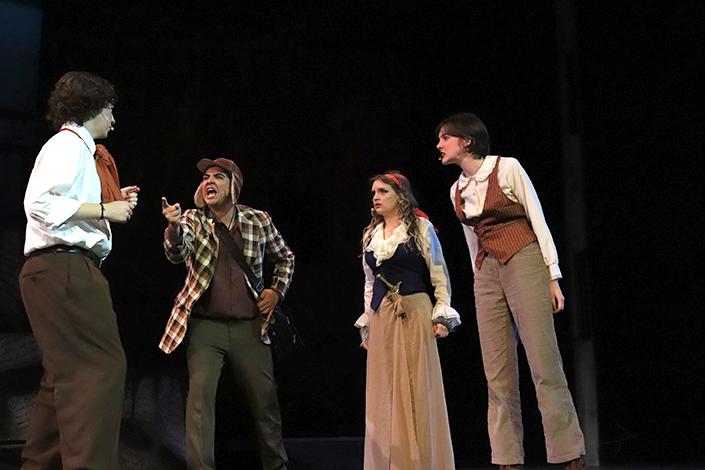 The show cloaks themes of grief, infidelity, revenge, disillusionment and loss of innocence under a scarlet cape, wrapping them in upbeat yet ambivalent songs and Sondheim's characteristic wordplay. Clocking in at just under three hours with a complex score and a myriad of characters, Into the Woods is a large undertaking even for a professional director. Still, for Lasher, Into the Woods was a clear choice for her last production with Muir Musical.
"When I first started working on Into the Woods last August, the show was on Broadway and was catching a lot of steam in the wake of Sondheim's death," Lasher explained, adding that she wanted to honor Sondheim's legacy. And, the Broadway production's commercial success reaffirmed her decision to choose Into the Woods. "Plus, I wanted to direct an ensemble show that really emphasizes community and showcases the level of talent in our entirely undergraduate cast, crew, and orchestra."
That kind of comradery between people from all walks of life and different backgrounds is truly at the heart of Muir Musical. What many from the cast and crew found most valuable about being a part of Into the Woods are the deep friendships and connections made between the cast, crew and orchestra. Between 11 weeks with rehearsals at least four days a week and script built around intense relationships, the community quickly became tight-knit.
"We're all busy, but we have so much trust in who we work with that we're able to juggle everything we need to do and delegate tasks," said production stage manager and human biology major Nathan Coligado. Coligado explained that 12-hour rehearsal days during tech week gave plenty of time to get to know people very well and knit tight bonds. Lasher seconded Coligado's remarks, adding half-jokingly that she would bet there have been more married couples who have met in Muir Musical than from any other organization on campus.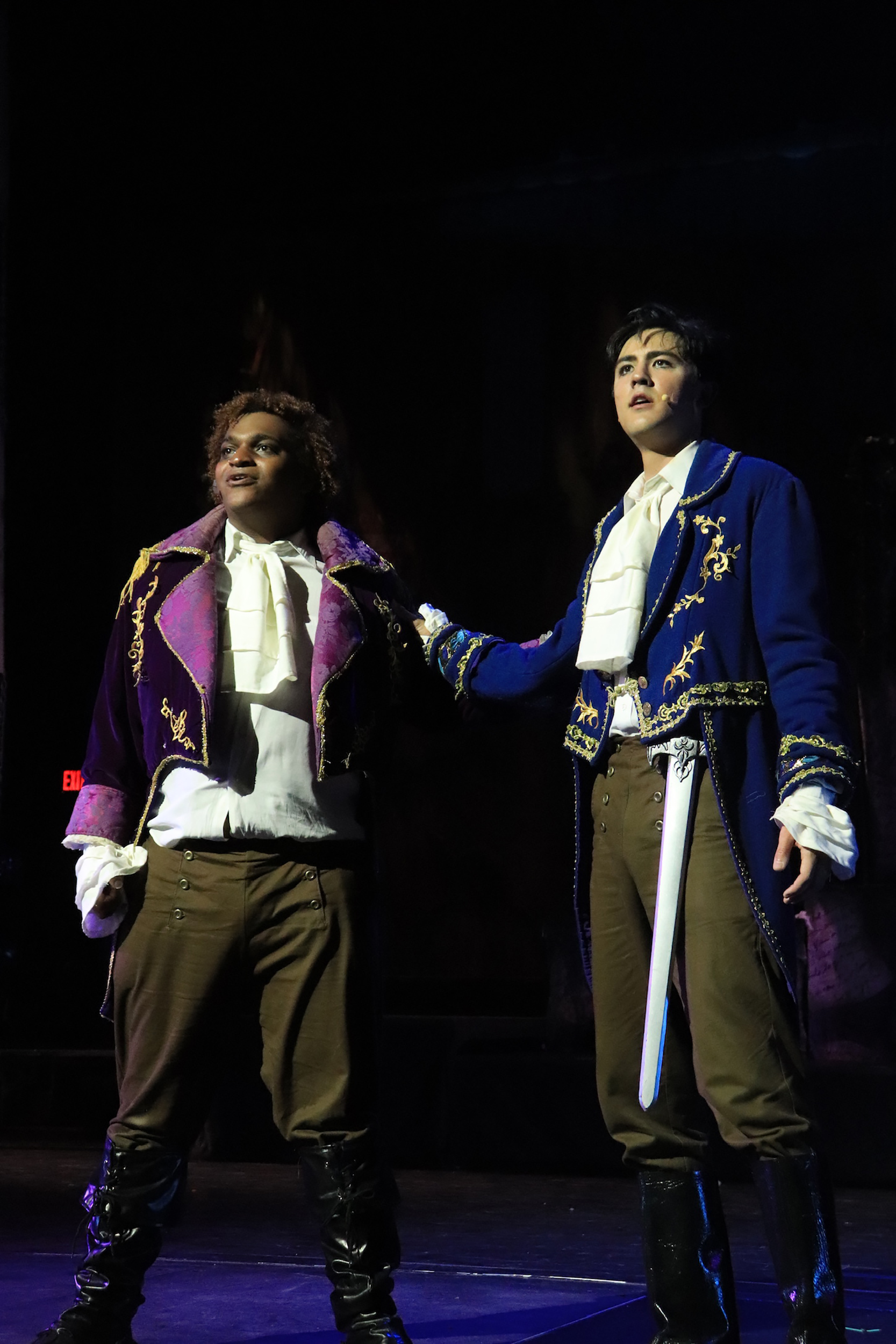 "I've made so many friends here and I was really drawn to the community aspect," said Emma Price, a second-year music major who played Rapunzel. "There's always someone goofing off to make us laugh—especially Garrett [Lee] who always cracks us up, even on more stressful days."
Throughout its week-long run, Into the Woods drew many full houses—and many standing ovations. Enthusiastic audiences of students, staff, faculty and community members brought down the house, showering the cast, crew and orchestra with vigorous applause.
"I particularly enjoyed the dancers and choreography," said second-year urban studies and planning student Daniel Sjoholm after seeing the show, which was choreographed by second-year biology major Jessica Ragsac. "They were incorporated very well into the story and helped set the mood of the show. I loved all of the actors' singing, but I specifically enjoyed Jack [Adam Oberman]'s vocal range and clear voice."
At the end of the day, what kept the cast, crew and orchestra coming back despite long days and intense production schedules were the people they got to work with.
"Muir Musical really draws people who love what they do and give 100% to meet our shared goal of putting on the best show we can," said Coligado. "Everyone is truly, truly awesome."
Stay in the Know
Keep up with all the latest from UC San Diego. Subscribe to the newsletter today.