Using Ancient Texts to Foster Compassion and Empathy Today
UC San Diego's Humanities Program and Center for Hellenic Studies bring 'The Suppliants Project' to campus for a strong community dialogue on immigration and refugees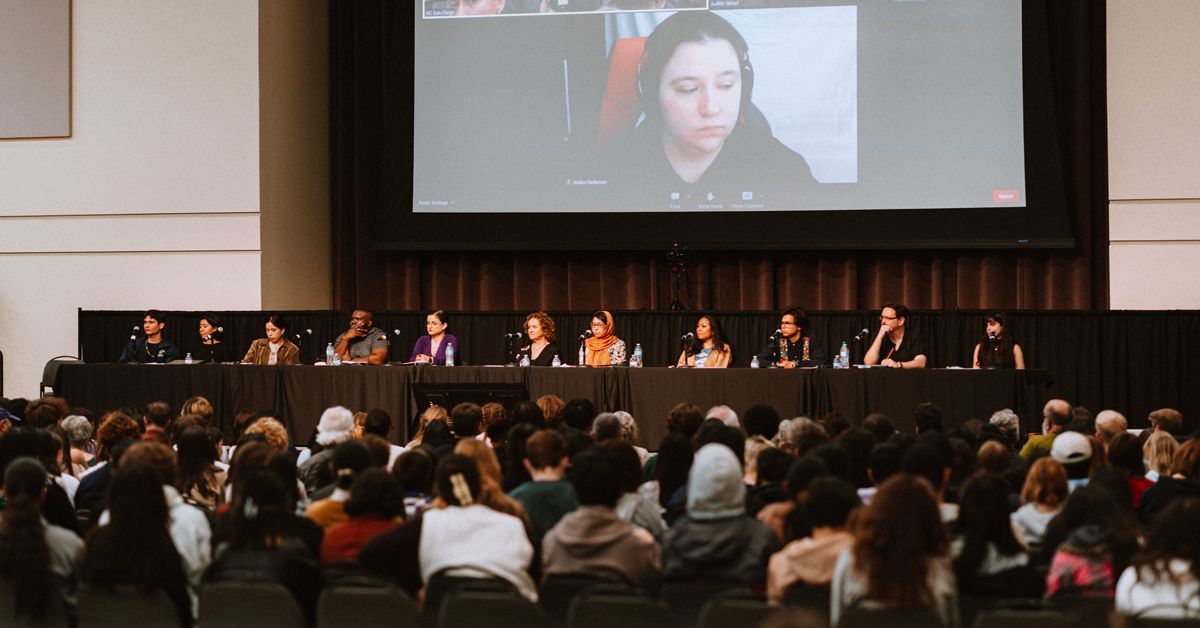 By:
Media Contact:
Published Date
By:
Media Contact:
Topics:
Share This:
Article Content
On stage, a chorus of seven voices meld together, crying out and praying for safe haven. This group of refugees fleeing their homeland due to forced marriage and domestic violence arrived at the border of Argos after a treacherous sea journey. They are the suppliants, and the key voices of "The Suppliants Project" at UC San Diego.
On Feb. 28, the Revelle College Humanities Program and the Center for Hellenic Studies brought Theater of War Productions to campus, presenting a dramatic reading of Aeschylus' ancient play "The Suppliants," along with a post-performance discussion aimed at creating dialogue around war, migration and asylum seeking.
"The Suppliants" takes place in the fifth century B.C.E. and follows 50 refugees pleading with King Pelasgus for asylum. But why use a 2,500-year-old play as a catalyst for discussions centered on the contemporary immigrant experience, refugees and gender-based violence against women? Bryan Doerries, artistic director and co-founder of Theater of War Productions, said there are an "infinite number of interpretations" in every work.
Theater of War performances utilize a number of seminal plays to explore the social issues and poignant themes highlighted in the works, aiming to dismantle stigma and engender compassion and empathy through shared experiences. They partner with professionals — seasoned actors Alfred Molina and Tate Donovan performed for the UC San Diego production — and community members to co-create and situate each production in a local context.
Contemporary cast, contemporary issues
"We worked to find cast members both from the university and the broader San Diego community to perform alongside the actors," said Denise Demetriou, professor in the Department of History and co-director of the Center for Hellenic Studies. Demetriou first found Theater of War Productions while teaching remotely; other ancient texts used to discuss contemporary issues include "Oedipus the King" and "Antigone" by Sophocles, and "The Bacchae" by Euripides.
"There's an immediacy and intimacy that a performance brings that isn't necessarily present or obvious in just reading texts," Demetriou said. "I was moved to see the students' responses and their ability to be vulnerable in the service of having a healing conversation about the challenges they face today as young people."
In addition to Molina and Donovan, the live cast included Marysol Gomez, a teacher in San Ysidro; Césaire (Ze) Carroll-Dominguez, a first-generation high school student, artist and activist; Marzia Khalil, an Afghan refugee and visiting scholar at Scripps Institution of Oceanography; Liam McKee, a Ph.D. student in History; Amira Noeuv, an Ethnic Studies graduate student; Sarab Aziz, staff member in the Department of History; Shane Prince, a graduate student in Latin American Studies; and Hela Khalil, a first-year undergraduate studying political science.
"I have a fear of public speaking, but I challenged myself to be part of the event," said Aziz, who is proud of her Syrian background and eager to share her experience. "I knew that it was going to be talking about immigrants and refugees. As an immigrant who migrated about 20 years ago to the United States and became part of the UC San Diego campus and San Diego community, the content drew me to say yes to the event."
Hundreds of community members and virtual attendees from around the world attended "The Suppliants Project" at UC San Diego. As one of the world's largest binational metropolitan areas, the San Diego-Tijuana region sees over 50 million people cross the border annually. Borders, migration and asylum-seeking are often at the forefront of many San Diegan minds. When attendees saw these themes reflected in an ancient play, many were compelled to speak out and share their stories.
One student spoke about how, like the suppliants, they experienced parental guidance and pressure about the "right" ways to act as an immigrant. Prince, a cast member, explained how the immigrant experience includes a need to "be the best," just to be considered good enough by others. Cognitive Science major Keshav Tiwari, quoting the poet and author Ocean Vuong, explained that "the cruelest walls are made of glass" for those feeling like they're always on the outside looking in.
"Being able to share my story with my community and represent who and what I am was the most valuable part of the experience for me," Aziz said. "I always felt as an immigrant that I had to explain myself and justify, 'Why do I sound like that? Why do I look like that? Why do I speak like that?' This gave me an opportunity to be open about who I am, to share my experience and to be vulnerable."
A cross-campus collaboration
Bringing Theater of War Productions to UC San Diego is part of multiple efforts across campus to plan and host events that connect the humanities to student life beyond academics. Antony Lyon, director of Revelle College's Humanities Program, explained that while there have been several high-profile poetry readings — Pulitzer Prize winner Jericho Brown, current U.S. Poet Laureate Ada Limón, and Guggenheim fellow Matthew Zapruder — the interactive theatrical performance and conversation was new.
"We've been amazed by the cross-campus collaborative partnerships," Lyon said, explaining that the event itself is very much ingrained in the program's curriculum, connecting students with texts that can seem the farthest from their temporal, cultural and personal experience of the world. Approximately 1,000 students were assigned "The Suppliants" in HUM 1 this year, he said.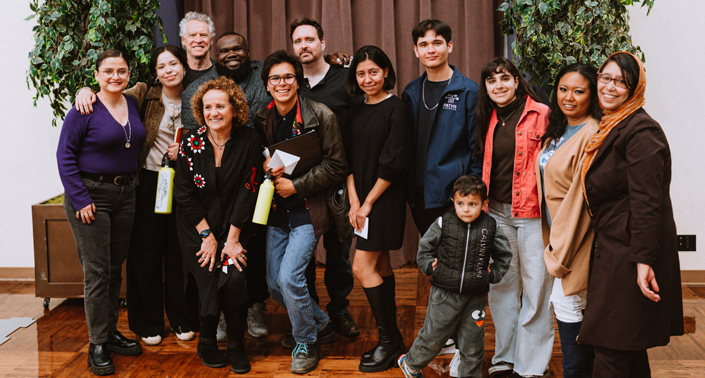 In addition to the Humanities Program and Center for Hellenic Studies, the Feb. 28 event was sponsored by the Chicanx and Latinx Studies Program and the UC San Diego Parents Fund. "The event received support from so many entities on campus because Theater of War weaves art and community together in such a powerful way," Lyon said.
Cross-campus support came from a number of entities: the Institute of Arts and Humanities and its Classical Studies and Middle East Studies programs, the School of Arts and Humanities and Department of History, the Office of Equity, Diversity and Inclusion, Eleanor Roosevelt College and Making of the Modern World, Latin American Studies Program, the Gerry and Jeannie Ranglas Endowed Chair in Ancient Greek History held by Demetriou, and the Endowed Chair in Ancient Jewish Civilizations, held by Mira Balberg. External support came from the Society for Classical Studies.
Aziz said it was wonderful to see the strong diversity across campus supporters.
"I would love to see opportunities in our campus community to share our own stories, to come together and to talk to each other on a personal, human level," she said. "We all need that."
Topics:
Share This:
Stay in the Know
Keep up with all the latest from UC San Diego. Subscribe to the newsletter today.