Published Date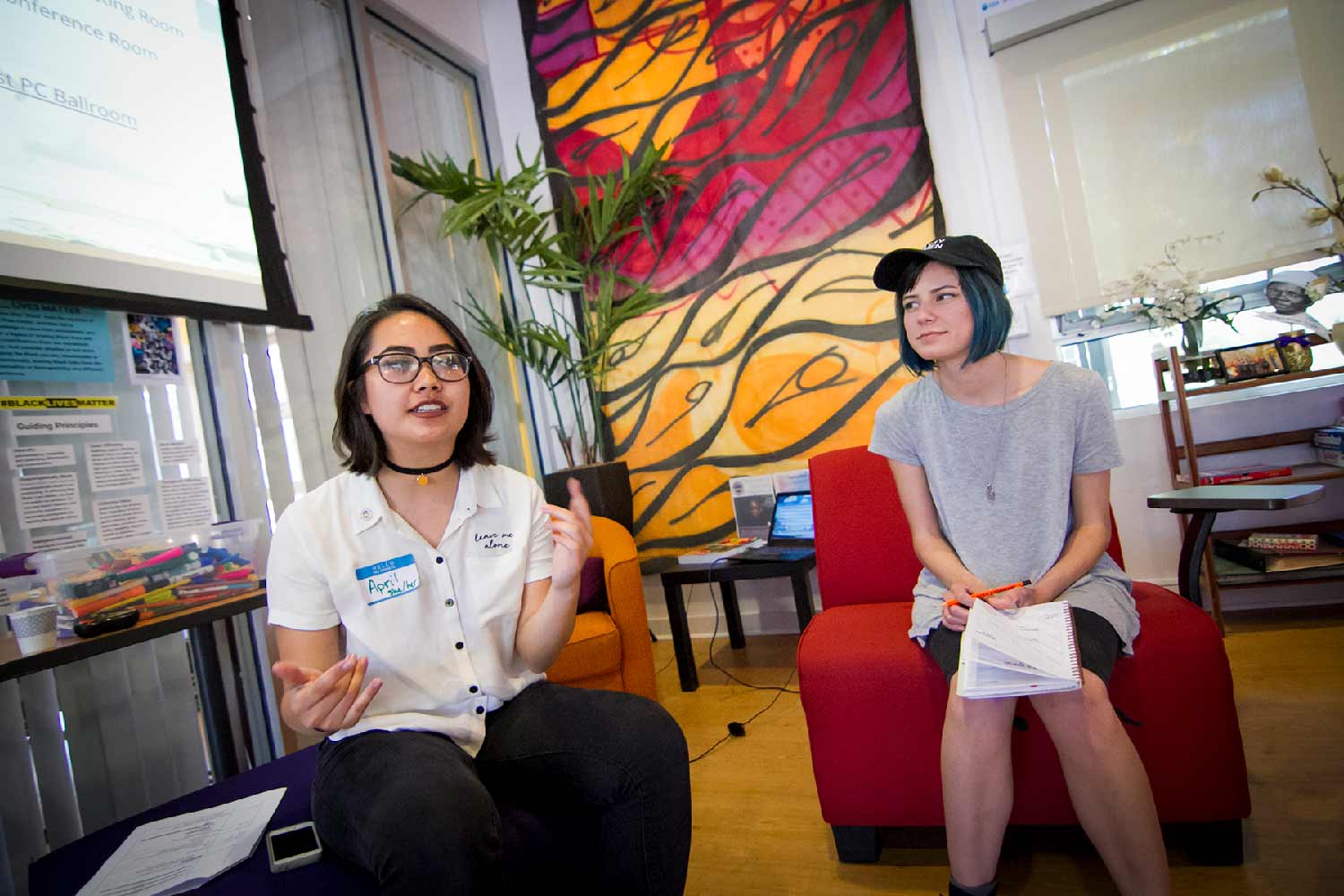 UC San Diego's Women's Center Celebrates 20 Years
Feminist activist and mediamaker Jamia Wilson to speak May 11 on 'The Future of Feminism' to commemorate anniversary
Being a woman can mean many things. That's what Maria Elena Hewett discovered when she became one of the first student staff members of the UC San Diego Women's Center in 1998. During her tenure, she met and was inspired by women who were in arranged marriages; single moms; women who were not born female; and those who embraced femininity as a form of activism. The experience taught Hewett about herself, what it means to be a Latina woman, and how to see the world through a critical lens.
"I now embrace my culture, question the dominant narrative and find my own version of what it means to be a woman, a feminist, a person of color, a human," explained Hewett, who graduated in 2003 with a dual degree in Critical Gender Studies and Visual Arts with an emphasis in Media.
This year, the UC San Diego Women's Center celebrates its 20th anniversary. As part of a yearlong series to commemorate the occasion, the campus community is invited to a keynote talk featuring feminist activist and mediamaker Jamia Wilson at 5 p.m. on May 11 at Price Center West Ballroom. Her talk, "The Future of Feminism," is free and open to the campus and local community.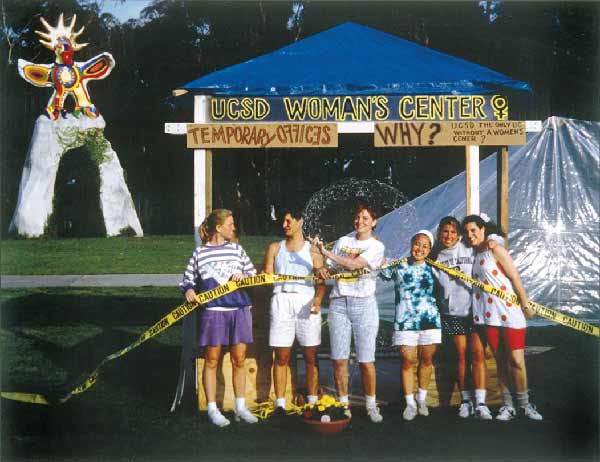 Established in fall 1996, the Women's Center is one of six Campus Community Centers led by the Office of the Vice Chancellor for Equity, Diversity and Inclusion. Located near Mandeville Center, the Women's Center features a library with more than 3,000 titles; a community kitchen and meeting space for campus organizations; a private lactation room and baby changing stations; as well as a single occupancy gender-neutral restroom with a shower. Some of the many programs offered include STEMtorship Network, STEM Café, Black Women's Collective, and the VOICES Leadership Program.
"The Women's Center serves as a resource for the entire campus community while centering the diverse experiences of women and other gender marginalized people," explained Women's Center Director Marnie Brookolo. "The center is a home away from home for many; a place to find community, experience a sense of belonging, and learn about oneself and the world. Through connecting with community members with similar and different experiences, those who engage with the center have the opportunity to develop both personally and professionally."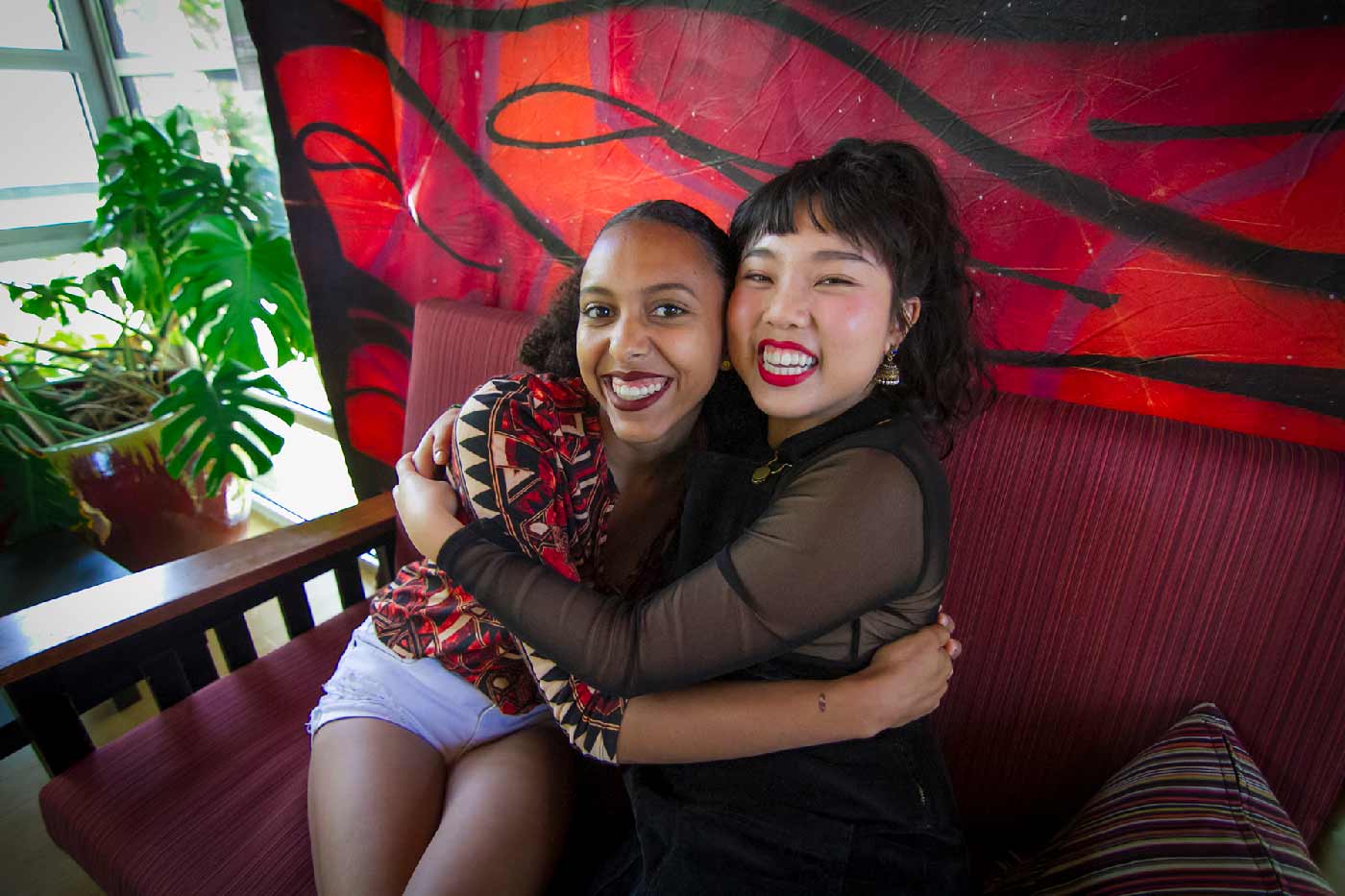 For Dominique Strickland, a UC San Diego junior and Women's Center intern, the center serves many purposes, from a place to connect and express her voice to discovering social justice and feminism theories and developing leadership skills as an intern. "My favorite part of the Women's Center is the feeling of calmness and community when you walk in; I never feel like an outsider. It is more than just a resource center; it is a place for knowledge, friendship, community or just studying. So many powerful people find space here, and I think those interactions are invaluable."
What is now a thriving hub for education and community building was once just the dream of student, staff and faculty advocates. Before the Women's Center existed, a small student-run collective provided resources, sponsored events and offered a meeting space for women students on campus. Called the Women's Resource Center, the organization began in 1972 and had no permanent staff or regular budget. In the early 1990s, students, staff and faculty began actively advocating for the creation of a university-funded Women's Center. At the time, UC San Diego was the only campus in the UC system that lacked one.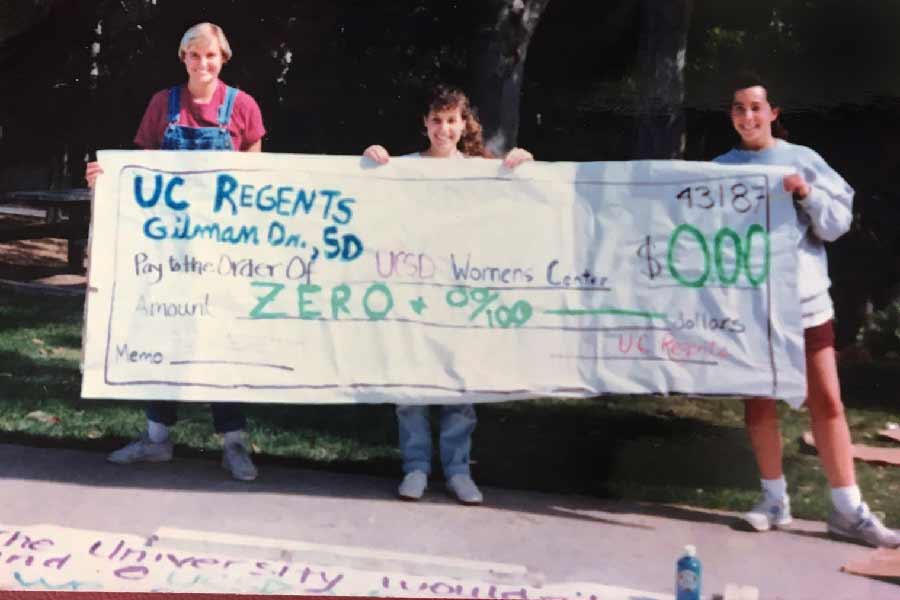 "We heard that the university was throwing a big event for alumni so we built a large 'invisible' Women's Center tent made out of plastic on the Sun God lawn with a huge sign that said 'Why is UCSD the only Campus without a Funded Women's Center?' recalled Molly McKay Williams, who graduated in 1992 with a dual degree in Women's Studies and Communications. "We camped out that night and invited the alumni to come sit with us in a huge circle and listen to all the young women share about why we needed such a center."
In 1991, the Women's Resource Center and the Chancellor's Advisory Committee on the Status of Women submitted a formal proposal to Chancellor Richard Atkinson citing the ways the center would enrich the recruitment and retention of women faculty, staff and students. The Women's Center was approved in 1995, coinciding with the approval of an undergraduate major in Women's Studies just three years earlier.
For students like Jessica Geipel, the Women's Center can be a place of refuge during a vulnerable time. As a student parent, Geipel would sometimes bring her daughter to school when childcare fell through. It was by becoming involved in the center and the student parent support group that made a meaningful difference in her academic success. Plus, the center offered kid-friendly resources like Legos, coloring books and snacks.
"I was very young and felt lost and overwhelmed, being a nontraditional college student" explained Geipel. "At the time, the Women's Center was the only place I found that was welcoming to children and supportive of student parents. I felt validated, like I mattered. I will always be grateful for the staff who, through words and actions, showed they cared about me and other underrepresented students."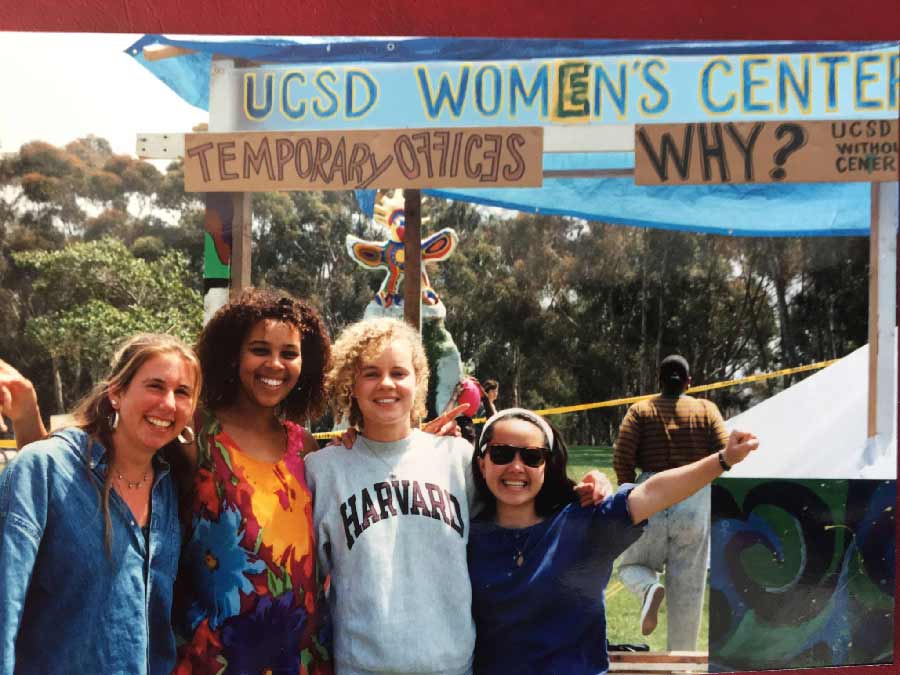 Geipel graduated in 2000 with a degree in Critical Gender Studies and soon after began working for the Women's Center. Today, she is the Operations and Program Coordinator, managing the center operations and facility, coordinating staff programs and supervising student interns. Each year, eight student interns coordinate and implement peer-education workshops and community outreach programs focused on gender and social justice issues. The internship program is a hands-on opportunity for undergraduates to develop leadership and communication skills, initiate individual Gender Action Projects and better understand and increase campus awareness of issues surrounding gender and social justice issues.
"I have gained and refined so many practical leadership skills like facilitation, program planning, working in a team, creative thinking and time management," said Strickland, currently a Social Justice and Peer Education Programming Intern. "Yet the experience and privilege I have to work with and learn from such a beautiful group of individuals who are so extremely supportive is something that I value above all of the wonderful professional skills I have gained."
For more information about the UC San Diego Women's Center and Wilson's upcoming talk on May 11, visit women.ucsd.edu.
Stay in the Know
Keep up with all the latest from UC San Diego. Subscribe to the newsletter today.