UC San Diego's Birthday Party for Dr. Seuss to be Held March 1
Published Date
Article Content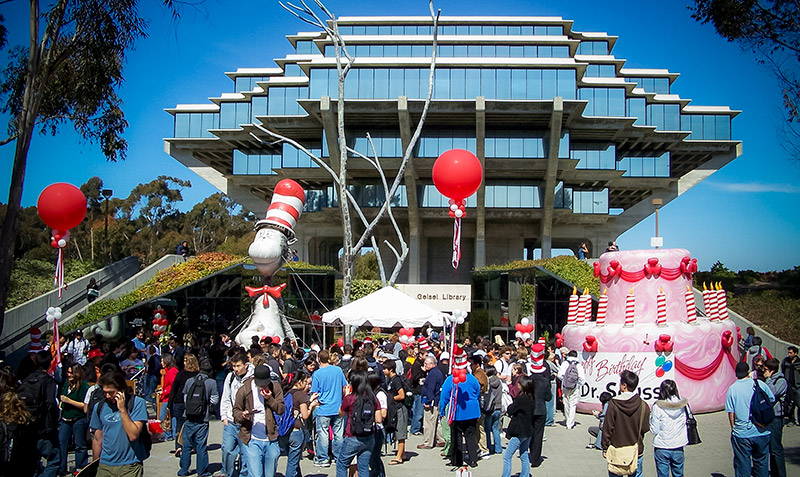 The University of California, San Diego will be putting on its annual birthday celebration on Friday, March 1, for one of the world's most beloved authors, Theodor Seuss Geisel, also known as Dr. Seuss. The party, which is open to Dr. Seuss fans both on and off campus, will be held at 11:50 a.m., March 1, at the foot of Library Walk in front of Geisel Library, named in 1995 for Theodor Geisel and his wife, Audrey, major supporters of the UC San Diego Library and the University.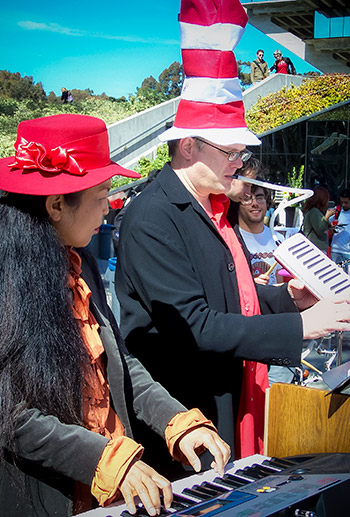 The party, which marks Dr. Seuss's 109th birthday anniversary, will feature a giant inflatable Cat in the Hat, as well as free punch and cake. It is estimated that some 2,000 pieces of cake will be served to mark the occasion. UC San Diego Chancellor Pradeep Khosla and The Audrey Geisel University Librarian, Brian E.C. Schottlaender, will be on hand to pass out pieces of cake and greet attendees. Musical entertainment will be provided by The Teeny Tiny Pit Orchestra, directed by the Library's Scott Paulson, which will be playing songs from The Cat in the Hat Songbook.
In addition to the birthday party, an exhibit of materials from the Mandeville Special Collections Library's Dr. Seuss Collection are currently on view through March 18 in Geisel Library.
UC San Diego's Mandeville Special Collections Library is the world's main repository for the original works of Dr. Seuss. The approximately 10,000 items in the Dr. Seuss collection, which includes original drawings, manuscript drafts, books, notebooks, photographs and memorabilia, document the full range of Theodor Seuss Geisel's creative achievements, beginning in 1919 with his high school activities and ending with his death in 1991.
The UC San Diego Library received Geisel's collection of drawings, notebooks and other memorabilia following Theodor Geisel's death in 1991, and four years later Audrey Geisel made a substantial donation to support the university's libraries. In 2008, Audrey Geisel made a $1 million gift to the Library to establish San Diego's first university librarianship, held by Schottlaender.
About the UC San Diego Library
Ranked among the nation's top 25 public academic research libraries, the UC San Diego Library plays an integral role in advancing and supporting the university's research, teaching, and public service missions. As the intellectual heart of the UC San Diego campus, the Library provides access to more than 7 million digital and print volumes, journals, and multimedia materials to meet the knowledge and information needs of faculty, students, and members of the public. Each day, the Library's vast resources are accessed nearly 90,000 times through the Library's main Web site. For more information: http://libraries.ucsd.edu/
Stay in the Know
Keep up with all the latest from UC San Diego. Subscribe to the newsletter today.