UC San Diego Welcomes Author George R.R. Martin in Support of Clarion Workshop
Published Date
Article Content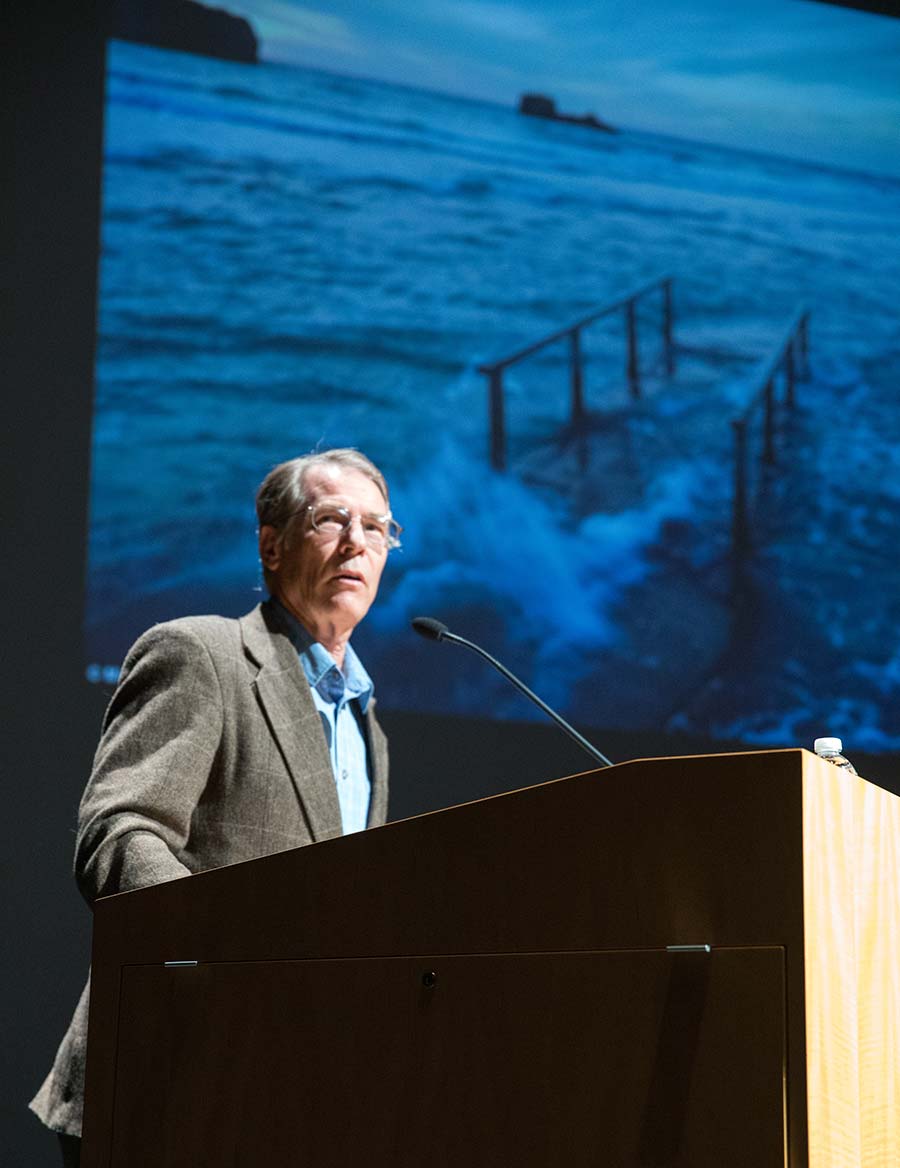 George R. R. Martin, author of the series "A Song of Ice and Fire," adapted on HBO as "Game of Thrones," will visit the University of California San Diego May 1 and 2 to help raise funds for the Clarion Science Fiction and Fantasy Writers' Workshop. Martin is a former instructor for the oldest science fiction and fantasy writing program, which resides within the Arthur C. Clarke Center for Human Imagination. Considered the most prominent fantasy writer since J.R.R. Tolkien, Martin will engage in conversation about the craft of writing science fiction and fantasy with Kim Stanley Robinson, an esteemed science fiction writer and a UC San Diego Department of Literature alumnus. Their public discussion takes place Tuesday, May 2, 7 p.m., in the Price Center West Ballroom. Tickets are already sold out.
"We are all very excited about Mr. Martin's visit," said Division of Arts and Humanities Dean Cristina Della Coletta, "We are proud to claim Mr. Robinson as one of our top-ranked Department of Literature graduates. Mr. Robinson's imaginative thrust goes hand-in-hand with his commitment to environmental, economic and social concerns, and we look forward to an enlightening conversation."
The Martin-Robinson conversation supports Clarion Workshop programs, including scholarships that assist students who would otherwise be unable to participate. This year, the intensive six-week summer workshop runs June 25 through August 5.
Robinson, who was instrumental in bringing Clarion to the university in 2007, is a graduate and former instructor of the workshop. He has won several prestigious awards for his writing and has been called "our greatest political novelist" by the New Yorker, and "Hero of the Environment" by Time Magazine. His novel "2312" was a New York Times bestseller in 2012.
"I was educated by UC San Diego's literature department and it was a tremendous experience that gave me my values for everything that has happened to me since," said Robinson. "I also attended Clarion, and so it was a real pleasure to see UC San Diego give Clarion a home 10 years ago. Now, as part of the Clarke Center, it's one of the crucial points where the arts meet the sciences at UC San Diego."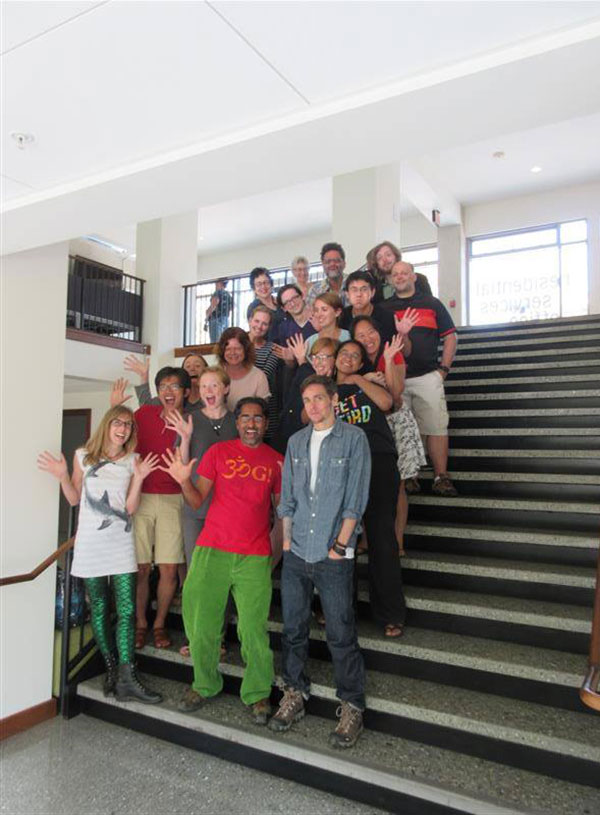 Shelley Streeby, professor of literature and ethnic studies and faculty director of Clarion, notes that through the workshop, students can expect to learn the craft of writing from the superstars of the science fiction and fantasy world. "With the help of their instructors, they also create a writing community that, for most, persists long after they leave UC San Diego," said Streeby. "This combination of craft, community and intense creative activity makes Clarion unique and is one of the reasons it is the oldest and most prestigious workshop of its kind in the world."
Sheldon Brown, director of the Clarke Center and professor in the UC San Diego Department of Visual Arts, explains, "The works of science fiction and fantasy demonstrate how extensive our human imagination is. Being able to work with the teachers and students of the Clarion Workshop is of tremendous value to the Clarke Center's mission of creating a deep understanding of the phenomena of imagination."
Each year, Clarion selects 18 students from hundreds of applicants who have the potential for successful writing careers and who submit writing samples with their applications. Participants from around the world attend and represent a wide variety of backgrounds and diversity of experience.
During each week of the first four weeks of the program, a different professional writer or editor conducts the workshop. The last two weeks are run by a two-writer anchor team. To foster group bonding and the "Clarion Experience," workshop participants must live in campus apartments and attend classes in seminar facilities. Mornings are devoted to critiquing manuscripts in a workshop setting. Afternoons, evenings and weekends are devoted to individual writing, conferences with the current writer-in-residence, social activities and the completion of class assignments. Resident-writers live nearby and are continuously available to students. The 2017 writers-in-residence include: Dan Chaon, Lynda Barry, Nalo Hopkinson, Andrea Hairston, Cory Doctorow, C.C. Finlay and Rae Carson.
According to the Clarke Center, UC San Diego has produced more of today's notable science fiction authors than any other university in the world—among them Robinson and David Brin, a scientist, speaker, technical consultant and world-known author who helped establish the Clarke Center, as well as Gregory Benford, Nancy Holder, Vernor Vinge, Catherynne Valente, Raymond Feist, Aimee Bender and Luis Alberto Urrea. Of Clarion graduates, more than one third go on to publish and many have garnered critical acclaim, winning the most prestigious awards in the field such as the Nebula, Hugo, World Fantasy Award, Campbell Award for Best New Writer and Shirley Jackson Award. The program boasts a long list of award-winning, distinguished authors including notable alumni Kelly Link, Octavia Butler, Robert Crais, Cory Doctorow, Nalo Hopkinson and Bruce Sterling, who regularly support the writing program and community that gave them their start.
Past Clarion instructors include Neil Gaiman, N.K. Jemison (2016 Hugo Award winner for "The Fifth Season"), Jeff Vandermeer (whose "Southern Reach Trilogy" is currently being made into a major motion picture), Elizabeth Bear, Samuel Delany and many others.
Established in 1968, the Clarion Science Fiction and Fantasy Writers' Workshop is widely recognized as a premier proving and training ground for aspiring writers of fantasy and science fiction.
UC San Diego Division of Arts and Humanities' graduate programs rank among the highest in the nation, according to rankings by College Choice, which lists the Department of Literature at #6 for its creative writing MFA program, and U.S. News & World Report ranks its Visual Arts Department's Time Based New Media program #3 in the nation. The Division of Arts and Humanities is ranked #23, according to U.S. News & World Report's 2017 Best Global Universities listing.
Stay in the Know
Keep up with all the latest from UC San Diego. Subscribe to the newsletter today.