UC San Diego Visual Arts Kicks Off Anniversary Celebration with 'Object Type'
Published Date
Article Content

Mingling the past with the present, the University of California San Diego's Department of Visual Arts is embarking on a series of programs to celebrate its upcoming 50th anniversary entitled, "VISUAL ARTS@50: ART INTO LIFE." Kicking off the celebration is "Object Type," an exhibition that runs May 3 – 13 in the Visual Arts Gallery, at the SME Building on campus.
"Our faculty, alumni and students have developed new forms of art and new understandings of what art is, which have been instrumental in bringing art to the public through performance, conceptual processes, post-studio painting and sculpture, and new media, including computing and the web," elaborated Jack Greenstein, chair of the visual arts department.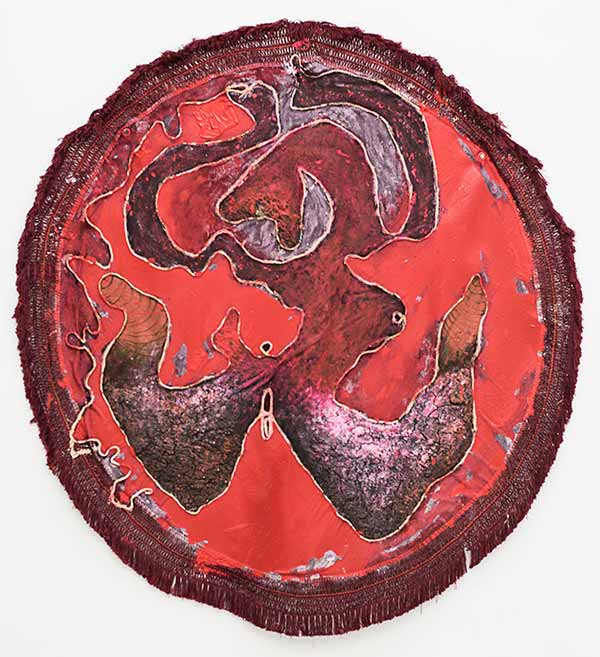 He explained that the celebratory programs around the landmark anniversary include a series of exhibitions, colloquia and presentations that acknowledge the lasting achievements of department members, past and present, and re-frame them for a next generation.
"Object Type," is the first of those programs. It was curated by Visual Arts Professor Emeritus Kim MacConnel and Assistant Professor Monique van Genderen, and it is comprised of new works by current graduate students who drew inspiration from the practices and productions of distinguished former faculty members. Participating artists—Lyndsay Bloom, Jessica Buie, Corey Dunlap, Seth Ferris, Audrey Hope, Angie Jennings, Joshua Saunders, Gabi Schaffzin (in collaboration with Zach Kaiser and Sofie Hodara) and Patrick Shields—recast the now classic works of Eleanor Antin, Manny Farber, Allan Kaprow, Barbara Kruger, Kim MacConnel, Lev Manovich, Faith Ringgold, Haim Steinbach and Lesley Stern.
"There is an aspect within my own practice that has to do with 'the copy' and notions of authorship, exposing the myth of originality that was generated by postmodern theory," noted van Genderen who derived the concept for the exhibition. "Asking graduate students to step away from their own work to make the work of another artist may at first glance seem like a distraction. But this exhibition asks the student to research the faculty whose work they choose to emulate and to unravel the research of that artist whom at the time made a cultural impact both nationally and internationally. This draws the line of similarity in discourse to the current generation of artists."
As alumni faculty, MacConnel and van Genderen recognize the influence the department has had on the contemporary art world. The collaboration between an Emeritus and new faculty member embodies the premise of "Object Type."
"The exhibition takes past work by former faculty and brings it forward through current graduate students reimagining this work in creating new pieces," explained MacConnel. "The range of work includes both an historic engagement as well as an exploration of material and technique—everything from conceptual art, to painting, sculpture, photography and film, all imaginatively updated. The past is pulled forward, but as well, the present is pulled into the past."
Since its founding in 1967, UC San Diego's Department of Visual Arts has challenged and expanded the boundaries of art such that it ranks among the top 13 programs in the nation, according to U.S. News and World Report. "VISUAL ARTS@50: ART INTO LIFE" is conceptualized in honor of seminal faculty member Allan Kaprow and his call to blur the line between art and life.
For information about upcoming related events, please visit the Department of Visual Arts online. Meanwhile, "Object Type" is free and open to the public; gallery hours are Tuesday – Thursday, 12 to 5 p.m. A closing reception will be held Friday, May 13, 3 p.m. For details, please visit the website.
Stay in the Know
Keep up with all the latest from UC San Diego. Subscribe to the newsletter today.