UC San Diego Neonatal Neurologist Awarded Grant from The Hartwell Foundation
Published Date
Article Content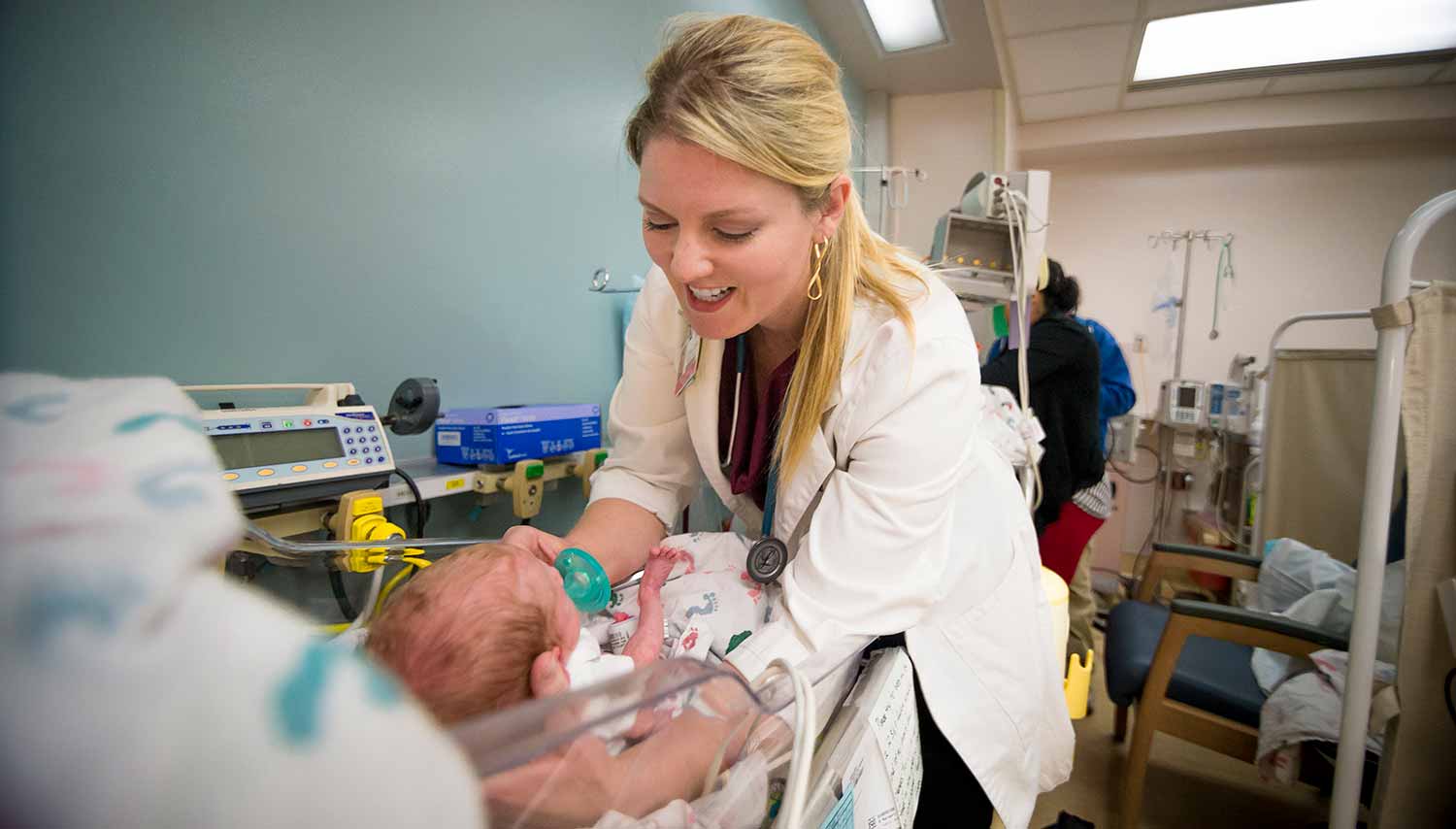 MJ Harbert, MD, assistant clinical professor in the Department of Neurosciences at the University of California, San Diego School of Medicine, has been named a recipient of an Individual Biomedical Research Award by The Hartwell Foundation for her project "Brain Activity During Birth for Prediction of Newborns at Risk for Brain Injury." The award will support Harbert's research in the field of neonatal neurology for three years at $100,000 per year.
Harbert is the director of the UC San Diego neonatal neurology service, which serves newborns with, or at risk for, brain injury in the neonatal intensive care units at Rady Children's Hospital-San Diego, UC San Diego Medical Center in Hillcrest and Sharp Mary Birch Hospital for Women and Newborns. The service is one of just five such programs in the United States.
"When I went into neonatal neurology, I saw a huge need for research to help newborns in San Diego, and throughout the world," said Harbert. "What's so great about The Hartwell Foundation is that they are willing to risk supporting my very early stage ideas. I am honored to win this award."
By improving methods of neonatal brain monitoring, Harbert's research will help clinicians identify infants at risk for brain injury. Abnormal electrical brain activity during the first minutes of the birth transition may be predictive of asphyxia, which occurs when the newborn is deprived of oxygen, and which places the newborn at risk for neurocognitive impairment and physical disabilities, including cerebral palsy.
Conventional technology for measuring brain activity consists of bulky wired electrodes and instrumentation that requires special expertise and a lengthy set-up time. To address the need for quick and early recognition of abnormal electrical brain activity in newborns, Harbert is working on a wireless approach using a thin patch of micro-circuitry, sometimes called "tattoo electronics." Such technology could enable early detection of asphyxiated newborns and identify those infants who would benefit most from therapeutic hypothermia, a method of reducing risk of injury by chilling the newborn to bring down body temperature.
Harbert is also the principal investigator for a clinical trial of temporary tattoo electronics for the evaluation of newborn seizures, for which she is collaborating with Todd Coleman, PhD, an associate professor in bioengineering at the UC San Diego Jacobs School of Engineering.
"Dr. Harbert's research has the potential to greatly improve medical care for newborns at risk for brain injury," said William Mobley, MD, PhD, chair of the Department of Neurosciences. "As a clinician turned clinician-researcher, she has a hands-on perspective of the challenges that doctors and nurses caring for these infants face, and how neuroscientists can help find solutions."
Fred Dombrose, PhD, president of The Hartwell Foundation, added, "The technology that Dr. Harbert is pursuing addresses an unmet and very compelling need. She is representative of the innovative researchers we seek to fund."
The Hartwell Foundation strives to inspire innovation and achievement by granting awards to individuals for cutting-edge biomedical applied research that will potentially benefit children. Each year, the foundation invites a limited number of research institutions in the United States to hold an internal, open competition to nominate qualified candidates from their faculty who have not yet obtained significant funding from outside sources. UC San Diego has been selected to participate in the Hartwell individual awards competition every year since 2007. Based upon each submitted research proposal, the foundation selects the most outstanding nominees for a personal interview and presentation of their research, selecting the top candidates to receive a Hartwell Individual Biomedical Research Award.
At UC San Diego, public and private foundations like The Hartwell Foundation provided the largest source of private support for fiscal year 2012-13—representing more than 30 percent of the $150.3 million in total raised funds. To learn more about supporting UC San Diego, visit giving.ucsd.edu.
To learn more about The Hartwell Foundation, go to thehartwellfoundation.org.
Stay in the Know
Keep up with all the latest from UC San Diego. Subscribe to the newsletter today.