UC San Diego Launches New Nonalcoholic Fatty Liver Disease Research Center
Published Date
Article Content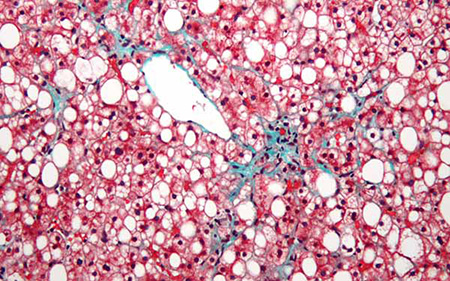 Roughly one-quarter of all Americans – an estimated 100 million adults and children – have nonalcoholic fatty liver disease (NAFLD), a chronic condition that can lead to cirrhosis, liver cancer and liver failure. Combining a diverse array of basic science, biomarkers, imaging and clinical efforts, University of California, San Diego School of Medicine has launched a new NAFLD Research Center to better understand the disease and develop treatments where none currently exist.
"We already have a lot of depth and breadth in the study and treatment of NAFLD and associated conditions at UC San Diego," said Rohit Loomba, MD, professor of medicine in the Division of Gastroenterology and director of the new center. "In pharmacology, molecular medicine, physician training, clinical trial design and drug development, scientists and researchers here have been working on NALFD and related diseases for a long time. But this is a major step. It creates a single entity able to address every aspect of a global disease that didn't even exist 35 years ago."
NAFLD occurs when fat accumulates in liver cells due to causes other than excessive alcohol use. The precise cause is not known, but diet and genetics play substantial roles. Up to 50 percent of obese people are believed to have NAFLD. The condition is particularly prevalent among Hispanics and Asians.
NAFLD can progress to nonalcoholic steatohepatitis (NASH), a more extreme form of the disease, which can, in turn, result in cirrhosis or liver cancer. In most cases, adverse effects are not noticeable until the disease is well-advanced. NAFLD is closely linked to diabetes.
"In 2000, just 2 percent of liver transplants were caused by the eventual effects of NAFLD," said Loomba. "In 2011, it was the third leading indicator for transplant and may soon be the leading indication for liver transplant."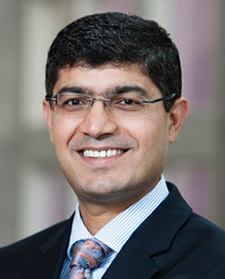 Loomba said the new center would accelerate efforts to develop non-invasive biomarkers for early diagnosis of NASH as well as treatments for NAFLD and NASH. Currently, there are no approved, specific therapies. "The goal of our research program is to prevent the progression of NAFLD to cirrhosis, and find better ways to treat the condition," Loomba said.
To that end, researchers at UC San Diego have already made progress, developing a diagnostic tool using magnetic resonance imaging that avoids the current requirement of a liver biopsy for assessment of treatment response in early phase clinical trials. "This is a key advance because it means you can conduct clinical trials with a tool that is effective but non-invasive and get an early signal of efficacy."
UC San Diego researchers and colleagues elsewhere are also investigating the use of low-cost ultrasound diagnostics and biomarkers based upon metabolomics – the chemical fingerprints left by specific cellular processes – and microbiomics, specifically analyses of stool samples to predict NASH and hepatic fibrosis, the accumulation of scar tissue resulting from chronic liver disease.
Loomba and colleagues have also designed and conducted several ground-breaking clinical trials for NAFLD and NASH. The creation of the center provides a one-stop shop for all areas of investigation in NASH. The newly created NAFLD research center, said Loomba, would attract collaborations with biotechnology industry as well as to pharmaceutical companies that have a biomarker development program or are looking for expertise in innovative clinical trial design.
"This center will act as an epicenter for NASH clinical drug development and as a catalyst in biomarker discovery, validation and their application in clinical practice," said David Brenner, MD, vice chancellor for health sciences, dean of the School of Medicine and professor of medicine in the Division of Gastroenterology.
The NAFLD Research Center brings together multiple specialties and specialists at UC San Diego School of Medicine and elsewhere:
Claude Sirlin, MD, professor of radiology and director of the Liver Imaging Group, Department of Radiology
David Brenner, MD, vice chancellor for health sciences, dean of the School of Medicine and professor of medicine in the Division of Gastroenterology
Michael Karin, PhD, Distinguished Professor of Pharmacology and Ben and Wanda Hildyard Chair for Mitochondrial and Metabolic Diseases
Karen Nelson, PhD, president, J. Craig Venter Institute
Bernd Schnabl, MD, associate professor of medicine, Division of Gastroenterology, provides expertise on pre-clinical studies in NASH and microbiome and its role in liver fibrosis
Tatiana Kisseleva, MD, PhD, assistant professor, Department of Surgery, provides expertise on pre-clinical studies in NASH and NASH related fibrosis.
Ariel Feldstein, MD, chief of Division of Gastroenterology, Hepatology and Nutrition in the Department of Pediatrics and at Rady Children's Hospital-San Diego. He is a leading expert in the role of apoptosis in liver injury especially in NASH. Rates of NAFLD in children are rising. The condition affects almost 10 percent of U.S. children.
Edward Dennis, PhD, Distinguished Professor of Pharmacology and Chemistry and Biochemistry, director of LIPID MAPS Consortium
Larry Smarr, PhD, founding director of California Institute for Telecommunications and Information Technology and Harry E. Gruber professor of computer science and engineering at UC San Diego Jacobs School of Engineering
Nicholas Schork, PhD, professor of human biology, J. Craig Venter Institute
Siddharth Singh, MD, assistant professor, Division of Gastroenterology, brings in knowledge of meta-analytic approaches to distill clinical evidence to inform practice guidelines
Marc Hellerstein, MD, PhD, chief scientific officer, Kinemed, Inc.
Shankar Subramaniam, PhD, Department of Bioengineering, Jacobs School of Engineering brings knowledge of systems biology to the center
NAFLD Research Center will also interface with the newly established Center for Microbiome Innovation led by Robert Knight, PhD, professor of pediatrics and computer science
Mark Valasek, MD, PhD, assistant professor, and Cynthia Behling, MD, PhD, associate physician, provide expertise in human pathology
San Diego Integrated NAFLD Research Consortium
NASH Clinical Research Network, National Institute of Diabetes and Digestive and Kidney Diseases
For more information, visit the NAFLD Research Center
Stay in the Know
Keep up with all the latest from UC San Diego. Subscribe to the newsletter today.