UC San Diego Health's Lucila Ohno-Machado Elected to National Academy of Medicine
A leader in using "big data" to enable precision medicine, Ohno-Machado was recognized by her peers with one of the highest honors in health and medicine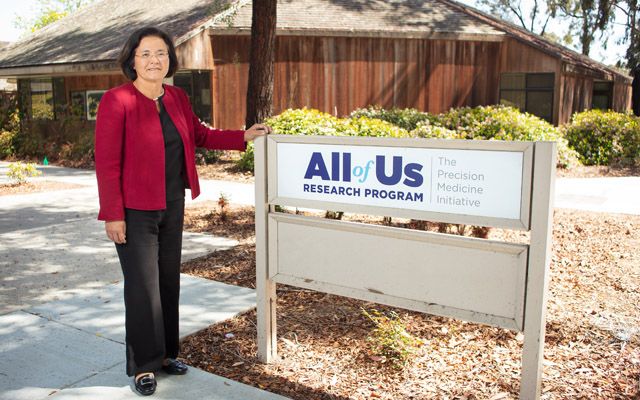 Published Date
Article Content
Lucila Ohno-Machado, MD, PhD, chair of the Department of Biomedical Informatics at UC San Diego Health, professor of medicine and associate dean for informatics and technology at the School of Medicine, and a founding faculty member of UC San Diego Halicioğlu Data Science Institute, has been elected to the National Academy of Medicine (NAM).
NAM membership is considered one of the highest honors in the fields of health and medicine. Members are elected by their peers from among candidates nominated for their outstanding accomplishments, commitment to service and contributions to the advancement of the medical sciences, health care and public health.
"Bioinformatics and big data are increasingly a foundation and driver of modern medicine. Lucila is an undisputed expert and pioneer in both. Her leadership and dedication to scientific excellence make her an ideal NAM member," said David Brenner, MD, vice chancellor of health sciences at UC San Diego. "We are proud of the many research and education programs she has built here, helping UC San Diego remain a leader in these critical fields."
Ohno-Machado's career has focused on making health data more accessible and usable, so patients and clinicians can make better informed, evidenced-based health decisions together. She founded the Biomedical Informatics program at UC San Diego School of Medicine in 2009 and it became a department at UC San Diego Health in 2015. Under Ohno-Machado's leadership, the department designs, implements and evaluates informatics algorithms and systems that serve biomedical researchers and health care providers, and trains the next generation of biomedical informaticians.
Ohno-Machado was the founding chair of University of California Research eXchange (UC ReX), a UC-wide initiative that, among other things, built a system that allows researchers to search more than 15 million de-identified patient records from the five largest UC health systems (San Diego, Los Angeles, San Francisco, Davis and Irvine) with one query. In the past, she has also led projects to validate breast cancer biomarkers, improve medical alert response technology, assess embryo quality in assisted reproductive technology, predict length of stay after surgery and automate medical device safety monitoring.
"Among the founding faculty of the institute, Lucila's efforts have been central to building an active group in biomedical sciences that seeks technological advances to improve patient outcomes based on data that are strongly protected by privacy and policy," said Rajesh Gupta, PhD, director of the Halıcıoğlu Data Science Institute at UC San Diego. "The algorithms she developed to allow complex multivariate predictive models to be built in a distributed fashion constitute a very important contribution to biomedical data science."
In addition to roles as leader, researcher and educator at UC San Diego, Ohno-Machado currently co-leads the California Precision Medicine Consortium, which manages the All of Us Research Program in California. Led by the National Institutes of Health, All of Us is an unprecedented effort to gather genetic, biological, environmental, health and lifestyle data from 1 million or more volunteer participants living in the United States. A major component of the federal Precision Medicine Initiative, the program's ultimate goal is to accelerate research and improve health.
She is also a research health scientist at Veterans Affairs San Diego Healthcare System.
In her nine years at UC San Diego, Ohno-Machado has secured more than $100 million in grant funding to the university and its health system.
"I'm proud of building a completely new department from the ground up — it's been a big challenge, but it has come with big rewards," Ohno-Machado said. "I'm grateful to be able to do this work at UC San Diego, where we have the great advantage of being able to put our innovations into practice in our own health system, and I'm honored to receive this recognition for our work."
Ohno-Machado earned her PhD in Medical Information Sciences and Computer Science at Stanford University, her medical degree at University of São Paulo and her MBA in Healthcare Administration at Escola de Administração, Fundação Getúlio Vargas in her hometown of São Paulo, Brazil. She serves as editor-in-chief of the Journal of the American Medical Informatics Association. She is director of the Biomedical Research Informatics for Global Health Program and San Diego Biomedical Informatics Education and Research.
She is also an elected fellow or member of the American College of Medical Informatics, American Institute for Medical and Biological Engineering and American Society for Clinical Investigation. She has won a number of awards and recognitions, including the American Medical Informatics Association Leadership Award (2018), UC San Diego Chancellor's Award for Postdoctoral Mentoring (2015), UC IT Leadership Council Sautter Golden Award (2015), UC San Diego Diversity and Equal Opportunity Award (2010), Partners in Excellence Award from Partners Healthcare (2010), Clifford A. Barger Mentoring Award from Harvard Medical School (2004) and the Taplin Award from Harvard-MIT (2000).
Stay in the Know
Keep up with all the latest from UC San Diego. Subscribe to the newsletter today.