UC San Diego Health System Designated U.S. Olympic Regional Medical Center
Experts to provide specialized care to Team USA athletes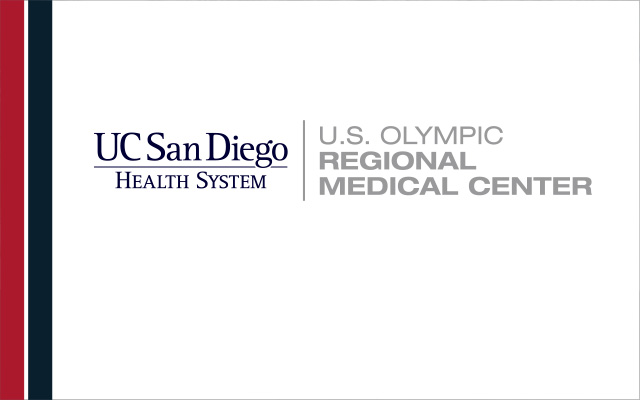 Published Date
Article Content
UC San Diego Health System has been designated an Official U.S. Olympic Regional Medical Center, joining a national network of leading medical providers selected by the United States Olympic Committee to provide comprehensive medical services to Team USA athletes, including orthopedics and sports medicine, primary care, cardiovascular care, neurosurgery, cancer care and physical therapy.
The USOC's National Medical Network was launched in 2013. It provides medical care to athletes through partnerships with top-tier medical providers that have proven expertise in multidisciplinary sports medicine care, with an emphasis on screening, prevention and participation in research and education.
"We are honored to receive this prestigious designation by the USOC and to help athletes of all levels reach their full potential. It underscores UC San Diego Health System's dedication and commitment to delivering world-class care by highly trained medical experts," said Paul Viviano, CEO, UC San Diego Health System. "It is with pride that the specialized care we provide to Team USA athletes is also available to our active San Diego community."
UC San Diego Health System is a world leader in 14 clinical programs, consistently receiving high performance rankings from U.S. News & World Report. The orthopedic surgeons and non-surgical sports medicine specialists at UC San Diego Health System are on the leading edge of innovation, with access to the latest technologies, diagnostic techniques and treatment strategies.
"We are extremely pleased to have UC San Diego Health System join the USOC's National Medical Network as a regional medical center that will contribute high-level expertise to Team USA," said Bill Moreau, USOC managing director of sports medicine.
As a U.S. Olympic Regional Medical Center, UC San Diego experts will provide comprehensive care services across specialties for athletes in a variety of sports such as track & field, cycling, skiing, rowing and volleyball.
Christopher Wahl, MD, chief of the Division of Sports Medicine in the Department of Orthopedic Surgery at UC San Diego Health System said the high quality of services and treatment provided to U.S. athletes will serve as a unique resource and learning opportunity.
"The work we do with world-class athletes allows us to understand even more how high energy injuries manifest differently and customize treatment plans that improve recovery times. We continually push the limits of what is possible in this elite population, and in turn, the athletes put our therapies and procedures to the highest tests. What we learn translates to better care for all our patients," said Wahl. "We are privileged to have the opportunity to work with such motivated individuals and help them achieve their high performance goals through our participation with the USOC."
About the USOC
Founded in 1894 and headquartered in Colorado Springs, Colorado, the U.S. Olympic Committee serves as both the National Olympic Committee and National Paralympic Committee for the United States. As such, the USOC is responsible for the training, entering and funding of U.S. teams for the Olympic, Paralympic, Youth Olympic, Pan American and Parapan American Games, while serving as a steward of the Olympic and Paralympic Movements throughout the country. For more information, visit TeamUSA.org
About UC San Diego Health System
In operation since 1966, UC San Diego Health System is the region's only academic health system and is dedicated to delivering outstanding patient care through commitment to the community, groundbreaking research and inspired teaching. Ranked #1 in San Diego for the third consecutive year in 2013 in U.S. News & World Report's metro ranking, it comprises UC San Diego Medical Center in Hillcrest (recipient of the Everest Award in 2012 from Truven Health Analytics), UC San Diego Thornton Hospital, Moores Cancer Center (one of only 41 National Cancer Institute-designated comprehensive cancer centers in the nation and the first San Diego-based National Comprehensive Cancer Network Member), Shiley Eye Center, Sulpizio Cardiovascular Center (named one of the nation's 50 Top Cardiovascular Hospitals for 2013 by Truven) and Jacobs Medical Center (opening 2016) in La Jolla, as well as other primary and specialty practices located throughout Southern California. For more information, please visit health.ucsd.edu
Stay in the Know
Keep up with all the latest from UC San Diego. Subscribe to the newsletter today.