UC San Diego Graduating Artists are 'Stepping Away' with Downtown Exhibition
Published Date
Article Content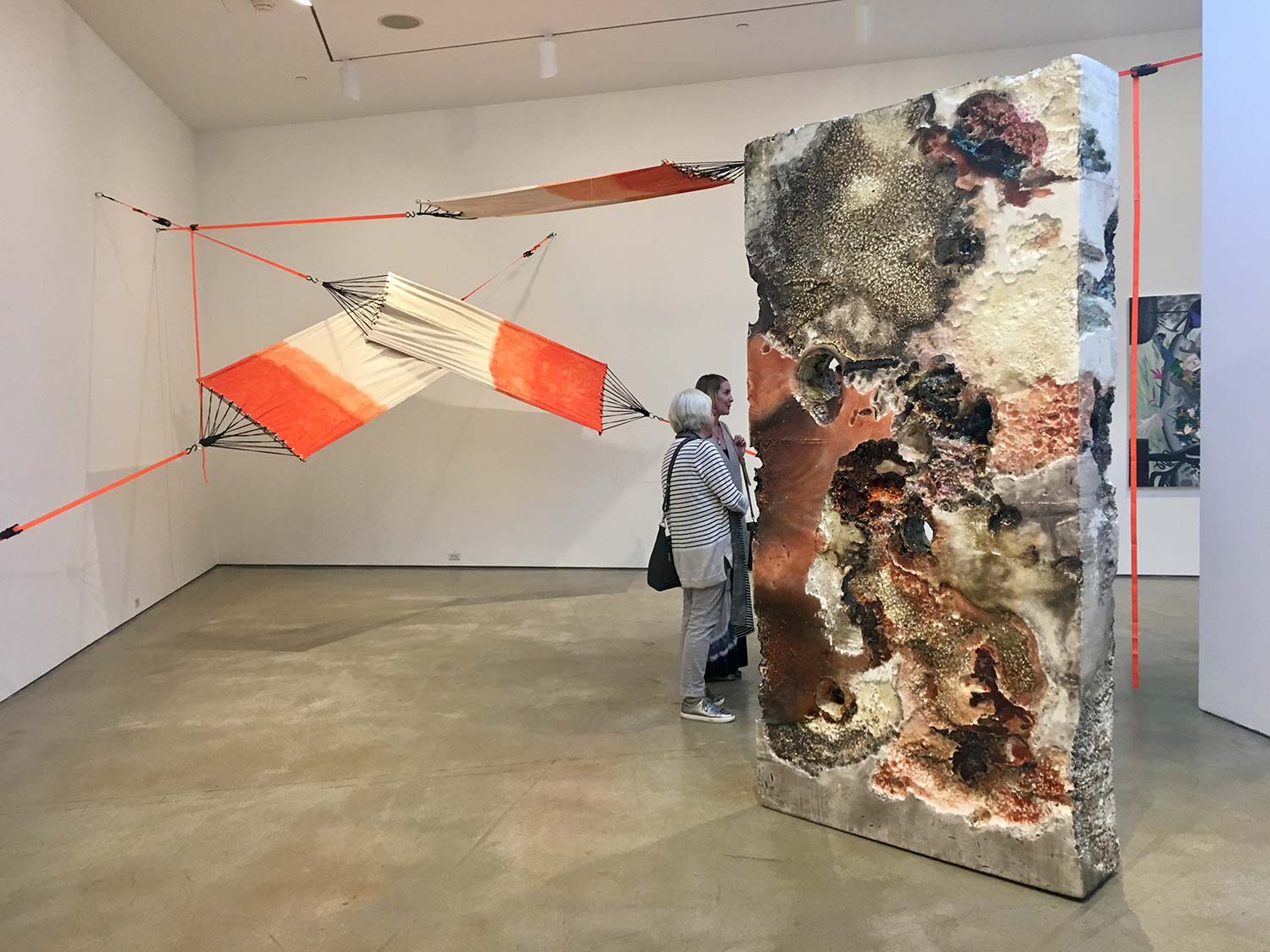 The diversity and talent of graduating University of California San Diego artists is currently highlighted in "A Step Away: Artists from the M.F.A. Program at UC San Diego," an exhibition showing through May 29 at the Museum of Contemporary Art, San Diego (MCASD).
The exhibition title alludes to the participating artists as a "step away" from their UC San Diego studios and toward commencement, which takes place June 17 on campus. His Holiness the 14th Dalai Lama will deliver the keynote address to guests and graduates, among whom will be the M.F.A. exhibition artists Trevor Amery, Michael Ano, Seth Ferris, Saúl Hernández-Vargas, Audrey Hope, Morgan Mandalay, Erick Msumanje, Amy Reid, Joshua Saunders, Patrick Shields and Patricia Zambrano. Department of Visual Arts' professor Anya Gallaccio served as faculty liaison for the exhibition, which is co-curated by UC San Diego art history, theory and criticism Ph.D. alumna Lara Bullock and by MCASD assistant curator Anthony Graham.
This is the second consecutive year that MCASD welcomed student artworks at its downtown location. To date, more than one thousand visitors have seen the exhibition, which debuted this spring during Downtown at Sundown, a museum event. The exhibition displays UC San Diego artists' varied interests ranging from investigations in material, surface and form to concerns with memory, labor and the body.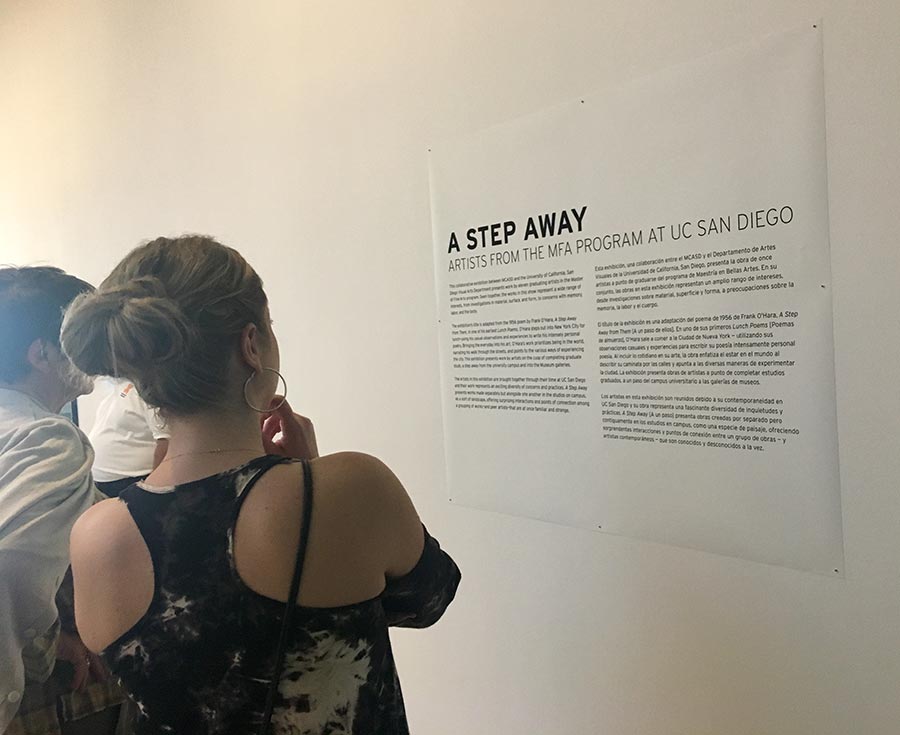 Jack Greenstein, Department of Visual Arts professor and chair noted, "With 'A Step Away,' our second exhibition of graduating M.F.A. students at the beautiful downtown gallery, we are solidifying and institutionalizing a long and fruitful relationship with the MCASD. We are grateful to the museum for giving our students the opportunity to exhibit in a first-class venue and to work with professional curators."
The Downtown at Sundown event intentionally focused the spotlight on UC San Diego artists and alumni. The evening included M.F.A. alumni, Collective Magpie, an artist duo who presented a performative "Transnational Seminar" that involved interviews and recordings of residents' notion of the border. Alumnus Roman de Salvo explored natural material in "All Natural," the neighboring exhibition at the San Diego State University Downtown Gallery. UC San Diego artists were also prevalent at the culminating exhibition of 11 graduating artists.
"A Step Away" is organized by the Museum of Contemporary Art San Diego and the University of California, San Diego Department of Visual Arts. Institutional support of MCASD is provided by the City of San Diego Commission for Arts and Culture and the County of San Diego Community Enhancement Fund. The exhibition can be viewed daily between 11 a.m. and 5 p.m. It is free and open to the public.
UC San Diego's Department of Visual Arts M.F.A. program is ranked 6th in the nation according to College Choice, with a #3 ranking in new media and high ranking in sculpture by other sources. The department is one of six in the Division of Arts and Humanities, which ranks #23, according to U.S. News and World Report's Global Universities listing.
Stay in the Know
Keep up with all the latest from UC San Diego. Subscribe to the newsletter today.