UC San Diego Energy Leader to Help Develop Sustainable Resources on the Island of Lāna'i
Published Date
Article Content
The University of California, San Diego and Lānaʻi Resorts, LLC, announced today that Byron Washom, director of Strategic Energy Initiatives at UC San Diego, will lead a new initiative to transform the Hawaiian island of Lānaʻi into a model for sustainable energy. In his role as chief architect, Washom will work with Lānaʻi Resorts, LLC, to oversee development of an electricity microgrid that will be powered by renewable energy sources and a desalination plant that will augment the island's supply of fresh water.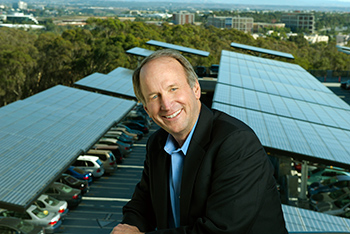 Byron Washom
UC San Diego has granted Washom a 40 percent reduction in his appointment for nine months so that he may pursue this opportunity. While his time at the university will be reduced, Washom will continue to oversee the entire portfolio of funded research activities on the microgrid at UC San Diego, which generates more than 90 percent of the campus' electricity.
"This is a terrific opportunity for Byron to share his expertise and experience to make his home state of Hawaii more sustainable," said Gary Matthews, vice chancellor of Resource Management and Planning. "The work he has done here building up the UC San Diego microgrid will translate directly to what he will be doing in Lānaʻi."
The renewable energy and desalination initiatives are part of Lānaʻi Resorts' and the Lānaʻi community's comprehensive approach to managing and conserving energy, water and land resources and help to ensure a sustainable future for its residents.
The UC San Diego microgrid self-generates more than 90 percent of the campus' electricity using the world's largest commercially available fuel cell and 1.5 MW of solar panels. The microgrid has contributed to a number of awards for the university including:
Stay in the Know
Keep up with all the latest from UC San Diego. Subscribe to the newsletter today.