UC San Diego and Spin Showcase Strong Bikeshare Pilot Program Results
Pilot is part of a university-wide initiative to become carbon-neutral by 2025
Published Date
Article Content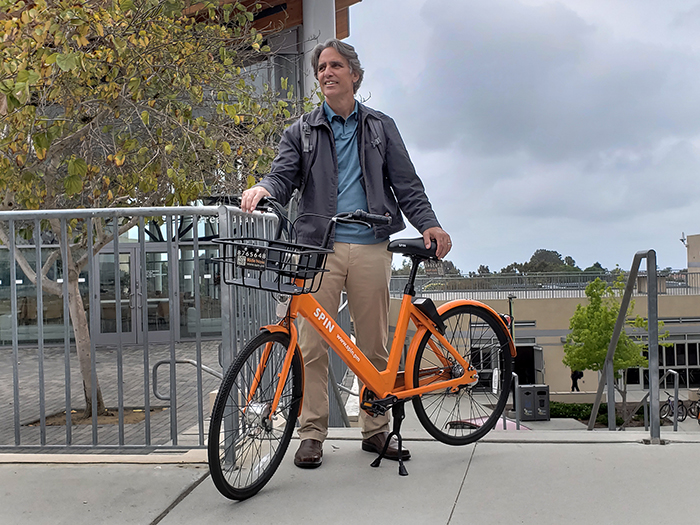 The University of California San Diego and Spin, the dockless personal mobility company, are announcing the results of a bikeshare partnership pilot program which was created to provide more than 36,000 students, faculty and staff with an affordable, equitable and eco-friendly way to get around campus. The pilot, which launched in December 2017, is part of a university-wide initiative to become carbon-neutral by 2025.
"Our goal in partnering with Spin was to create a more bike-friendly campus that contributes to reducing our greenhouse gas emissions, while increasing the quality of life for our campus community," said Gary C. Matthews, UC San Diego vice chancellor for Resource Management and Planning. "We have been thrilled with the tremendous response to the bikeshare program to date and look forward to expanding it further."
Since the partnership pilot launched at UC San Diego, the campus community has taken more than 91,000 rides for more than 15,600 miles, equivalent to roughly 17,100 pounds of CO2 saved had these trips been instead taken by car. Bike usage has been tracked to determine high-demand and preferred parking areas to identify which parts of campus benefit most from the service. Usage data is also being used to modernize bike parking design to accommodate personally owned and shared bikes.
"As one of our early university partners, UC San Diego has been an amazing model to the broader community and universities across the U.S. that dockless mobility services can have a place on campuses and can be done well and responsibly," said Matt Sink, head of campus operations at Spin. "We're excited to continue this partnership and encourage even more people to get on bikes in the 2018-19 school year."
The pilot initially began with 50 bikes on UC San Diego's campus, but school officials saw such high demand in the first couple weeks that the pilot was ramped up to 300 bikes in January to better serve the campus community. Ridership has steadily increased since launch, and is expected to continue with the introduction of Spin electric assist bikes, which have begun to be deployed on campus and will be fully introduced in fall 2018.
"I take the 150 express bus to campus and get off at Eucalyptus Grove Lane," said Shawn Strande, deputy director of the San Diego Supercomputer Center at UC San Diego and a Spin user. "I've been trying the Spin bikesharing service, and so far, I really like it. Now, instead of walking, I grab a Spin bike when there's one nearby, and zip across campus in about five minutes."
The bikes are meant for use on the UC San Diego campus by students, faculty and staff. If a bike is taken off campus, users are asked to return it to campus in a timely manner the same day. Spin rebalances bicycles from areas of low demand to areas of high demand between the hours of 9 a.m. and 6 p.m. seven days a week, including retrieval of bicycles that are ridden off campus and not returned.
Spin bikes and e-bikes will be available to students throughout the summer semester and into the 2018-19 school year. Learn more about the partnership and how to use Spin here.
Stay in the Know
Keep up with all the latest from UC San Diego. Subscribe to the newsletter today.