Published Date
UC San Diego Alumnus Joseph Edelman Pledges $400,000 to Help Students Facing Mental Health Challenges
According to the National Alliance on Mental Illness, one in every four young adults between the ages of 18 and 24 has a diagnosable mental illness, including depression, anxiety, eating disorders and addictive behaviors, among others.
At the University of California, San Diego, a $400,000 pledge from alumnus and hedge fund founder Joseph E. Edelman will directly benefit students in need of ongoing psychiatric services, while also improving opportunities for specialized fellowship training and clinical research in college mental health. The Joseph E. Edelman College Mental Health Program Fund will provide unrestricted operational support for UC San Diego's groundbreaking student mental health program.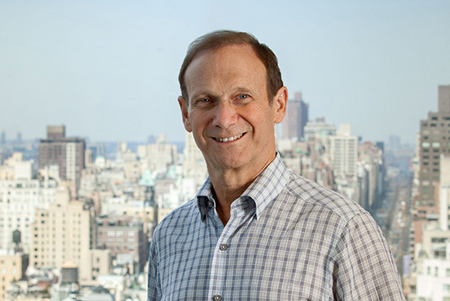 "I think mental health is the single biggest inhibitor of economic growth and happiness," said Edelman. "Counseling and psychotherapy is often not in people's budgets. Here's an opportunity to give students access to something that hopefully could improve their lives, which they might not be able to do without some assistance."
Late adolescence and early adulthood represent a critical time to identify mental illnesses and provide evidence-based treatments. Emerging research indicates that early interventions can improve outcomes and lessen the long-term disability of brain disorders. With this in mind, in September 2014, the university's Department of Psychiatry implemented the UC San Diego College Mental Health Program, led by Health Sciences clinical professor Nancy Downs.
The gift from Edelman, a 1978 graduate from the university, will support a program that is unique within the University of California's ten-campus system: UC San Diego Health has partnered with primary care services on campus to offer integrative, culturally sensitive and multi-disciplinary mental health services to over 30,000 undergraduate and graduate students.
"Joseph Edelman's generosity allows Dr. Nancy Downs and her colleagues the opportunity to provide increased access to integrative treatments, addressing unique mental health and psychiatric disorders that afflict our students," said UC San Diego Chancellor Pradeep K. Khosla. "His gift enables clinical researchers and practitioners to fund early-stage projects, trains our next generation of physician-scientists and serves as a vote of confidence to our talented medical staff."
After graduating magna cum laude in psychology from UC San Diego, Edelman earned an M.B.A. from New York University. He then spent 11 years as a biotech analyst at a brokerage and two asset-management firms, prior to launching his hedge fund, Perceptive Life Sciences, in July 1999. According to Barron's, he revels in an active, dispassionate approach to investing—a process that has been very successful for his thriving New York-based firm.
Edelman, who was attracted to the strength in the sciences at UC San Diego, said he uses his psychology background every day.
He explains, "I didn't really continue on in that field, but I got a very good education in psychology. I run a hedge fund that invests principally in biotechnology companies. A big part of making investments in the stock market is understanding the psychology of decision-making and understanding your own emotions. By understanding that better, I think it enables you to make better decisions, and more objective decisions."
When he learned that the campus didn't have enough full-time employees to help all of the students who need mental health services, he immediately gave to this area of need.
"It would be nice to think that with drugs, you can cure everybody's problems, but you can't. That's why I gravitated towards doing something to provide counseling," Edelman said. "My hope is that for the majority of students who use that service, they get something out of it and that it moves the needle in terms of happiness and productivity in their life."
Downs said, "Mr. Edelman's generosity enables us to attract and retain quality psychiatrists with special skills in treating late adolescence/early adulthood. We are also exploring options for specialized fellowship training in college mental health."
She noted that Edelman's philanthropic gift supports the UC San Diego College Mental Health Program's mission to deliver state-of-the-art, timely and effective mental health services, which are tailored to the specific needs of UC San Diego students; develop mental health services as a model for other college-based health systems within the University of California system and for universities generally; and incorporate mental health services into UC San Diego students' lives, ensuring their overall well-being and academic success.
Carol Padden, dean of the UC San Diego Division of Social Sciences, which includes the Department of Psychology, added, "I am very proud of our UC San Diego alumni, like Joe Edelman, who give back. His support is creating a profound legacy that is truly inspirational. We are grateful for his generosity and his thoughtful contribution to our community."
"My success is partly from the education and the experience I received," said Edelman. "Since UC San Diego gave me a great education and enabled my start, it makes sense to give back. People who are capable should do that."
To learn more about mental health and the resources available to UC San Diego undergraduate and graduate students, please visit the campus College Mental Health Program website.
Stay in the Know
Keep up with all the latest from UC San Diego. Subscribe to the newsletter today.