UC San Diego Alumna Gives $100,000 to International Undergraduate Research Program
Donation will support Pacific Rim Undergraduate Experiences (PRIME) at UC San Diego
Published Date
Article Content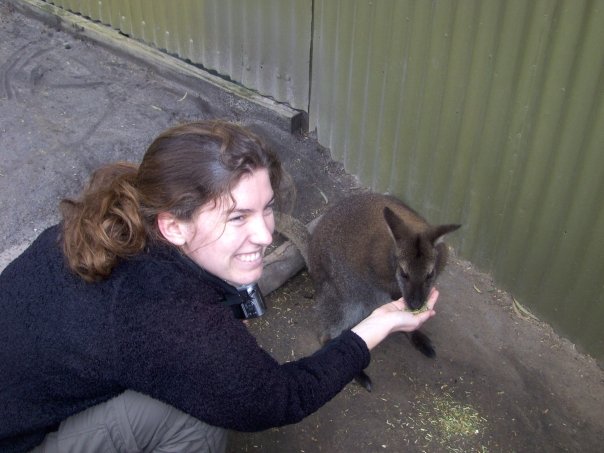 Haley Hunter-Zinck feeds a wallaby during her visit to Australia as part of the PRIME program.
The University of California, San Diego's international research program Pacific Rim Undergraduate Experiences (PRIME) recently received a pleasant surprise—a $100,000 gift from young alumna Haley Hunter-Zinck. The funds will support the greatest needs of the PRIME program, including assistance for future students who travel to the Pacific Rim to conduct research. Hunter-Zinck made the donation in memory of her late mother, Jennifer Zinck.
As part of PRIME, UC San Diego students become fully integrated members of a research group at a university or research institute located within the Pacific Rim. Hunter-Zinck, who received her bachelor's degree from UC San Diego in 2009, conducted research at Australia's Monash University over the summer of 2008, and she hopes that her gift will ensure that other students can also have the opportunity to study abroad.
"Conducting research on my own project at a university in Australia had a huge impact on me. It confirmed for me how much I wanted to go into research," said Hunter-Zinck. "I hope that this gift will help more students have the same influential experiences."
PRIME is designed to provide undergraduates with research and cultural experiences to prepare them for the global workforce of the 21st century. The program's goals are to produce graduates who function effectively in multinational work environments, acculturate comfortably into different international settings and recognize how their disciplines are practiced in a global context. The students' research contributes to real-world challenges, from understanding viruses that cause pandemic flu outbreaks to migrating information technology services to respond to natural disasters.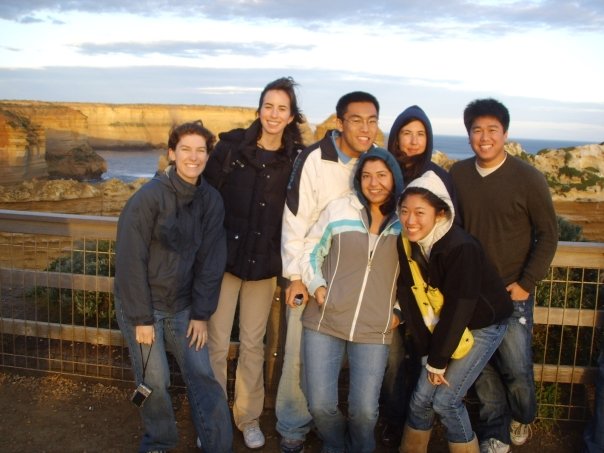 Haley Hunter-Zinck and other PRIME research program participants stop for a group photo along the Great Ocean Road in Australia. Pictured are: back row from left to right, Haley Hunter-Zinck, Arielle Yablonovitch, David Allen Wong, Amalia Prada Fernandez, and Randy Lee. Front row from left to right: Sirvard Nshanyan and Lynn Tai.
"This generous gift is a confirmation of the impact PRIME has on our students," said Gabriele Wienhausen, principal scientific investigator for PRIME and associate dean for education in UC San Diego's Division of Biological Sciences. "The key obstacle to expanding the number of international internship opportunities has been a lack of resources available to help students cover the extra costs including travel, housing and basic living expenses."
A bioinformatics major, Hunter-Zinck analyzed adverse effects of the antidepressant EMSAM during her time at Monash University in Australia. Today, she is working toward her Ph.D. in computational biology and medicine at Cornell University. Her research involves creating algorithms that associate genetic mutations with complex diseases such as cardiovascular disease.
"I think all students should study abroad," said Hunter-Zinck. "It pushes students out of their comfort zone, which is important for future scientists in our increasingly global society."
Wienhausen, who received the unexpected phone call from Hunter-Zinck, agrees that an international perspective is critical to success in today's workforce. "Preparation of the next generation college graduates needs to include multi-cultural competencies, allowing students to work collaboratively in international teams solving societal problems," said Wienhausen. "As a country, our ability to remain in leadership positions and to address global issues requires scientists, engineers and leaders who are able to work in global environments."
According to Hunter-Zinck, the gift to PRIME is a fitting tribute to her mother, who was passionate about promoting the success of women in science. Hunter-Zinck hopes that her donation to PRIME will inspire others to follow her lead in supporting the international program. To learn more about PRIME, visit prime.ucsd.edu. To make a gift to support PRIME, please click here.
For questions or more information, please contact Beth Schroder in the Division of Biological Sciences by emailing enschroder@ucsd.edu or calling 858-534-1966.
Stay in the Know
Keep up with all the latest from UC San Diego. Subscribe to the newsletter today.